Are you a beginner & want to know What is Tumblr, How to create & start a new Tumblr blog, How To redirect a Tumblr domain to a custom domain, and How to make money on Tumblr? You're in the right place.
A blog is a platform or type of a website where you regularly create and publish content around your interests, thoughts, experiences, ideas, and more.
Following topics will be covered in this post:
A Brief Introduction To Tumblr
How To Create/Sign-Up a New Tumblr Blog
How To Setup Tumblr Settings
How To Setup Tumblr Account Settings
How To Create Your First Tumblr Blog Post
Redirect To Custom Domain Feature
How To Make Money on Tumblr?
IMPORTANT!
After setting up your Tumblr blog, go through this post that guides you on How to set up Tumblr SEO settings and Tumblr on-page SEO.
01. A Brief Introduction To Tumblr
Tumblr is a large, creative, and popular free-microblogging platform hosting over 538 Million+ blogs. You can create Blog Posts as well as share photos, GIFs, TV shows, links, quips, fashion, art, stories, tiktok videos, jokes, Spotify tracks, mp3s, videos, etc.
People can interact with you through Instant Messaging and "Let People Ask Questions".
You can also take Tumblr as a hybrid of Blogger and Twitter. The way you create posts on Blogger you can create posts on the Tumblr as well.
The way you Retweet on Twitter you Reblog on Tumblr.
The way you share photos, videos, links, etc, on Twitter you can share them on Tumblr as well. You can follow other blogs on Tumblr the way you follow accounts on the Twitter.
Once you follow a blog, all of its posts show up in your dashboard similar to Twitter homepage.
What is a Microblog?
The term Micro means "small". Microblog is a platform where you can create content/posts, share media such as photos, videos, etc, and do instant messaging.
Microblog is different from the traditional blogging platforms such as WordPress, Blogger, etc, in that its content is smaller in size and length. There are always going to be some limits, and that's why Tumblr is called microblogging platform.
Twitter, Tumblr, Reddit, Pinterest, Scoop.it, Yammer, are some of the well-known examples of microblogging platforms.
Audience/Users
According to a research the most active age group audience on Tumble is 18 to 29 years old. Tumblr is a sort of a blogging platform which encourages creativity and that's why you will see good number of digital artists, photographers, short video makers, food bloggers, memers, fashion designers, etc.
People on Tumblr are also called Tumblrs.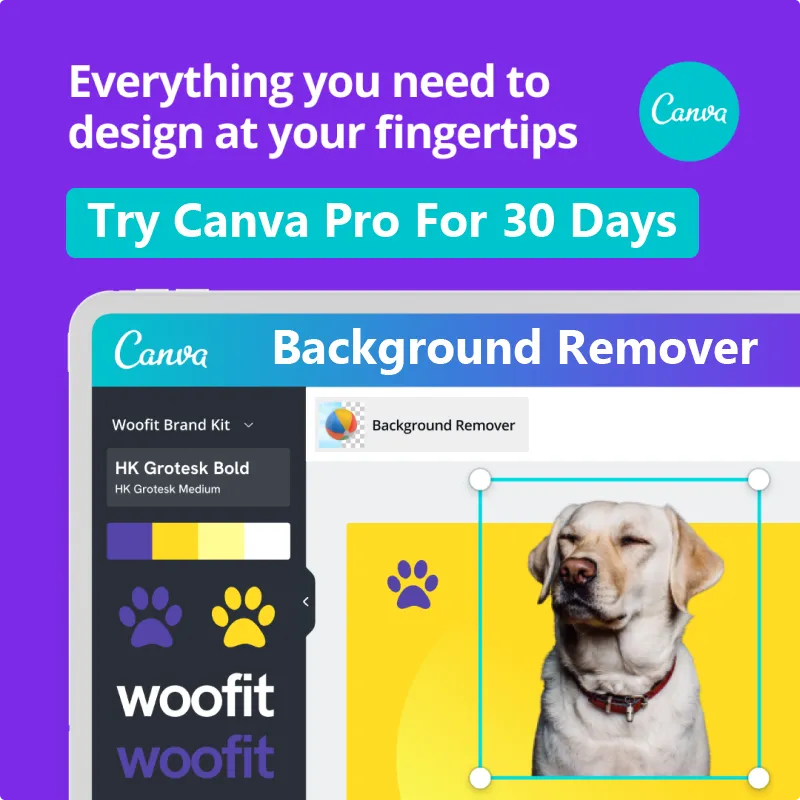 02. Create/Sign-Up a New Tumblr Blog
In this section, I will guide you step-by-step on how to create and setup/configure your Tumblr blog.
01. How to Create a New Tumblr Blog
Go to Tumblr.Com.
Click "Sign up". You can also signup directly using your Gmail or Apple ID.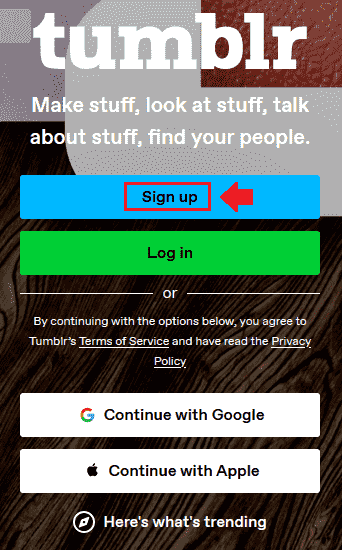 Enter your "Email ID".
Choose a secure "Password".
Enter a "Blog name". Tumblr will show you few suggestion as well. You can't enter a blog name which is already taken by someone else.
It is better to choose your Blog Name related to your niche. This name is going to appear in your blog URL.
Most of the blog names on Tumblr are unique and creative from traditional blog names.
Let's suppose you choose a Blog Name "ThoughtfulNinjaDestiny", your blog-URL or subdomain will be similar to this: https://thoughtfulninjadestiny.tumblr.com.
All Tumblr blogs are subdomains of "Tumblr.com".
Domain is a URL or address through which a website/blog is accessed on internet through a browser. For example, "Tumblr.com", "meersworld.net", "netflix.com", "twitter.com", etc.
The "thoughtfulninjadestiny.tumblr.com" is a subdomain of "Tumblr.com".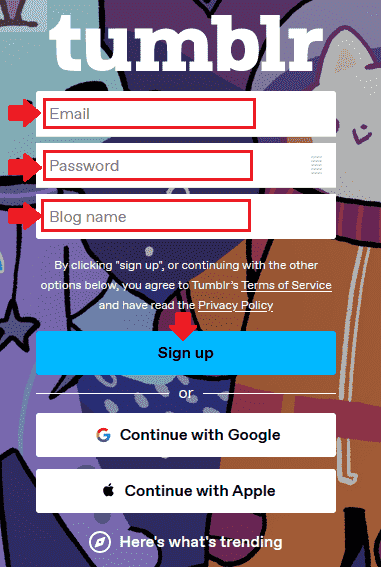 Enter your Age in "How old are you?" textbox.
Click "Next".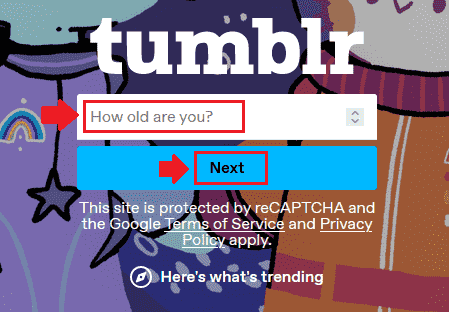 You can choose 5 categories which are most relevant to you. If you don't want to choose, click "Skip".
You will be redirected to your Tumblr Dashboard.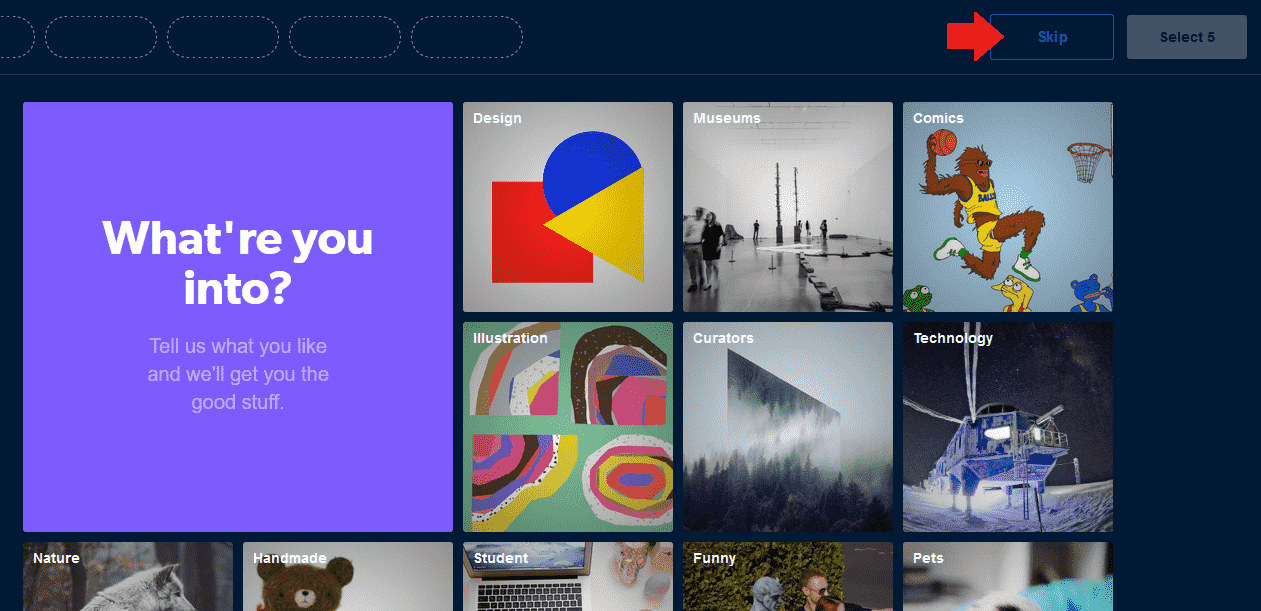 You have successfully created your Tumblr account, now check your email account to verify your email address.
Open the verification email sent by the Tumblr, and click "This is me!" link.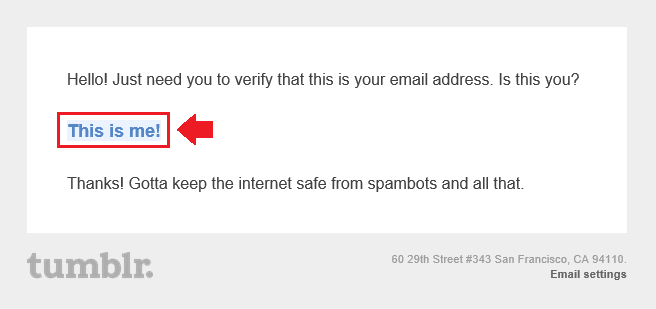 Click "I'm not a robot" and fill the security captcha.
Click "Verify Email".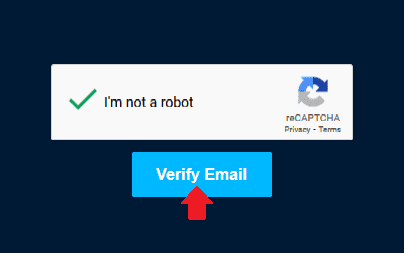 It will show you a Congratulations message.
Click "Or, skip to your dashboard" link.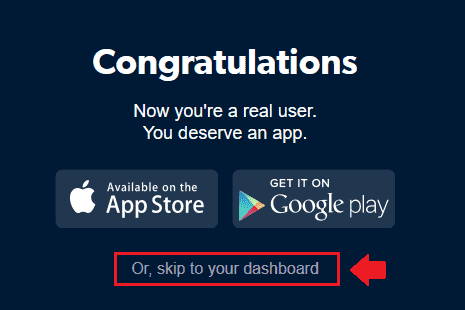 This is how your Tumblr Dashboard looks like. In the next steps you will learn how to setup and customize your Tumblr account.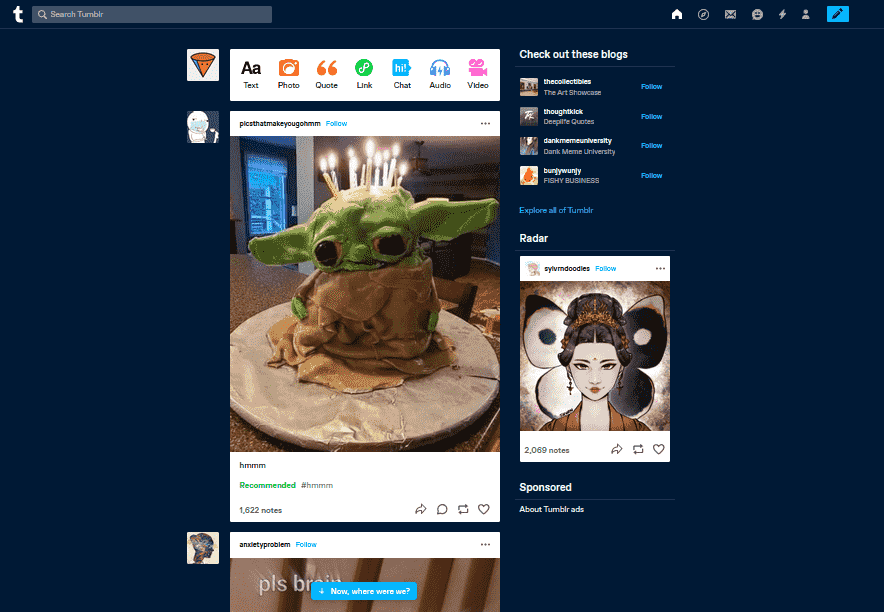 03. How To Setup Tumblr Settings
In this section, I will guide you step-by-step on how to setup/configure your Tumblr Settings.
01. Edit Appearance
Hover over your Profile icon and click "Settings" icon to edit your basic appearance.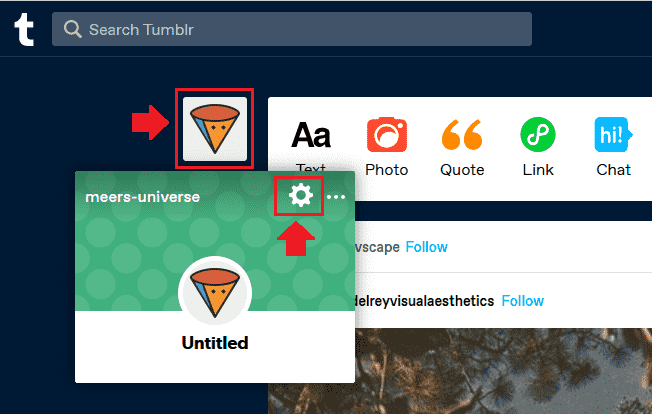 Click "Edit Appearance". These settings are for the highlighted region in yellow.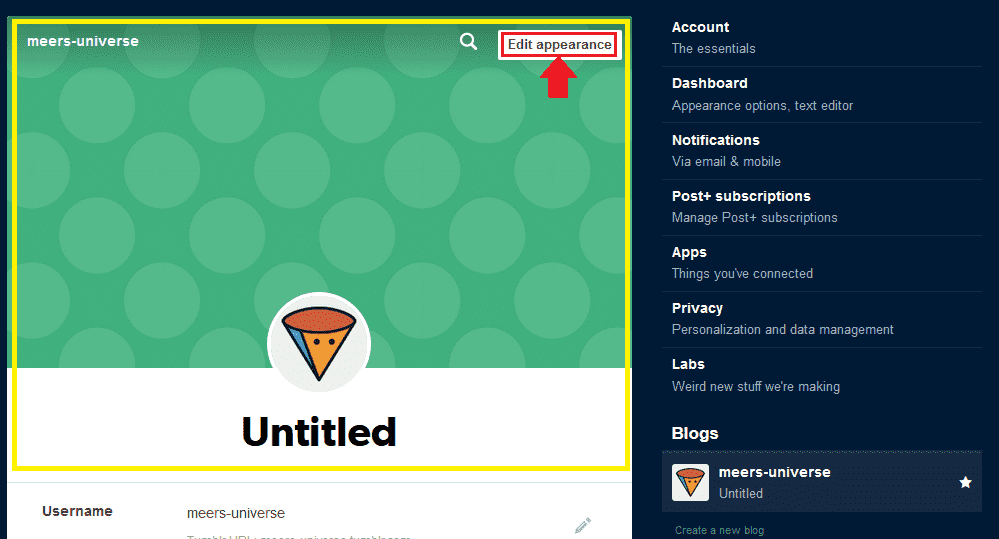 You can edit Header, Profile Picture, Title, Accent Color, and Background.
Accent is the color of links/menu below your Profile Picture and Title e.g Posts, Likes, Following, and Archive.
Background is the color behind your Title.
Click "Save" to update your appearance settings.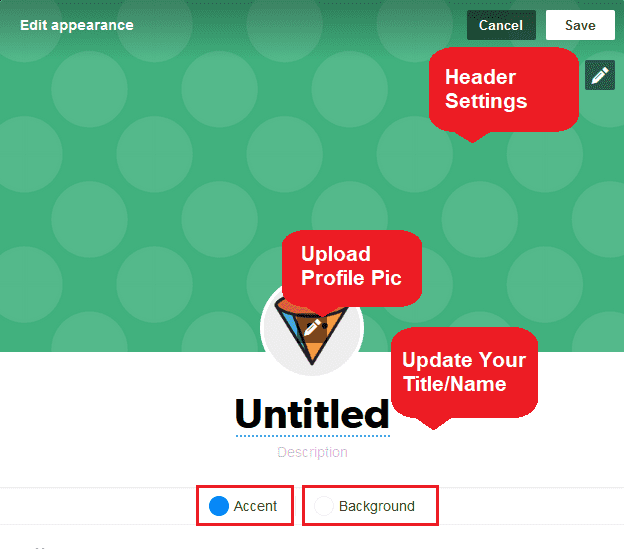 02. Main Settings
You're done with the Appearance Settings now let's setup the Main Settings.
Username is the name of your blog that you entered during the signup. If you wish you can change it. Do remember that Username will also be updated in your URL.
Click the edit icon to open.

You can see the Username textbox in which you can update your name.
You can also see another feature "Use a custom domain". It is an advance feature that allows you to redirect your Tumblr subdomain to your custom domain. To know more about this feature read the Section 06 "Redirect To Custom Domain Feature".

Here I am explaining only those options which might be difficult for you to understand. You can setup these options according to your choice.
The "Edit theme" allows you to customize your Tumblr theme and offers some advanced features. Edit theme section has been explained below these settings.
Ask feature allows you to communicate with people. If you enable this option it will enable "Let people ask question" feature on your Tumblr blog.
Submissions feature allows people to submit a post that they want to publish on your blog.
If you enable "Affiliate links" feature Tumblr will earn money by putting ads or affiliate links on your blog. Remember that this feature is not for your affiliate links. You won't make money from this.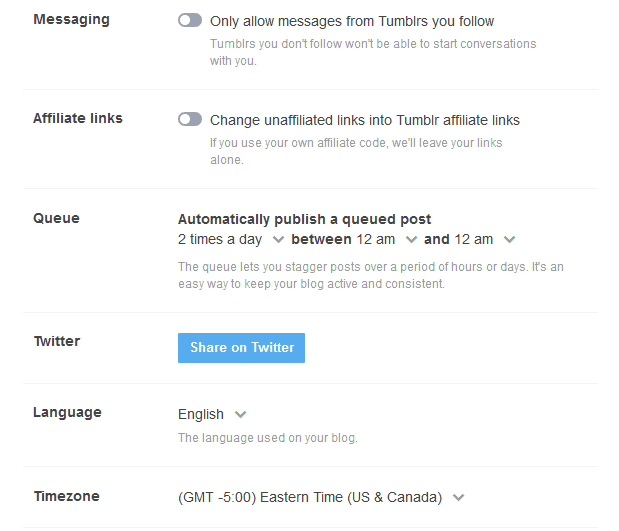 The first Visibility option allows you to set whether you want your Tumblr blog visible or not. I would suggest you to Don't Hide.
The second Visibility option allows you to set whether you want your Tumblr blog in search engine results or not. Google, Yahoo, Bing, etc, are some of the popular search engines. I would suggest you to Don't Hide this option as it can bring good amount of organic traffic to your Tumblr blog from search engines.
Blocked Tumblrs feature allows you to block Tumblr users to view or access your blog. You can also block Tumblr users by visiting their profile.
Export feature allows you to take the backup of your Tumble blog. Learn: How to Take Backup in Tumblr & Download to Your Computer
The "Delete account" enables you to delete your Tumblr blog.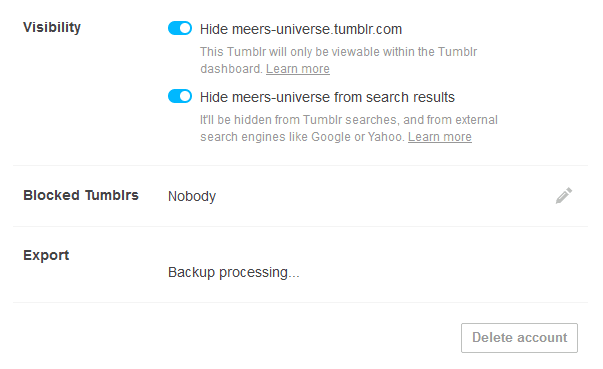 03. Theme Settings
Now, I will let you to the Edit Theme section, as I mentioned above.
If you understand HTML/CSS and want to customize your theme's code you can click "Edit HTML". It will open your theme code in the HTML Editor.
Browse Themes allows you to pick a theme for you, as shown in the next step.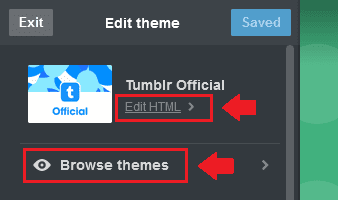 Tumblr offers plenty of themes other than official Tumblr theme like Premium Themes, Free Themes, Single Column Themes, Single Column Themes, Minimal Themes, Multiple Layouts Themes, etc.
RELATED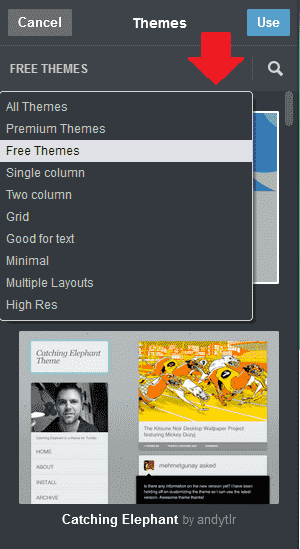 Below the "Browse Themes" there are Appearance Options.
The "Description" appears below the Title.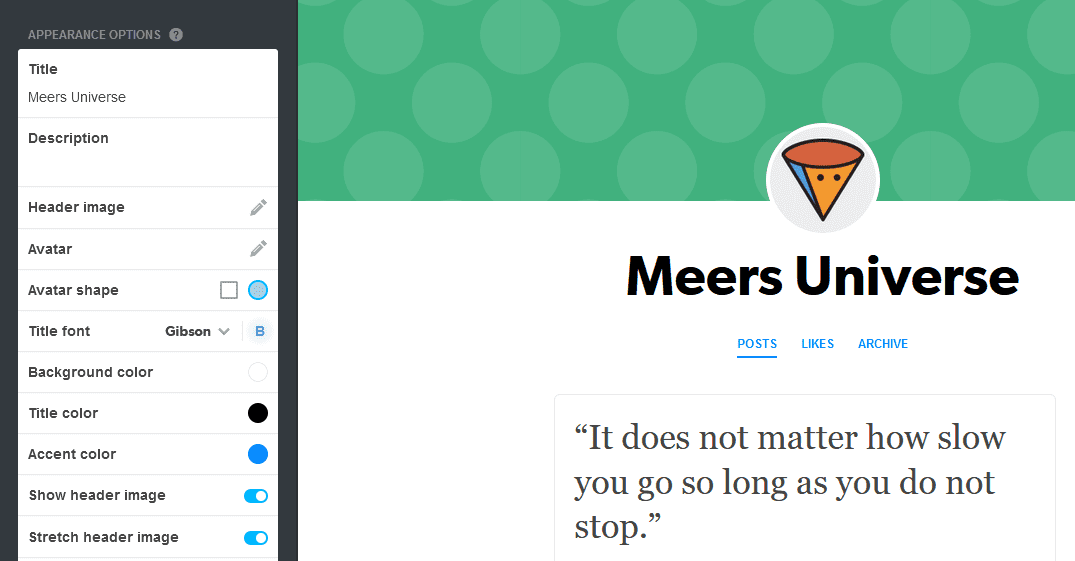 The "Use new post types" is for new features and updates that will be applied to your Tumblr posts. If you think your Tumblr posts are not properly formatted you can disable the feature.
The "OPEN GRAPH OPTIONS" are settings for your Tumblr blog when shared on Social media platforms. So write your Title and Description of your Tumblr blog.
Enable the URL HANDLING feature "Use better tagged and search URL decoding". It is a better technique for reliable URL parsing/analyzing for your search and tagged pages.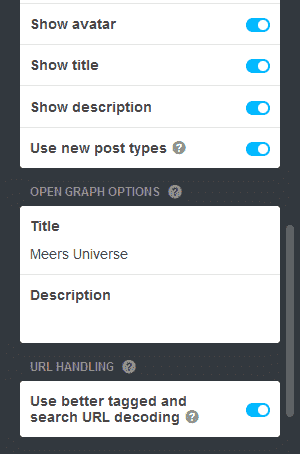 Here are some THEME OPTIONS that you can explore and set:
The "Layout" option allows you to choose a layout from your theme. There are 4 options (1) Regular (2) Minimal (3) Wide (4) Grid. As you will choose the option you will see a preview at right side.
The "Syntax highlighting" feature in Tumblr makes code easier to read and understand. It displays text and source code in different colors and fonts. This feature facilitate theme editors and developers.
Related Posts are those posts which are related to current article. They help visitors to explore more content of your blog. They are also called "Also Read" or "Recommended Posts". Always enable this feature.
The Disqus is a third-party comment hosting service for websites and blogs. It offers one of the best add-on tools for site owners to power discussions. If you're availing the service of Disqus, provide the "shortname". The shortname is a unique identifier assigned to a Disqus site.
Google Analytics ID is a unique identifier that allows Google Analytics to collect data related to your website traffic when added into your blog/website.
Learn how to add Google Analytics ID in Tumblr | Complete Guide:
The "+ Add a Page" option allows you to create a page on your Tumblr blog. The page will appear in your Tumblr Menu below the Title and Avatar.
Follow the steps to learn How To create a Page on Tumblr:
To Create a Tumblr page click the "+ Add a Page".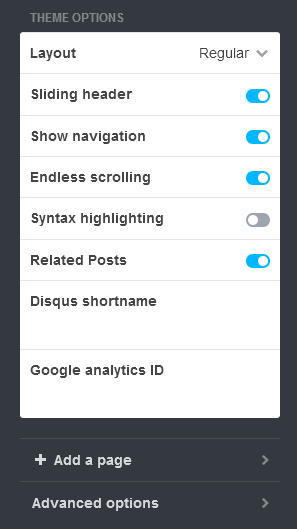 Tumblr offers two Page options (1) Standard Layout (2) Custom Layout. If you have designed your own page choose "Custom Layout" option and Paste HTML code there. Otherwise choose the "Standard Layout".
Enable "Show a link to this page". Tumblr will show your page link in the Menu.
In the "URL" enter a name which is also called slug. It is similar to your Page Title. If your page title is "About Me" the "url" could be "about-me."
Write your content in the Text Editor. You can format your page by applying styles like Bold, Listing, etc. You can insert/upload images. You can also view the HTML code of your page by clicking "<html>" icon.
Once you're done click "Save".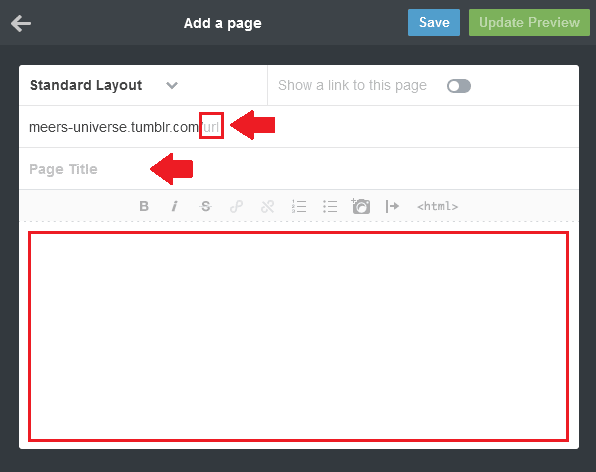 Here you can see a page after adding the content. You can view the live page on your Tumblr blog.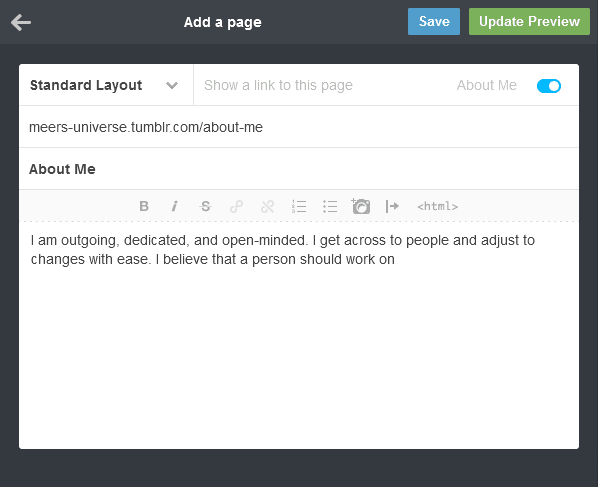 At bottom of the page there are Advanced Theme Settings.
The "Use default mobile theme" is a specially designed optimized theme for mobile devices to get better performance. If you have bought some other theme and want to use it on mobile devices as well then disable this feature, otherwise enable it.
Google AMP optimizes your Tumblr blog and posts for better performance on mobile devices.
Truncate RSS feed shortens your posts in RSS feeds to make subscribers to visit your Tumblr blog and read the posts in detail.
Promote Tumblr! option adds "Follow" button on your Tumblr blog for non-Tumblr users.
Preview offers two options (1) My posts (2) Sample posts. Preview is the section that appears on your right side when you customize theme. This option is only for preview purpose. If you choose Sample Posts option Tumblr will show some random sample posts in Preview instead of your posts.
The last option is "ADD CUSTOM CSS". It allows you to apply styling to your Tumblr blog without editing your Theme code.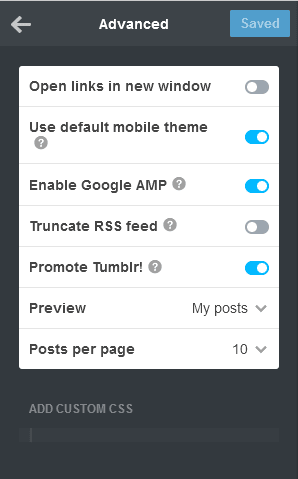 04. How To Setup Tumblr Account Settings
In the above section, I guided you on Tumblr blog settings, now I will guide you on some of the Tumblr Account Settings.
Click the "Account Icon" located at your top-right corner.
Click "Settings".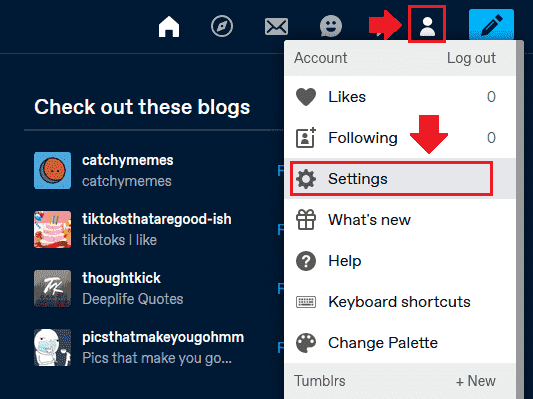 01. Account
This section contains the essentials of your Tumblr account.
To change the email of your Tumblr account click edit icon.
If you enable "Let people find your blogs through this address." people will be able to search you through this email as well.
If you want to secure your Tumblr account enable "Email me about account activity." and "Two-factor authentication".
Email me about account activity: You'll get an email when someone logs into your account or when a new app is authorized.
Two-factor authentication: Each time you log into your Tumblr account, you'll receive a unique OTC code via SMS(Text message) or through an authenticator app of your choice.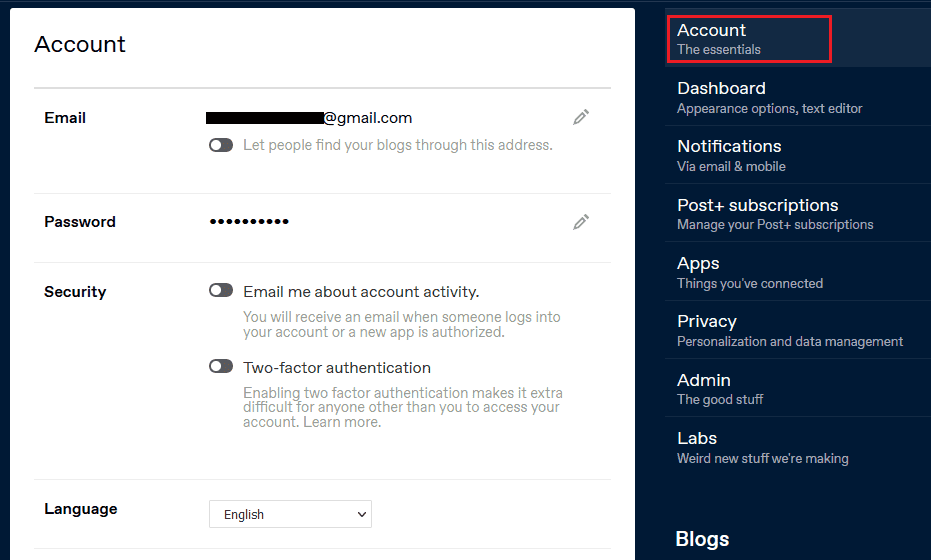 Filtered Tags hides posts with certain #tags from your dashboard and in search. The posts containing filtered tags are shown with a message "The post contains filtered tags" and "View Post" link.
Filtered Post Content searches the complete post for filtered word or phrase. If it finds such words in it then it shows you the message "The Post contains filtered content" and "View Post" link.
Active Sessions shows you recent activity in your Tumblr account. You'll find the list of browsers, operating system and locations that have accessed your account over the past 30 days. If you see anything unusual or unrecognized you can cancel the session by clicking the "X" icon.
Delete account button deletes your Tumblr account.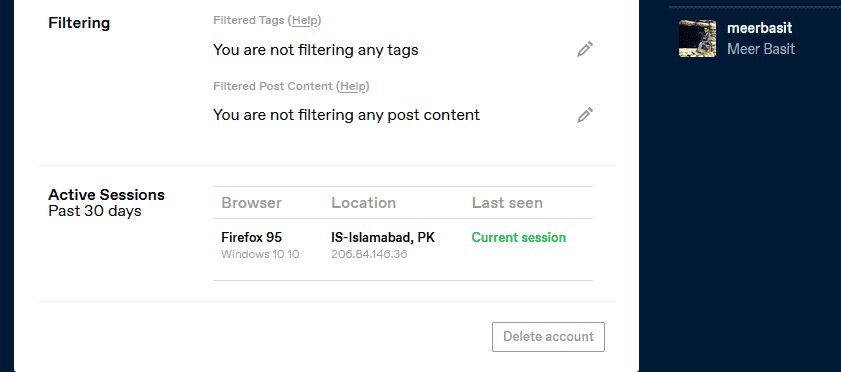 02. Dashboard
Dashboard offers Appearance options and Text Editor settings.
The "Enable Endless scrolling" allows you to scroll down your dashboard posts as deep as you want.
The "Show timestamps on posts, reblogs, and notes" displays timestamps in the post, reblog trail, and notes views.
Text Editor options allow you to pick your desired text editor for writing your posts. There are three options (1) Rich text editor (2) Plain text/HTML (3) Markdown. Rich text editor is the most advanced one.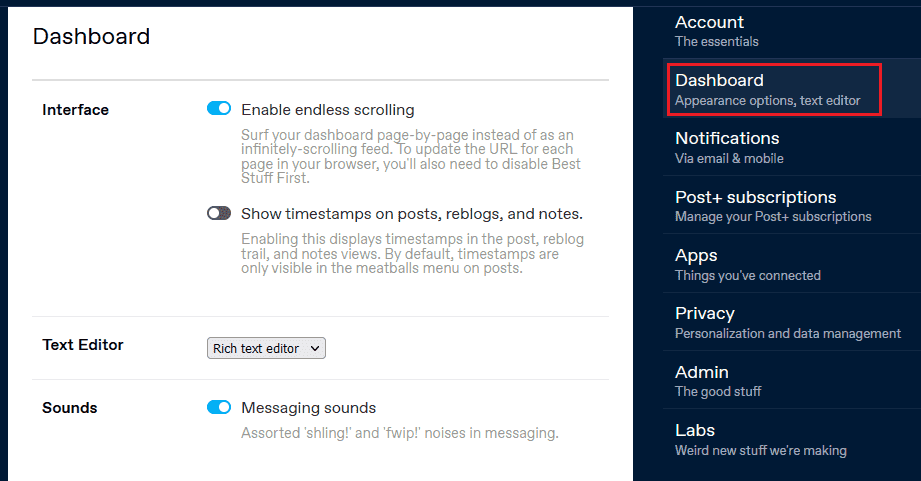 The "Best Stuff First" option shows the stuff on your Dashboard which Tumblr thinks you will like, rather than just the newest content.
The "Include stuff in your orbit" shows some blog posts that you follow also follow the Recommended. Tumblr includes posts, tags, blogs, and group chats that Tumblr thinks you might like. Recommendations come to mostly those people which are new to Tumblr. As you start following more Tumblr blogs you will get less Recommendations.
The "Enable colorized tags" colorize matching tags on the dashboard. Colorized means to add a color or enhance with color.

03. Notifications
Click the edit icon of "Some notifications and some emails" to customize your email and notification settings.
If you want to get news from Tumblr via emails like interesting blogs, new features, trending topics, etc, then enable "tumblr News".
If you want to get updates in the form of notifications from the posts where you are participating then enable "Conversational notifications".

04. Post+ subscriptions
The Post+ subscription shows your active subscriptions means paid supporters/subscribers. Tumblr has introduced a new feature that allows Tumblrs to create some of their posts only for paying subscribers. It empowers Tumblr users to to make money on Tumblr.
Learn More About: How To Setup & Activate Post+ in Tumblr | Make Money

Other settings like Apps, Privacy, Labs, are simple to understand, explore by yourself.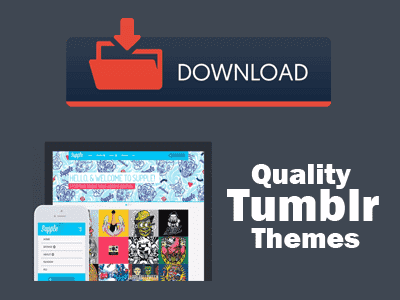 05. How to Create Your First Tumblr Blog Post
You have successfully created a Tumblr blog, and set up account settings, now it is time to create your first Tumblr blog post in Rich Text Editor.
I have created a separate tutorial that guides you step-by-step on:
06. Redirect To Custom Domain Feature
Tumblr provides you an advanced optional feature called "Custom Domain". This feature allows you to redirect your Tumblr subdomain to a custom domain.
Examples Of Custom Domain: "meersworld.net", "scalefortune.com", "comedycentral.com", etc. You can see that they are not subdomains of any other domain. They belong to their owners who purchased them.
Examples Of Subdomain: "comedycentral.tumblr.com", "meerbasit.tumblr.com", etc. In these examples "comedycentral", "meerbasit" are subdomains of "Tumblr.com". Though they are free, but property of Tumblr.
I have created a separate tutorial that covers following topics in detail:
What Is Custom Domain?
What Is Custom Domain Feature On Tumblr?
How To Buy Custom Domain
Create DNS Record For Custom Domain
How To Setup Custom Domain On Tumblr
Custom Domain Testing Errors
Read: How To Setup Custom Domain On Tumblr | Beginners
07. How To Make Money On Tumblr
Though Tumblr Terms of Service has mentioned that your Tumblr blog should be used primarily for blogging, but it also allows you to make money on it.
Here are some of the ways that you can make money on Tumblr:
Post+
Google AdSense
Affiliate Marketing
Affiliate-Based Showcase Tumblr Blog
Sponsored/Guest Posts
Paid Banners
Sell Your Own Products
To know more about these 7 different ways to make money on Tumblr, go through this post:
Final Thoughts
So it was all about starting a Tumblr blog from scratch. I hope that you would have enjoyed this step-by-step guide. Tumblr is a great platform particularly for creative people. Be persistent in creating unique, quality, and original content.
If you like this post then don't forget to share with other people. Share your feedback in the comments section below.
Also Read: