Blogging
How To Start A WordPress Blog [2021] & Make Passive Income Online
Blog is a platform where you write content(posts/articles) of your interest, knowledge, experiences, ideas and more.
Blogging is a great way to connect with people and get your ideas out there. It is one of the best means to make money online from home. When you do blogging professionally you actually make money!
Genuine reasons to start a blog:
If you want to get rid of  8 to 5 job and live boss free life – financial freedom.
If you want to earn a passive income. Passive income is a money which you earn despite not working on daily basis or in other words an income which requires very little effort to maintain.
If you want to work from anywhere without any location, time or travel restriction.
In order to know How much traffic and blog posts required to make at least $4000 per month in the first 2 years of your blogging journey, must go through the section "How Long It Takes To Get Traffic & Earn An Income – Timeline".
WordPress is the most popular content management system, a robust free-tool to create and manage websites and blogs. According to an estimate 38% to 40% websites on the internet are powered by WordPress.
To launch a professional WordPress blog you need three things (1) Domain (2) Web Hosting (3) Blog Theme.
This article explains each and everything so thoroughly that a person having zero knowledge about blogging & WordPress can create and start his own blog.
In this article we will cover following topics:
Choose A Blogging Niche
Choose A Blogging Platform – Why WordPress?
What Is Domain & Web Hosting
How To Buy Domain & Web Hosting
How To Install WordPress
How To Install WordPress Theme
How To Create Your First Blog Post
How To Write An Ideal Blog Post
How To Grow Blog Traffic
How To Earn Money From Blog / Blog Monetization
How Long It Takes To Get Traffic & Earn An Income – Timeline 
Important & Helpful WordPress Tutorials
01. Choose A Blogging Niche
Niche is the main topic of your blog around which you will be writing content or in other words it is the area of interest where you are good at writing.
Technology, finance, travel, lifestyle, food, fashion, blogging, photography, marketing, animals, sports, online earning etc, are some of the popular niches. You can find hundreds of thousands of sub-niches within them.
A blog could be multi-niche as well as a specific niche. Many bloggers make mistake by randomly writing content around different topics, as a result most of their content is ignored by search engines(Google, Bing, etc).
Always go for a specific niche because the success rate of single niche blog is higher as compared to multi-niche. Here are four reasons why you should choose single niche:
Your blog is ranked higher in search engines(Google, Bing, etc).
You get a uniform traffic relevant to your niche.
It builds trust among your blog visitors that you have got a command and knowledge over your content.
People are inclined to buy the products or services that you recommend because of the trust that it builds, which ultimately results in making more money.
People often get confused when it comes to choosing a blogging niche like, what is their real area of interest where they are actually good at!
Niche should be such that you enjoy talking about.
Think about your hobbies, your habits, daily routine, what type of solutions people ask from you, what do you watch most of the time, what do you play, etc, you might get a hint for your niche.
One way to find a right niche is by writing down the niche topic on a paper, under that topic write the article titles on which you can write content. This will help you to know that how good you are at particular niche.
You can also search on Google like "Trending niches for blogging", "Most profitable niches for blogging", "Best niches for blogging", etc.
In order to know the monthly search volume of your niche keyword on Google, you can use the free Google Keyword Planner Tool. You will also get plenty of keywords relevant to your searched niche keyword.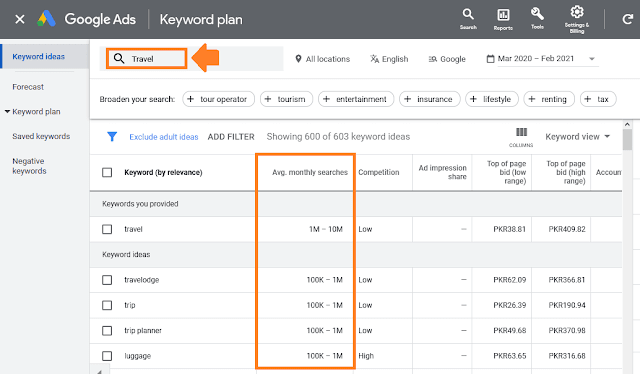 02. Choose A Blogging Platform
A blogging platform is a content publishing service where you can create your blog or website. There are many blogging platforms such as Blogger, Weebly, Wix, etc, but the most popular blogging platform is WordPress.
According to an estimate 38% to 40% websites/blogs on the internet are powered by WordPress. From this percentage you can get an idea how popular is WordPress.
There are two main reasons why WordPress is so popular:
There are thousands of themes and plugins for any type of website i.e personal, eCommerce, News & Magazine, blog, portfolio, etc.
WordPress is free and open source means you can customize anything in WordPress like code, functions, themes & plugins, according to your requirements.
After WordPress, Blogger is the most popular blogging platform. It is developed in Python language. All its blogs are hosted by Google & accessed by subdomain ".blogspot.com" like "www.example.blogspot.com".
There has always been a debate between WordPress and Blogger like which one is better for blogging. We have created a separate article where we have thoroughly compared both blogging platforms.
03. What Is Domain & Web Hosting
Domain is simply the address of your website that you type in URL bar to access your website. It locates your website on internet, like "www.meersworld.net" is a domain.
How to Choose a Domain?
Choosing a right domain name is very important for your blog. Often people get confused when it comes to choosing a domain name. So for your help, here are some recommendations to how to choose a right domain name:
It should be easy to pronounce.
It should be easy to remember.
It should be easy to type.
It should be brandable.
It shouldn't be too long.
Choose the popular domain extensions like ".com", ".net", ".org".
Avoid hyphens and numbers.
Consider using a keyword that reflects your website.
If you want to create a personal blog you can use your own name as well.
Web Hosting
Web hosting is a space or location where you upload/install the content and files of your website/blog. Once you upload/install your website on web hosting it becomes live and people can access via the domain of  your website.
In the section "How To Install WordPress" we have shown how WordPress is installed in web hosting.
04. How To Buy Domain & Web Hosting
Choose your Billing Cycle.
Choose 12 months or more. You can also see that for long billing-cycle periods it is offering more discounts. The 12 months mean you will pay once in a year, 24 months mean you will pay once in 2 years, and 36 months mean you will pay once in 3 years. With some annual billing cycles you get domain for free.
Enter your Email and a secure Password to create your HostGator account.
Enter a 4 digit "Security PIN". The Security PIN identifies you as the owner of your account.
Tip: Save this information i.e Email, Password & PIN in a Notepad file, in case you forget you can find there.
05. How To Install WordPress
Since you have bought your hosting package successfully now it is time to install WordPress.
Scroll-down to "SOFTWARE" section.
Click "Softaculous Apps Installer".
Softaculous is an auto installer that helps to install commercial and open source web applications like WordPress, Joomla, Magento etc, on your web hosting account.
Now you have to fill some information here:
In "Choose the version you want to install" select the latest WordPress version. By default the latest version of WordPress is selected.
In the "Choose Installation URL" settings select "https://" in "Choose Protocol" and select your domain in "Choose Domain". Leave the "In Directory" field empty. If "wp" is already written in this field, remove it.
In the "Site Settings" enter your website name in the "Site Name" and enter the website description in the "Site Description". The Site Description tells visitors what your website is all about, so write a meaningful description.
In the "Admin Username" enter a username.
In the "Admin Password" enter a secure password.
In the "Admin Email" enter you email.
This is the information that you will use to login into your website's admin section.
In the "Select Language" choose your desired language.
Once the WordPress is installed successfully you will get a Congratulations message.
It will also show you the admin section link(Administrative URL) of your website. It will be similar to "https://www.example.com/wp-admin/". The "example.com" will be replaced with your domain.
To update the basic settings of your website click "Settings".
Click "General".
06. How To Install WordPress Theme
The Themeforest is world's largest theme marketplace that contains thousands of affordable themes for any type of niche or website like Blogs, Portfolio, Personal, Travel, Review, News & Magazine blogs, Corporate, Technology, Entertainment, eCommerce, Sports, Gadgets, Gear, Fashion, Education, Freelancing, Clothing, Retail, Real Estate, Wedding, Photography, etc.
Go to official website of ThemeForest and search for your desired WordPress theme.
Watch live preview of your WordPress theme, explore its features, read reviews, and purchase it.
Once you purchase a blog theme you will get your download link within seconds.
Read this step-by-step tutorial to install WordPress theme downloaded from the Theme Forest.
WordPress Plugins are programs made up of one or multiple functions that are installed in your WordPress website to enhance it with new features like contact form, sliders, mega menus, gallery, currency switcher, timetable, management systems, online store, online booking system etc. Some plugins are free-of-cost and some are paid.
Everything is done, now it is time to learn how to create your first WordPress blog post. In this section we will give you a quick introduction to WordPress Editor.
Login to your WordPress Admin.
Click "Post".
Click "Add New".
At your right side there is a Settings section.
Here you can see the "Permalink". Permalink is the permanent URL of your post. WordPress automatically creates this URL from your post Title.
You can modify this URL in "URL Slug" box. You can preview your URL under the "View Post". Use hyphen(-) after every word.
You can see a "Block" tab along with "Post". Block tab contains HTML elements that you use in your blog post such as paragraph, image, headings etc.
Click the blue "+" icon at your top left corner. When you click it will turn black and there will appear a sidebar.
It will list plenty of HTML elements, media, design, widgets, embeds, etc. When you hover over an icon you will see a demo at your right side.
You can also find directly from the Search bar.
To close the sidebar click the "+" icon again.
In order to switch from Visual Editor to Code Editor click the three three vertical dots at top right corner.
Click "Code Editor". Code Editor shows you the HTML code of your post.
Categories and Tags are two primary ways to group content on your blog. Categories are general labels whereas Tags are specific label. Tags describe your posts in more detail.
They help to organize your articles and also have a significant role in post's SEO.
Expand "Categories" & "Tags" from the sidebar to link your article to different categories and tags.
For example your blog is about writing media reviews, your possible categories could be Books, Film, etc. Let's say you are writing an article on action film "Mission Impossible" your possible tags could be action film, Tom Cruise, David Ellison, Christopher McQuarrie, etc.
Click "Excerpt" from the sidebar to add a short summary or snippet of your blog post.
Click "Discussions" to choose whether you want to allow "Comments" and "Pingbacks & Trackbacks" on your post.
The "Pingbacks & Trackbacks" are a special type of comment created when you link to another blog post. The pingback tells you and other blog visitors: "Hey! Someone put a link to your post on their website".
Some SEO experts suggest not to allow "Pingbacks & Trackbacks". Only allow if you are sure to use them.
Since you have learned how to create your WordPress blog post now it is time to learn how to write an ideal blog post.
If you follow these guidelines from the day one of your blogging career you will be able to bring good organic traffic i.e the traffic from the search engines(Google, Bing, etc).
The art of writing an ideal blog post is simple, write to impress the readers by keeping the SEO guidelines in your mind, as we have discussed in this section. Your blog posts should be so good & solution-oriented that people would love to stay on your blog and visit again.
Focus on your users, create unique and quality content.
The majority of SEO experts are of the opinion that blog post length should be around 1000 words to 25000 words. In general lengthy articles are ranked better in Google.
Don't write irrelevant and repetitive content just to make your article lengthy. If you do then always remember that Google algorithms are AI & semantic based, they identify such articles and never allow to rank in Google.
The title of your blog is always very important, should not be too long. Always write the main keywords in the title. When you write your post content don't go too far from the title, remain within the scope of your post title. You can use the Google Keyword Planner to check the search volume for a keyword.
When you write a blog post always keep smartphones in your mind because majority of people use smartphones as compare to computers, and that's why while indexing & ranking Google gives more priority to those posts and blogs which are mobile-friendly.
Your paragraphs should not be more than 2 to 4 lines. If you write lengthy paragraphs that will be too large for smartphone readers.
First two paragraphs of your post are always very important because you can capture the attention and trust of readers.
Here are some ideas for you:
You can share your blog post links on relevant YouTube video comments.
You can share your blog post links on comments section of different blog articles.
You can join different forums, Facebook groups etc, where you can answer queries by suggesting your relevant blog posts.
By doing the collaboration with other web publishers. John will ask Smith to promote his blog and articles in Smith's blog and Smith will ask John to promote his blog and article in John's blog.
The best way to create backlinks is by creating quality content, as we have discussed earlier how to create quality content. If you create quality and solution oriented content other websites will recommend your website and articles on their website and articles. You can get decent amount of traffic.
Now here comes the topic for which people create blogs i.e How to make money from your blog. Here we will introduce you to four different ways of earning money from your blog:
Google AdSense
Affiliate Marketing
Paid Content
Selling Your Own Product.
Create these 4 important pages soon after your blog is ready:
Privacy Policy page
Disclaimer page
About Us page
Contact Us page
There are many alternatives to Google AdSense for monetizing your blog, such as:
If they ask you to display banner you will get paid monthly, yearly or for certain period of time.
Selling your own product is also a great way to make money from your blog. Let's say you have a food blog, you can recommend your own eBook of recipes to your blog visitors. Similarly you can sell  tools, software, themes, gadgets, gear, machines, etc on your blog.
If you target the keyword "Travel" it might take years for you to rank your content because it is a very high competitive niche, instead you can choose a sub-niche of  "Travel". If you do things smartly you will get better results.
If you like this post then don't forget to share with other people. Share your feedback in the comments section below.