How To
Pinterest: How To Add/Create Or Upgrade To A Free Business Account
There are two types of accounts on Pinterest, personal and business account. Both are free to create. With Business account you get access to some of the pro features like Analytics and ads.
It helps you to get more control over things like content attribution(marketing align with sales, determines your budget, and can improve your content quality) and branding(establish an image of your company or products in the eyes of customers).
You can sign-up for a business account directly or you can upgrade an existing personal account. If you upgrade your personal account to business account you will have two accounts(personal & business).
It is up to you whether you manage both the accounts or delete your personal account. You can convert back to your personal account as well. You can close a Pinterest account from Account Settings.
In this tutorial you will learn step-by-step to How To Add/Create Or Upgrade To A Free Business Account.
Step 1:
If you don't have a Pinterest personal account and want to sign up for a new Pinterest business account directly Click Here.
Enter your Email & some password.
Click Create account.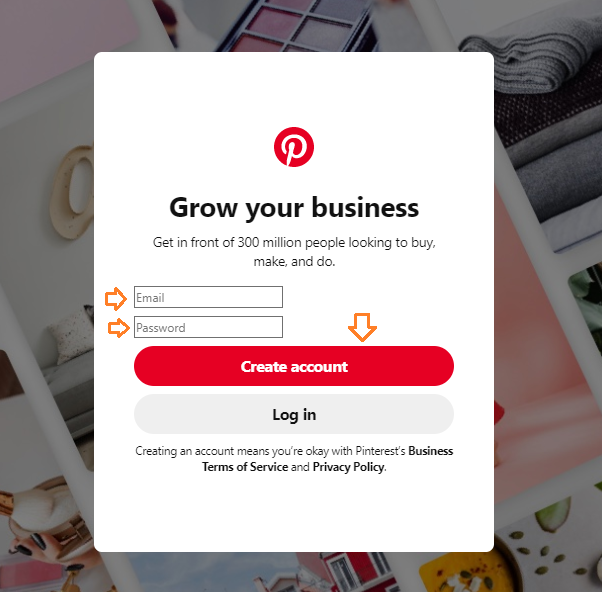 Choose Language and Country.
Click Next.
Follow the Step 2.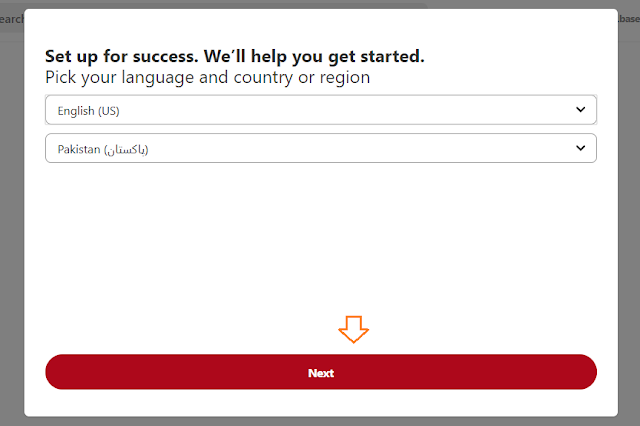 If you want to upgrade your existing Pinterest Personal account Click Here.
If you are already signed in, your email will be listed.
Click Continue OR
Sign in to your Pinterest account.
Click three horizontal dots at top-right corner.
Click Add a Free Business Account.
Follow the Step 2.
Step 2:
Add your Business name. It could be anything, your name, your company's name, your website name etc.
Choose your business.
Click Next.
If you want to add an email to get notifications and updates enter an email or if you don't want then click Later.
Enter your website URL.
Click Next.
If you don't have a website click Later.
Click Later. You can do it by going to Profile Settings. You can claim your Instagram, Etsy or YouTube on Pinterest.
Choose an option regarding running ads on Pinterest.
You can later create ad campaign from Analytics as well.
Click Next.
Click the third option "Build your profile" to edit your profile.
You can edit profile from Edit Settings as well.
Upload a profile picture for your account.
Edit your Username. When you create a new account Pinterest by default adds your email in Username. Make sure to enter a meaningful name because it becomes part of your Pinterest profile URL.
Enter "About your profile".
One of the features of Pinterest business account is that you can set a header picture as well.
Open your Pinterest profile and click the Edit icon at top-right corner.
You can upload an image or video.
You can choose a board as well.
How To Create Boards & Pins On Pinterest Business Profile
Create Board On Pinterest
Open your Pinterest Profile.
Click Boards.
Click + symbol.
Enter the Name of  board.
Click Create.
Hover the mouse over the board and click Edit symbol.
You can choose the category of board.
You can keep your board secret as well.
There are three other options as well: Delete, Archive and Merge.
On Pinterest, Archive will hide your board from your profile and you won't be able to save new pins to it. You can Unarchive your board later to make it active again.
On Pinterest, you can merge/combine the pins of two boards by sending pins of one board to the other, but it will delete the board from which you will move the pins.
Create Pin On Pinterest
Now open the Board on which you want to add Pins.
Click the + icon just above the Board title.
Click Create Pin.
Now here, there are two options to add image. One, you can upload from your computer and second, you can import from a website.
First option is pretty simple just upload the image, add title, description. Destination link(URL) is optional.
Here we will show you how to Save from site.
Click Save from site.
Paste the URL of a post, article or a webpage.
Click the arrow pointing towards your right.
Here you can see that lot of images have been imported from my blog post.
Click your desired image.
Click Add to Pin.
You can see that the URL of the blog post has been automatically included in the "Destination Link" field. It means whenever someone will click this image the webpage or blog post will be opened.
Add you title.
Add description about your Pin.
Click Save
Here you can add a photo as well if you have tried a Pin. It is optional. For instance a girl is selling this dress on Pinterest and if she herself has tried this dress she can share her photo here. It will motivate the visitors to buy this dress because the person who is selling or promoting  this dress actually knows about it. This will increase the sale.
To Edit your Pin simply hover over the pin and click Pencil icon.
This is how Pinterest works. Hopefully you must have a good understanding about Pinterest Boards and Pins.
If you like this post then don't forget to share with other people. Share your feedback in the comments section below.
Meer Basit
Meer Basit is the founder of Meer's World. He's been running the show since launching the blog back in 2018. By background he is a computer scientist. Primarily, he creates content around blogging (WordPress, Blogger, Tumblr), SEO, affiliate programs, earn-online, reviews, eCommerce, & technology. He has got years of professional experience in web programming, computer programming, databases, data warehousing, & transcription. In general, he likes traveling, gardening, watching movies, is a passionate cricketer, creative writer, and a GSD lover.