Do you want to join Amazon Associates Affiliate Program in Pakistan and make an online income? You're in the right place.
In this tutorial, I will guide you step-by-step on How to register for Amazon Associates Affiliate Program from Pakistan, How to make money from it, and How to receive your Amazon earnings/commissions.
Amazon Associates affiliate program is one of the largest and most popular affiliate programs. As you know that Amazon is the largest eCommerce marketplace in the world, offers millions of products to customers. So whatever your niche is, there are always going to be relevant products to promote and make commissions.
Following topics will be covered in this article:
How To Create Payoneer Account
How Amazon Affiliate Program Works
How To Sign Up For Amazon Affiliate Program
How To Get Your Product Affiliate Links
How To Make Money From Amazon Affiliate Program
RELATED
01. How to Create Payoneer Account
In this section you will learn about how to create a Payoneer account step-by-step.
The payment methods like PayPal and Credit Card are not available in Pakistan. Amazon offers Payoneer as the payment method for people who are signing up from Pakistan.
Amazon sends payments (earnings) to Payoneer account from where you can withdraw money to your local bank account in Pakistan. Creating the Payoneer account during the sign up process is not mandatory, you can create Payoneer account later and set up in your Amazon affiliate account.
02. How Amazon Affiliate Program Works
Amazon Associates affiliate program works in three steps:
Step 1 (Join): Signup for Amazon Associates affiliate program and create an account.

Step 2 (Advertise):

Create affiliate links for your desired products and share/advertise them to people. This affiliate program requires you to have either blog, YouTube channel or a mobile app.

Step 3 (Earn):

When you produce sales of Amazon products you will earn certain amount of commission. There are various commission rates for various products like some categories have 2% commission, some have 5% commission and some have 10%. For bounty programs you earn fix amount for every signup/subscription .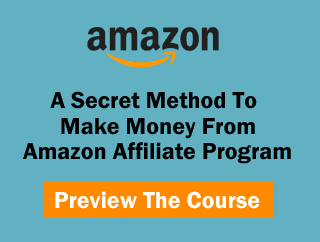 03. How To Sign Up For Amazon Affiliate Program
In this section, I will guide you on signing up for Amazon Associates affiliate program from Pakistan.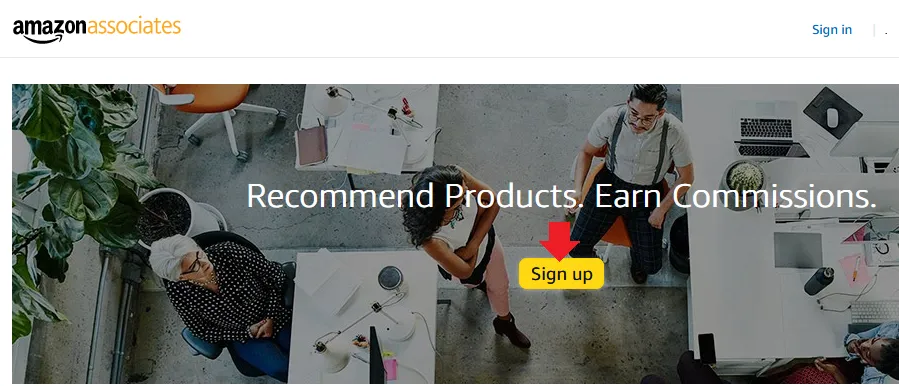 Click the "Create your Amazon account" button.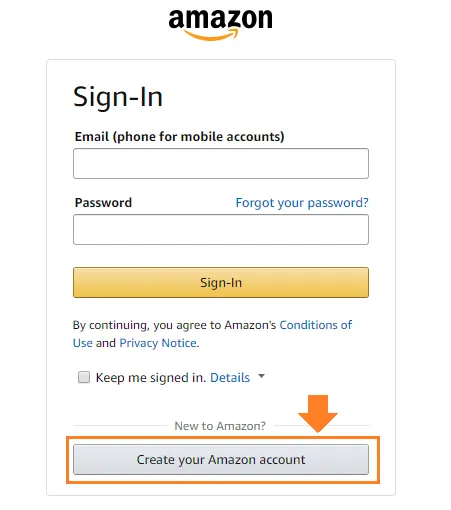 Enter you Name, Email, and Password.
Click the Create your Amazon account.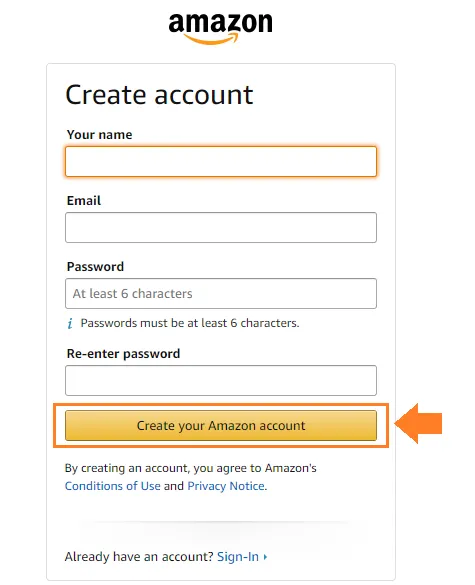 It will send you an OTP (One Time Password) to your email account for the verification of your email id that you have provided above.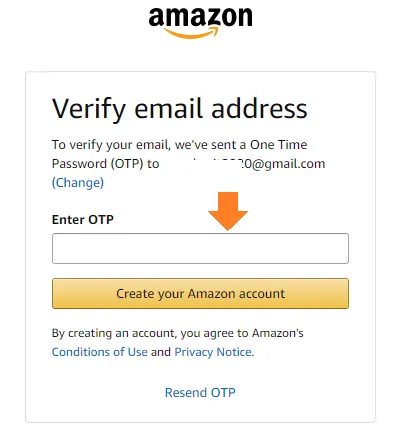 Open your Email Account.
Open the OTP Email from Amazon.
Copy the OTP code.

Paste into the textbox in "Verify email address" step.
Click "Create your Amazon account".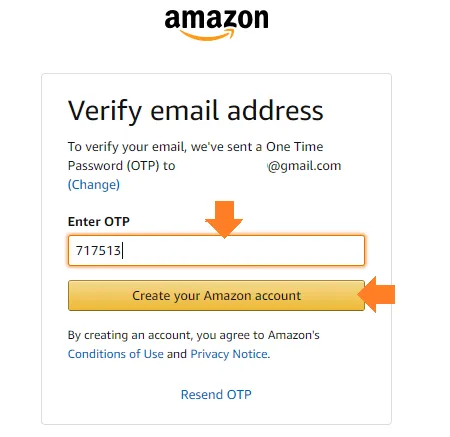 Account Information
Fill the Account Information here:
Enter Payee Name. Payee means the name of the person to whom payment will be sent.
Enter your Address in the Address Line 1.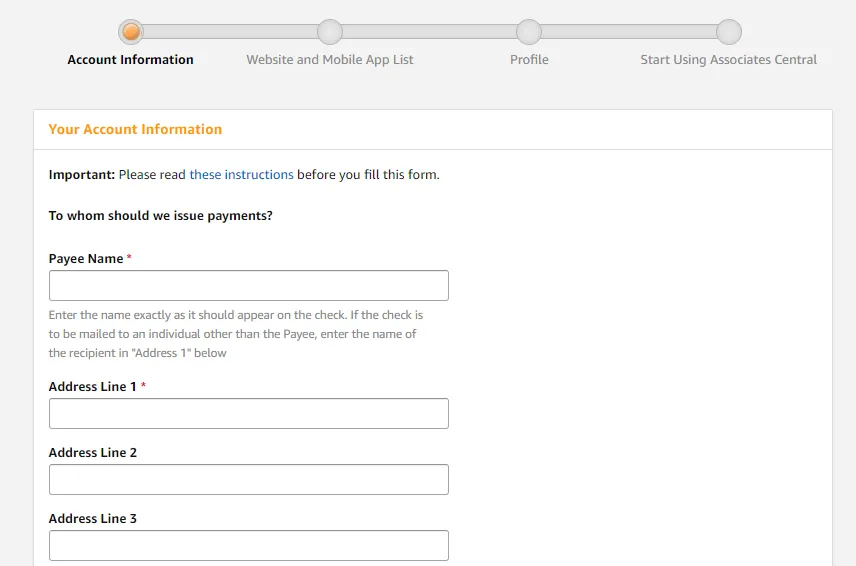 Enter your City Name, Province or Region Name, Zip or Postal Code of your city.
Choose "Pakistan" in Country.
Choose your Country Code and enter your Phone Number.
In Who is the main contact for your account?. Select the first option, "The payee listed above".
Click the Next button.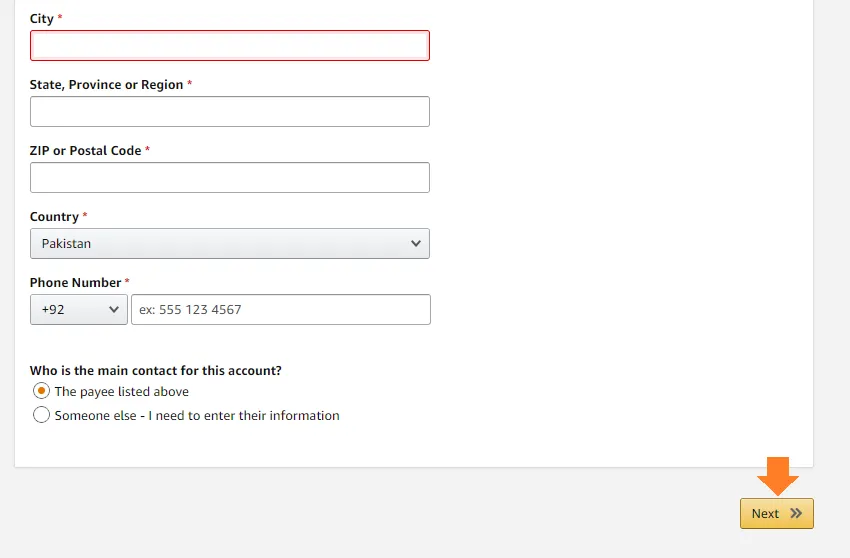 Website/Blog or Mobile App Information
In Enter Your Website(s) add all your blog/website URLs on which you will be promoting or displaying banners, links, widgets, etc, from Amazon Associates. It is mandatory to add at least one website. Related: How to Start a WordPress Blog | How to Start a Free Blogger Blog.
In Enter Your Mobile App URL(s) add the URLs of your mobile apps. It is optional.
Once you add URL(s), click Next.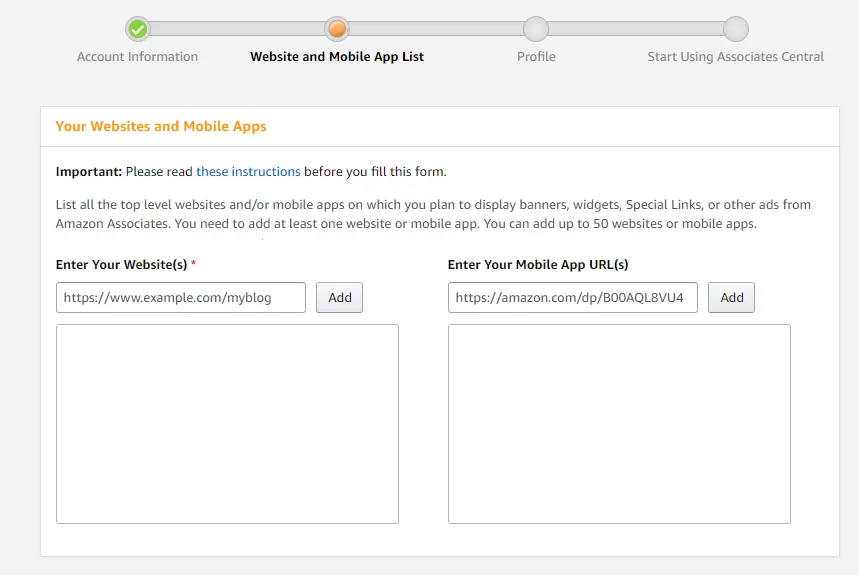 If your blog, website or app is made for children age greater than 13 then choose No. This "No" means your blog, website or app is made for people who are older than 13 years.
Click Confirm.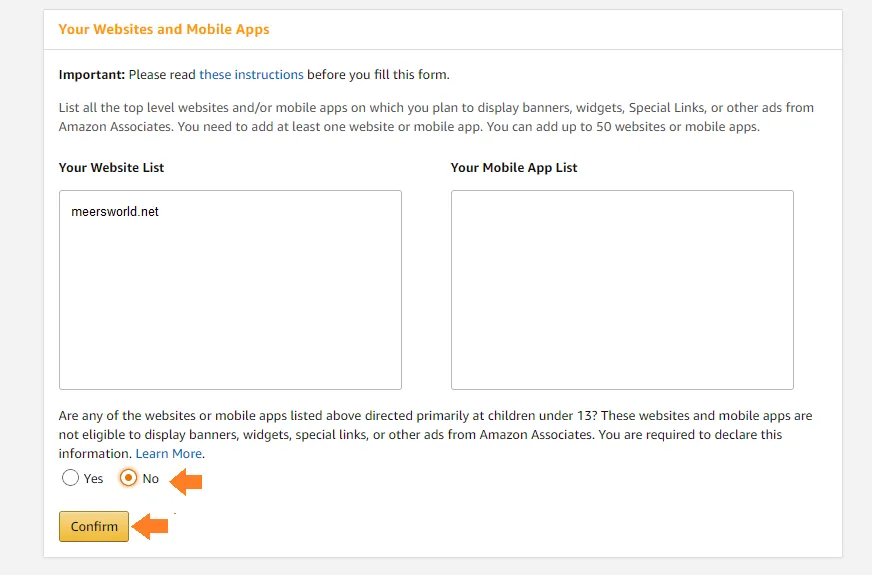 In What is your preferred Associates Store ID? Enter your Associate Store ID. It could be anything. This ID will be used for tracking your links. You can see this ID in between your affiliate product links.
In What are your websites or mobile apps about? Enter the information about your mentioned website(s)/app(s), and type of Amazon products you want to promote on them.
In Which of the following topics best describes your websites or mobile apps? Select the Primary and Secondary Topics. For example, if your blog is about Fashion, choose Fashion.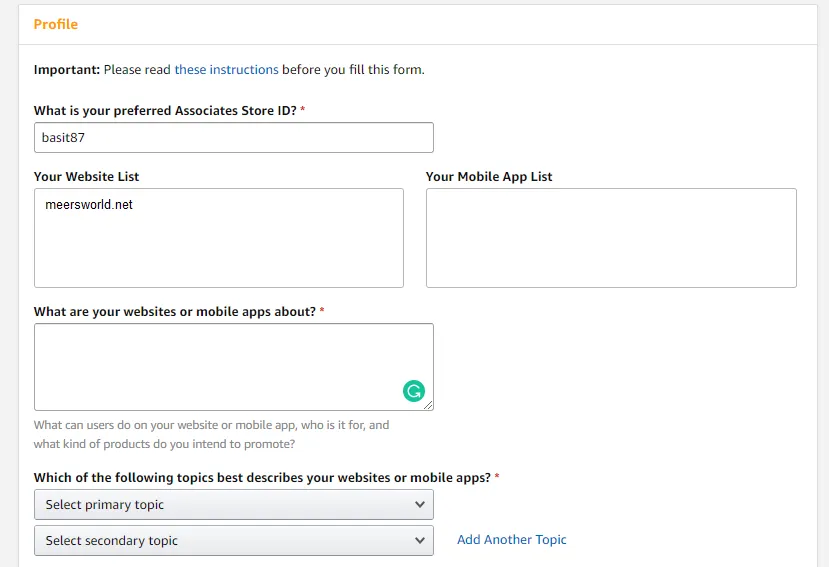 In "How do you drive traffic to your website(s)?" Tick all those options that you use to bring traffic to your blog or website.
In How do you utilize your websites and apps to generate income? Choose the Primary and Secondary ways that you use to generate income Like Google Adsense, CJ Affiliate, Display Advertising, etc.
In "How do you usually build links?" Choose the first option "Blog Editor", if you have a blog like a WordPress blog or a Blogger blog.
In How many total unique visitors do your website and apps get per month? Choose the range of your blog or app's monthly traffic.
Choose the primary reason for joining Amazon affiliate program. There are three options. Choose the second option (To monetize my site) if you are joining for making money.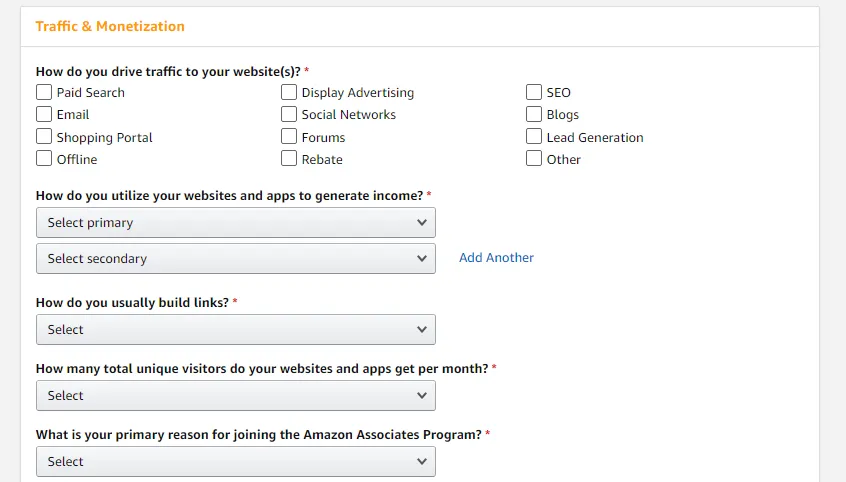 In How did you hear about us? Select the option that gave you information about Amazon Associate affiliate program.
Enter the Security Captcha.
Tick the terms and conditions of Amazon Associates Operating Agreement.
Click the Finish button.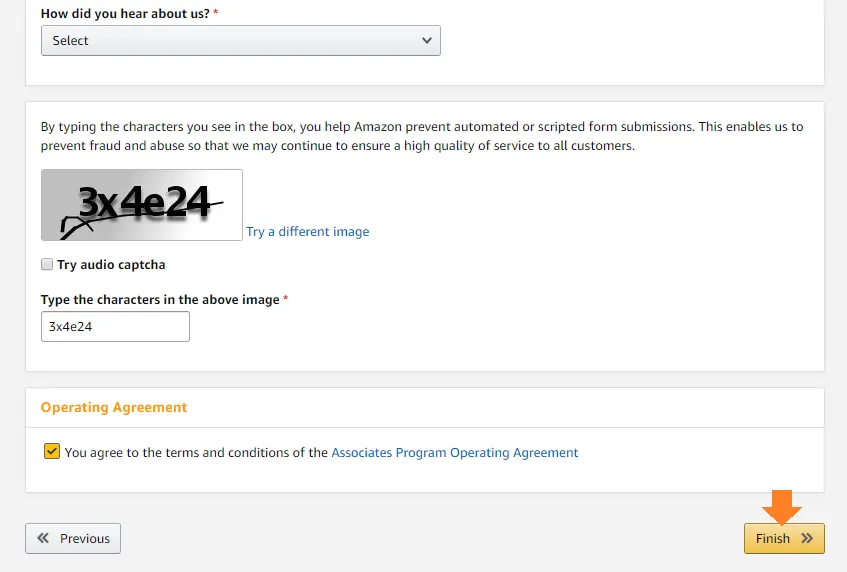 Payment Configuration
You will be redirected to Congratulations page. Here you have the option to configure your Payment method. If you don't have a Payoneer account or not created a Payoneer account yet, click "Later". You can configure your Payment method later as well.
If you have a Payoneer account, click "Now" to configure Payment.
You will be redirected to Amazon Sign-In screen. After you enter the password you will be redirected to Two-Step Verification, as shown in the next step.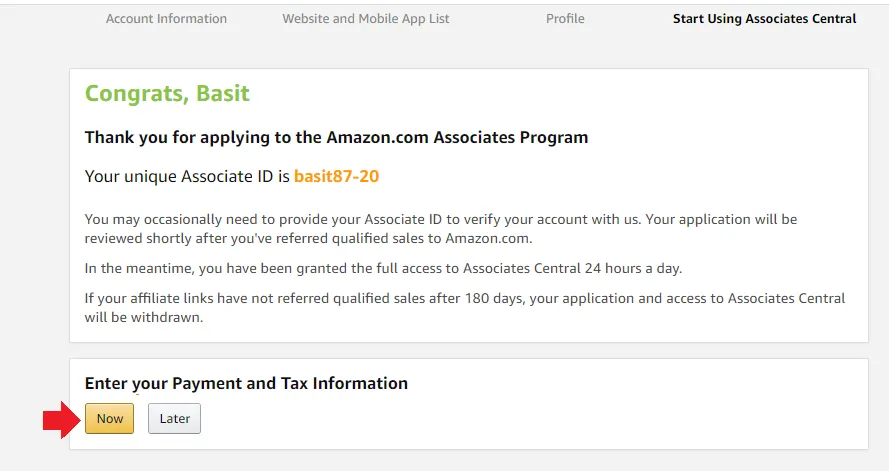 Choose your Country Code and enter your Phone Number.
Choose Text message (SMS) option.
Click the Send OTP button. Within few seconds you will receive an OTP on your phone.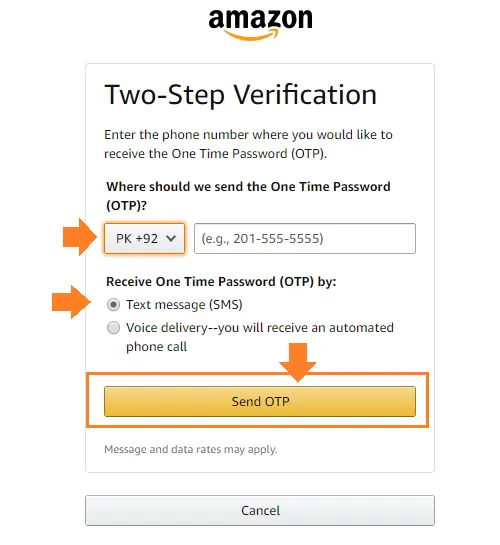 In the Enter OTP type the OTP that you will receive via SMS.
Click the Continue button.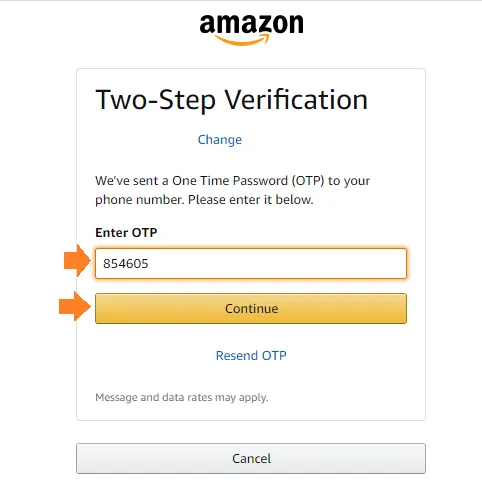 Now you will be redirected to Payment Method configuration page. Here I will guide you on how to integrate Payoneer with Amazon.
Choose the first option "Pay me by direct deposit". $10.00 minimum earnings means your earnings will be sent to you when it will be greater or equal than $10.00.
Fill the payment information from your Payoneer account. We will guide you in the next step to how to get this information from your Payoneer account.
In "Bank Location", choose United States.
In "Account Holder Name" Enter Beneficiary name.
In "Account Number" Enter Account number.
In "Bank Name" Enter Bank name, mostly it is First Century Bank.
In "Bank Currency" Choose US Dollars.
In "Account Type" Choose Checking.
In "Routing Number/ABA Number" Enter Routing (ABA).
Once you fill your Payoneer account details here, click on the "Submit and Continue with Tax Information.".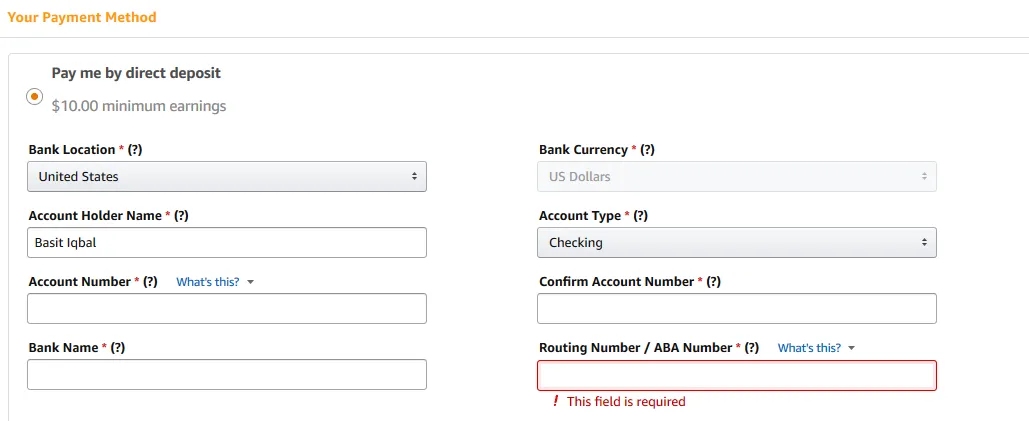 Login to your Payoneer account.
Click Get paid.
Go to USA Receiving account and click View details link.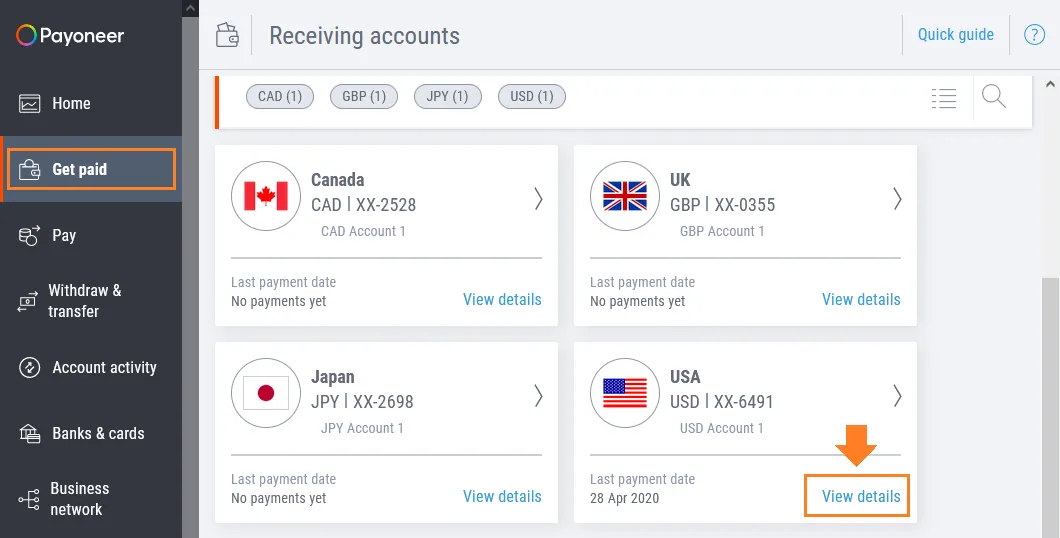 Now copy the Payoneer account details and Paste in the Amazon Payment Method above.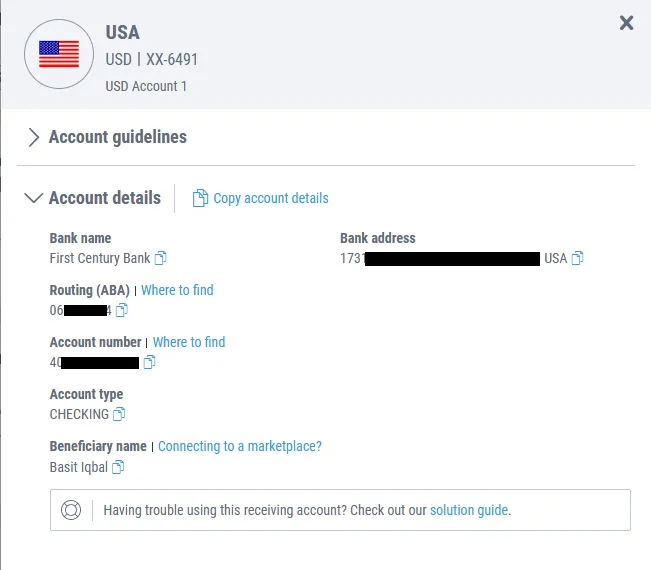 Tax Information
Tax is applicable for U.S citizens only. Fill the "Tax Information Interview" below so that you don't have to pay tax.
In "What is your tax classification?" Choose "Individual."
In "For U.S. tax purposes, are you a U.S. person?" Choose "No".
In "Are you acting as an intermediary agent, or other person reeving payment on behalf of another person or as a flow-through entity?" Choose "No".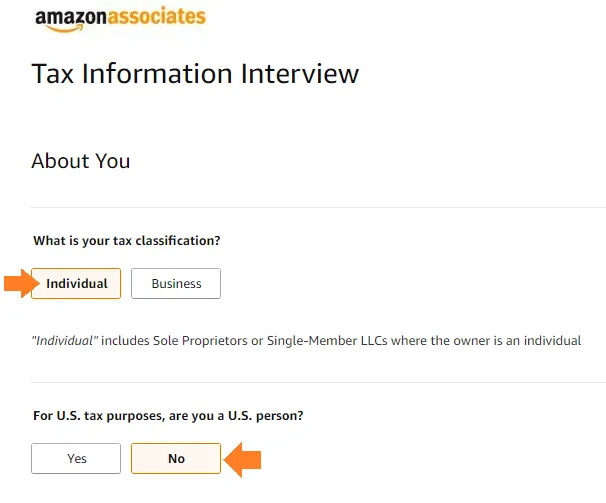 Provide your Full name. This name should be the same as you have given above in Payee Name.
In Country of citizenship choose Pakistan.
DO NOT tick on "I have a Non-US TIN" and "I have a U.S. TIN" options. If any of them is Ticked, Untick them.
In "Why are you not able to provide a TIN?" Choose the first option "The country where I am liable to pay tax does not issue TINs to its residents".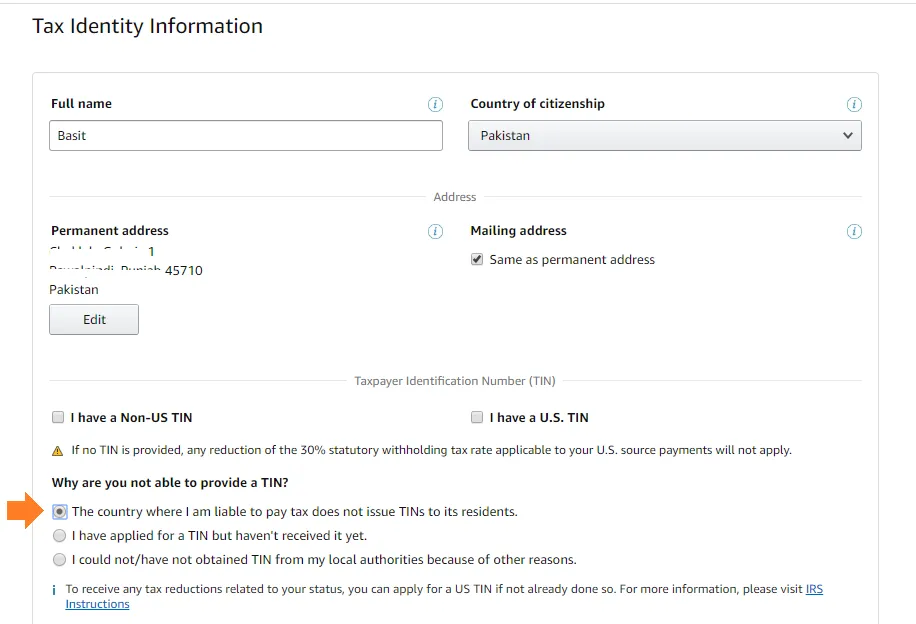 In Location of services performed, choose first option ,"All services will be performed outside the U.S.".

Tick "I consent to provide electronics signature……".
In Signature textbox, enter your Full Name.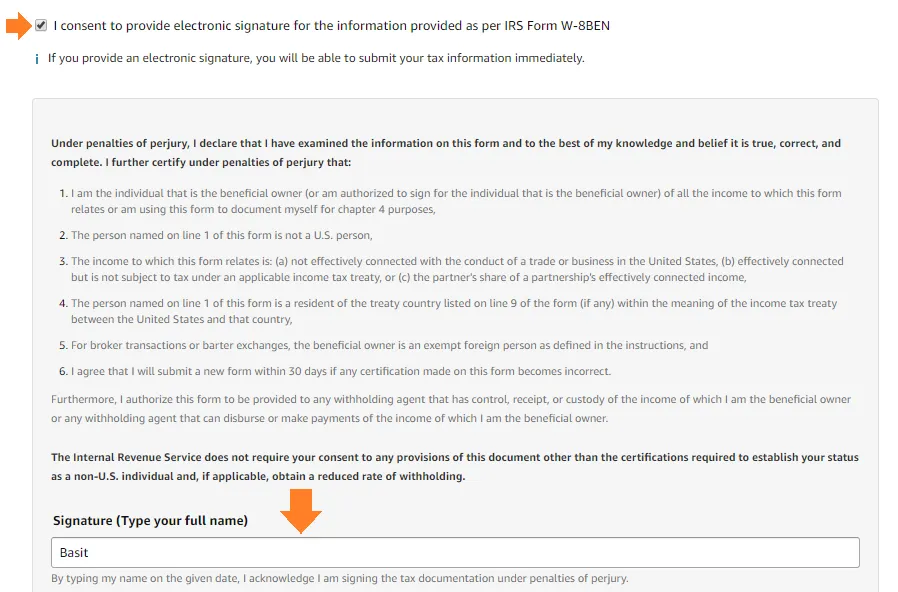 Click the Save and Preview button.

This is the preview of your Tax Interview.
Click the Submit Form.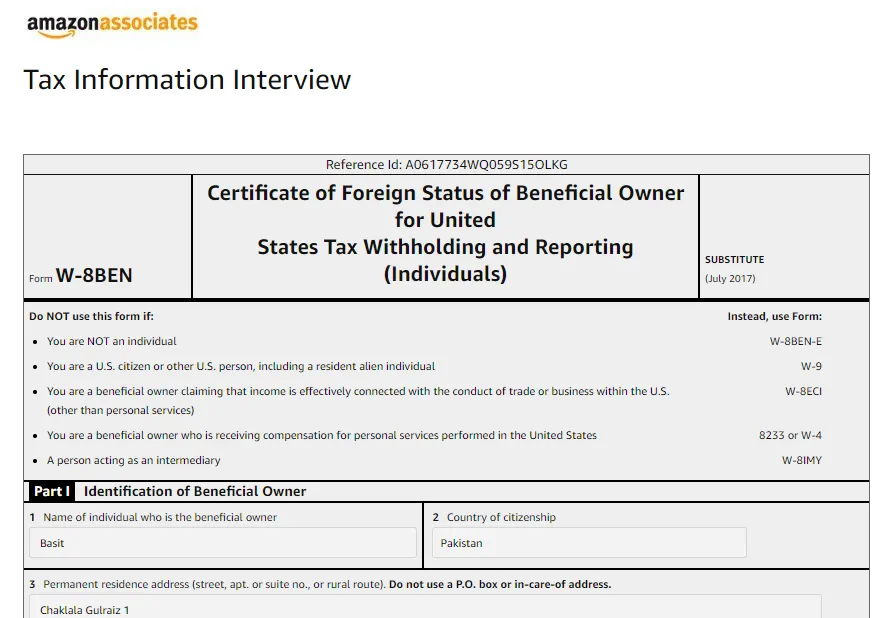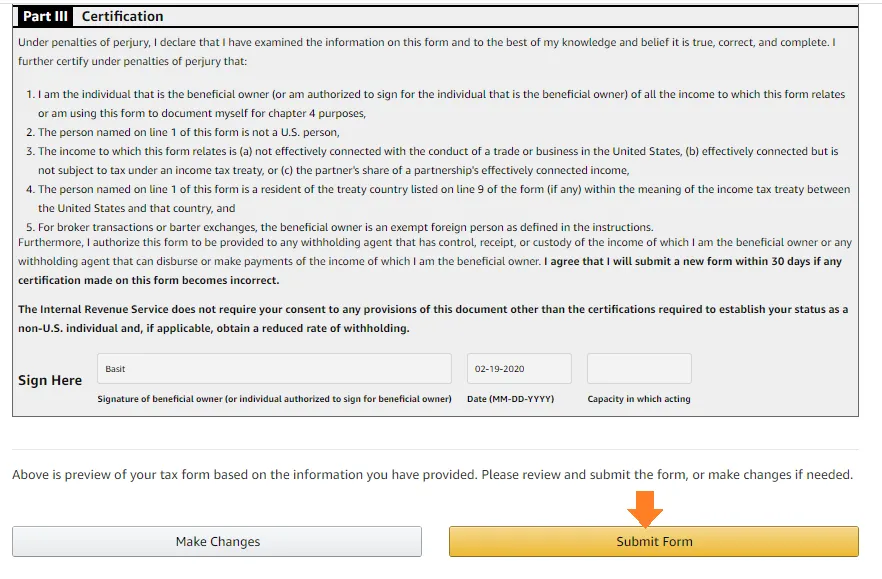 You will be shown a message that your tax information has been validated successfully.
Click the Exit Interview button.
You can see that the Current Tax Status is Completed. The Amazon Associates affiliate-program's Sign Up process is also completed.
Now you have 180 days to produce at least 3 or 4 sales to make your account fully approved.
If you fail to produce required sales or good amount of traffic within 180 days Amazon will cancel your affiliation, but you can apply again after the rejection.
When you apply again you have to choose different Associate Store Id and you have to update all your old affiliate product links on your blog or app with your new product affiliate links.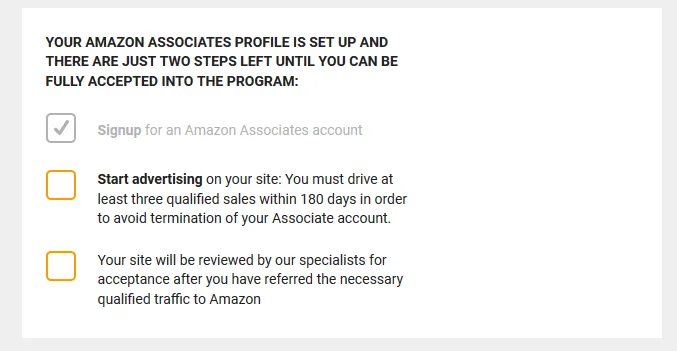 04. How To Get Your Product Affiliate Links
In this section you will learn about how to create your product affiliate links in your Amazon Associates account.
For every product Amazon provides you a unique link that you can share with people via your blog, website, social media, etc. If someone buys that product via your links, you will earn commission for that.
Login to your Amazon affiliate program via Amazon Affiliate.
Enter the name of your desired product in the search bar to get your affiliate link of the product.
Click the downward arrow to copy the affiliate link. It will generate a long affiliate link for your product. Click "Shorten URL with amzn.to" to shrink your affiliate link, as shown below.
Click the "Get link" if you want the HTML code(banner) of that product to insert on your blog or website. Your affiliate link will already be inserted in the HTML code.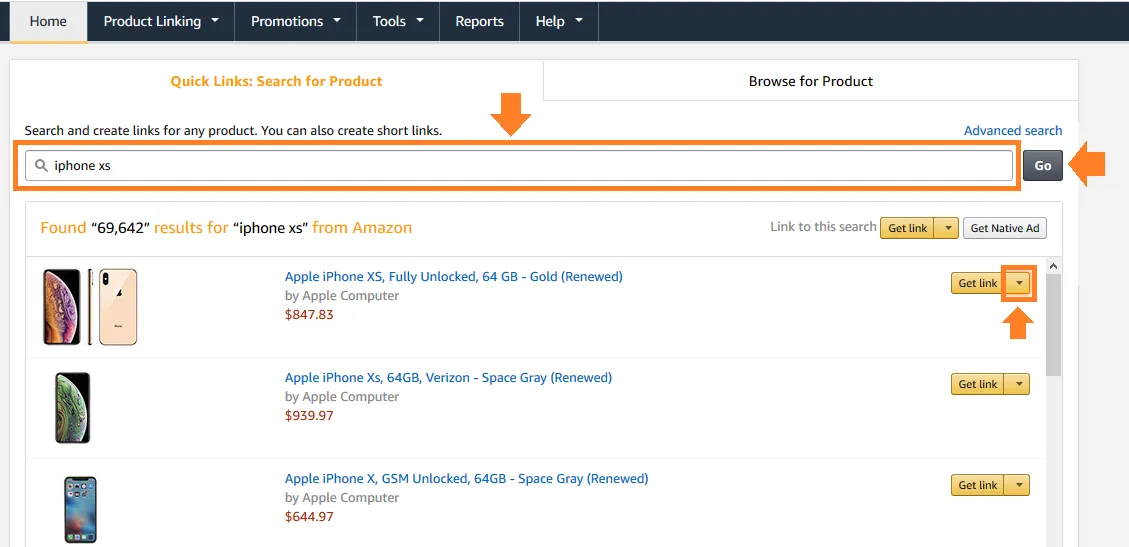 Click the "Shorten URL with amzn.to?" to get a short link. Copy your shortened link and share with your audience.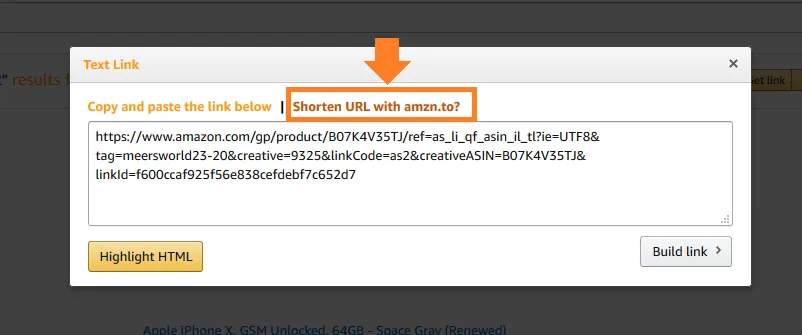 05. How To Make Money From Amazon Affiliate Program
Since you have successfully joined Amazon affiliate program now it is time to learn how to make money from this incredible affiliate program.
In order to know "Amazon Commission Rates For Categories & Services" and "How to make money from Amazon affiliate program in 3 different ways" read this article:
Find the top Affiliate Programs on which you can apply from Pakistan and all over the world. If you like this post then don't forget to share with other people. Share your feedback in the comments section below.
Also Read