Have you joined Amazon Associates and not sure how to earn money from it? You're in the right place. In this article, I will guide you on How you can earn money from Amazon Associates in 3 different ways.
Amazon is the world's largest online shopping platform. According to an estimate there are around 350 million products on Amazon.
By joining the Amazon Associates you have the opportunity to promote Amazon products/services and make money. If someone buys a product from Amazon via your affiliate link you earn a certain amount of commission.
If you haven't already joined Amazon Associates, go through this step-by-step tutorial to learn aboutHow to sign-up for Amazon Associates, How to configure payment method, & How to create affiliate links for products.
Following topics will be covered in this post:
Amazon Commission Rates For Categories & Services
Three Different Ways To Make Money From Amazon Affiliate
01. Amazon Associates Commission Rates
Before you start promoting amazon products you must go through its commission rates. This information will make a good impact on your earnings.
Amazon offers different commission rates for different categories and services. Some categories and services have low commission rates whereas some have high commission rates. You can find commission details on Amazon Associates Central.
Let's go through the commission rates:
01. Fixed Commission Rates For Specific Product Categories
The "Fixed commission rates" means you will earn certain percentage commission. Every product category offers different commission rates. Higher the price of a product the more commission you will earn.
For example, there is a category "Women Purse" whose commission rate is 10%. You generate a sale of a purse that costs $300, you will earn a commission of $30 which is the 10% of $300.
The "Luxury Beauty, Luxury Stores Beauty, Amazon Coins" have commission rate of 10%. It is the highest commission rate among all Amazon product categories.
The "Digital Music, Physical Music, Handmade, Digital Videos" categories have a commission rate of 5%.
The "Physical Books, Kitchen, Automotive" categories have a commission rate of 4.50%.
The "Amazon Fire Tablet Devices, Amazon Kindle Devices, Ring Devices, Watches, Jewelry, Luggage, Shoes, Handbags & Accessories……." categories have a commission rate of 4.00%.
The "Toys, Furniture, Home, Home Improvement, Lawn & Garden, Pets Products, Headphones, Outdoors, Tools, Sports, Baby Products…" categories have a commission rate of 3.0%.
The "PC, PC Components, DVD & Blu-Ray" categories have a commission rate of 2.50%.
The "Televisions, Digital Video Games" categories have a commission rate of 2.00%.
The "Amazon Fresh, Physical Video Games & Video Game Consoles, Grocery…." categories have a commission rate of 1.00%.
The "Gift Cards; Wireless Service Plans…." categories have zero commission rate.
All other categories have 4% commission rate.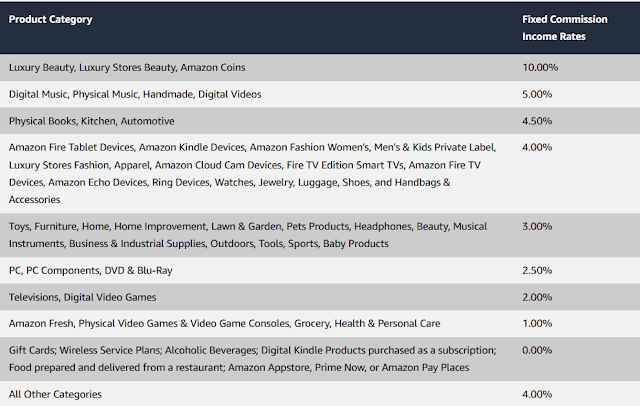 02. Bounty Events
Bounty Events is an additional way to earn money from Amazon Associates. You have to promote Amazon services to people via your affiliate links.
If someone sign-ups for a free trial subscription of an Amazon service you get a fixed amount. The money or commission you will earn for trial sign-up is called Bounty. The exact criteria for qualification has been mentioned in "Eligible Customer"column.
Not all Amazon services have equal bounty rates, they vary from service to service.
The lowest bounty rate is $0.50 for service "Audible Audiobook".
The "Amazon Business" has a bounty rate of $15.00.
The "Audible Premium Plus Membership" has a bounty rate of $10.00.
The "Audible Premium Plus Annual Membership" has a highest bounty rate of $25.00.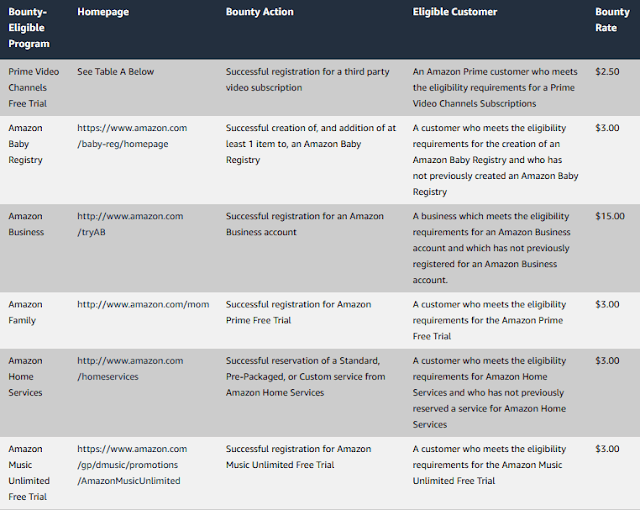 03. Bonus Events
Bonus Events is also an additional way to make money from Amazon Associates.
You will get a commission rate of $3 if an Amazon customer who has not previously completed a purchase from "Amazon Fresh store & Amazon Pet Food & Supplies store".

04. Prime Video Channels Subscription
The "Prime Video Channels" is the Amazon Prime benefit that lets you choose your channels.
You will earn $3 for each Prime Video Channels free trial subscription you generate.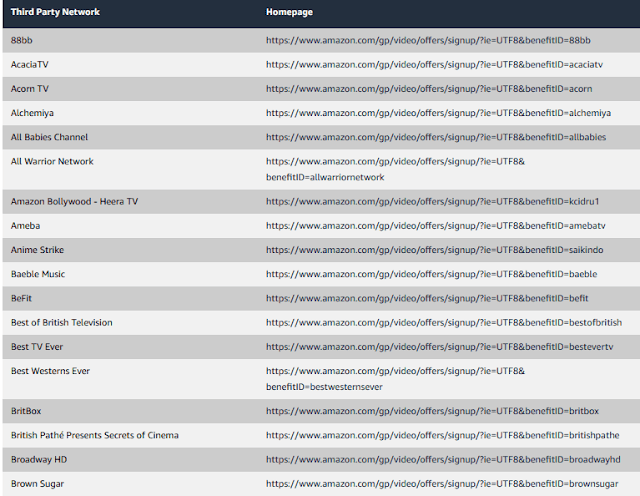 02. Three Ways To Make Money On Amazon Associates
You must have a good insight on different commission rates for Amazon products and services. Now you will learn 3 different ways to promote Amazon products and make money.
Using Social Media Platforms
Using A Professional Blog
Using An Affiliate-Based Website
01. Using Social Media Platforms
Amazon Associates is one of those affiliate programs that does not require a blog or website to be eligible for applying. You can share your affiliate links directly on social media platforms such as Facebook, Twitter, Pinterest, YouTube, etc.
Unprofessional Ways
These methods are for those who like shortcuts:
You can use direct-messaging method on Facebook, Twitter, & Pinterest to produce sales. In this method you send a link of a product again-and-again to the same person. There is a probability that he might open your link and purchase the product.
You can send tweets to targeted people who might be looking for a product relevant to yours.
You can insert your affiliate links on the comment section of relevant blog posts and YouTube videos. Most of the bloggers delete such comments.
In these techniques if you share hundreds of your affiliate links there is a probability that you might generate some sales.
Be cautious if you send too many messages and tweets they will be considered as spam. Your Twitter and Facebook account can be blocked temporarily or permanently.
Professional Ways
Above methods are not only unprofessional, but also requires lot of efforts. Now have a look on some of the professional ways that you can use to do affiliate marketing. These professional ways not only saves your time, but also generate more money as well.
Create a subscription or following around single niche on YouTube, Twitter, Facebook Pages & Groups, Pinterest, etc. If your products and content are around single niche you will have a uniform & target audience. When you have a target audience the conversion rate becomes much higher.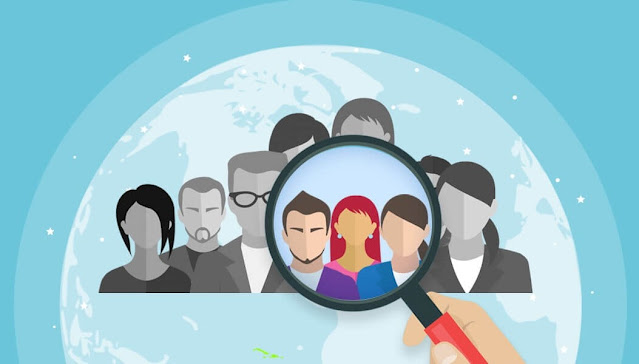 For instance you have a YouTube channel where you create content around Technology niche. You can share your Amazon links of relevant product in the video description.
You can buy products that are available on Amazon and make review videos about them. Share your Amazon link or links in the video description. In your videos you can mention that you have shared the product links in the description.
You must have watched travel vlogs where travel influencers share the links in the video description of cameras, shoes, camps, sleeping bags, travel bags, backpacks etc, that they use. You can earn from both Amazon and Google ads.
Let's talk about Pinterest. It is a very popular platform for affiliate marketing particularly if your interest is around women products such as cosmetics, jewellery, fashion, etc, because Pinterest is a women-driven social media platform.
Facebook is also a very powerful platform for affiliate marketing. Around 2 billion people are using Facebook, it means that you can build a huge following. People are using Facebook Pages and Groups as eCommerce stores where they consistently share new products and discount offers.
02. Using A Professional Blog
Above I have guided you on how you can make money from Amazon affiliate program using social media platforms, now in this section I will guide you on how you can make money from Amazon Affiliate Program using a professional blog.
Blog is a platform where you write content(posts/articles) of your interest, knowledge, experiences, ideas and more. A blog with a professional theme & genuine content is called a professional blog.
There are two ways you can make money from Amazon Affiliate Program using a blog: (1) Banners (2) Blog Posts/Articles.
01. Banners
Banners are one of the popular ways to promote Amazon products and services on a blog. You can place banners of amazon products relevant to your blog niche or content. There are many places where you can put banners on your blog like Header, Footer, Sidebars, etc.
You can also insert small banners inside blog posts. Let's say you create a blog post on "Best dogs for first time owners". In a suitable place of your blog post you can insert a banner of Amazon product related to dogs such as dog food, dog toys, dog shelters, etc.
02. Blog Posts
Blog Posts are one of the best ways to promote Amazon products. The benefit of creating blog posts is that they bring organic traffic to your blog, means traffic from search engines such as Google, Bing, etc. When traffic comes organically to your blog the conversion rate increases to a great extent.
For example, your wrote a blog post "Core i5 HP laptops under $1000". A random visitor on Google searches for "HP Laptops under $1000" and he finds your blog post ranked in top 10 Google search results. If he opens you blog posts there are chances that he might buy one of your recommended laptops. This is the benefit of organic traffic.
There are many ways you can write blog posts to promote Amazon products:
You can create blog posts like "Best smartphones in 2024", "Top 10 laptops in 2024", "Best Dog Foods In 2024", "Top Christmas Gift Ideas 2024", etc.
To further particularize your blog posts you can create blog posts like "Best smartphones under $150 in 2024", "Top Christmas Gifts Under $100 in 2024", "Core i3 Laptops With 512GB of RAM", etc. Particularization helps you to rank your blog posts higher on Google.
If your post titles are too generic such as "Best smartphones in 2024" there are chances that your blog post might not rank on Google because there are already top blogs which are creating similar content. Google gives preference to old blogs and websites.
Before writing blog post do a search on Google to check how much content is already there. You can use the SEO tools to check the search volume and competition on Google for specific keywords. The Google Keyword Research is one such tool.
You can write reviews for Amazon products and services like "iPhone 13 Review", "Best Budget Smartphone in 2024 – Review", "Amazon Prime Review – Pros & Cons", etc.
In order to learn How to start a blog from scratch read the below post. This posts explain each and everything so thoroughly that a person having zero knowledge of blogging can create and start his blog.
03. Using A Professional Affiliate-Based Website
Not many people have idea about promoting or showcasing Amazon products via affiliate-based website. It is one of the best and easiest ways to make money from Amazon and other affiliate programs like eBay, AliExpress, Zaful, Daraz, etc.
An affiliate-based website looks similar to an eCommerce website, but it is only for marketing and showcasing purpose. Some themes are so powerful that you can use your website as an eCommerce store, affiliate-based website and multi-vendor website.
Here is the practical demonstration of how a simple affiliate-based website looks like and how it works.
This is a section of a showcase website that contains three products from Amazon. Here I will open "Long Chair -Baxton".

This is the product page. Here you can see image, description, price and link button to open the product on Amazon. The link behind the button will be your affiliate link to the product. When someone will click the link he will be redirected to Amazon.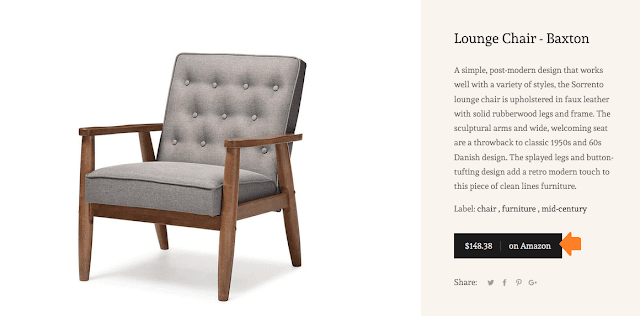 Here you can see the product page of "Long Chair -Baxton" on Amazon where people can buy this chair.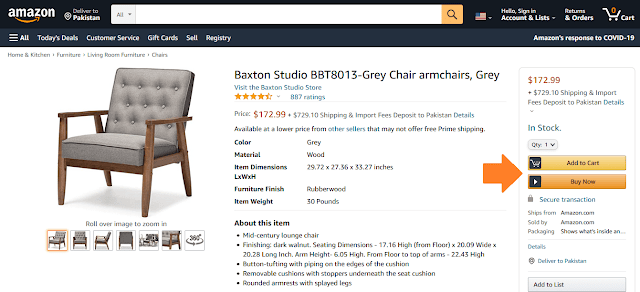 Your showcase website can be single niche as well as multi-niche. Success rate of single niche websites is higher as compared to multi-niche. You can even create a showcase website for single Amazon product.
Electronics, Tools, Travel, Lifestyle, Food, Fashion, Beauty, Cosmetics, Baby, Pets, Jewellery, Photography, Sports, Entertainment, Personal Care, Fitness, Books, Gardening, etc, are some of the popular niches. You can find hundreds of thousands of low competition sub-niches within them.
Use the Google Keyword Research Tool to find the search volume of niche keywords on Google. It well help you to find the right niche for you.
To launch a professional affiliate-based website you need three things (1) Domain (2) Web Hosting (3) Professional Theme. In order to learn How to choose domain, How to buy domain & web hosting, How to install WordPress theme, read this tutorial:
To find a professional WordPress theme for an affiliate-based website, go to Themeforest. The Themeforest is the largest marketplace for website themes. You can find any type of theme at very affordable rates.
Enter the type of theme that you are looking for like "Electronic store theme for affiliate marketing". You can use other generic keywords such as: Amazon affiliate store, affiliate store, affiliate theme, affiliate shop, affiliate marketing, etc.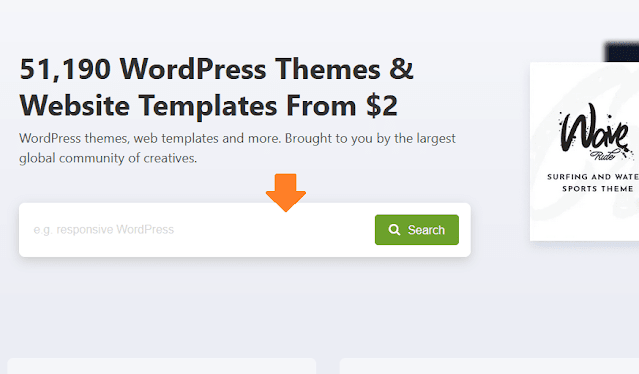 If you want to launch a professional affiliate-based website on free platform Blogger, read this tutorial:
Here are some Blogger templates for affiliate-based websites: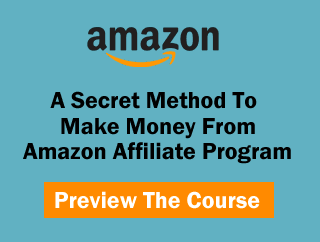 Conclusion
So it was all about making money from Amazon Associates using 3 different ways. The blog and affiliate-based website are more professional ways. Whether you use blog or affiliate-based website Social Media platforms are always going to help you in bringing traffic and promoting your blog, website, blog content, & products.
If you like this post then don't forget to share with other people. Share your feedback in the comments section below.
Also Read