Do you want to monetize your blog with either Google AdSense or Amazon Associates, but ambiguous about which one is a better program? You're in the right place.
In this post, I will compare Google AdSense and Amazon Associates in detail that will help you to understand which one is better and right for your blog/site.
Google AdSense is the largest PPC (Pay Per Click) based free-to-join program (network) that allows publishers to monetize their blogs with Google ads (text, images, video, or interactive media) whereas Amazon Associates is the largest PPS (Pay Per Sale) based free-to-join affiliate marketing program that allows publishers to monetize their blogs with millions of Amazon products and some services using their affiliate links.
Following topics will be covered in this post:
Benefits and Drawbacks of AdSense and Amazon Associates
Final Thoughts
RELATED
01. Benefits and Drawbacks of AdSense & Amazon Associates
In this section, I will discuss benefits (pros) and drawbacks (cons) of Google AdSense and Amazon Associates that will help you to make a decision and clear your ambiguity.
Google AdSense Benefits
When you blog is approved for monetization AdSense doesn't give you a certain time period to earn this much revenue and bring this much traffic. Unless until you don't violate AdSense community and publisher policies monetization remains active.
Google AdSense is a PPC (Pay Per Click) or CPC (Cost Per Click) based program. When a visitor clicks on an ad you earn money, despite the fact that he buys the product/service or not.
Google AdSense ads are appropriate for both single niche blogs as well as multi-niche blogs because the ads are optimized according to content, audience, and visitor's interest. The relevant ads are automatically placed on the suitable positions.
AdSense is ideal for beginners because it works by matching ads to your site based on your content and visitors. As you get more experience and expertise in your blogging niche you learn to optimize your content and site to generate maximum revenue from it.
Google AdSense offers different types of ad formats to enhance your revenue, such as Fixed ads, Auto Ads, Vignette ads, Anchor ads, Side rail ads, Banner ads, and Multiplex ads. All of these ad formats are responsive, means they can adjust their size according to the screen size of the device.
You can manage, customize, block, and filter AdSense ads for your site.
Google AdSense ads are also shown on the pages that contain affiliate and sponsored links.
If you have a high authority and trusted site AdSense advertisers put higher bids for ad space on it which means they will pay you more for Ad Clicks. It ultimately boosts your RPM (Revenue Per Thousand Impressions) and increase earnings.
Highly trusted, authoritative, and quality sites with a high CPC (Cost Per Click) niche such as Insurance, Real Estate, Cryptocurrency, Legal, Finance, Automobile, Web Hosting, Finance, etc, make tons of dollars per month from AdSense Ads. For example, there is a Finance site(blog) whose majority visitors come from North America. Average Monthly Page Views are 50,000. According to Google AdSense Revenue Calculator the potential earnings are $19, 278 USD. With Average Monthly Page Views of 1,824,031 the potential earnings would be $703, 273 USD. Just imagine how much money you can make.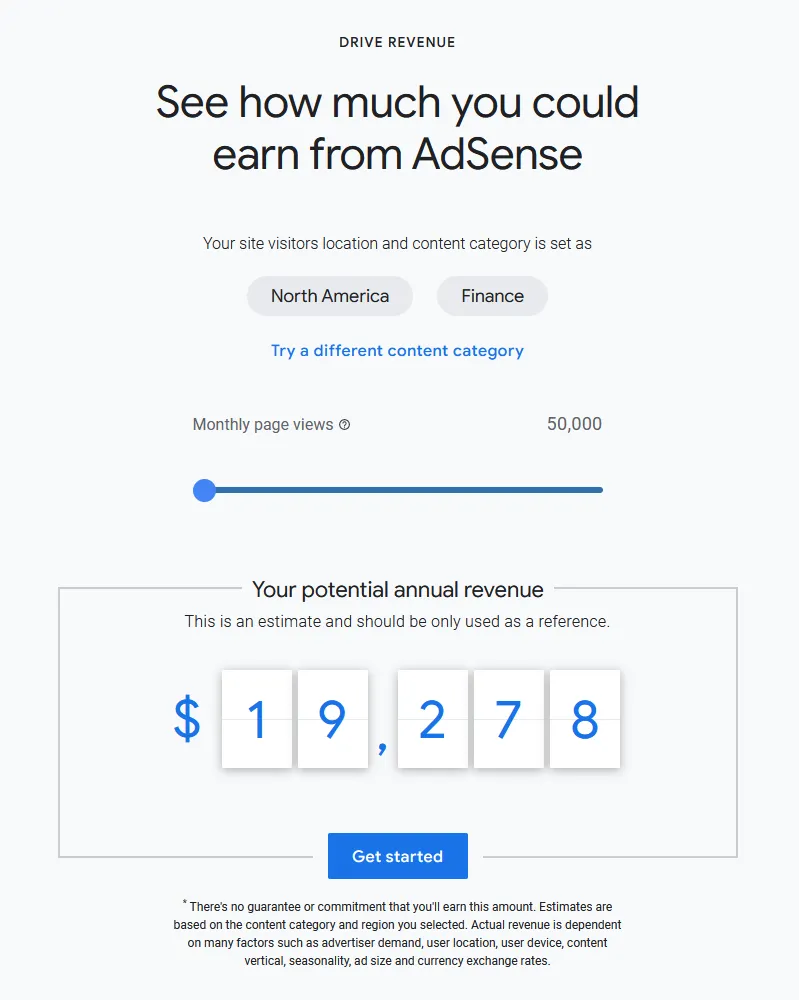 Google AdSense Drawbacks
The Google AdSense ads contain long JavaScript code that increases the DOM size of a page and also slowdown the page loading speed. It negatively impacts the Core Web vitals metrics and page experience, one of the Google ranking factors. Note: Using AMP (Accelerated Mobile Pages), Caching Plugins, Speed Optimization Techniques, or By Delaying the Loading of AdSense Ads by the Time your Content is Fully Loaded, you can reduce the negative impact of ads on your site performance to a great extent.
Too many AdSense ads may annoy website visitors.
Low paying niches like Dating and low quality sites need massive traffic to make a decent money from AdSense Ads.
CPC (Cost Per Click) for keywords or niches may vary from region to region. The traffic coming from first world countries such as UK, US, Canada, Australia, France, etc, have high CPC for keywords as compared to third world countries like India, Pakistan, etc. For example, if majority of your traffic is coming from a third-world country like India, your site needs thousands of page visits daily to make a decent income.
Advertisers on AdSense pay more for Ad Clicks that come from highly trusted, quality, and authority sites. Ad clicks coming from low authority and less trusted sites might not be paid as good as highly trusted and authority sites.
You cannot share AdSense ads on Social Media and other platforms.
Google AdSense prefers organic traffic over other sources of traffic such as direct, social media, backlinks, etc. Organic traffic is the natural traffic (views or page visits) come from SERPs (Search Engines Results Pages) like Google, Bing, Yahoo, etc. It means that people are genuinely interested in your content and their clicks on AdSense ads are potentially more valuable for advertisers.
You're responsible to protect the AdSense ads on your site from fake clicks and illegal activities. If you're fail to protect, AdSense monetization may get stopped until you fix the issue.
Though relevant ads are displayed automatically on Ad Gadgets, but you cannot place an AdSense Ad of your choice.
Amazon Associates Benefits
Amazon is the largest online marketplace in the world. You have got millions of products to promote on social media, YouTube, and sites.
Amazon Associates is a PPS (Pay Per Sale) based program. In this model you earn certain amount of commission from the total price of the product/service that you sell via your affiliate link.
Amazon ads does not affect the performance of your site because they do not contain long JavaScript code. You can use either text affiliate links or banners linked by the affiliate link of the product.
You can place ad of any eligible Amazon product on your site that you like.
You can write review posts on Amazon products & services that can bring both traffic and money.
A single niche site monetized with right Amazon products/services, having a decent traffic can earn you a healthy income.
You can recommend multiple brands for a single product to your visitors that helps you to improve the conversion rate because visitors like to compare product quality and price before purchasing.
You can share your Amazon affiliate links on social media platforms.
Amazon is a globally acknowledged and trusted eCommerce marketplace. People are not hesitant to buy Amazon products.
Amazon Associates program doesn't necessarily require organic traffic as the main source of traffic to your site.
You can also create a showcase eCommerce website to promote Amazon products. Visitors are redirected from your showcase site to product detail (listing) page on Amazon where they can purchase the product.
Amazon Associates Drawbacks
After you join Amazon Associates program it gives you 3 months to produce at least 2 to 3 sales to be fully qualified. If you're unable to produce the required sales, your participation will be terminated from the program.
Amazon Associates program may not be ideal for beginners because affiliate marketing needs experience, trust, authority, and expertise.
Amazon Associates is a PPS (Pay Per Sale) based program. You are paid commission only when a conversion is made, means when visitor purchases the product via your affiliate link.
In order to be successful in Amazon affiliate marketing you need a decent uniform traffic around a niche. If you have a multi-niche blog or your blog has a diverse traffic you may not be able to produce conversions from your recommended Amazon products.
Amazon Associates program is not suitable for all niches, like blogging, hosting, themes, cars, earn online, etc.
Amazon Associates does not offer Auto Ads like Google AdSense. Though it had introduced Native Shopping Ads, but starting July 25, 2023, you'll no longer be able to create Native Shopping Ads for your content.
Amazon services are not available in all countries. Visitors coming from those countries who cannot buy Amazon products can't contribute to your earnings. It means that you need to focus on visitors of those countries who can buy Amazon products.
Amazon Associates commission rates can be considered low as compared to affiliate programs of other industries. Minimum is 1% and maximum is 20%. Commission rates vary from category to category. If you promote products of low-commission categories you need lot of product relevant traffic to make enough money. You can find commission rates for different categories here: Amazon Associates Commission Rates for Categories and Services.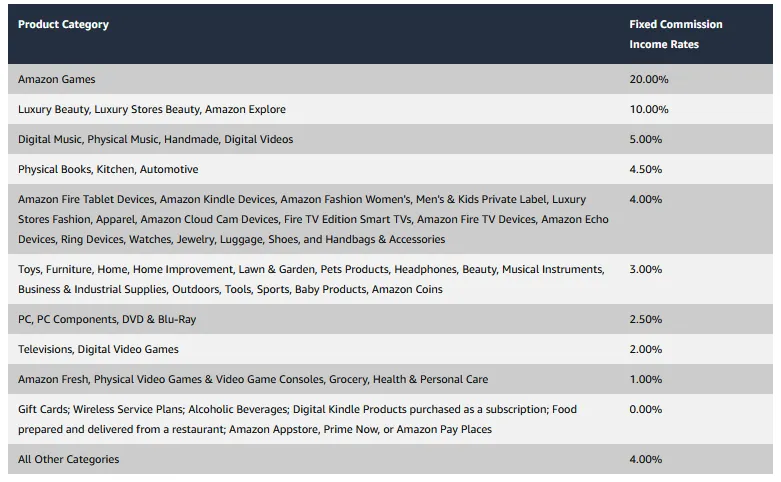 02. Final Thoughts
You must have read the benefits and drawbacks of Google AdSense and Amazon Associates. Now you should have an idea that which program is right for your site. In my opinion, if you optimize your site to handle the load of AdSense ads without affecting the Page Experience and Core Web Vitals metrics, it can be a great choice to monetize your site, particularly for beginners. You can also join Amazon Associates program and make money from it alongside AdSense.
If you like this post then don't forget to share with other people. Share your feedback in the comments section below.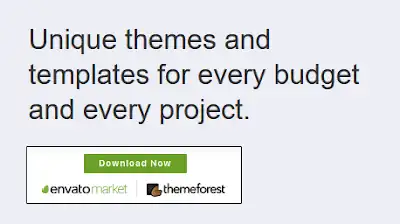 Also Read