Are you new to blogging world? Have you spent months on writing blog posts, but no idea whatsoever to write blog posts that could rank in top search results and bring organic traffic to your blog? Don't worry! You are in the right place, I will guide you on how to write an ideal blog post.
An organic traffic is the website traffic comes from the search engines through your blog posts and pages as a result of user search queries. Google, Bing, Yahoo, DuckDuckGo, Baidu, etc, are some of the popular search engines.
Though new bloggers publish plenty of blog posts but very few percentage of them are ranked on search results. Now the question is, why few blog posts are ranked, but rest are not?
There are two reasons (1) You must have done something right on those posts intentionally or unintentionally that they are ranked (2) There is a possibility that the content relevant to those ranked posts might not have been already written by someone else or good enough to be ranked in the search results.
For example, you decide to write a post on "How To Install Windows 10 in Your Computer". If you write the post to-the-point and cover all the steps, there is a high-probability that your post will be ranked sooner or later depending on the competition.
In this post, I will discuss all those guidelines and tips which are important for writing an ideal blog post.
01. Post Title
The post title is one of the key components of your article/post. Always write an effective post title by including the most important keywords in it.
The post title shouldn't be too long or too short.
Instead of writing generalized post titles limit the scope of your blog posts by writing the specified titles.
If your titles are more generalized your blog posts may not get ranked on top search results. The generalized post titles are only ranked quickly if your blog is old or if there is a little competition.
You can use Free Google Keyword Planner to research about keywords:
You can also use a professional keyword research tool like Mangools that can make things very simple for you. You will understand all the data and features instantly.
For example, "How to make money online" is a generalized post title. When you will search on Google there will be tons of content (posts and pages) under this tittle and keywords.
Now let's see how you can make the above post title more specific. Here are some examples, "How to make money online from blogging", "How to make money online from freelancing", "How to make money online from Instagram", etc.
You can make these titles even more specific, like "How to make money online from freelancing in United States", "How to make money online from fashion blog", "Best Pinterest niches to make money online", etc.
Let's take another example. This is a generalized post title, "Best Smartphones to buy in 2023". If you search this title on Google you will see the posts of top tech giants such as Tech Radar, CNET, Tech Crunch etc. They will never allow your blog post to get ranked on top search results.
Now let's see how you can make the above post title more specific. Here are some examples, "Best Smartphones under $100 to buy in 2023", "Best Smartphones with dual selfie camera in 2023", "Best Smartphones with quality camera under $150 in 2023", etc.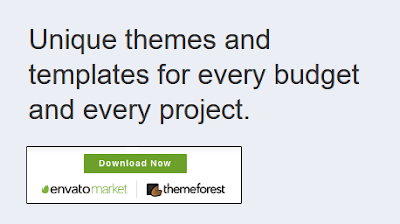 02. Post Content
Content or post body is the most important part of a blog post. In this section, I will discuss all the important things related to the content.
I just discussed how to write an effective title for a blog post, but you are not fully finished with the title, there is a relationship exist between the post title and post content.
Your content should revolve around the scope of your post title.
While writing the content don't go far from the scope of the title. If you go too far readers might lose the interest and leave your page. Search engines count such leaves in a negative way and lower the rank of such posts in search results, which ultimately increases the bounce rate of your blog.
Create original, unique, and solution-oriented content. Don't write to impress internet bots and crawlers, write to impress the readers. If you impress the readers the bots and crawlers will be automatically impressed.
Never ever use AI tools like ChatGPT, Jasper AI, etc, to generate the content for your articles. Google emphasis on human-written content and strongly discourages the use of AI tools.
What do you mean by "Impress the Readers"?
It means that for whatever purpose you created the blog post should fulfill that purpose. It must provide the solution or content for which readers would visit your blog post. If your post fulfills the readers expectation, you have impressed them.
Never ever try to copy or recreate the content of other blogs, affiliate sites, and websites. Search Engines algorithms are AI(Artificial Intelligence)-based, way smarter than you. They mark all such blog post as spam.
One question that web publishers often ask, "What should be the ideal length of a blog post"?
There is no such thing like "ideal length", but if your blog post contains 800 to 2,500 words it is considered good, more words means more keywords. Your blog post can rank for so many keywords.
Often newbies add unnecessary and repetitive content to make their blog post lengthy. Don't repeat the same keywords again and again unnecessarily. If a keyword comes naturally it is OK, but if you deliberately repeating then you are simply destroying the SEO of your blog post.
The first two paragraphs of your blog posts are very important. It is an opportunity for you to catch the attention of readers. Readers can get an idea like what they are going to expect in the post. If you catch their attention they will stay on your post by the time they don't finish reading it.
Ask a question, share a fact or something personal in the first paragraph and summarize the solution in second paragraph, is the best practice. Whatever approach you adopt, make sure that it should engage readers.
The length of the paragraph in your blog post should not be more than 3 lines. Do remember that Google gives huge priority to mobile-friendly websites and blog posts. If you write lengthy paragraphs it will be difficult for smartphone readers to read your content.
This is the mobile-view of a seven-lines long paragraph. You can see that it has been grown to 12 lines.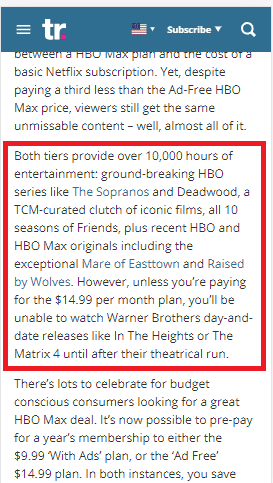 Use headings, bullet list, spacing, etc, to format you content. On some of your headings include the important keywords from the post title. Search engines such as Google use the headings to index the structure and content of your website post and pages.
Another question that people often ask, "Can you use more than one h1 tag in a blog post"?
It is a better practice to use only one h1 tag. More than one h1 tags are acceptable for Google, but Bing does not index blog posts with more than one h1 tags.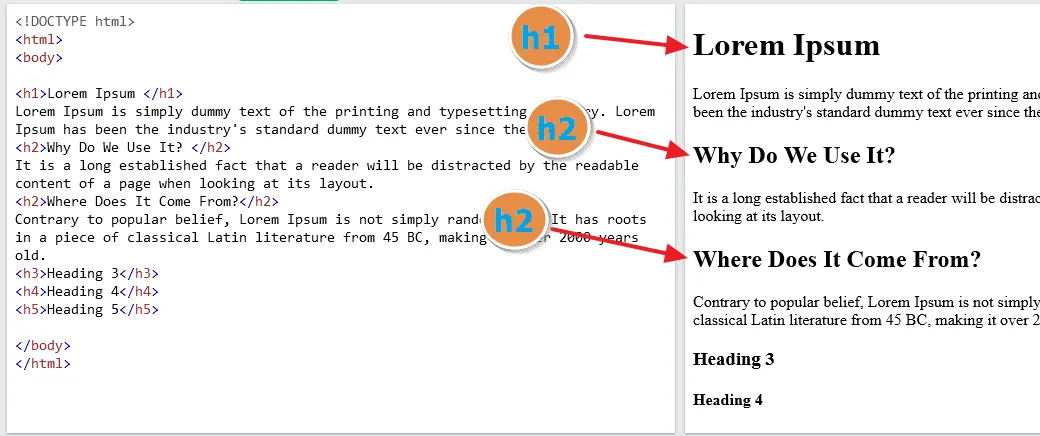 Don't skip the levels of the heading hierarchy. For example, your main heading is <h2> and you add <h4> after it. The right hierarchy will be <h3> after the <h2> heading.
Don't use empty headings. Always add content under a heading.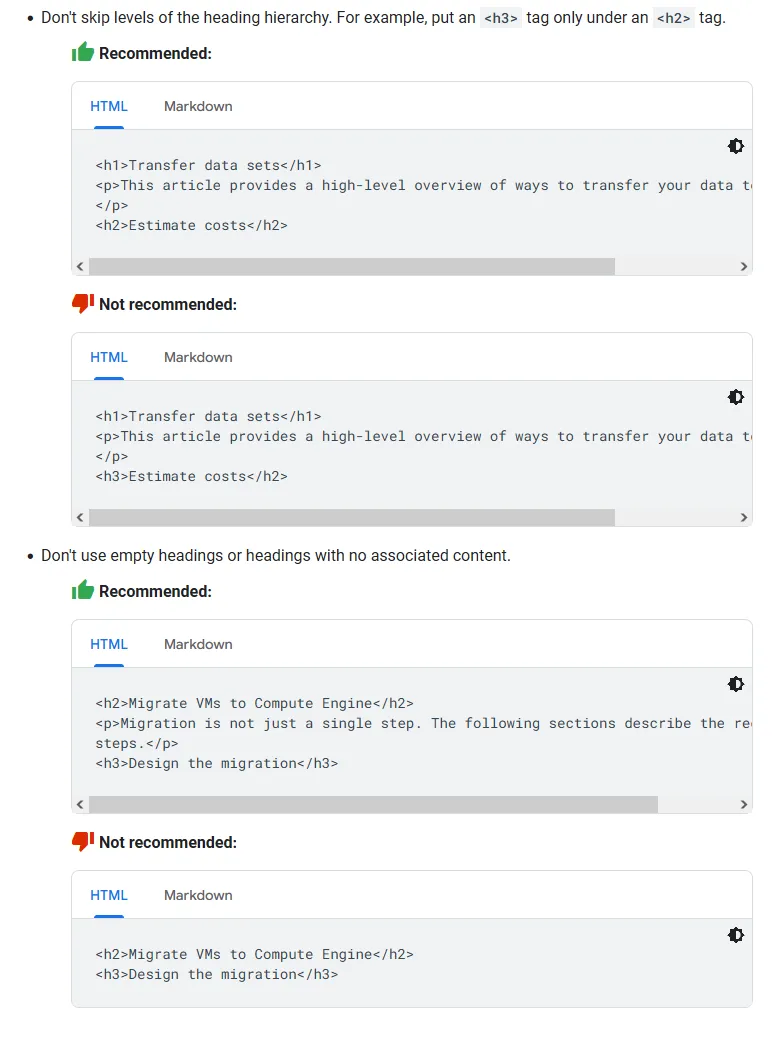 Always add space of one or two lines when you insert images. There should be a distance(space) between the text and image. The size(width and height) of the thumbnail image for every post should be the same.
Images are also crucial for a blog post, they engage readers. By adding the quality images you can improve the user-experience, as a result people spend more time on your posts.
You can present very important concepts/information using images in a very creative way, that may not be possible using simple text.
Though images are important, but it does not mean that you start adding unnecessary images. If you add unnecessary images they will slow down your page. Only add if required!
There are three common mistakes that new bloggers make (1) They don't optimize the images (2) They don't name images before uploading, instead use numbers, characters such as 123.png, abc.jpeg, image1.jpeg, image2.jpeg, etc (3) They don't add ALT Text and TITLE Text on images.
Optimizing an image means reducing the size of image without effecting its quality. Use next-generation image formats such as webP, JPEG 2000, etc.
Before uploading an image add a meaningful name to it. The image name should be similar to the post title or topic. Always add a unique ALT Text for images. ALT stands for Alternative Text that describes the appearance or function of the image on an article. It is also used by screen readers for visually impaired people.
Do remember that a good number of visitors come to your blog through image search results, so never ignore to add meaningful names and ALT text to images.
Use Link Attributes in your article links. To know more about Link Attributes go through this article:
The last section of every post is the conclusion.
It is not always necessary to add a conclusion. Conclusion matters most for review posts where you have to provide a final verdict or opinion. In the conclusion of a normal post you can summarize the post in few lines.
Once you finish writing your post, review it twice. There are two benefits of reviewing (1) It will help you to identify mistakes (2) You can make corrections and add additional content that you might have missed.
Meta/Search Description
Meta or Search Description provides a short summary of a web page or blog post. In general, the length of meta description is 150 to 160 words. It appears on two places (1) On the search results below the title when search engines don't find relevant piece of content in the article to the searched keywords (2) On social media posts below the thumbnail and title.
In the Meta Description you can add important lines of your post which contain the most important keywords. Normally, the first two lines of a blog post are added into Mega Description.
You can add Meta Description for a post from Post Settings. Don't leave it empty!
This is one of our blog post shared on Twitter. You can see the Meta Description.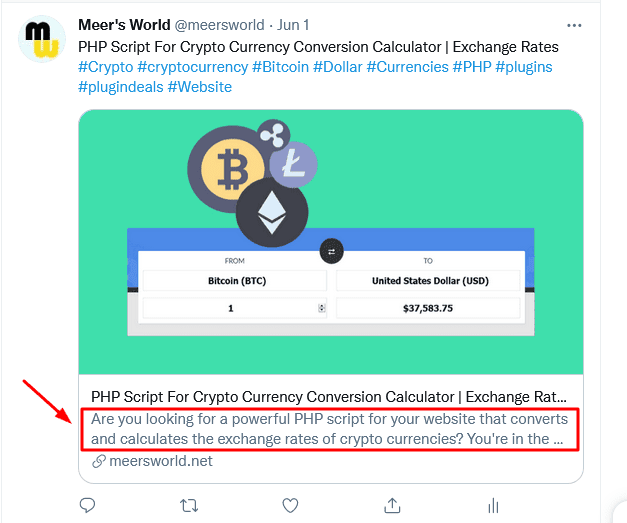 Conclusion
So it was all about writing an ideal blog post. In short, the crux of writing an ideal blog posts is, create original, and unique content by considering what readers expect from you. Follow my tips and guidelines to get the amazing results.
If you like this post then don't forget to share with other people. Share your feedback in the comments section below.
Also Read