You must have heard lot about the Bounce Rate of a website like Bounce Rate is very important for your website, good Bounce Rate, average Bounce Rate, low Bounce Rate, high Bounce Rate, but do you know that what exactly is Bounce Rate?
Bounce Rate can be defined as, somebody visits your website's homepage or any other page directly from social media or from Google Search and leaves without visiting any other page of your website. In other words it is the percentage of people come to your page and leave without going to another page.
So it is clear from the definition that it is not a good sign for your website if somebody visits your website and leaves without exploring other pages, tells you that you are doing something terribly wrong.
Let's understand it with a practical example that why the word "bounce" is used. When you throw a tennis ball against a solid wall or hit on the concrete it bounces back straight to you, it does not go here & there.
So take this ball as a website visitor like when he hits(visits) your website engage him in a way that instead of bouncing back straight he should move here and there. Always remember that low Bounce Rate is always good for the performance of a website.
Following topics will be covered in this post:
Why Low Bounce Rate Is Important?
Bounce Rate For Single Page Website
What is Exit Rate
Difference Between Bounce Rate & Exit Rate
Average Bounce Rate by Industry
What Are The Causes Of High Bounce Rate
How To Reduce Bounce Rate of a Website
How To Reduce Bounce Rate of an eCommerce Website
RELATED
01. Why Low Bounce Rate Is Important?
Low Bounce Rate increases you website ranking because Google starts to trust on your website when it measures that visitors are exploring your website and spending time. When website is ranked higher it increases the website traffic as well. A bounced session has a duration of 0 seconds
Let's say a visitor comes to your page from Google search. He likes your page content and finds it useful. He spends 15 minutes on that page and leaves without visiting any other page. Now Google Analytics will count his Average Time on Page as zero despite he spent 15 minutes. Google Analytics counts Average Time On Page based on bounce rate.
If that visitor had visited any other page of website his Average Time On page would have been counted as 15 minutes. The more time visitors spend on your website, the more it is good for your website ranking and performance.
02. Bounce Rate For Single Page Websites
As I have discussed the importance of low bounce rate for websites, but what about the websites which have only single page, obviously there will have been a very high bounce rate.
Is high bounce rate really a bad thing? According to Google, it depends on the type of website. High bounce rate is bad for a website whose success depends on viewing more than one page like most of the multi-page websites, but if you have a single page website, let's say a single page portfolio website, high bounce rate is perfectly normal for it.
03. What Is Exit Rate?
The Exit Rate can be defined as, the percentage or rate at which people leave page or set of pages. It indicates how often users exit from that page or set of pages when they view the page(s). Like the low Bounce Rate, Low Exit rate is also good for website, but for pages like Order Confirmation page or Thank You page high Exit Rate is normal.
Well you don't need to calculate Bounce Rate or Exit Rate manually because Google Analytics provides you the detail information about them. Just for your information, Google Analytics calculate Exit Rate by following formula:
Exit Rate(%) = (number of exits) / (number of page views)
04. Difference b/w Bounce Rate & Exit Rate
People often confuse Exit Rate with the Bounce Rate. Remember that in Bounce Rate visitor leaves from the same page without going anywhere else on the website whereas in Exit Rate visitor visits more than one page of a website then leaves website. Last page is the Exit page which determines the Exit percentage.
Exit Rate: Page B > Page A > Page C > Exit
Bounce Rate: Page A > Leaves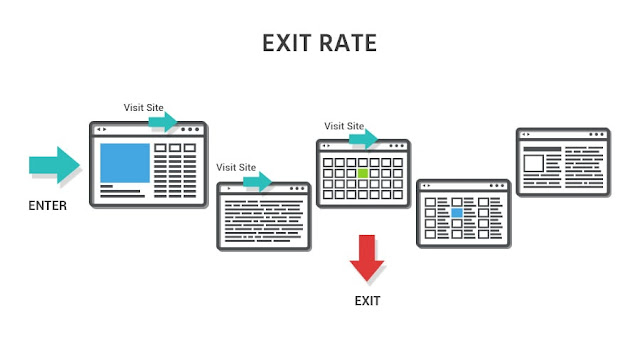 05. Average Bounce Rate By Industry
To count the average Bounce Rate some SEO experts collected the Bounce Rate of 3500+ different types of websites from their Google Analytics accounts, the average Bounce Rate found to be 61%. Bounce rate varies from industry to industry.
A Bounce Rate that is good for one industry might be considered bad for the other industry. For any industry anything over 80% is considered really Bad. 60% to 70% & 70% to 80% is considered Okay.
Here is the list of acceptable Bounce Rate for different industries.
Bounce Rate For Retail/eCommerce Website: 20% to 40%.
Bounce Rate For Landing Pages: 70% to 90%.
Bounce Rate For Portal Site: 10% to 30%.
Bounce Rate For Service & FAQ Sites: 10% to 30%.
Bounce Rate For Content Type Of Sites: 40% to 60%.
Bounce Rate For Lead Generation Sites: 30% to 50%.
You must have noticed here that the higher range of Bounce Rate for Landing Pages is 90%. It is because Landing Pages are standalone pages specifically designed & created for marketing or advertising campaign to produce conversions. So that's why a higher Bounce Rate is acceptable for Landing Pages.
06. Causes Of High Bounce Rate
There are many causes of high Bounce Rate like slow load time of a website & pages, inaccurate titles or description, un-mobile-friendly site means non-responsive, poor page design, no relevant posts, irrelevant post recommendations, too many ads, too many popups, etc.
07. How To Reduce Bounce Rate Of a Website
There are so many ways you can reduce the Bounce Rate of your website. Here are some of the suggestions:
01. Visitors Expectation
An intelligent blogger or the website owner is the one who reads the mindset of his expected visitors. You should do and offer all those things on your website that a visitor would expect. Are you ranking for the things that you want to rank for? Because if you're ranked for the wrong stuff the people will leave your website without visiting other pages.
Target your audience. Let's say you write a post title "How to unlock Passport Drive if you forget password", but in the post content you write stories and say it is not possible to unlock passport hard drive without password and blah blah. Visitor will get to know that you just wrote the post for getting views. This thing could make your visitor angry and there are more chances that he will leave your website from that page without visiting other pages.
02. Show Your Content First
In your posts always try to show the content or text first. Some people display images in top of the posts or articles without writing any text. Make sure that your first 2 paragraphs of a post should give an overview of what a visitor can expect in the detail post.
03. Font-Size
The font-size or text size of a website or page should be large enough that readers can easily read on any device. Make sure to use the right font-color and text background. If you use too small font size, use wrong font colors visitors will leave your website without reading anything.
04. Design Minimalist Pages
Often people make their website and pages too heavy or shinny in order to make them advance and stylish, but they forget that sometimes these things distract visitors from real content like products, services, etc. So it is considered as a good practice to use modern minimalist designs that put your real content, products, services, etc, in focus.
05. Cross links & Related Posts
Relevant cross links and related posts widget greatly reduce the Bounce Rate of a website. Cross links are simply links to other pages on your website, linking relevant keywords to related content which help people to find more relevant content.
Related post widget is either shown at bottom of the page or sidebar. Always give your website visitors a logical compelling next step, which is called progression trigger like it could be an offer, sign-up form, video, etc.
06. Use Visual Content & Formatting
Always try to use visual content like images, videos, etc, to make your content more demanding and attractive. Your pages should be fully formatted like you must use headings (h1, h2, h3 etc), bullets, etc.
Always try to write content in small paragraphs. Paragraphs should not be more than 3 to 4 lines. Don't forget to consider mobile users in mind when you write content, the content should be good for both desktop viewers and mobile viewers.
08. Don't Put Social Media Counters
There are plenty of social media plugins which display social media counters along with share icons like Facebook comments, share & like counter, Twitter share & like counter, etc. These social media counters can distract visitors because they might consider those posts less-worthy which have less comments, shares or likes.
09. Use Google Analytics Stats
Google Analytics is a great SEO tool for analyzing the performance of your website. You can check which of the pages are causing low Bounce Rate and which are causing the high Bounce Rate. You can make necessary changes in those pages which are causing the high Bounce Rate.
You can analyze the traffic channels as well like which type of traffic has low Bounce Rate & which has high Bounce Rate. You can also analyze the device type as well like a certain device brings you a high Bounce Rate and others bring you a low Bounce Rate, it means that users are not experiencing good while visiting your website in that particular device type. Your website design may be too good for desktop viewers, but might not be good for smartphone viewers.
10. Optimize Your Website
One of the most critical aspects of website optimization is SEO (Search Engine Optimization). Website optimization drive more traffic, increase conversions, and grow revenue. People love to spend time on fast performance & secure websites.
It is very important that you must launch you website on a reliable, secure and fast web hosting which should support features like Caching, CDN, etc. How good maybe your website if it is hosted on a insecure and unreliable web hosting, it can't perform well. If you want superior performance you can host or transfer your website to Dedicated Server hosting or VPS hosting instead of Shared hosting.
Have a look on these leading web hosting providers:
You can optimize your website content by using the small-sized optimized images that will greatly increase the loading speed of website and individual pages. Remove unnecessary and unused JavaScript and CSS from your website template.
You can use fully optimized, fast-performance, modern & responsive themes for your website which have been developed using the state-of-the-art technologies like Ajax, Bootstrap, HTML5, CSS3, AMP etc.
Have a look on these responsive website templates:
08. How To Reduce Bounce Rate Of An eCommerce Website
Bounce Rate matters a lot for eCommerce websites because a lower Bounce Rate fairly increases the conversion rates that means more sales and more revenue.
Lower Bounce Rate increases the rank of your website & website pages on Google. When your pages are ranked higher it massively increases the organic traffic of your website. When there is more organic traffic there are more conversions & that means more revenue.
Suppose users searches your eCommerce website or website pages on Google, comes to your website but exits quickly. Would this be a good for your eCommerce website? Definitely not.
Here are some tips to reduce the high Bounce Rate of an eCommerce website:
Make sure that your users feel that they are in the right place. The first thing for which your website visitor ask question to himself that, is he in the right place?
When people visit eCommerce website they look for the authenticity as well i.e. whether it is scam or not. If your eCommerce website is acknowledged by a top journal, magazine or a company like Forbes, you can highlight them on your website which will increase the trust of new visitor.
If you promote your website products via Google ads, Facebook ads or banners, etc, remember to show all the offers and features on your landing/product page, which you will mention in your ads. Like let's say you mention "free shipping" offer in your ad, now you must clearly show "free shipping" in your product page as well.
Tell your users what should they do next. Show other recommended items in the store. Show Daily Deals, Hot Sale, New Arrivals, Featured Products, Best Selling Products, You May Also Like, etc.
Make your website very fast and responsive. Most of the eCommerce websites are loaded with plenty of features and products that make them very slow. People don't like slow websites. According to Google few seconds can make a lot of difference in Bounce Rate. As page load goes from 1 seconds to 5 seconds the probability of Bounce Rate increases by 90%. Google SEO experts consider ideal time for page load time is 3 seconds.
Features Required For a Modern eCommerce Website Theme
To make your eCommerce website competitive, very fast, professional, attractive and responsive your eCommerce website theme must be built with these advance features:
One-Step Checkout, Price Slider, Powerful Ajax Shop, Ajax Cart, Ajax Wishlist, Ajax Compare, Ajax Search, Ajax Layered Navigation, Guest Wishlist, Retina Ready, Mega Menu, Lazy Load, AMP, RTL Support, Mobile-Friendly, Advance Carousels, Product Slider, Multi-Tab Product Modules, Multi-Layouts, Cross-Browser Compatibility, etc.
The One-Step Checkout feature simplifies & speeds up the checkout process in your online store and increase your sales. Ajax Layered Navigation provides a rich experience to customers that they can search/filter products based on their product attributes. AMP(Accelerated Mobile Pages) is a standard for any publisher to have pages load quickly on mobile devices.
Ajax Add to Cart allows users to include single products or variable products in the cart without the need to reload the entire site each time. Lazy loading is an optimization technique that delays the loading of unnecessary objects such as images and speeds up your website. Have a look on these advance fast-performance responsive eCommerce themes:
Conclusion
By the end of this post you must have a good understanding about the Bounce Rate, its importance, and how it impacts the performance of a website. Explore more on Google Analytics. If you like this post then don't forget to share with other people. Share your feedback in the comments section below.
Also Read