Commission Junction Affiliate is one of world's largest and most established affiliate marketing network designed to help you achieve intelligent, scalable, and sustainable growth. Now people from all those countries where there is no PayPal service can signup & receive payments from CJ(Commission Junction) Affiliate via Payoneer.
In this tutorial you will learn How to sign up for Commission Junction Affiliate, How to link your Payoneer account with CJ Affiliate & How to use the marketing material on CJ affiliate.
Step 1: Sign Up
Go to CJ Affiliate To  Sign Up.
Enter the required information.
Click NEXT.
A verification email will be sent to your email account.
Open the email account and open the verification email from CJ affiliate.
Click "Create My CJ Publisher Account".
You will be redirected to PUBLISHER SIGN UP FORM.
Fill this form carefully. Accept all the Service Agreements.
Once you fill the form completely click Accept Terms at bottom.
Step 3: Tax Information
It will ask you to provide the Tax information or certification. Since you are not a US citizen, so you have to sign an agreement called Certification of No United States Activities. It will ask you to put your Full Name, that will be your signature. It frees you from any tax payment.
Step 4: Payment Method
Now you have to configure your Payments. It will suggest you a Payment methods that are available in your region, so it will suggest Payoneer for you. Fill this form by getting information from Payoneer account.
In the next step below, we will guide you how to get information from your Payoneer account and fill in this step.
In "Minimum Payment Amount" Enter the minimum amount(from $50 to $1000.00) that will be sent to you. For instance if you set $50, whenever your earning will reach $50 it will be sent to you.
In "Bank Currency" Choose UNITED STATES(USD).
In "Bank Location", choose United States.
In "Account Number" Enter Account number.
In "Payment Method" Enter Direct Deposit.
In "Account Type" Choose Checking.
In "Routing Number/Sort Code" Enter Routing (ABA).
In "Account Holder Name" Enter Beneficiary name.
In "Bank Name" Enter Bank Name, mostly it is First Century Bank.

If you have a Payoneer account, sign-in, if not then create a Payoneer account. It's free to join.
Login to your Payoneer Account.
Click Receive.
Click Global Payment Services.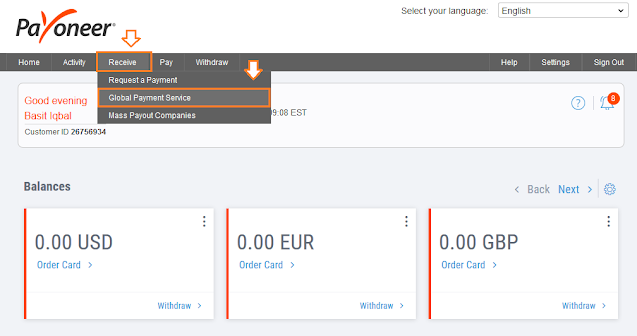 Click "USD receiving account".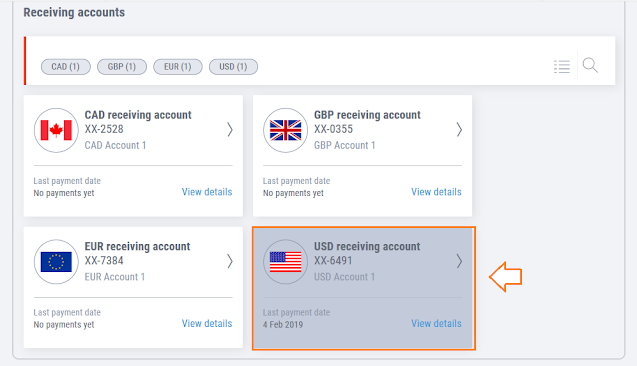 Here is the required information that you have to fill in CJ affiliate Payment method form above.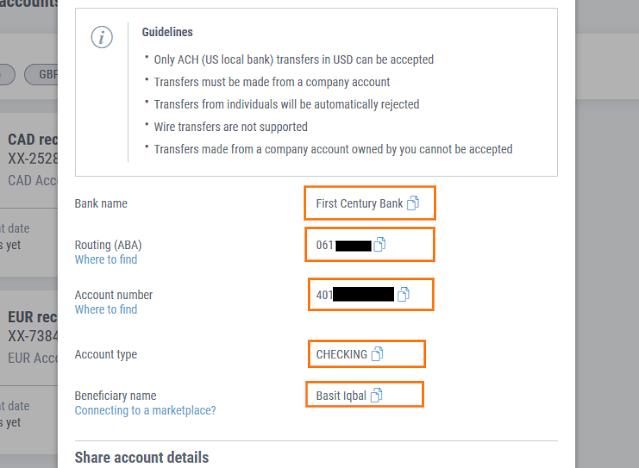 Go to Account to view or modify information on CJ Affiliate dashboard.
Click Account.
Click Administrative Settings.

Step 6: Explore CJ Affiliate
As you are done with your configurations, now you have to find the Advertisers for you.
Click Advertisers. It will list down all the Advertisers.
There will be lot of Statuses of Advertises like All, My Advertisers (Active), Pending Offers, Pending Applications, Declined Applications etc.
To list down the selected Advertisers, click the radio button first under the Status section at left sidebar and then click Search.

Click on the main title of the company to see details. It will expand below in the same window.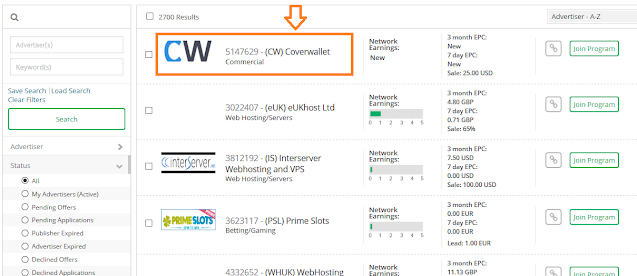 This is how it looks like. You can see the detail information here.
If you think the company is right for you or if you can target the audiences of Serviceable Areas, Click the Join Program button.
Some companies will accept your request within that time, but most will say that,"This advertiser approves publishers manually. Your application status will be set to Pending Application and the advertiser will contact you if approved. This company checks the application manually." So, you have to wait for their response.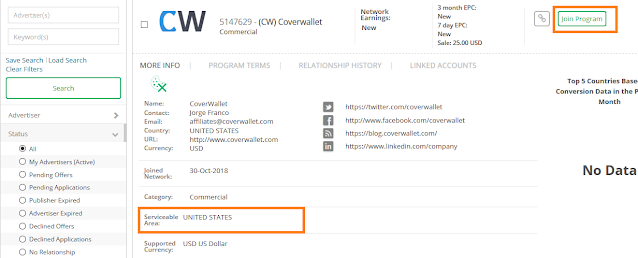 Some Advertisers could send you the offer to join their Affiliate Program. It is up to you whether you accept their offer or not. These offers will be listed in Pending Applications.

Step 7:
Once you Accept the offer or your Request is accepted by some Advertiser, You can get links and code and banners to put on your website or blog or sharing through Social Media.
You can list down Accepted Advertisers by Selecting My Advertisers(Active).
Click on Get Links button from front of that Advertiser.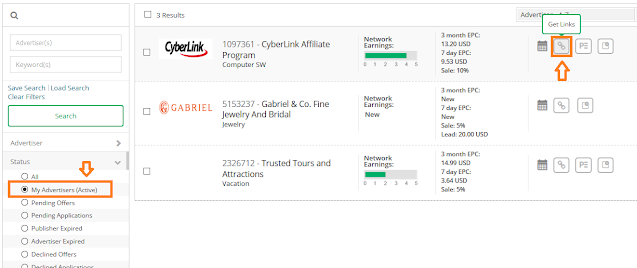 Now you will have list of banners. You can choose as much as you want to show them on your blog or website. Always try to get the most recent one.
Click Get Code button.

Now you have to Copy the code and Paste it on your website or blog.
If you want to show on your blog Copy code from HTML tab. You can adjust the Width and Height within this code.
If you want to share links on Social Media Copy code from Click URL.

You can explore lot of other things there.
If you like this post then don't forget to share with people. Share your feedback in the comments section below.
Recommended Posts