Earn Online
How To Receive Money Via Payoneer Global Payment Service
Payoneer is one of the fastest & secure platform for receiving money worldwide. Whether you are a blogger, freelancer or an affiliate marketer you can get paid via Payoneer Global Payment Service in all the major currencies like CAD, JPY, EUR, GBP, USD etc.
Today the top online companies and marketplaces like Fiverr, Upwork, Amazon Associates etc, pay people via Payoneer Global Payment Service. Payoneer Global Payment Service is also called Receiving Accounts.
What Payoneer does is that it creates international virtual bank accounts for you in the banks of different countries in their currencies, that helps you to receive money from any part of the world.
For instance you are in Pakistan working with the client in Japan, now using the Payoneer Global Payment Service you can request your payment in JPY currency by providing your Payoneer JPY bank account details. In Payoneer, for every currency there are different international bank accounts for you.
You can receive money in Payoneer via two methods, one, as we said above "Global Payment Service" and second, "Request A Payment".
The difference between "Global Payment Service" and "Request a Payment" is that in "Global Payment Service" you provide your Payoneer bank account details like account number, routing number etc, and money is transferred to your Payoneer account, Whereas  in "Request a Payment" you send a payment request to your payer(client or company) with a specific amount.
In this tutorial we will guide you step-by-step on how to receive money via Payoneer Global Payment Service from any part of the world.
Step 1:
Login to your Payoneer account.
Click Receive.
Click Global Payment Service.

Step 2:
When you create a new Payoneer account you probably would have only one Receiving account that is USD Receiving account, but you can request for other currency accounts. You can see here that there are 5 Receiving accounts.
USD Receiving account is the most popular and today most of the people are get paid via USD Receiving account, globally.
Choose your Receiving account.
For instance, here we are choosing USD Receiving account.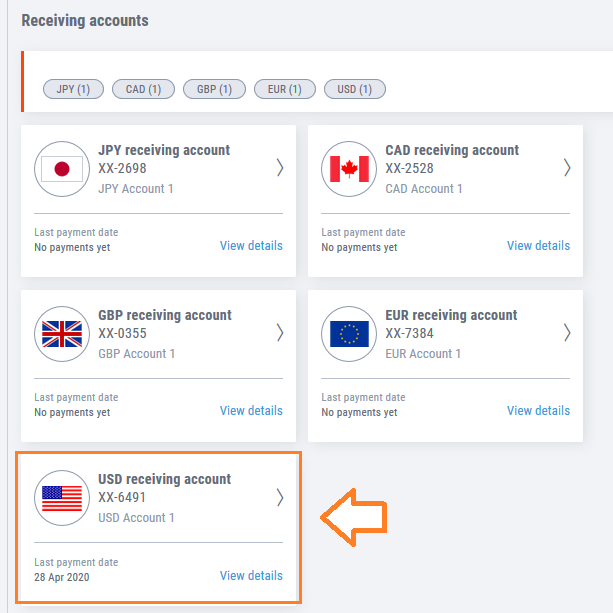 Step 3:
Now you will get details of your USD Receiving account.
This is the information that you need to provide when you configure payment methods in different platforms like Fiverr, Amazon etc.
You just need to COPY from here and PASTE there.
"Routing (ABA)" is a sequence of 9 digits used by banks to identify specific financial institutions within the United States.
"Account number" is your bank account number of USD Receiving account.
"Account type" is Checking. A checking account is a deposit account held at a financial institution that allows withdrawals and deposits.
"Beneficiary name" is the TITLE of your bank account. Whenever you are required to enter "Account Title" provide the "Beneficiary Name".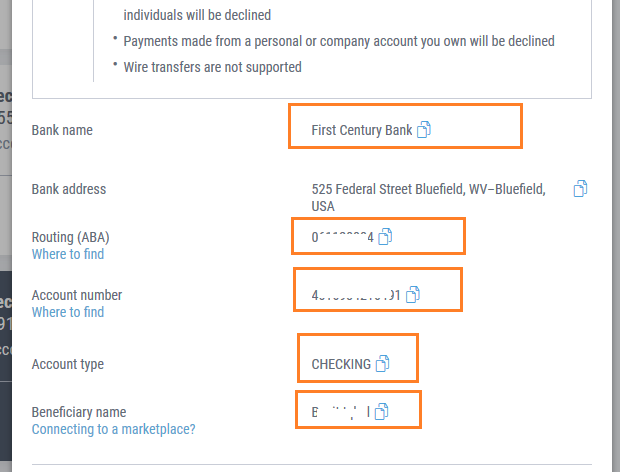 Remember that every Receiving account in Particular currency will have different details. For instance these are the details of GBP Receiving account.
You can see that Bank name is different, it is Barclays. There is no Routing(ABA) number instead there is Sort Code.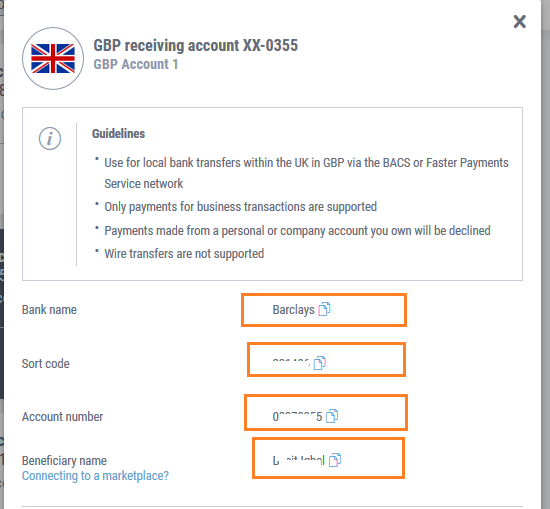 That's it. You are done.
If you like this post then don't forget to share with other people. Share your feedback in the comments section below.
If you want to Earn-Online, read our step-by-step Tutorials.