Are you looking for a very clean, fast-performance, fully-customizable, and flexible multipurpose responsive Blogger template for your personal blog? You're in the right place. Simpl. is a multipurpose personal Blogger template with grid layout, suitable for any type of modern personal blog such as Food, Travel, Music, Lifestyle, Photography, Diary, etc.
A grid layout allows to align theme elements into columns and rows. It not only helps visitors to navigate and explore your blog easily, but also improves the performance as well. In other words, grid layout can be a great way to present your content online.
Besides grid layout feature, this theme offers one more special feature called "Two image width options (1) Wide (2) Full-bleed". With this feature you can blend images beautifully into your content at different sizes which make them exceptionally good.
In this post, I will cover following topics:
Salient Features Of Simpl.
Google PageSpeed Insights Test Results
Design Features In Detail
Simpl. Price
Cons Of Simpl. Blogger Template
RELATED
Salient Features Of Simpl Blogger Template
Here are some salient features of Simpl. Blogger template:
Responsive, works for both desktop and mobile devices
SEO-Ready, Retina Ready(Capable of displaying high-resolution images on devices that have high definition (HD) displays)
Contact Form in a separate page
Custom Error Page(Keeps visitors in your blog. It recognizes the mistake and guide them back to relevant pages of your blog)
Show/Hide gadget option
Comments section and form is redesigned to make it more beautiful and professional
Social Media Sharing buttons on item page.
Navigation appears on both homepage and item page.
Extensive YouTube video support, and many more…
PageSpeed Insights Test Results
The Google PageSpeed Insights analyzes the content of a website and its pages, and generates a score and suggestions to make that page faster.
Here are the Google PageSpeed Insights of Simpl. Blogger template for Desktop and Mobile devices:
This is the page speed of Simpl. Blogger template's Homepage on Desktop and Mobile devices. For Mobile devices homepage performance score is 86, whereas for Desktop devices it is 99.
Most of the templates perform well on desktop devices, but have poor page speeds on mobile devices, normally under 30. It is not the case with Simpl. Blogger template, its score(86) tells that it is performing well on mobile devices as well.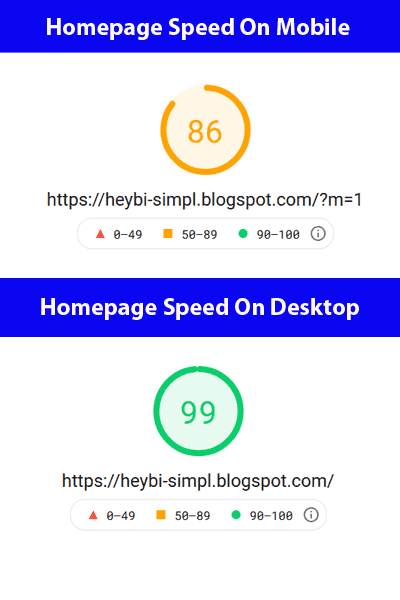 This is the page speed of Simpl Blogger template's Item Page on Mobile and Desktop devices. For Mobile devices performance score of Item Page is 79 whereas for Desktop devices it is 89. From page speed scores, I can say that its Item Page is also performing well.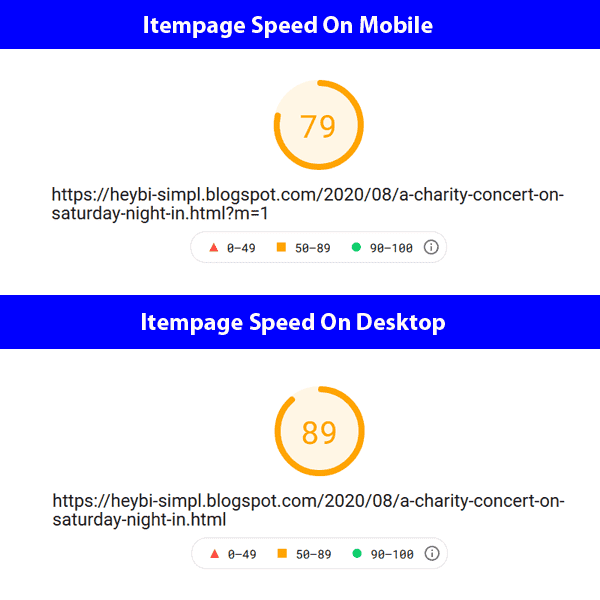 Design Features In Detail
Let's go through the design features of Simpl. Blogger template.
Homepage
Like every other website theme Simpl. also has a header at top. It contains Menu(Navigation), Logo and Search Bar. Its Menu is simple and clean, appears horizontally when you click the hamburger icon. Logo lies in the middle section whereas Search Bar is positioned at your right side.
Below the Header there is a stylishly designed Featured Post that displays a large image and post title.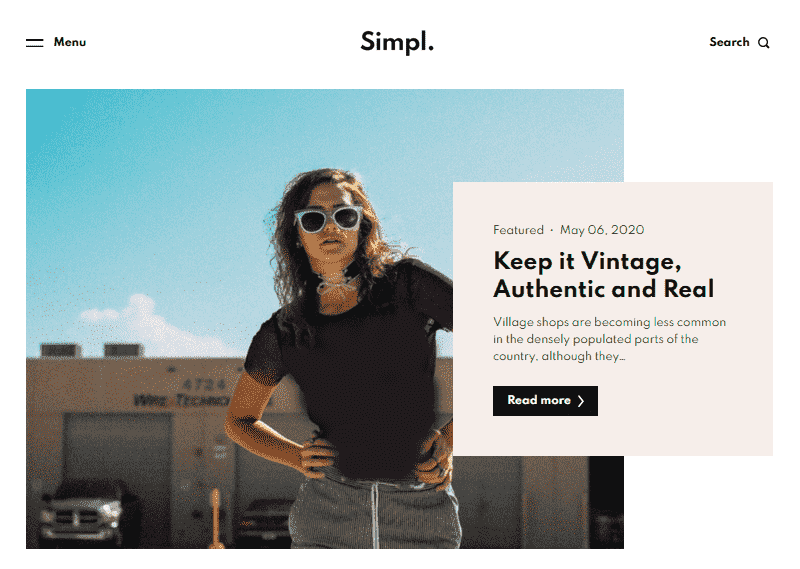 Below the Featured Image section there is a grid layout that displays your latest blog posts. It contains 2 columns and 4 rows. The post thumbnails are large, font-size of their titles is big, and background behind is white, compel visitors to stay on your blog and go through all your content.
There is a special hover effect on thumbnails and post links as well.
The "Older Posts" link at bottom of the grid layout expands more posts.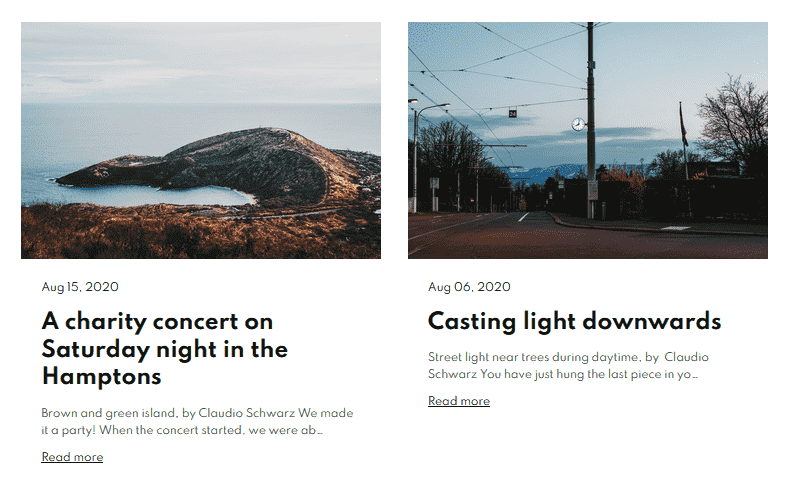 The grid layout is followed by a very simple and clean 3-column layout Footer where you can write your "About" and add important links of your blog.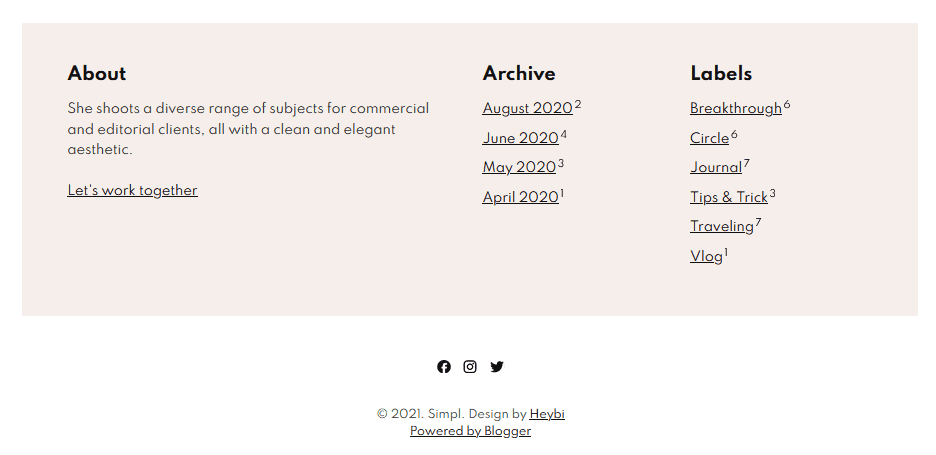 This is how its Homepage looks like on Mobile devices. It is fully responsive and optimized for any type of mobile device.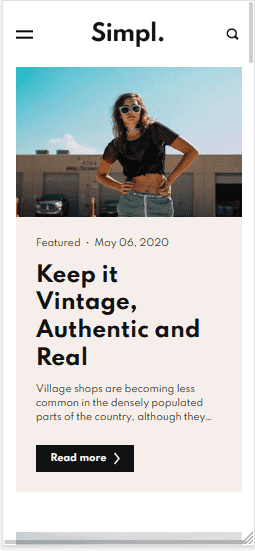 Item Page
The Item Page of Simpl. Blogger template is very clean and carefully designed by keeping the readers in mind. The content of Item Page is aligned center. There are no sidebars on left or right side. The font-size of title is large, and there is an author link just above the Title with name and logo.
Pagination is positioned at bottom of the page. There are social media sharing icons positioned just above the Pagination, to directly share an article on the desired social media platform.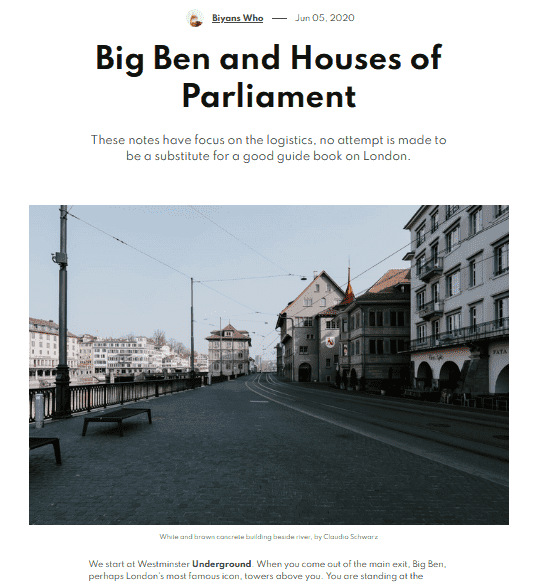 Below the Pagination there are beautifully designed "Author Profile/Bio" and "You might also be interest" widgets. The Author Profile builds a trust among blog visitors like author who has written this article has some authority and related knowledge.
The "You might also be interested" widget has many names like "Related Items", "Similar Posts", etc. It is a very important widget because it helps to explore other related articles of your blog, which ultimately reduces the bounce rate of your current article and blog.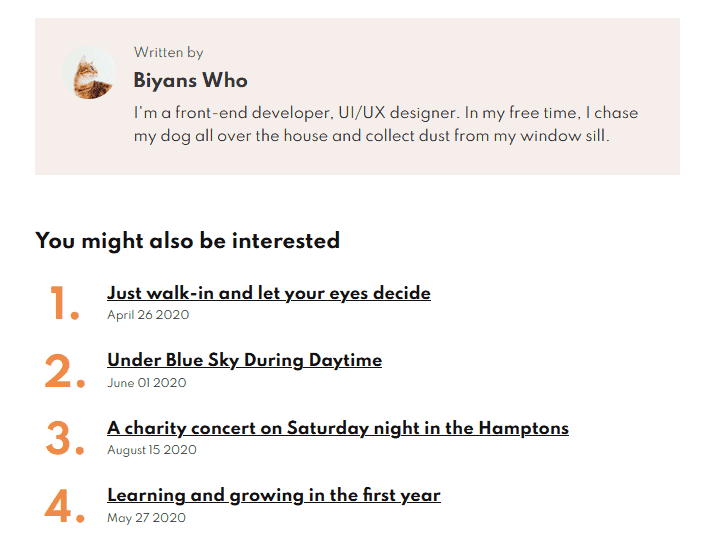 Mobile View of the Item Page. It is also fully-optimized for any type of mobile device.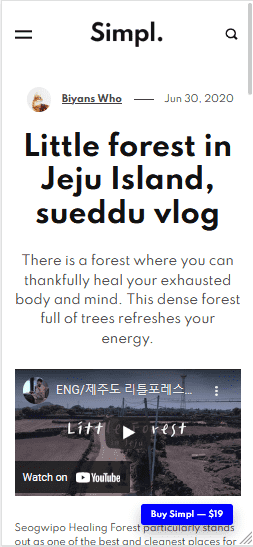 Simpl. Price
Simpl. is an affordable and cheap Blogger template. It worth its price of $25.
Cons Of Simpl. Blogger Template
Most of the modern templates come with a sticky menu(navigation), but this template doesn't. Template developers might have their own logic for not having a sticky menu.
Though you can display ads, but it is not the ideal Blogger template for displaying AdSense ads like other News & Magazine Blogger templates. There is no sidebar on both Homepage and Item Page, as most of the advertisement banners are placed in the sidebar.
On Homepage you can place ads on Header, Footer, and below the Featured Image. There is no issue for Google AdSense Auto Ads, they automatically find suitable places. If you want a sidebar ask from the theme seller whether it supports sidebar or not.
So it was all about Simpl., an amazing multipurpose personal Blogger template. If you like this post then don't forget to share with the other people. Share your feedback in the comments section below.
Also Read