Are you searching for a Blogger Template purely made for a video website/blog? You're in the right place. Finally Farycreate is come up with a gorgeous responsive Blogger template purely made for a video blog.
Davidews is a fully-customizable, advanced, colorful, and SEO-Ready template with drag & drop support. Its unique features help you to create any type of video blog, such as Gaming, Music, Entertainment, Movies, Science, Technology, Reviews, News, etc.
You can embed videos from Youtube, Vimeo, Dailymotion, etc, by URLs. It also allows you to insert Live video and chat.
This theme is particularly ideal for a person who owns a YouTube channel. One can double his revenue by bringing traffic to his YouTube channel through his blog.
Following topics will be covered in this post:
Salient Features Of Davidews
Google PageSpeed Insights Test Results
Design Features In Detail
Davidews Price
Cons
RELATED
Salient Features Of Davidews
Here are some of the salient features of Davidews Blogger Template:
Fully responsive, means it can adjust itself to any device e.g. desktop, tablet, smartphone, etc.
Built using latest Bootstrap version. Bootstrap is a popular free and open-source HTML, CSS, and JavaScript framework for developing responsive, mobile-first websites.
Powerful Admin Panel. It offers drag & drop gadgets/widgets feature.
You can use Unlimited Colors.
Its Sticky Header appears on both homepage and item page. It helps visitors to navigate from visited(current) page to other pages and sections of your blog/website.
The theme is ads ready means you can monetize your blog with Google AdSense and affiliate programs. There are special positions for displaying ad banners.
Social Media Icons, Tabs, Preloaders (Spinners), Pagination infinite scroll and many more…
2+ Homepage layouts, Clean Typography, Like and dislike buttons, Visitor counter
Mobile Comments, Side navigation
Google PageSpeed Insights Test Results
Now let's see how Davidews theme performs on different devices (desktop & smartphone) according to Google Page Speed Insights.
The Google PageSpeed Insights analyzes the content of a website and its pages and generates a score and suggestions to make that page faster. It also tells you about the Core Web Vitals assessment, whether it is failed or passed based on field data.
Just to make sure you can also check the theme's performance on Google PageSpeed Insights.
Homepage Speed On Mobile
The PageSpeed performance score of Davidews homepage on smartphone is 43. Though for a normal website this score is very low, but for a large video website you can say it is reasonable, but still it needs to be improved.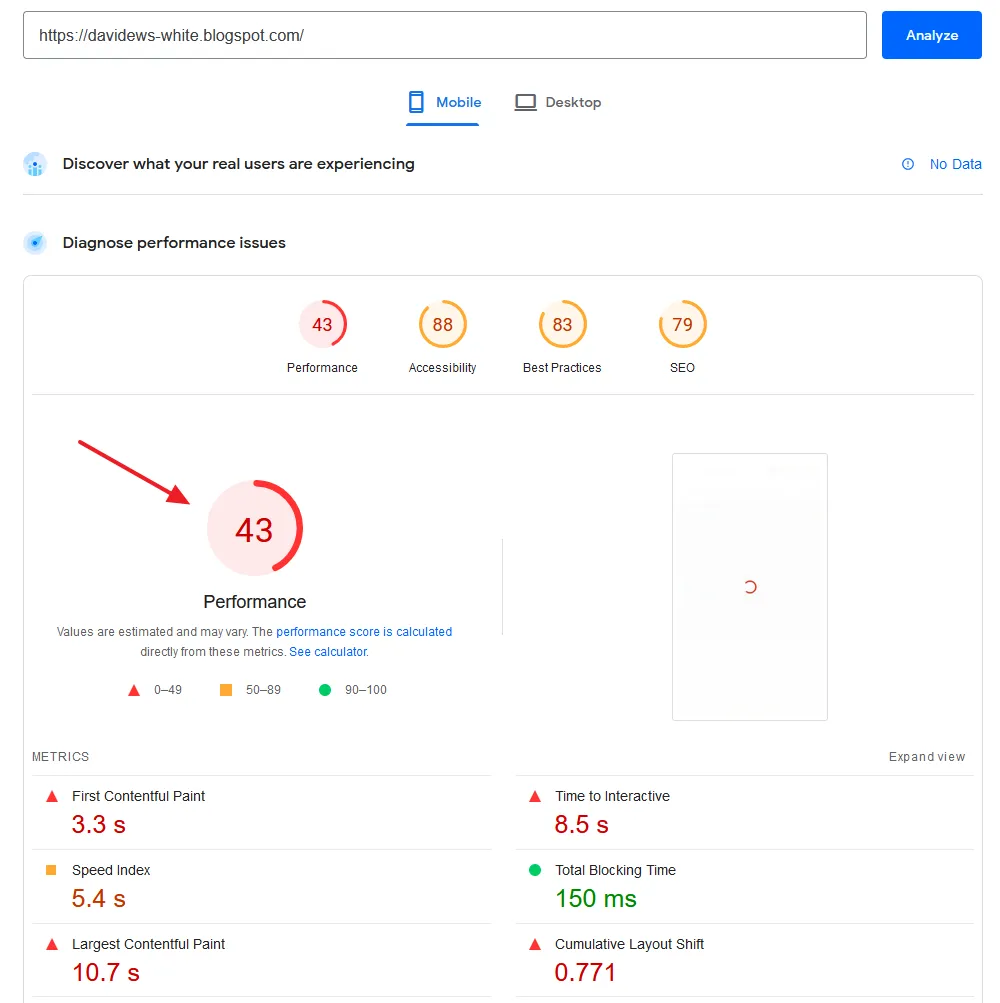 Homepage Speed On Desktop
The PageSpeed performance score of Davidews homepage on desktop devices is 67. It is neither too slow nor too fast. It also needs to be improved.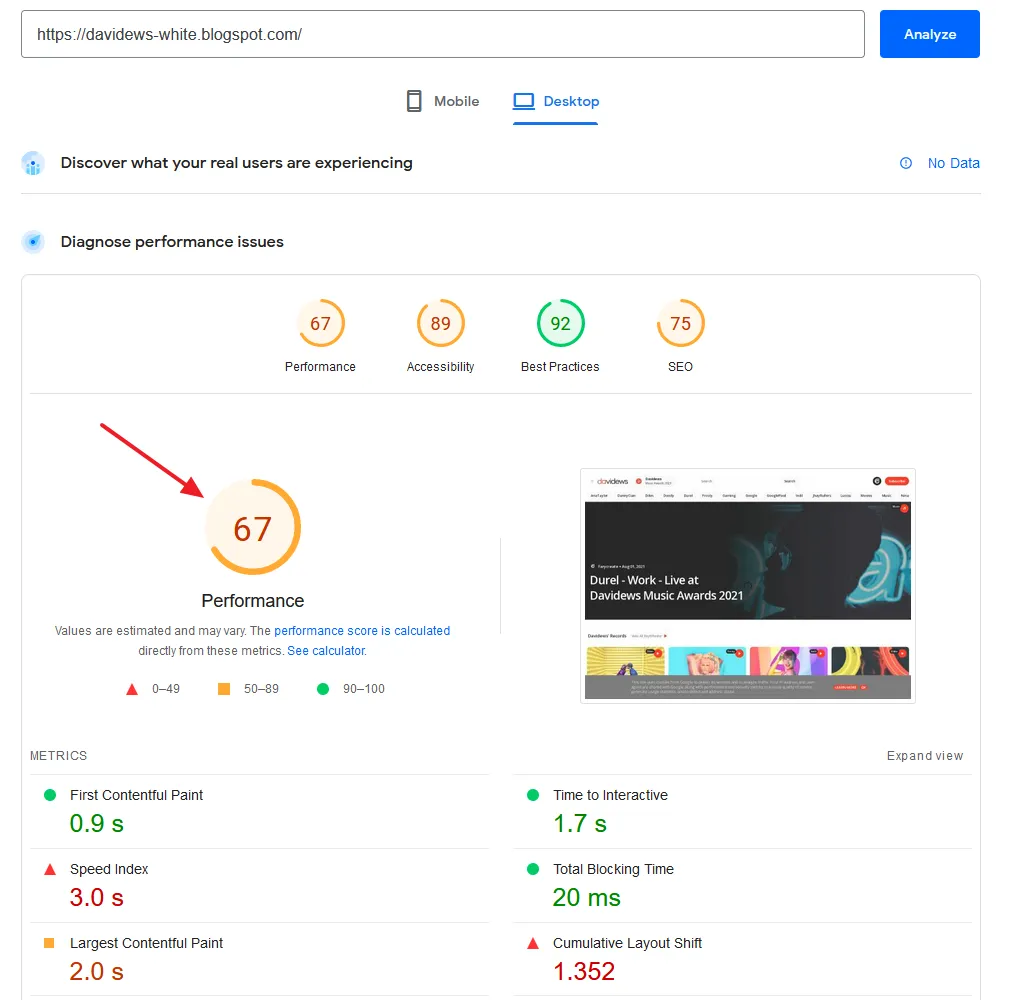 Item Page Speed On Mobile
Item Page is the detail page of a post which is opened when a post's thumbnail or title is clicked. The PageSpeed performance score of Item Page on mobile devices is 13. The theme's Item Page is pretty simple, this low score does not make any sense. There must be something which is causing a delay, could be video itself.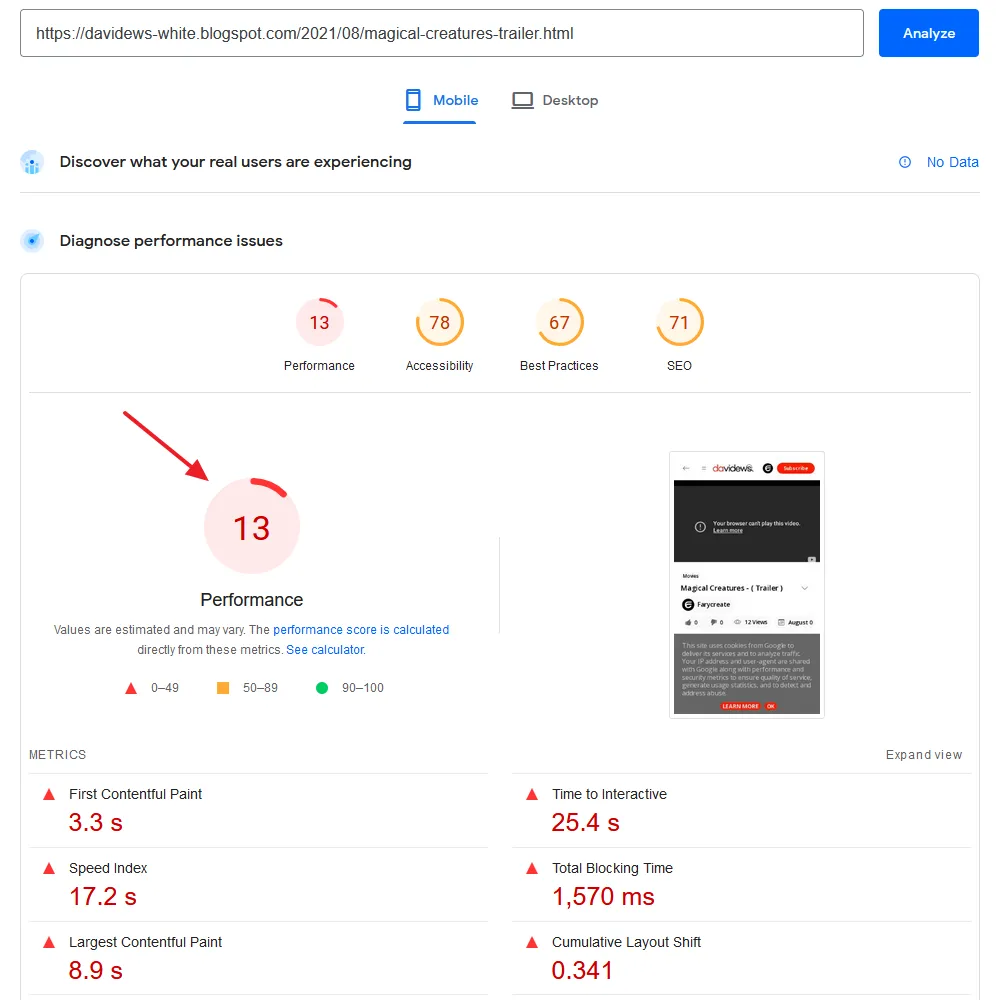 Item Page Speed On Desktop
The Item Page's performance score on desktop device is 67. It is reasonably good for a video website's page, but it should also be improved.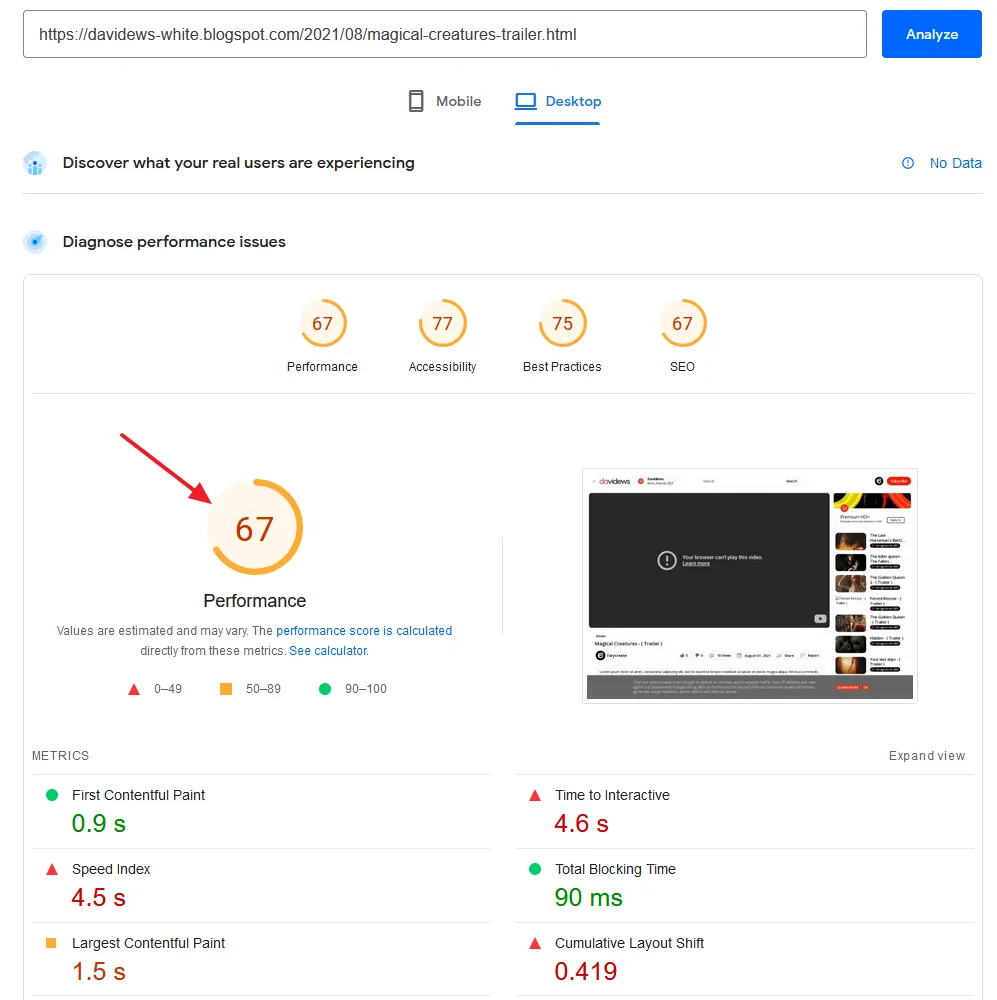 Design Features In Detail
There is a sticky header at the top section that contains website logo, search bar, space for ad banner, subscribe link, labels supported with horizontal scroll bar and hamburger icon. The vertical menu/navigation appears when you click the hamburger icon.
Below the header section there is a large space for featured video. When you click the play button it opens on a modal window.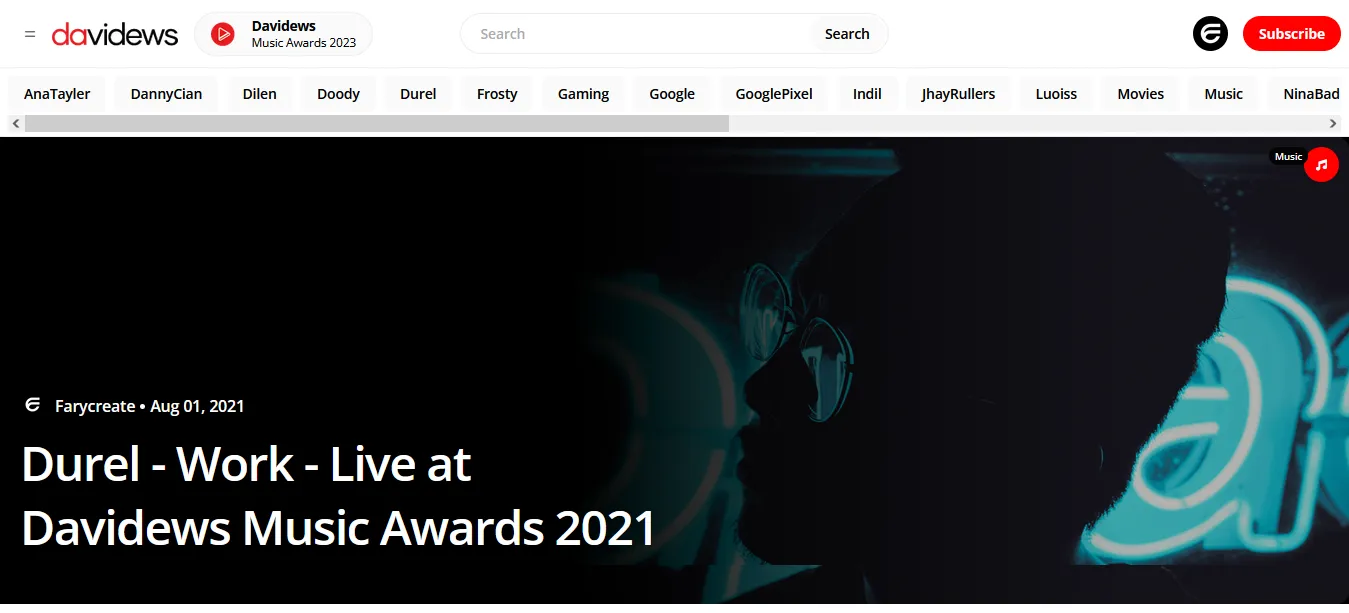 The main body is divided in different sections. Each section contains posts of specific label(category) such as Latest Videos, Movies, Entertainment, Music, etc. When you click a video thumbnail or link it is opened on the Item Page.
People can not only watch the video, but can also read its description and details. The "See the Next Posts" link at the end of a section expands more posts.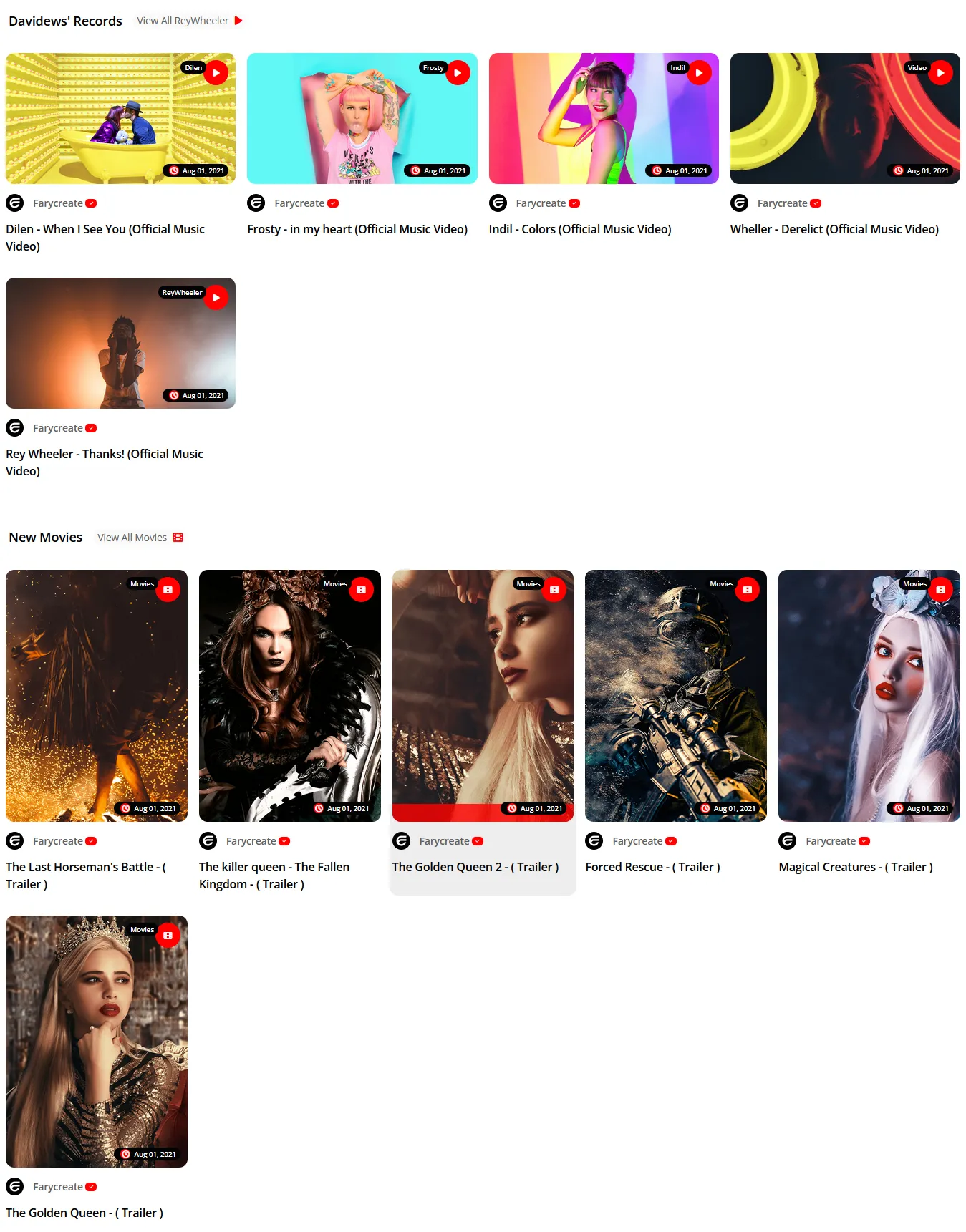 There is a simple and elegantly designed large footer at bottom of the page where you can display social media icons, and important links of your website.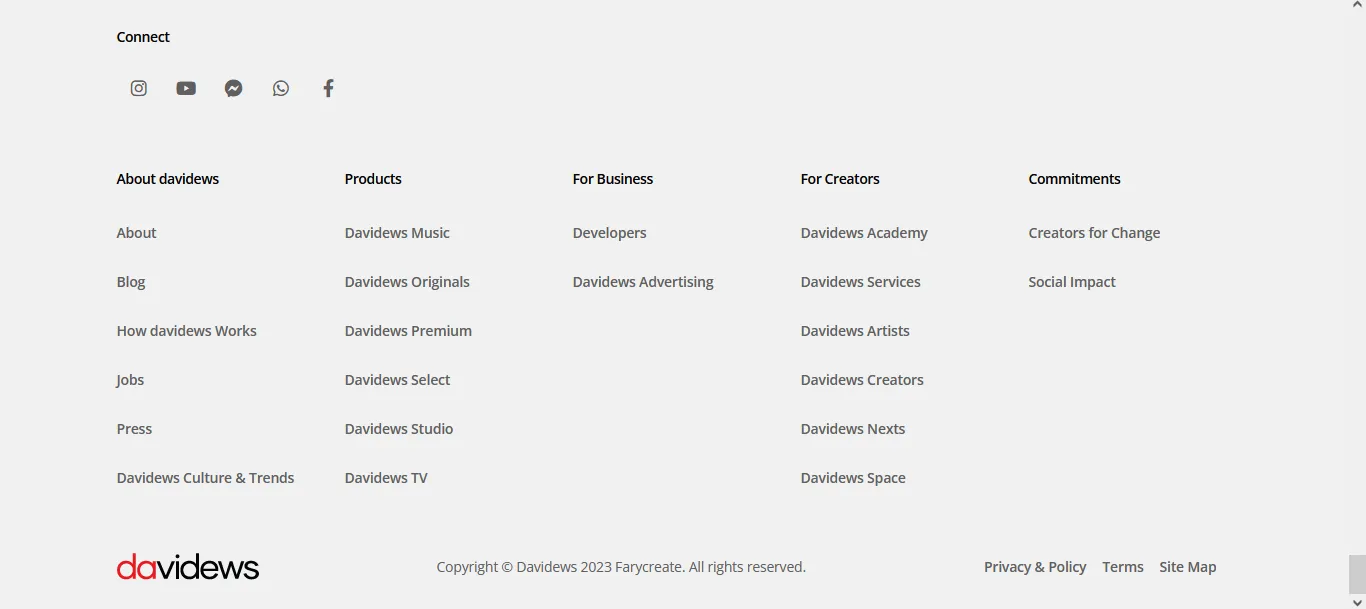 Now let's discuss Item Page of the Davidews theme. The sticky Header also appears on the Item Page, which can help website visitors to navigate from current page to other pages and explore your website. When visitors explore other pages from a visited page it increases your revenue and decrease your website's bounce rate.
The video is displayed at top of the item page. A beautifully designed Sidebar contains the posts related to current post which also makes visitors to explore the content of your website from the visited page.
The social media share icons allow visitors to quickly share videos/posts on popular social media platforms such as Facebook, Twitter, Pinterest, etc. The comment section allows visitors to publish comments related to your post and video.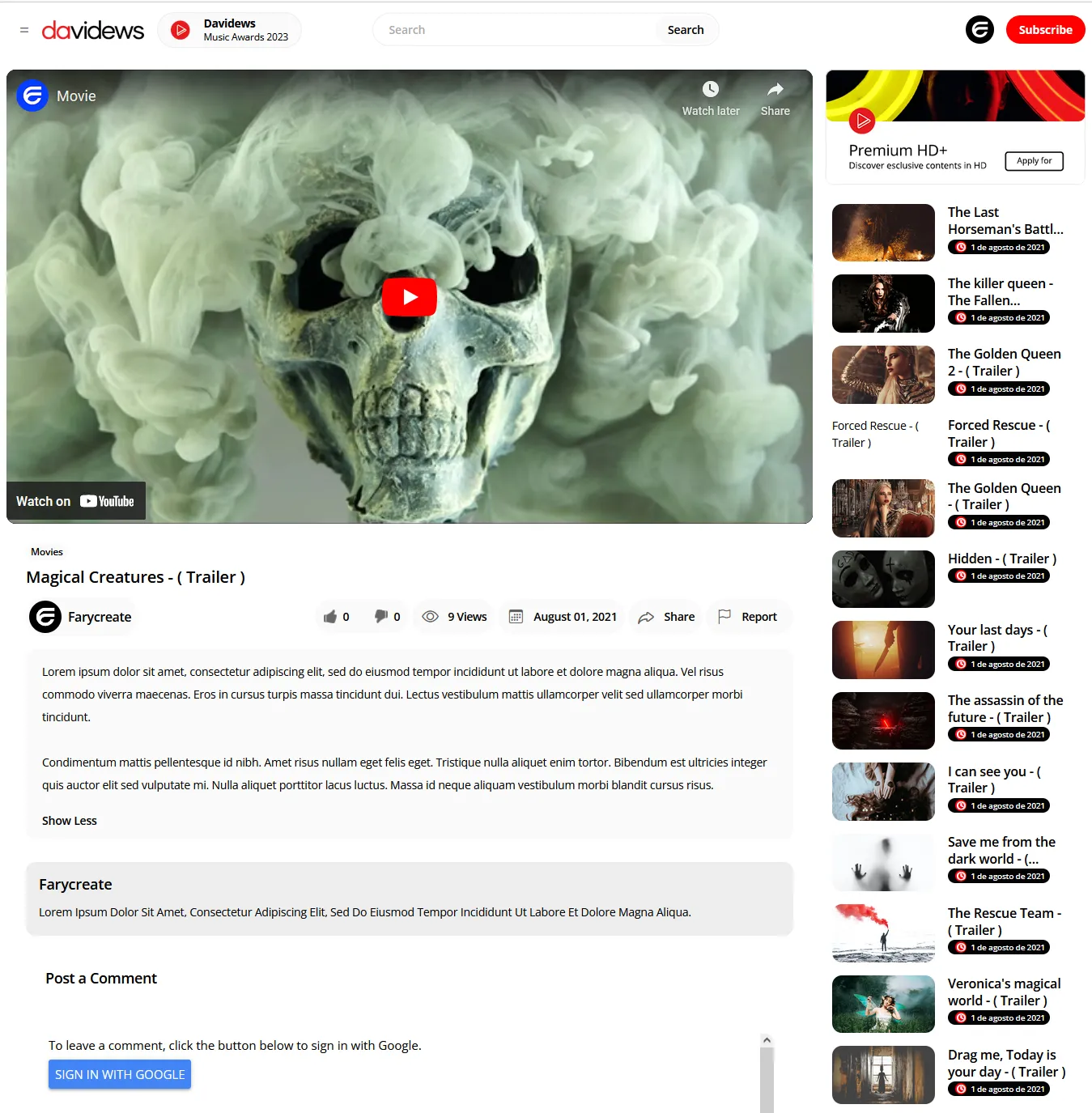 Price
Davidews is an affordable and cheap Blogger template. Its price is only $28. In addition to its cheap price it offers all its future updates for free.
Cons
Though Davidews is an amazing Blogger template for a video website, but there are few cons as well.
In the design features, I have mentioned about horizontal scroll bar for Header Labels List. Though the horizontal scroll bar works fine, but it is not used in modern themes. Instead of horizontal scroll bar there should have been a slider with arrows at each end.
Normally Homepage of a website tends to be slow as compared to Item Page particularly on smartphone, but in Davidews case Item Page has a very low score for smartphones. If a blog is monetized with AdSense it further decreases the speed of a page. Website visitors don't like slow loading pages and websites.
This theme does not fully support RTL(Right-To-Left Languages). Theme developers are working on it.
So it was all about Davidews, a unique video Blogger template. Hope my review helps you to evaluate this template. If you like this post then don't forget to share with other people. Share your feedback in the comments section below.
Also Read: