Blogger
Best Blogger Templates [2022] For Food & Recipe Blogs
If you are looking for the most effective, gorgeous and modern responsive Blogger templates for your food & recipe blog, you are in the right place. We have handpicked the best Blogger templates on the market based on their design, performance and features.
The templates come with powerful admin panel that allows you to customize literally anything on your blog like You can change colors and fonts, you can upload logos, you can change layouts, you can change styles, etc.
The food blogs are always involved in a high interaction with visitors, so to provide them an excellent page experience on all devices(Desktop, tablets and smartphones) they are made retina-ready and fully-responsive.
Have you used the Blogger feature to redirect your ".blogspot" subdomain to custom domain? If not! Have a look:
Here is the list of our handpicked Food and Recipe Blogger Templates with brief reviews and live demo links:
01. Okays!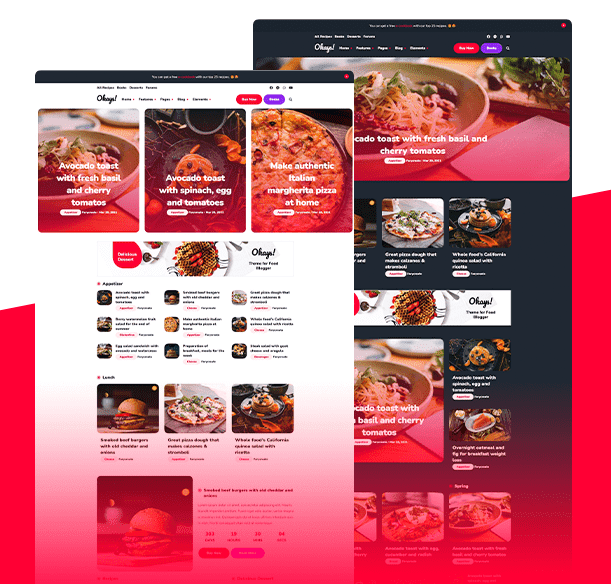 Okays! is the latest, modern, super gorgeous, unique, feature-rich and colorful template with 2 versions i.e White and Dark. Though it can be used for any type of food blog, but perfect for personal gastronomic recipe blogs.
There are two special features which you don't find on other Blogger templates i.e  Reading Progress Bar and Count Down Timer.
The Reading Progress Bar is a horizontal bar appears at top of the page when you scroll down. It is a visual representation of how much of page remains to read or scroll.
The Countdown Timer is displayed to catch the attention of visitors towards an offer or deal by showing the remaining days/hours/minutes/seconds.
Okays! is mobile-ready and fully customizable, has an easy-to-use powerful admin panel. You can choose from different Featured Post modules to highlight the most important posts. It allows you to shape your blog by displaying your desired posts in blocks. You can place blocks in the side space as well.
It also allows you to show your desired posts in the sidebar, so that your blog visitors will be able to see them while navigating the page. It supports sticky header and sticky video player. The sticky video player makes video to float while scrolling.
Beautifully designed Related Posts widget at bottom of the post displays the random posts of relevant categories. Related Posts help to reduce the Bounce Rate of your blog, which ultimate improves the ranking of your blog in search results.
02. Nemesis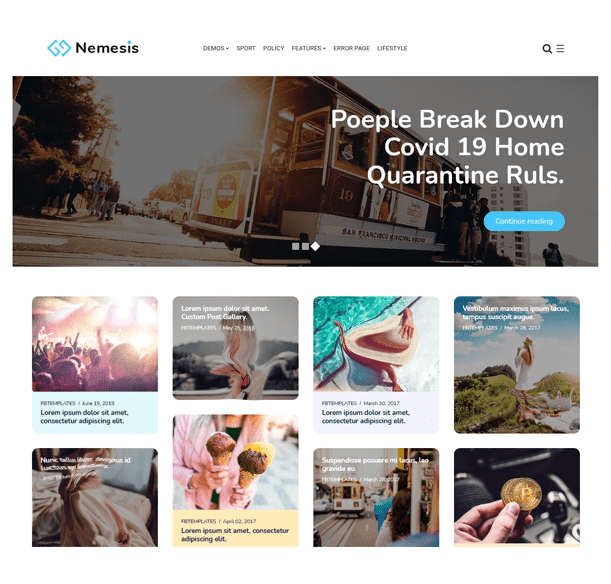 Nemesis is a clean, super fast, beautiful, minimal, flexible and multipurpose Blogger template, suitable for Food blogs, Travel blogs, Personal Blogs, etc.
The theme has a simple design. There is a large carousel in the header section which is followed by a beautifully designed layout where posts are arranged in a masonry like columns with CSS by wrapping them in card columns.
It contains features like Images Lazyload, Bootstrap 4+ Layout, Dynamic Bootstrap Sticky Menu, Related Posts widget and many more…
03. Foodhall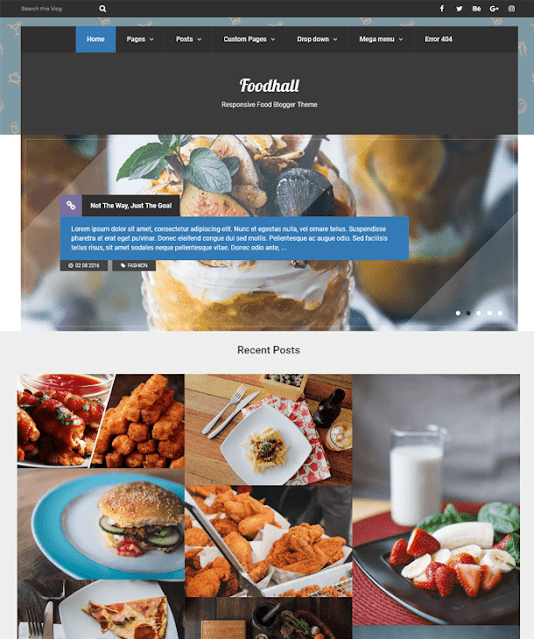 Foodhall is an elegant, attractive, multipurpose and bootstrap-based Blogger template with 4+ homepage layouts, ideal for Food blogs and Photography blogs. It has 4 posts-and-static page layouts i.e Default, Left Sidebar, Full Width and Full Light.
There is a sticky mega menu at top followed by an advanced carousel. The Recent Posts have been displayed in a beautifully-designed long gallery. The post title appears on hover. At bottom of the page it displays Instagram Photos, Flicker Photos, Popular Posts, etc.
Some other features include: YouTube Video Support, Page Numbering, Infinite Scrolling, SEO-Ready, Ads Ready, Theme Designer and many more…
04. Pacific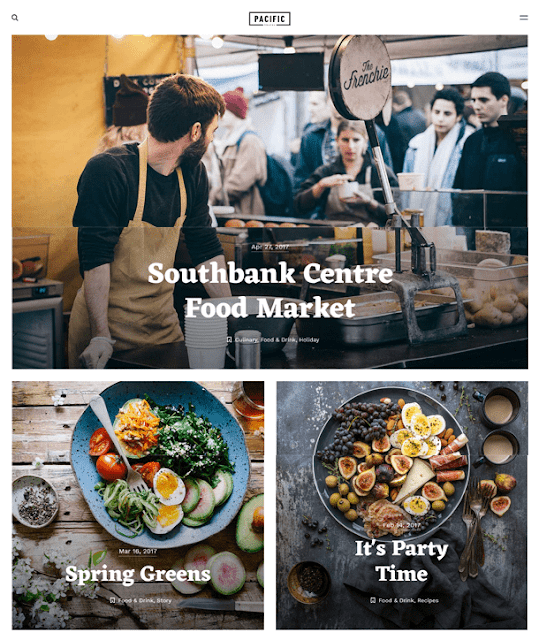 Pacific is a very simple, clean, minimal, fast and elegant grid-based template for food blogs. It uses large imagery and accurate typography for attracting the visitors directly to photography and visual content.
The theme has 5 rows. One-column rows contain only one post whereas the Two-column rows contain two posts. This sequence continues till the last row.
Some of its features include: Retina-Ready, Overlay Sidebar and Search, UI-based Comment Form, Tweetable Quote and many more…
05. Target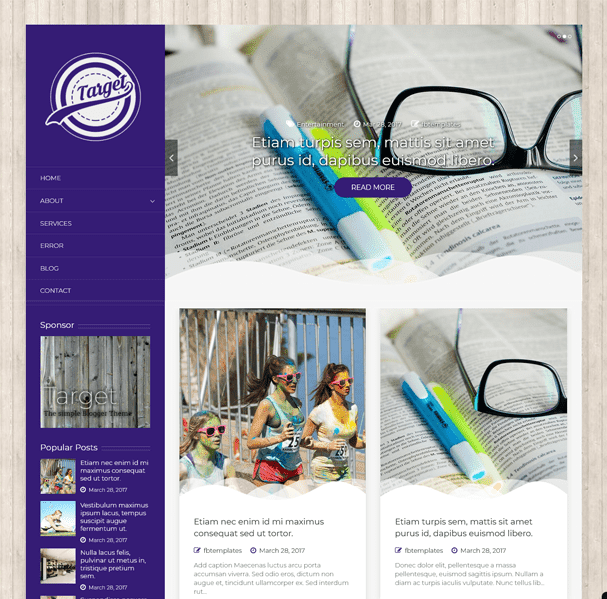 Target is a modern, clean, fast, minimal and multipurpose responsive Blogger template with 3 homepage layouts suitable for Personal blogs and food blogs.
Its logo, menu, popular posts, labels and social media share icons are placed in the sticky sidebar located at your left side Whereas beautifully-designed automatic carousel and blog posts are placed at your right side.
Its background image might give you the impression of outdatedness. If you don't like the background you can simply remove or change the background image.
Some of its features include: Bootstrap 4, Font Awesome Icons, RTL Support, Google Fonts, Unlimited Color Combination, and many more..
If you have a large food blog you can also use News & Magazine Blogger templates as well. Here you can find top News & Magazine templates:
Conclusion
So these were some of the most advanced and responsive Blogger templates for food blogs to present your food recipes in a very beautiful, attractive and professional manner. If you like this post then don't forget to share with other people. Share your feedback in the comments section below.