Blogger
Redirect Blogspot To Custom Domain | Blogger to Another URL
Don't you like your Blogger URL ending with ".blogspot.com" and want to redirect it to a custom domain?  You are in the right place. In this tutorial we will guide you step-by-step on how to redirect blogspot domain to custom domain or redirect Blogger to another URL.
There are two main reasons for having a custom domain (1) Blog with a custom domain always look good and more professional (2) You can apply for Google Adsense and other affiliate programs to earn money via your blog.
Google Adsense, advertisers and affiliate platforms in most cases do not accept applications of those websites with non-standard URLs like ".blogspot.com", ".wordpress.org", etc. Your domain must have a standard A Class URL extension like .com, .org, .net, etc, in order to get approved.
In the "Redirect to Custom Domain" process you have to do two things (1) Redirect your Blogger blog to custom domain (2) Redirect your naked domain to "www" domain.
The domain without "www" is called naked domain like "example.com", "http://example.com", "https://example.com". We have discussed naked domain in detail in Step 4 (How to redirect naked domain to "www" section).
If you have already bought a domain directly jump to Step 3 (How to redirect your ".blogspot" URL to custom domain).
Following topics will be covered:
How to choose a domain name
How to buy a domain for Blogger
How to redirect your ".blogspot" URL to custom domain
How to redirect naked domain to "www"
How To Choose A Domain Name
Choosing a right domain name is very very important. Often it gets trickier to choose a domain name for your blog or website, so here are some suggestions for you to choose a domain name before you buy it:
It should be easy to remember.
It should be easy to pronounce.
It should be easy to type.
It should be brandable.
Its length should not be greater than 10 to 12 characters.
From SEO point-of-view it is best if your domain name contains a keyword relevant to your website. Let's say you have a website about Blogger tutorials. You can use the keyword "Blogger" in your domain like "bloggertips.com" or "bloggerhelp.com" etc. If your desired domain is not available with your desired keyword, no problem you can choose some other name.
If you have a personal blog or portfolio blog you can use your own name as well.
You can also create a domain name from your "Name" and "Business Name". Let's say your name is Smith and you have a business of glasses, you can name it "www.smithoptics.com".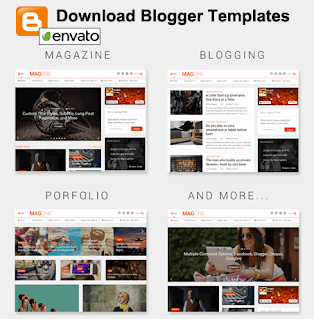 How To Buy a Domain for Blogger
If you have bought a domain already then skip this step and go to next steps. If you haven't bought a new domain we will guide you step-by-step on how to buy a domain for your Blogger blog from Namecheap web hosting.
Namecheap is one of the best and affordable domain registration company with an amazing security features. It also offers PremiumDNS & FreeDNS hosting as well.
Go to Namecheap Official Page.
Enter your domain name in the Search Box.
Click Search Icon.

It will show you all the available domain name options with different extension like ".com", ".net" with their rates.
Click "Add to cart" corresponding to a domain name that you want to buy.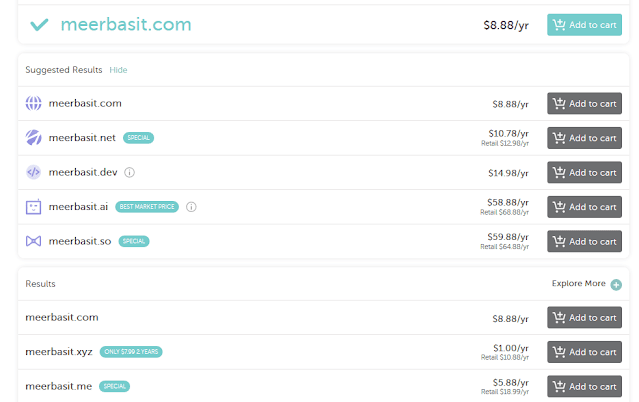 Click "View Cart" or click "Checkout" at bottom to move to next step.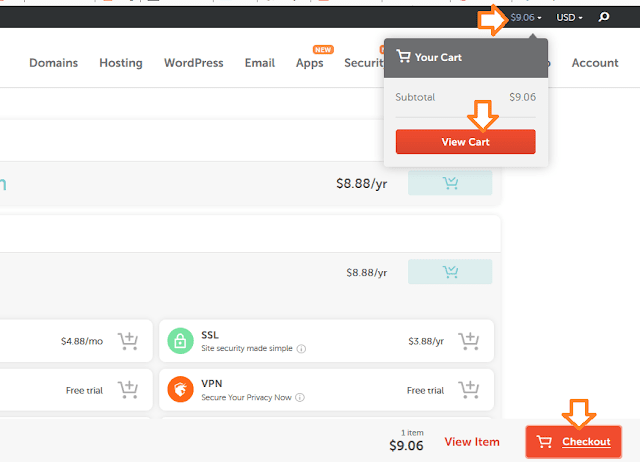 Click "Confirm Order".
You can enable PremiumDNS option as well. It will cost you additional $4.88. PremiumDNS delivers 100% DNS uptime & DDoS protection with ultra-fast DNS responses worldwide. 
"WhoisGuard" is free service for lifetime. It is a privacy protection service that hides your personal info in the public "Whois" database. It keeps your data safe and helps to avoid spam.

Create your account on Namecheap to buy the domain.
Once you successfully create the account pay your domain charges.
Once you buy the domain you will get details of your domain hosting by email, so that you can access you Namecheap Dashboard.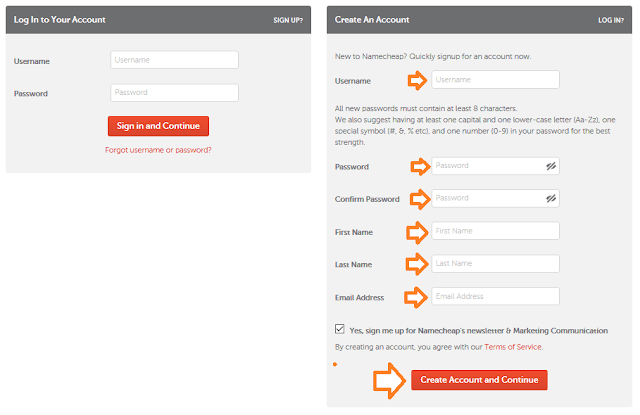 How To Redirect .blogspot To Custom Domain
On Blogger, go to Settings.
Under the Publishing section click "Custom domain".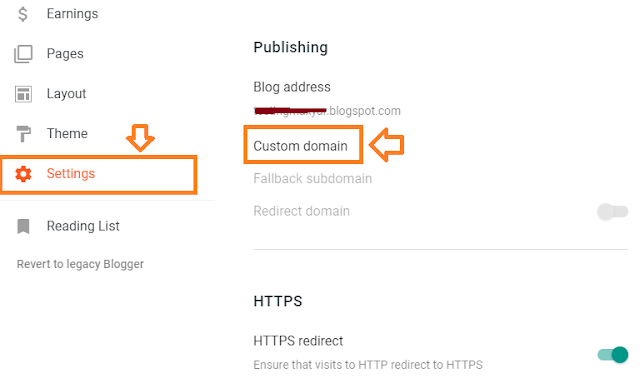 Type your custom domain name like "www.example.com".
Click "SAVE".
All those who don't have Namecheap domain follow these 4 steps to add CNAME Records:
Login to your domain hosting account(cPanel) where your domain is hosted.
Find DNS Settings or DNS Zone File icon.
Click "MANAGE" button to add the CNAME Records.
Click "+ ADD RECORD" to add CNAME Records one by one.
Before you add 4 "A Records" in your domain's DNS Settings, enable the "Redirect domain" feature in Blogger.
Go to Blogger Settings.
Under the Publishing section, turn on the "Redirect domain" option.
Now go to your domain's DNS Settings and add these 4 A Records one by one:
For your understanding:
"@" means root site. It is HOST. @ points to your website.
"3600" is the TTL for each record. TTL stands for Time-To-Live. 3600 means 60 minutes.
There are 4 Google IP addresses which are called VALUE.
On Namecheap account you have to add 4 A Records in the same location where you had added 2 CNAME records. This time you have to choose "A Record" instead of "CNAME" record.