Have you heard of making money by watching TikTok videos and you're curious to know about it? You're in the right place. In this post you will come to know whether this is true or false, and what are 6 different genuine ways to make money online on TikTok.
TikTok is one of the most popular and fastest growing video-sharing social media platform. It is the most downloaded app ever, has surpassed 3 billion+ downloads. This video-sharing platform has the best engagement rate, on average a person spends 62 minutes per day on TikTok.
You must have watched lot of YouTube videos with attractive thumbnails and titles suggesting "How to Make Money on TikTok by Watching Videos?" Ask yourself, why one would pay you just for watching TikTok videos. If this is true then there are millions of people who watch TikTok videos daily, they all would be making money sitting at home.
Let's go through on what most of the YouTubers and content creators suggest in "How To Make Money by Watching TikTok Videos".
01. Mobile Apps
They suggest you to download mobile apps such as ClipClaps where you are asked to invite people, watch videos, be a judge and rate videos, play games, etc. As a result you will earn bonus points that will be converted into money and rewards such as iPads, coupons, gadgets, etc.
Most of the apps are scams, even if they pay the amount will be few cents or dollars. So don't waste your time after such apps.
02. Websites
Initially they will give short introduction of TikTok, then slowly slowly they will distract you from the original topic and guide you to register on websites such as AddMeFast where you can register yourself for free and increase your social media followers. You won't find anything related to "Watch TikTok Videos and Make Money".
Some of them put titles like "Earn $15 or $20 by watching a TikTok video". But in actual video they would guide you to go to a website such as 7r6.com where you have to create free account, create short URLs of popular TikTok videos, and then share on other websites such as Steam, Moot, etc.
In order to motivate you they will show you payment proofs and list of top earners who are earning certain amount of money per week or per month.
Don't register on such websites and share your payment credentials.
03. Freelancing Platforms
Some of them would suggest you to join freelancing platforms such as Fiverr, Upwork, etc. By joining these platforms you can offer marketing services to those who want to grow their TikTok account or other social media platforms.
TikTok marketing/advertising services means you have to share the video links on blogs, YouTube, comments, Facebook, Twitter, forums, etc, to drive Traffic, Likes, and Followers.
Though this is a professional way to make money online, but again you are not paid for watching TikTok videos. You're paid for providing professional services to clients.
In order to work on these freelancing platforms you need digital marketing skills. If you're seriously want to learn TikTok Marketing & Ads go through this incredible course: TikTok Marketing: Grow Your Account & Master TikTok Ads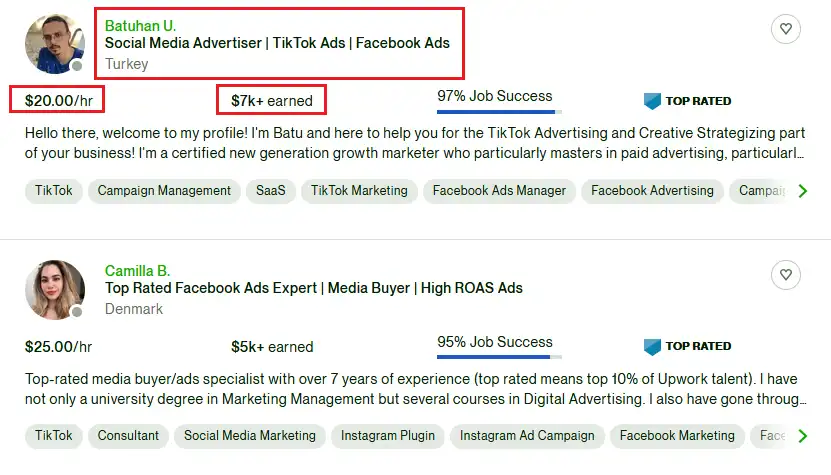 Now have a look on some of the genuine and legitimate ways though which you can make money via TikTok:
Become A TikTok Influencer & Engage With Brands
Use TikTok Livestreaming
Go Live & Ask For Donations
Shift Your Followers To Other Platforms
Sell Your Own Products or Services
Through TikTok Marketing & Ads
To know more about them in detail, read this article:
Final Thoughts
So you must have a clear idea that you can't make money by just watching someone's TikTok videos. There are no shortcuts in life. TikTok is a platform with massive audience, use this platform to make money by professional and genuine ways.
If you like this post then don't forget to share with other people. Share your feedback in the comments section below.
Also Read