Daraz Global is a special collection of products in Daraz eCommerce marketplace that allows you to buy products from abroad/overseas in your local currency or payment methods which are acceptable to Daraz.
For 2 reasons people in South Asia can't buy products from abroad or global eCommerce marketplaces like Amazon, Walmart, eBay, etc (1) Unavailability of global payment methods like Credit Card, PayPal, etc (2) Unavailability of shipping/delivery service.
Apart from other payment methods like Credit/Debit/Visa cards, EasyPaisa, JazzCash, Daraz Wallet, HBL Direct Transfer, etc, Daraz Global also supports COD (Cash on Delivery).
There are 4 Daraz marketplaces i.e. Pakistan, Bangladesh, Sri Lanka, and Nepal. Each marketplace offers different Global Collection. The products of Global Collection in Daraz.pk will be shipped to people in Pakistan only, and same goes for other three countries.
Following topics will be covered in this article:
Product Categories On Daraz Global Collection
How To Buy Products From Daraz Global Collection
Delivery Time & Cost
Can You Return a Product Purchased From Daraz Global Collection?
Also Read:
Product Categories
Daraz Global Collection offers products in almost all categories like Electronics, Fashion, Cooking, Home & Lifestyle, Men, Women, Health & Beauty, Mother & Baby, and more..
How To Buy Products From Daraz Global Collection
There are two ways to find/filter/access Global Collection products on Daraz:
By "Global" Link
Filtering Search Results by Location
01. By "Global" Link
Go to your desired Daraz marketplace like daraz.pk, daraz.lk, etc.
Click the "Global" link.

In Daraz Global page you will see categories and products.
Click "Shop Now" button to open your desired product's detail page.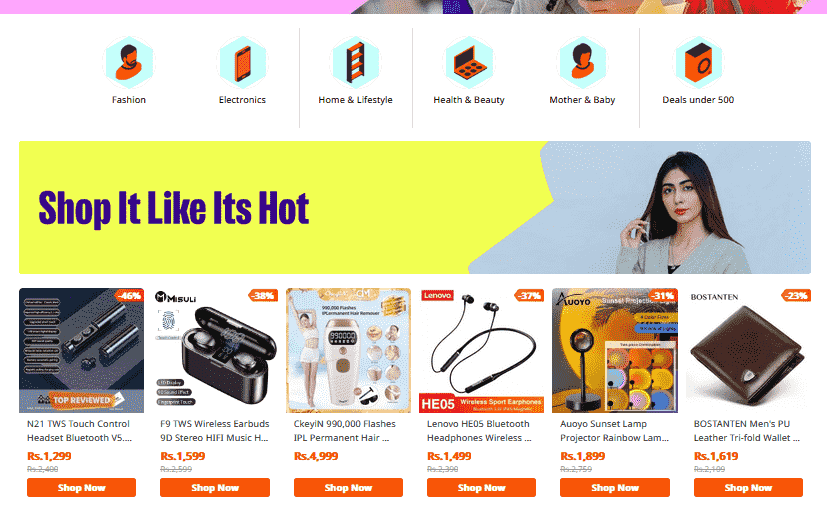 02. Filter Search Results by Location
Through this method you can filter Global Products in normal search results.
Search something on Daraz that you want to buy. Here you can see that we have searched "headphones" on Daraz.
At your left, on "Location" section you can filter search results by location. Here we have filtered headphones by China.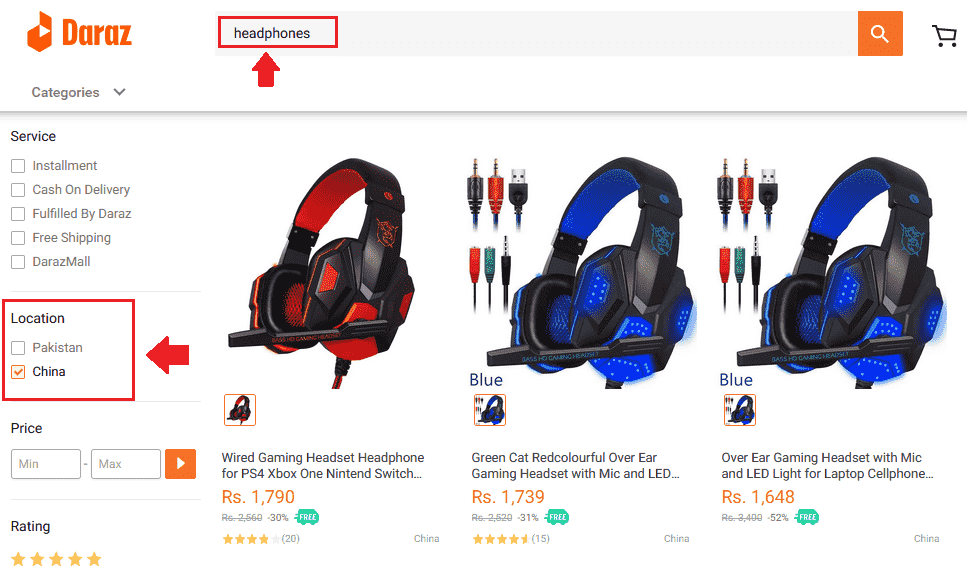 Delivery Time & Shipping Cost
The only difference in ordering from abroad on Daraz is the delivery time. When you order a local product on Daraz it takes 4 to 7 days to reach at your address whereas when you order a product from Global Collection it can take 15 to 29 days.
If a product from Daraz Global is available in Daraz warehouses it can be quickly delivered to your address within 2 to 5 days.
A good thing about Daraz Global Collection is that there are no hidden fees, taxes or duties. You have to pay the Home Delivery and Product Price mentioned in the product page. Extra charges that occur while shipping from abroad are already included in the price.
Go to Daraz and open your desired product that you want to buy.
You can find Local Shipping Cost and Delivery Time.
Here you can see that the Home Delivery Time is 21 to 28 days and Shipping Cost is Rs. 109 PKR.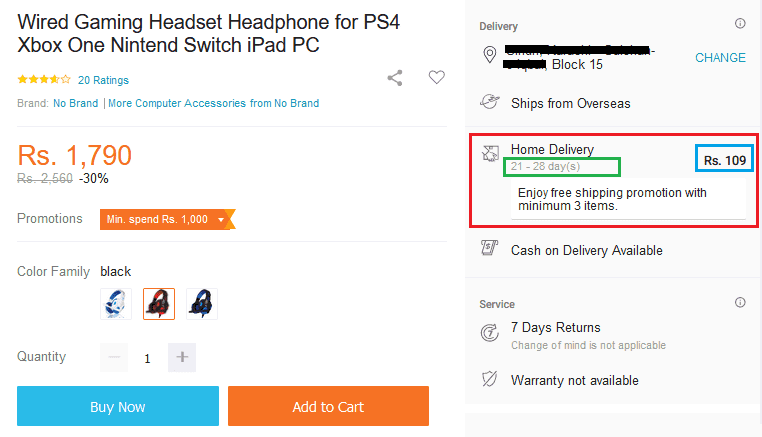 Can You Return a Product?
Yes, you can also return a product that you have purchased from Daraz Global Collection if it is eligible for return. Every seller on Daraz has his own Return Policy.
A Return Policy is mentioned for every product in its product detail page.
This is how you can find the return policy of a product on Daraz.
Open your desired product in Daraz.
Under the "Service" section you can see the Return Policy. Normally sellers offer 7 Days Returns or 14 Days Returns. It could be different as well.
You can also find Warranty information under the Service section.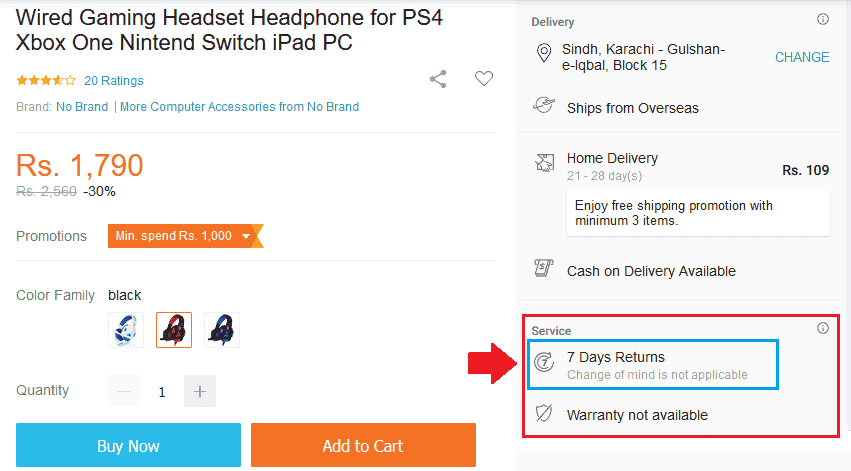 So it was all about buying a product from Daraz Global Collection. If you like this post then don't forget to share with the other people. Share your feedback in the comments section below.
Also Read: