Are you looking for the best Daraz keyword research & product hunting tools? You're in the right place. We have handpicked one of the best and most widely used Daraz keyword research & product hunting tools.
Choosing a right product for your online store is the most important thing. Your success on eCommerce marketplace heavily depends on your product.
A reliable and accurate product-hunting and keyword-research tool helps you to hunt the right product and give insights on important searched keywords related to it, and what it will take to actually rank for those keywords.
Whether you are a Daraz seller or a professional virtual assistant providing freelance services to Daraz sellers, these tools are made for you.
RELATED:
Jarvis – Daraz Product Hunting Tool
Jarvis is a powerful, advanced, and leading Daraz tool that offers product-hunting, product research, product tracking, product ranking, and profit calculator.
It supports Daraz Pakistan, Daraz Sri Lanka, Daraz Nepal, and Daraz Bangladesh.
Though there are many Daraz product research & hunting tools in the market, like Daraz Toolkit, Daraz Lab, DarazScout, XenonHunt, SellerDash, etc, but none of them can compete with the features and accuracy of Jarvis.
In addition to a 7-Day Free Trial, Jarvis also offers 25% discount for students on all its subscription plans. To avail the discount, contact them at "support@jarvis.pk".
Top Features:
For your searched product keywords, the Product Research shows you Keyword Trends, Popular Queries, Rising Queries, Total Listings, Avg. Price, Avg. Rating, Avg. Reviews, FBD Sellers, DarazMall Sellers, Overseas Sellers, and Avg. Sales.
This useful information helps you to identify appropriate keywords for your listing, so that it will be properly optimized to perform well in the Daraz search results. The Keyword Trends shows the demand pattern for a product in the past. You can predict whether the product is seasonal or has demand in the near future.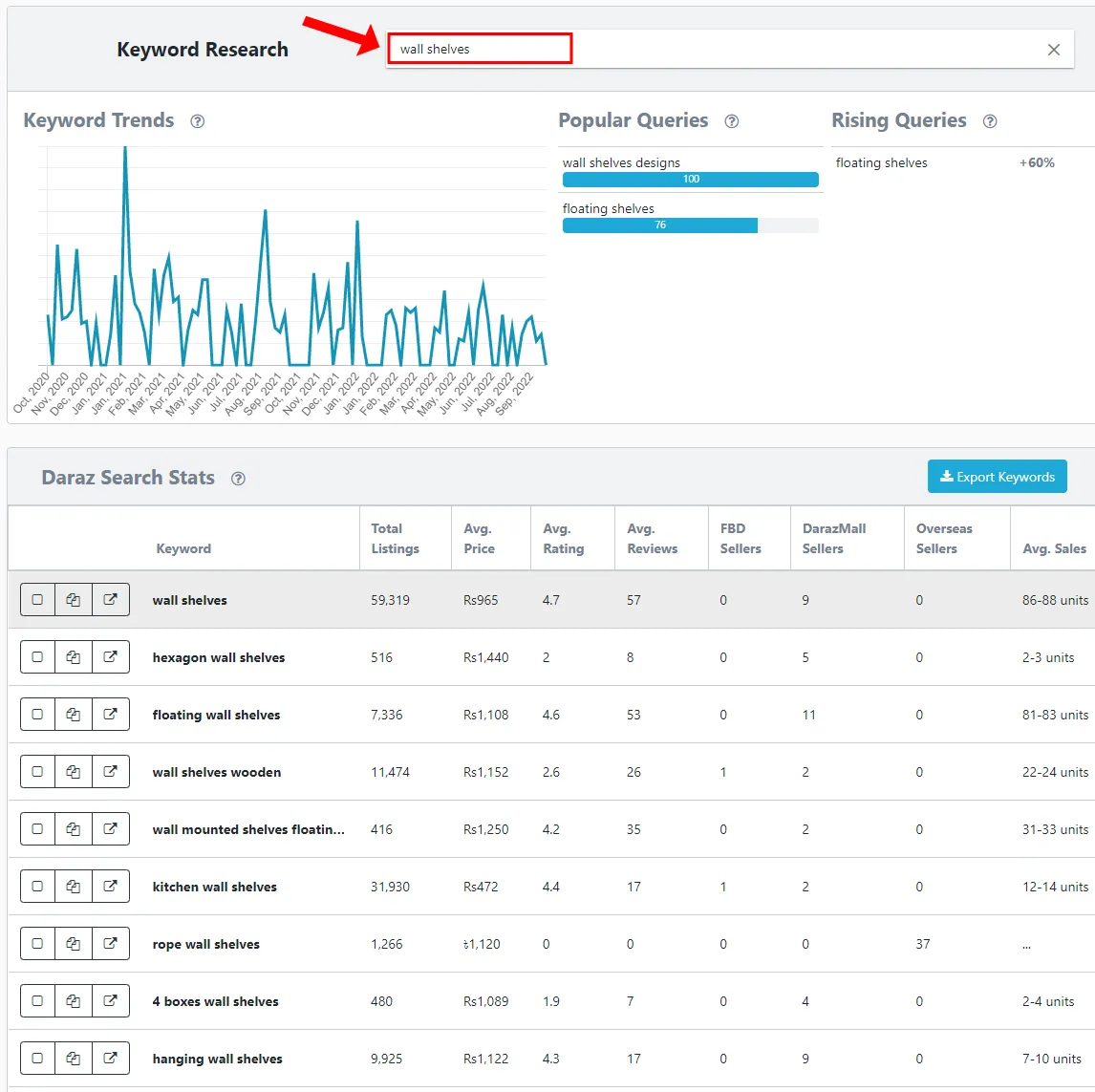 The Jarvis Product Hunting Chrome extension helps you to hunt the winning products. It shows Total Listings, Average Price, Average Rating, Average Reviews, Average Questions, Total FBD (Fulfillment by Daraz), Average Sales, Average Revenue, Estimated Giveaways, and Profit Calculator.
Profit Calculator helps you to quickly calculate commissions, launch budget, ROI (Return on Investment), and net profit. The "+" adds a product to a Tracker Group. Blue Box having "Horizontal lines" and a "Number" shows number of product variations. PSR stands for Positive Seller Rating.
You can select a single product as well as multiple products.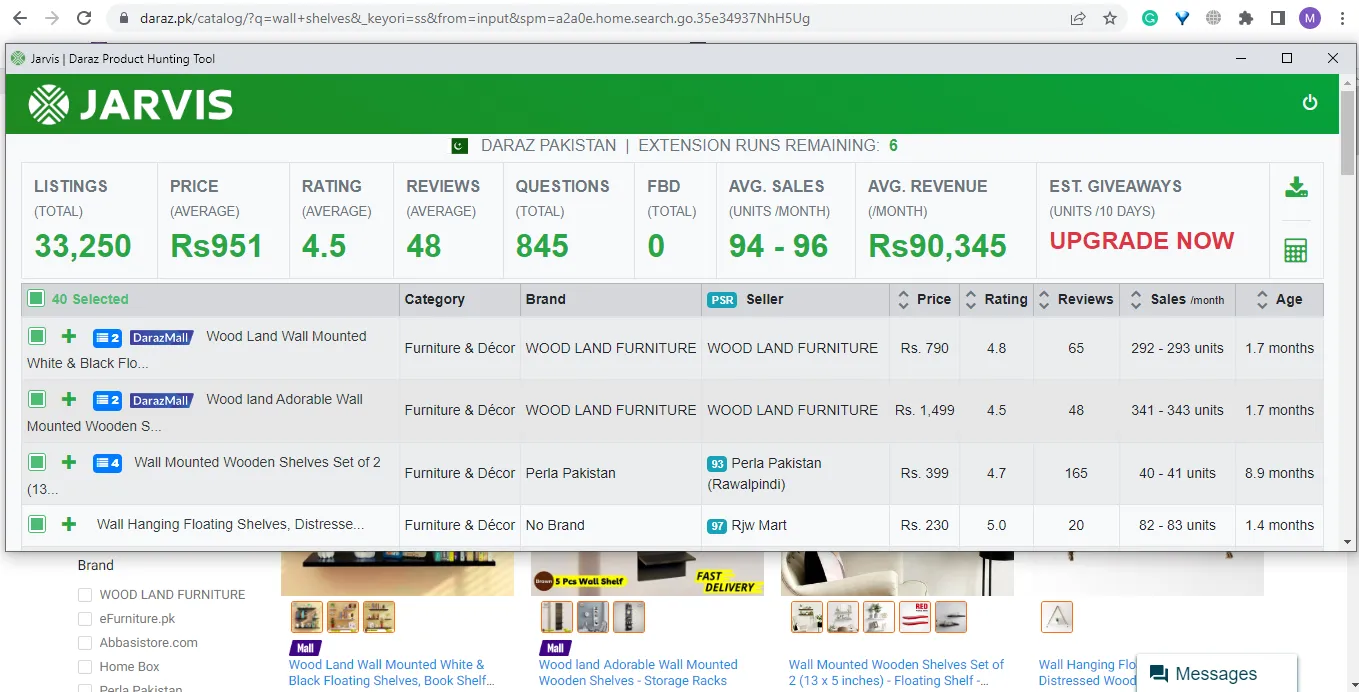 Jarvis manages a Product Database from different data points that helps to quickly check product stats and summary for product hunting. The Filters option offers you advanced search settings, like, you can filter products by Categories, Sellers, Variations, Price, and Keywords, to narrow down the search results.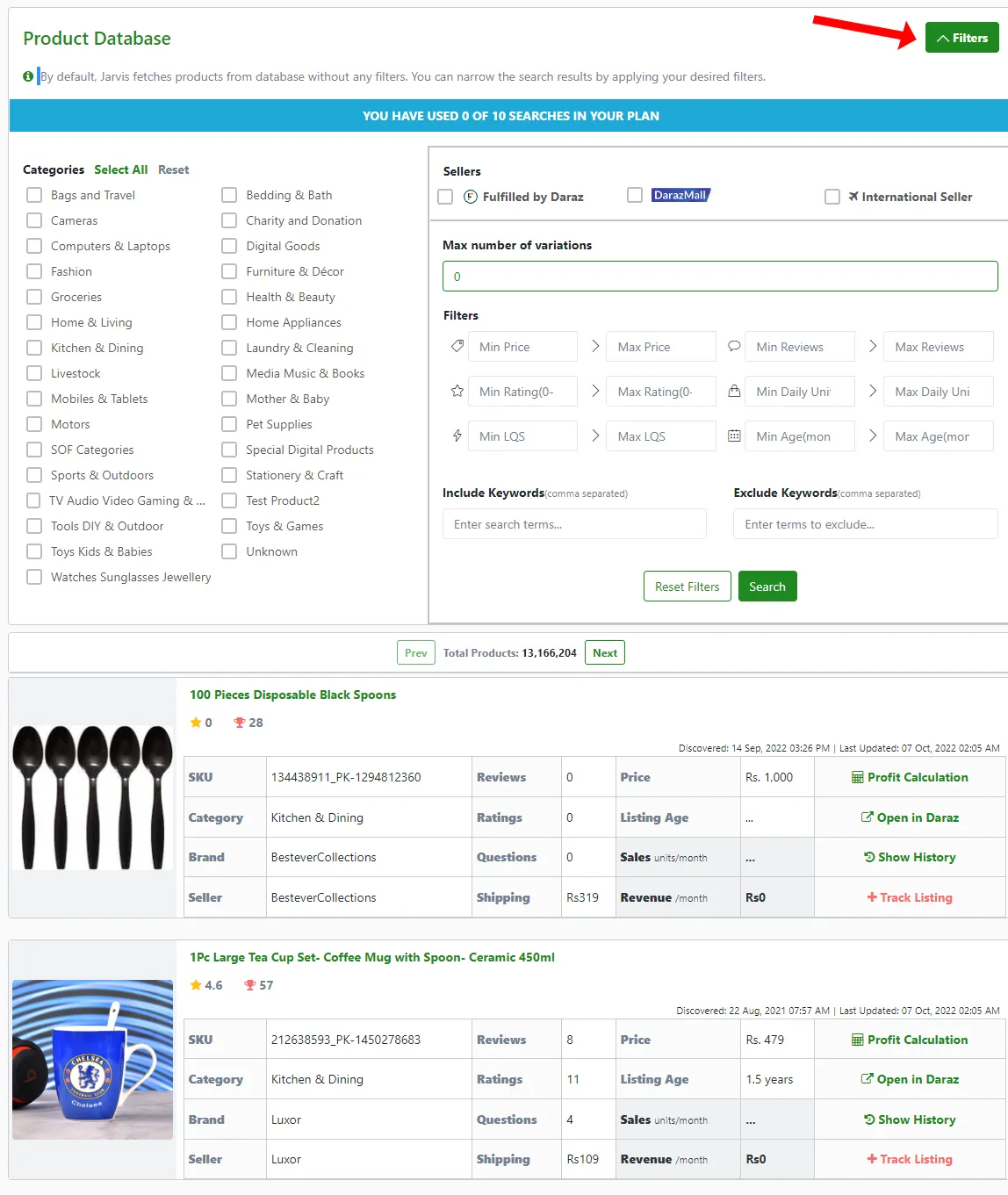 When you open a product listing on Daraz, Jarvis automatically appears on it with very useful information about the product like SKU ID, Variation, Available Units in Stock, Estimated Sales (Unit/Month), and Listing Age. The Revenue Calculator appears below the Buy Now & Add to Cart buttons.
The MORE DETAILS BY JARVIS link let's you to Jarvis Dashboard where you can see more insights about the product (listing), as shown in the next step.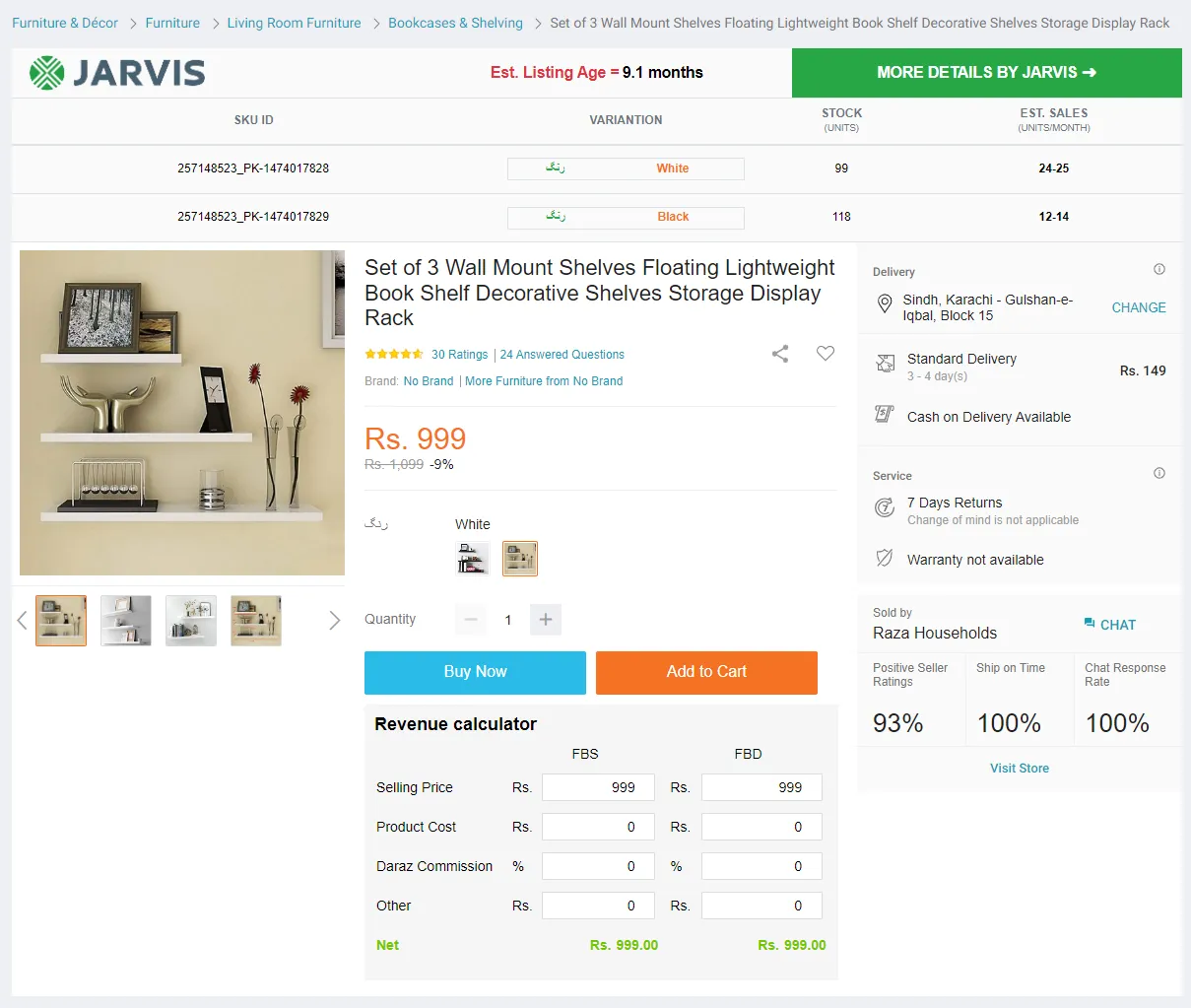 Here you can see more product details in a very creative way. Some information like Revenue Per Month, Category, Seller, etc, that was missing in the product listing page is shown here.
The Tracked By feature shows you how many users are tracking the product.
Keywords shows you related keywords to your product and also allows you to generate custom keyword URLs for them. The Product History is displayed on the charts to evaluate the performance of product variables. You can also download the product details in a CSV file.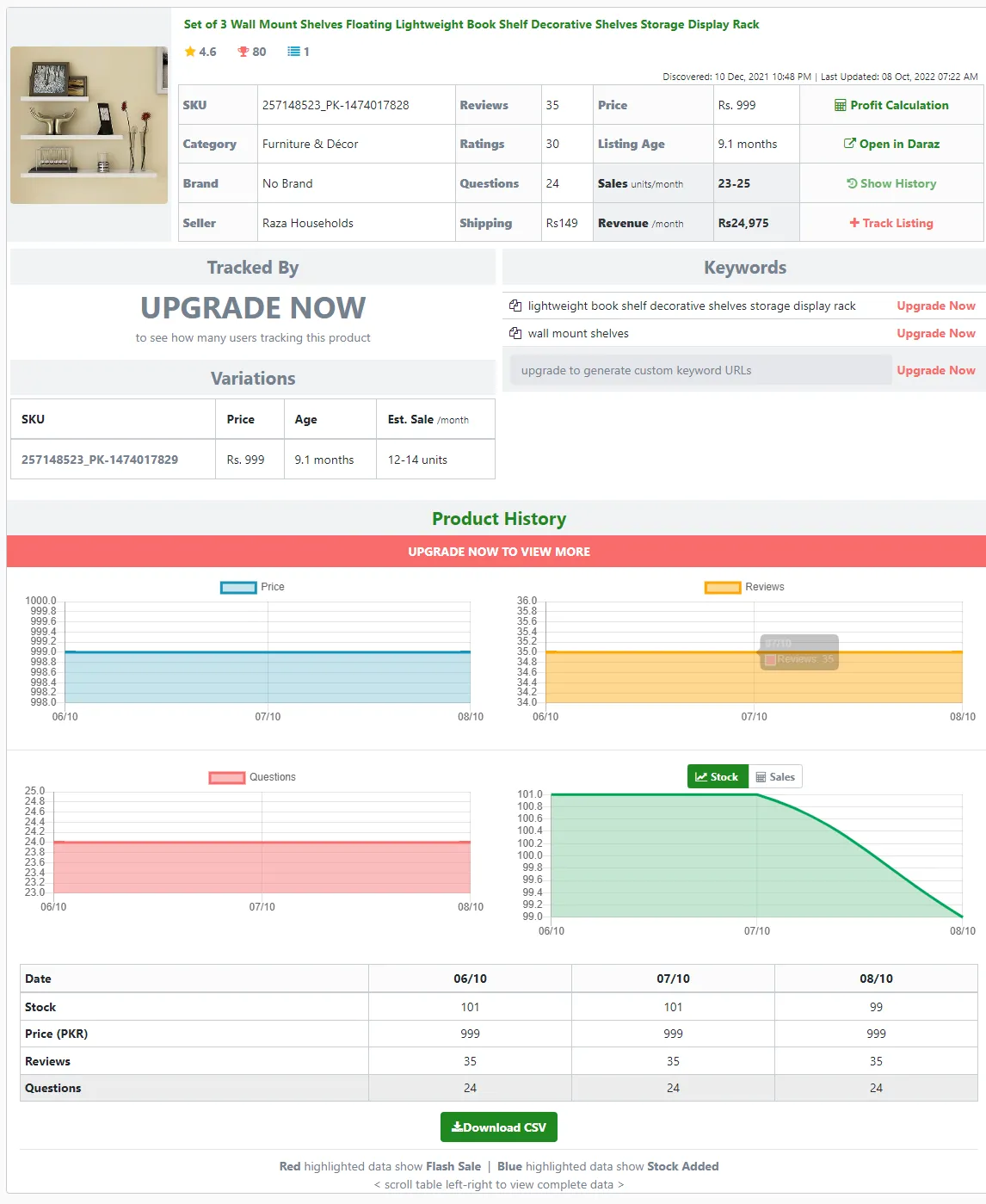 The Product Tracker is used to track Daraz products added in a Group, for a specific time period to analyze performance metrics like Sales, Reviews, Listing Age, LQS (Listing Quality Score), Total Revenue, Sourcing Pricing, Daraz Commission, VAT, Total Deduction, Profit, Total Profit, etc.
It saves your weeks of manual efforts on sheets.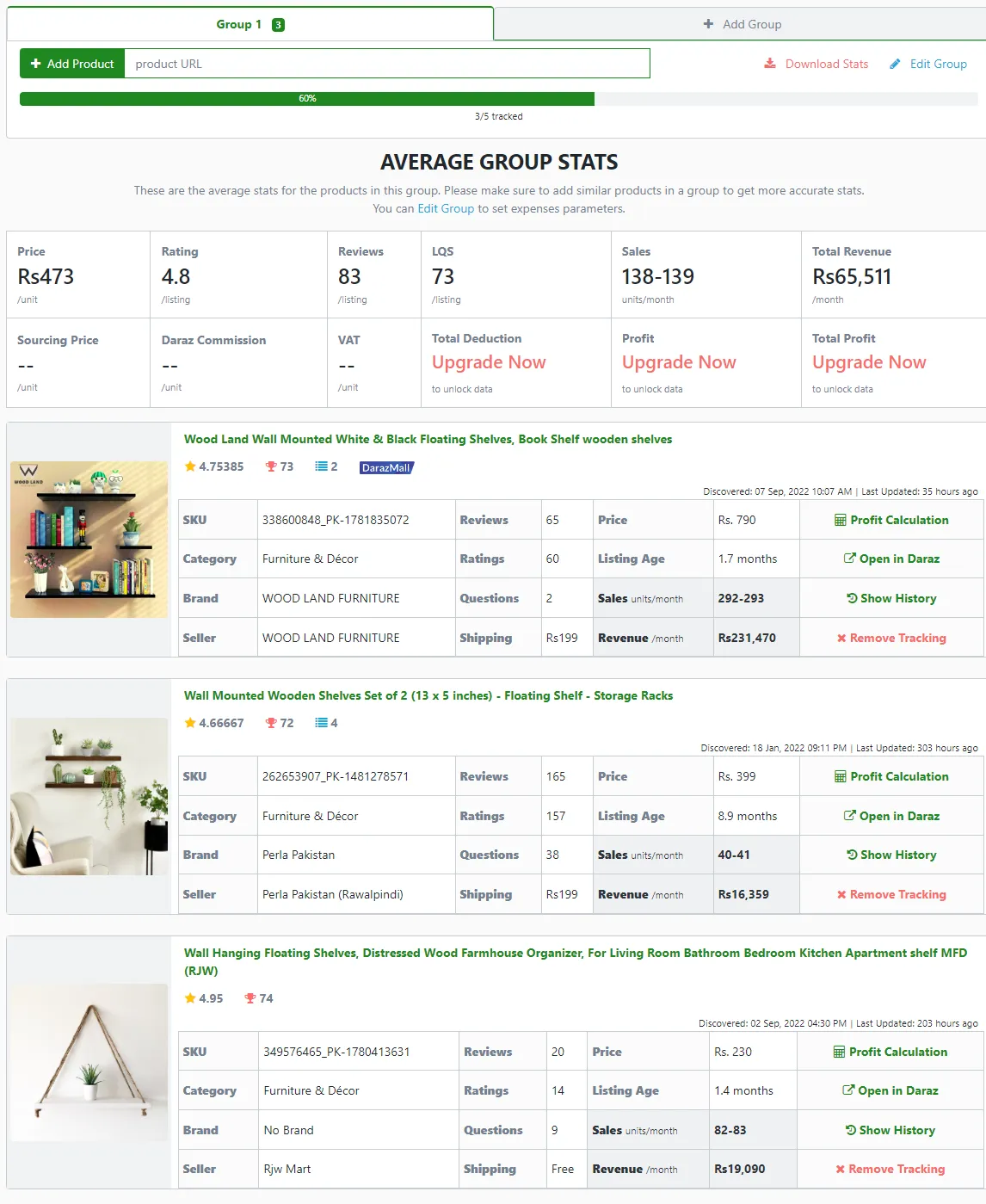 Jarvis helps you to rank your product higher on Daraz search results by analyzing important/main keywords in your listing. The Super Rank campaign ranks your product with very less giveaways.

Pricing Plans
Jarvis offers three cheap monthly subscription plans i.e. BASIC (For Individual), ULTIMATE (For Virtual Assistants and Professionals), PROFESSIONAL (For Business & Teams). The features and limitations are listed under each plan.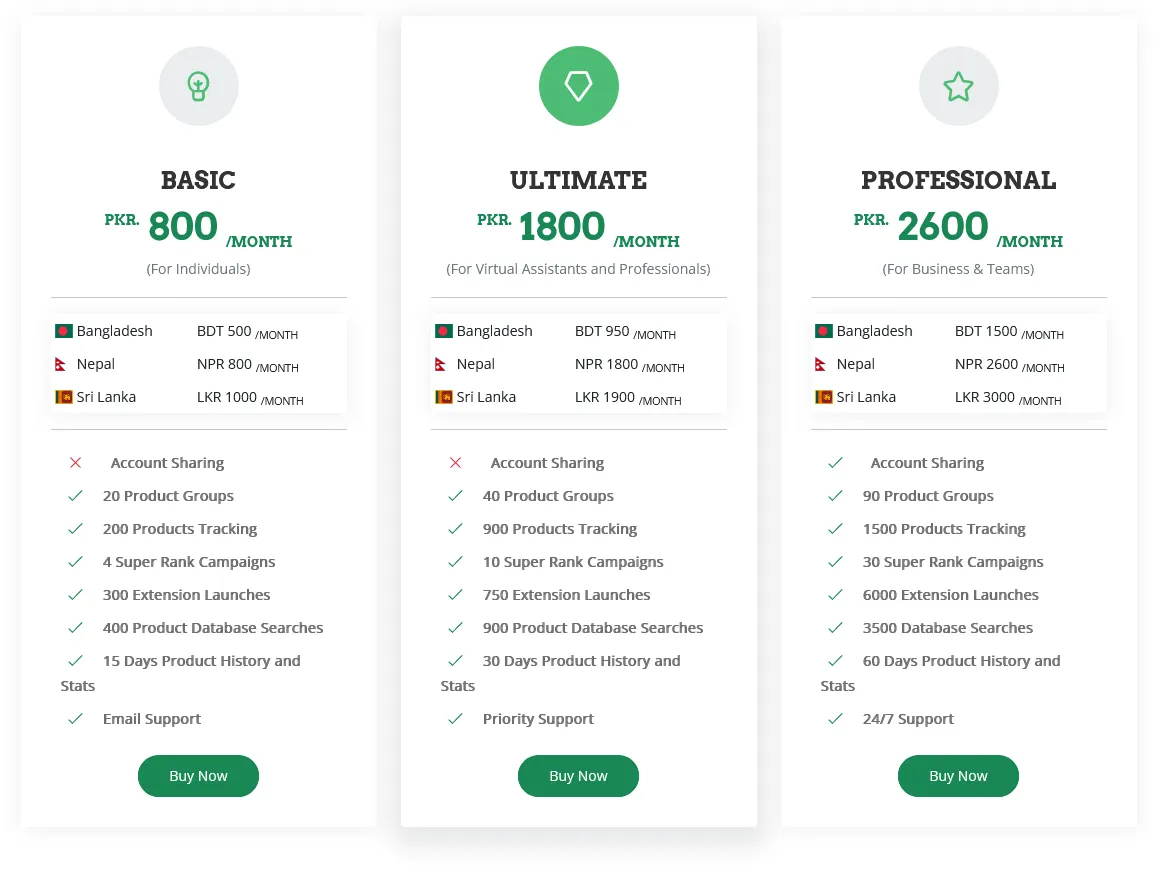 SellerDost – Daraz Product Research Tool
SellerDost is a simple free Daraz tool (Chrome Extension) for product-hunting and product-research that works on Daraz product page and search results. This tool provides basic features, not as powerful and advanced as Jarvis.
The SellerDost can be used only on Daraz Pakistan marketplace.
Top Features:
SellerDost saves your precious time during the process of product hunting by quickly identifying profitable products. You don't need to explore each & every product on Daraz.
It helps you to find potential keywords for your product by assessing the product competition in real time. Provides monthly sales & revenue estimates, identifies listing age & Google trends.
With its fast, accurate, and up-to-date information on Daraz products it provides you a very useful product analytics like average price, listing age, seller type, reviews, and location.
You can view product inventory of all variants directly from the product page. It tracks your competitor's number of units available for sale with inventory levels.
The Revenue Calculator quickly calculates cost and profitability of the product that you view, which helps you to adjust commission, cost, selling price, etc. It also recommends which type of fulfillment model suitable for the product that you hunt. There are two types of fulfillment methods on Daraz (1) FBM – Fulfillment by Merchant (2) FBD – Fulfillment by Daraz.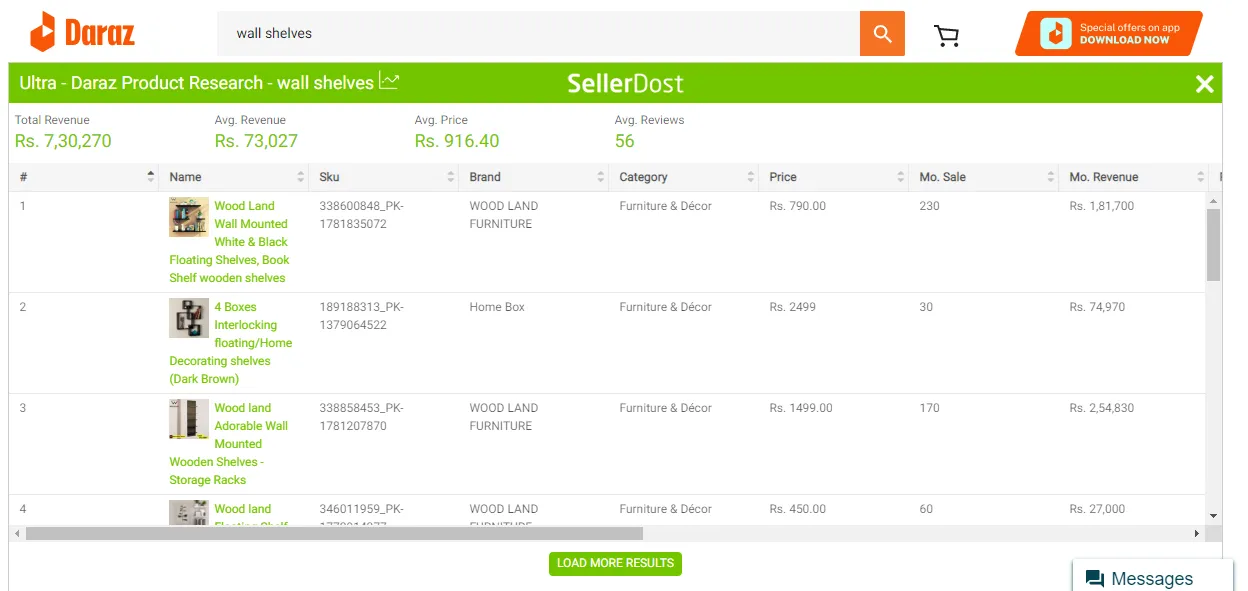 Final Thoughts
Jarvis is an amazing tool for Daraz product research & hunting, but might not be as advanced and feature-rich as Helium 10, Jungle Scout, etc, which are used on Global marketplaces like Amazon. As Daraz grows big, there will be more advanced and sophisticated tools.
If you like this post then don't forget to share with other people. Share your feedback in the comments section below.
Also Read: