Do you want to launch an eCommerce store on Tumblr and looking for aesthetic responsive eCommerce Tumblr themes? You're in the right place. We have handpicked one of the best eCommerce/store Tumblr Themes to launch your online store.
Tumblr is not merely a popular microblogging platform for publishing posts, photos, quotes, links, videos, etc, it can also be used as an online shopping website. Thanks to the eCommerce Tumblr Themes.
These eCommerce themes contain all those features which are required for launching a basic eCommerce website.
RELATED
01. Craftista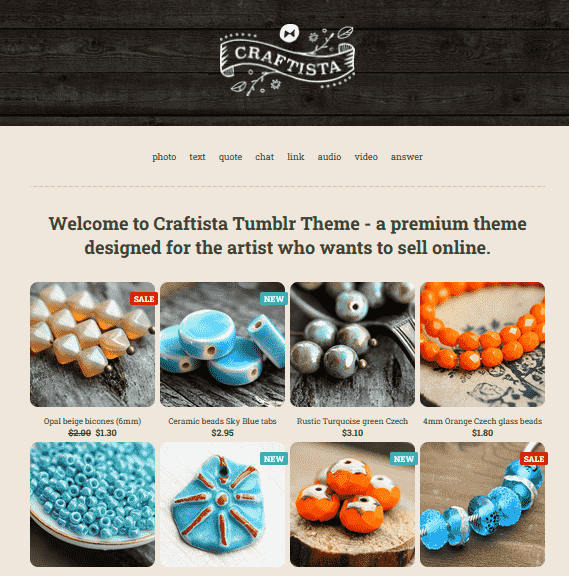 Craftista is a fast-performance, clean, and gorgeous responsive eCommerce Tumblr theme with PayPal support. Though it can be used for any type of online store, but ideal for crafters and creative professional artists.
When you click a product it is opened in the product page where there are Product Images, Product Description, and Add to Cart button.
On clicking the Add to Cart button it redirects you to the PayPal shopping cart where you can Checkout, as you will see in the demo.
The theme comes with a template file for your products. It contains the HTML code where you have to enter the product information such as Product Title, Description, Price, Currency, Tax Rate, etc.
Once you fill the product information in the highlighted space you have to Copy and Paste the HTML code in the caption area when creating a Photo Post on Tumblr. Every thing is mentioned in the documentation, so don't worry.
Salient Features:
It shows thumbnails of all posts types with links to the individual pages.
It supports all types of posts such as Photo, Video, Audio, Chat, Quotes, etc.
Ask feature is supported.
You can create Pages.
It supports Customizable Navigation based on Tags.
You can Like and Reblog posts.
It support Disqus Comments System.
Google Analytics support, Pagination, Social Media sharing buttons, Google Web Fonts and much more…
Explore More Features | Watch Live Demo
02. Pop Gallery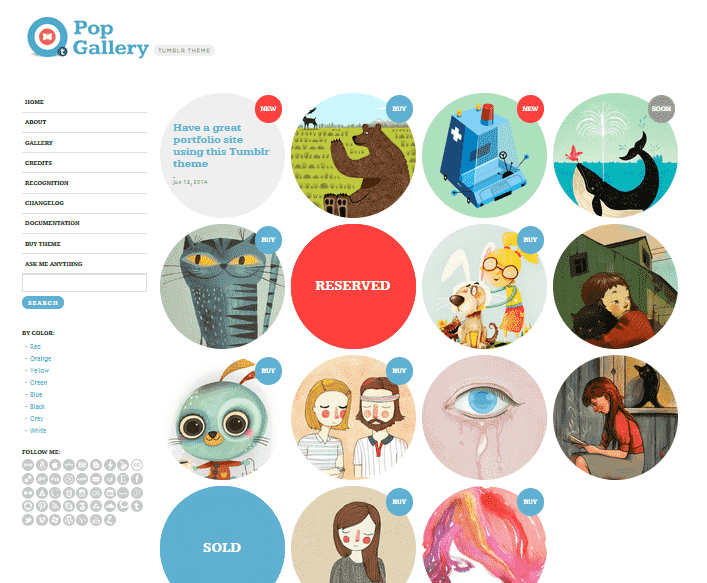 Pop Gallery is an elegant, clean, fast and aesthetic responsive eCommerce Tumblr theme with circular thumbnails. It presents distinct thumbnails for New, Sold and Reserved products using Overlay Tags. The Bubble Tags such as Buy, New, Soon, and Sale, are used to call attention to the product.
It does not support any payment method like PayPal, Credit Card, etc, instead you can set a Direct Link of the product or Show Email Button.
If you enable Direct Link option the product link in the homepage will go to the linked page not the product page of your Tumblr blog. For example, you set a direct link for XYZ product which is located on Etsy store. When that product will be clicked on your homepage it will be opened in its Etsy product page.
The Show Email Button will add the "CONTACT ME" button in the Product Detail Page of your Tumblr blog. This will enable visitors to send an email related to the product.
Salient Features:
It supports all Post Types and shows their thumbnails with links to the individual pages.
Google Web Fonts support.
You can create Pages.
It supports Ask Me.
The Main Menu can be customized using Tags in the Customize Panel.
Google Analytics Ready.
Social Media Share support.
Instead of Pagination it offers Infinite Scrolling on homepage. You can enable Pagination by disabling Infinite Scrolling.
It supports Disqus Comment System.
Explore More Features | Watch Live Demo
If you like this post then don't forget to share with other people. Share your feedback in the comments section below.
Also Read