Are you searching for a premium responsive News & Magazine Blogger Template with advance features? You're in the right place. Deepr is a new, modern, fully-customizable, AdSense Ready, SEO-Optimized, and gorgeous responsive News & Magazine Blogger template with 10+ layout boxes.
Here are some of the main features of Deepr News & Magazine Blogger template:
Deepr supports two modes (1) Light Mode (2) Dark Mode. Smart Switcher allows you to switch the modes.
Google AdSense-Ready theme. There are special positions for displaying ads and banners to boost your AdSense revenue. Besides the allocated positions you can also insert ad banners anywhere in your sidebar and homepage.
Fully responsive, works on any device like desktop, smartphones, tablets, etc.
It has a smartly-designed sticky sidebar on both homepage and item page.
It supports 100+ Google Fonts, Font Awesome, & Unlimited colors.
Ajax-powered Mega Menu, Ajax-powered Search Bar enables visitors to search live on your website. "Live" here means, as you type something in the Search Bar it instantly shows you the available results. We will elaborate this in the "Design Features" below.
News Flash Bar with special effects.
You can display Random Posts, Popular Posts, Latest Posts, Specific Label Posts, and Recent Posts.
Blog Posts can be filtered by categories(labels), Translation Ready, RTL(Right To Left Languages) support.
Supports all Social Media Icons, and 3+ Social Media Counters.
Beautifully-designed Footer with 3-Column layout, Related Posts with thumbnail support.
Customized Comments section, and many more…
Following topics will be covered in this article in detail:
Google PageSpeed Insights Test Results
Design Features of Homepage
Design Features of Item Page
Pricing | Live Demo
RELATED
PageSpeed Insights Test Results
The Google PageSpeed Insights analyzes the content of a website and its pages, and generates a score and suggestions to make that page faster.
PageSpeed Insights Of Homepage
The PageSpeed performance score of homepage on mobile devices is 50 and PageSpeed performance score of homepage on desktop devices is 82.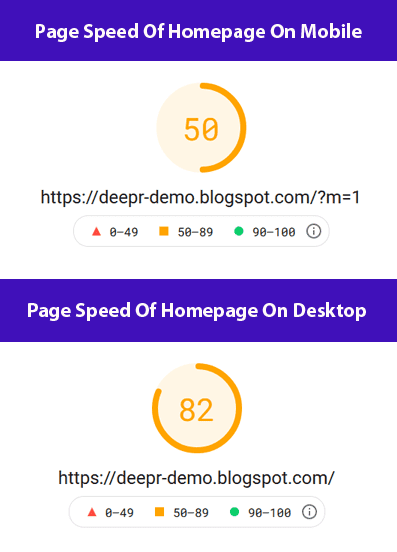 PageSpeed Insights Of Item Page
The PageSpeed performance score of item page on mobile devices is 47 and PageSpeed performance score of item page on desktop devices 96. Though on desktop devices item page performs extraordinary, but the speed of item page on mobile devices should be higher.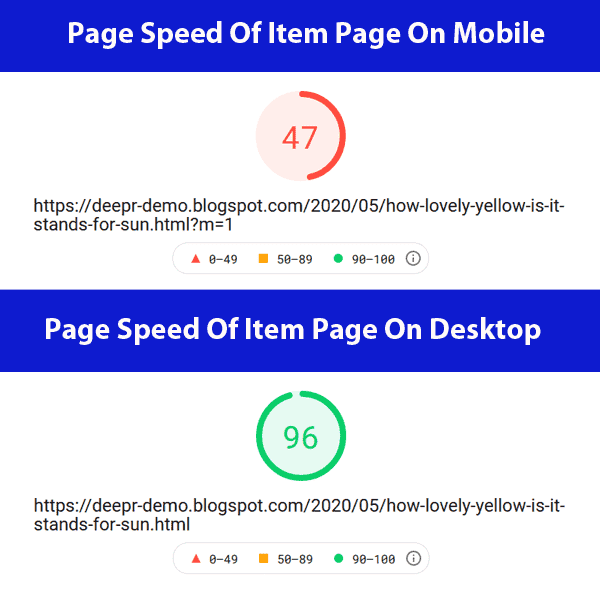 Design Features Of Homepage
Now let's go through some of the design features of Deepr News & Magazine Blogger Template.
On top of the Header there are News Bar, Social Media icons, and Mode Switcher. As we mentioned earlier you can change the mode from light to dark using the Mode Switcher.
In the middle of Header there is Logo in the left side and Ad Banner in the right side.
In the lowest position of Header there are two Menus and Ajax-powered Search Bar icon. By default Vertical Menu is hidden, it appears only when you click the hamburger icon. Besides the hamburger icon there is a stunning Ajax-powered Mega Menu.
Opposite to Menus there is a search icon. When you click the search icon it opens separately in full-screen, as shown in the next step.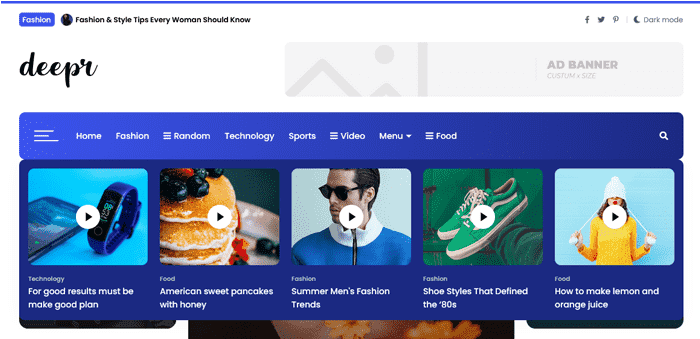 The Ajax-powered Search Bar allows visitors to do live search on your website. You can see that I have typed the keyword "fashion" in the search bar and it has shown the live results with thumbnails.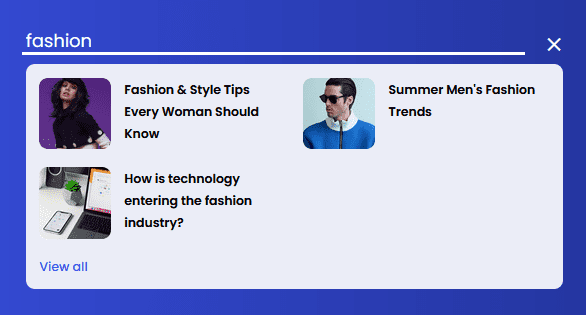 Below the Header there is a beautifully designed 3-Column Layout for displaying posts of different labels. At bottom of the layout there is a separate single row supported by automatic slider for sliding posts.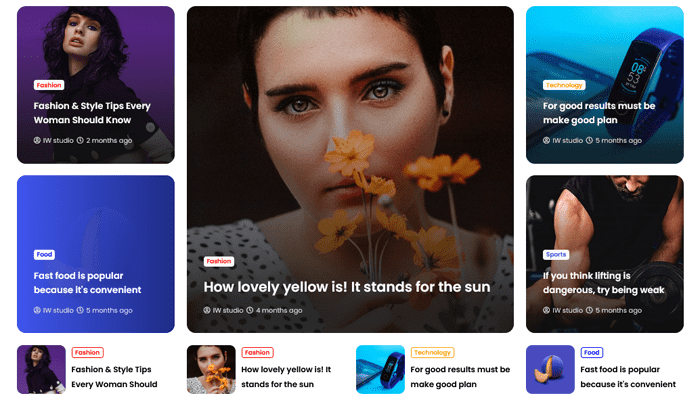 There is a position for displaying an ad banner below the 3-Column Layout, which is followed by uniquely-designed sections that display posts of specific labels. The "VIEW ALL" link allows you to expand all the posts under the same label.
With Sticky Sidebar website visitors can have specific content permanently in front of their eyes like ads, recent posts, popular posts, trending posts, social media links and counters, etc.
When visitors see something permanently as they scroll up and down there is a high probability that they click and open more content of your website. It helps you to increase your page views, ads revenue, and decrease bounce rate.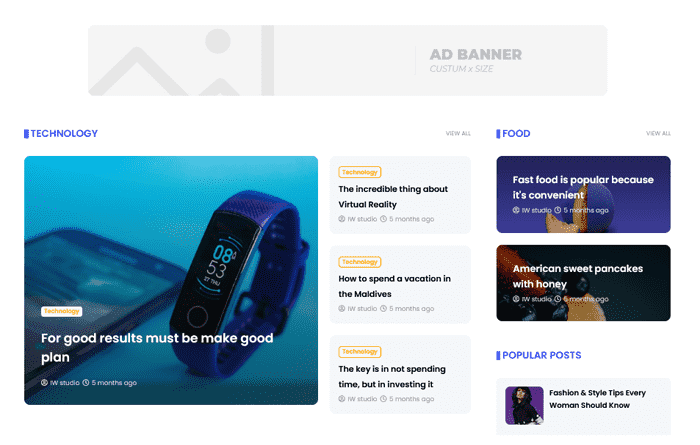 Then there is a section for showing Latest Posts vertically. With Title, Label, Date, and Time, you can also display post Meta Description and Read More link. On sidebar, there are Social Media Counter and Recent Posts widgets.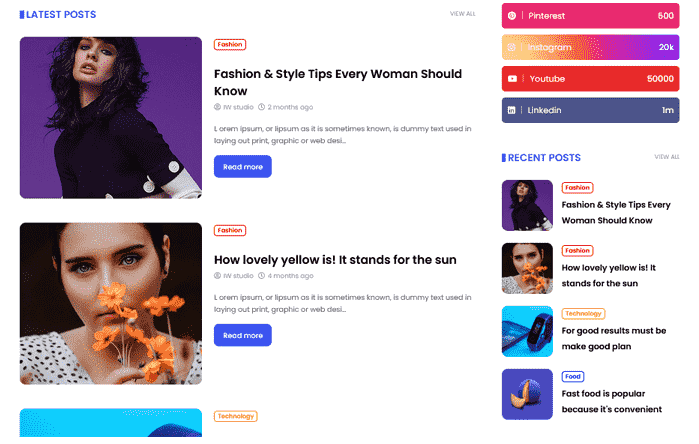 Below the Latest Posts section important labels with their "Title" and "Posts Counter" are shown in blue boxes with background image. The Post Counter shows the number of posts under that label. You can click them to open the post archives.
In the same section, below the Label boxes you can display posts of a specific label that you think is important. It is designed in a way that most recent post is shown with "thumbnail and title" in the left side whereas other four are shown without thumbnail, but ranked with numbers like 1,2 3, and 4, in the right side.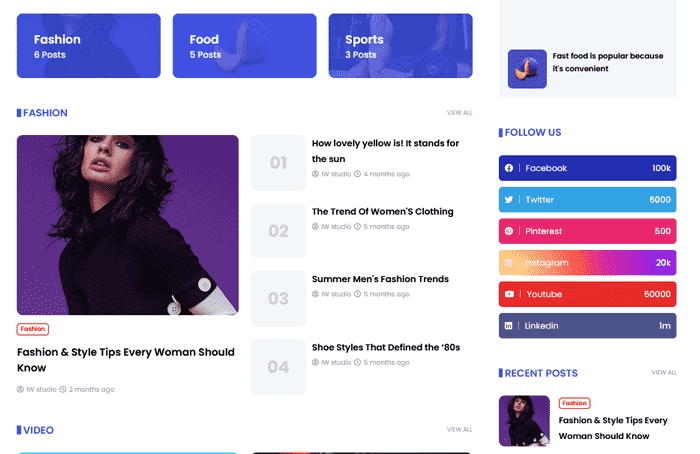 At bottom of the page there is a stunning 3-Column layout footer with black background. You can display your About US, Posts and important Page Links.

This is how the Homepage of Deepr looks on mobile devices. It is fully-responsive and everything is clearly visible and arranged.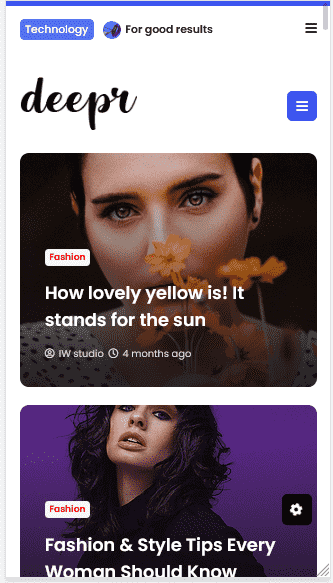 Design Features Of Item Page
Item Page is always very important for a website because most of the traffic particularly organic traffic lands directly on your item page. That's why Deepr template's item page has been designed carefully by keeping readers in mind. It makes sure for providing visitors with good page experience.
The notable thing about item page is its featured image. There is a beautiful blue-layer effect over the Featured image, and Title of the post is placed on top of it. This feature makes the item page very creative.
Like homepage, the Sticky Sidebar is also available on item page. Its benefits are already discussed.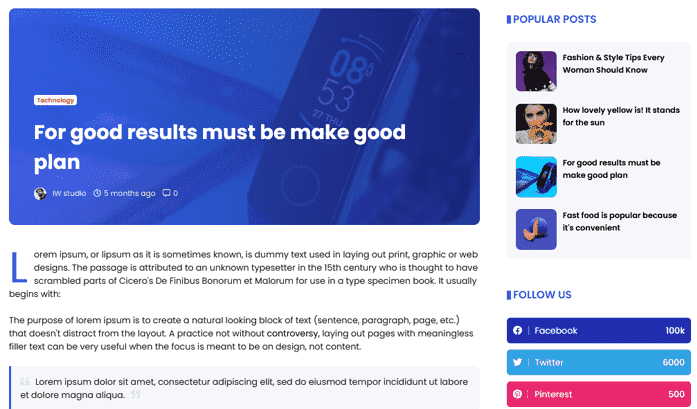 At bottom of the item page there are social media sharing icons, like Facebook, Twitter, WhatsApp, Pinterest, etc. They help visitors to directly share a post from your website.
Pagination is unique from other Blogger templates in two ways (1) Below the navigation links(Older/Newer) it also shows the title of the post (2) There is a special blue-layer effect on pagination with background image.
Then there is a small section designed for Author Bio, which displays a short profile and thumbnail of the author.
The Author Bio is followed by a beautifully-designed Related Posts widget with thumbnail support. It displays the blog posts relevant to the current post.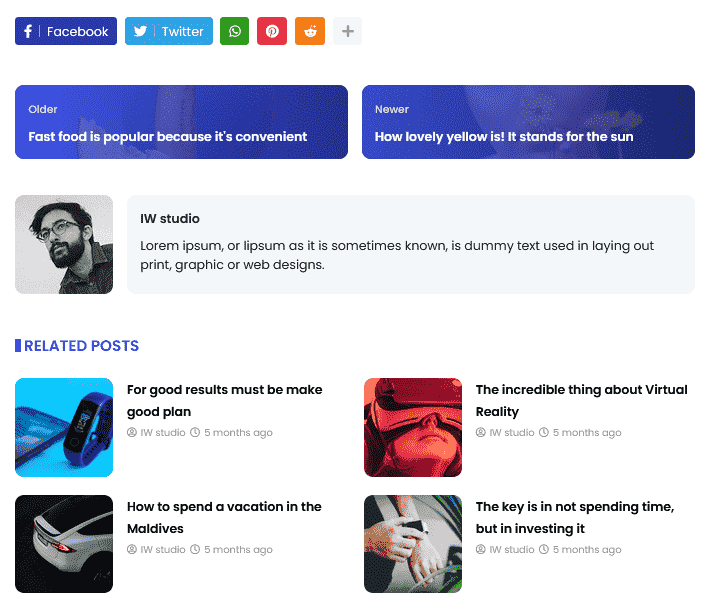 This is how the top part of item page looks on mobile devices. It is fully responsive and providing a good page experience.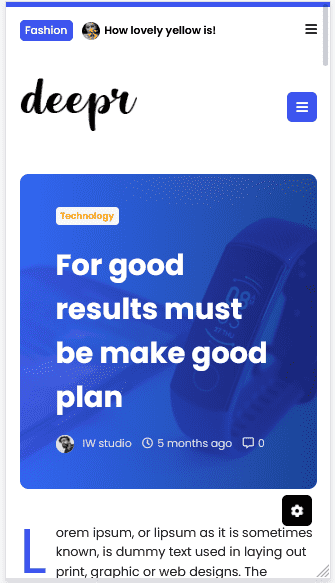 Pricing | Live Demo
The Deepr News & Magazine Blogger template costs only $30, which is very much affordable and justifiable for a modern and feature-rich premium News & Magazine Blogger template.
So it was all about Deepr, a premium responsive News & Magazine Blogger template. Hope you would have liked this review. If you like this post then don't forget to share with other people. Share your feedback in the comments section below.
Also Read