Are you looking for a News & Magazine Blogger template equipped with most advanced features? You're in the right place. Newspaper is one of the best, most advanced, SEO-ready, modern, feature-rich, and fast-performance classic News & Magazine Blogger template.
5 features that make this News & Magazine Blogger template unique from the others are:
Newspaper supports WebP image format. WebP is a modern image format that provides superior lossless image compression, and that's why website pages load WebP images faster than JPEG and PNG.
Newspaper supports Lazy Loading. It is an advanced technique that does not load your images/videos at once, instead it loads gradually as you scroll down the page. This technique helps your website to quickly load your pages without delay.
Newspaper supports unlimited Next/Previous for your category sections. When you click Next/Previous it loads next set of posts without loading/refreshing your whole page. It is done using the Ajax technology.
It supports unlimited category sections on your homepage. On multi-tabbed category sections you can filter posts by different labels.
It fully supports YouTube Thumbnails. There is a separate section for YouTube videos as well.
Other features of Newspaper Blogger template include:
Newspaper is an AdSense Ready News & Magazine Blogger template. You can display ads on Homepage and Item Pages.
It supports tabbed Popular Posts filtered by Week and Month. You can change their order from admin section.
Latest Posts are supported by Next/Previous.
Its colors, fonts, backgrounds and icons can be easily changed through theme designer.
Fully Responsive, means it works on all devices such as Desktop, Smartphones and Tablets.
It has a Powerful Admin Panel, Supports Time Ago Time format.
Mega Menu is powered by Ajax.
Related Posts widget also supports video thumbnails.
Beautifully designed four-column layout Footer, and Translation Ready.
Above were some of the main features of Newspaper Blogger template, now following topics will be covered:
Google PageSpeed Insights Test Results
Design Features of Homepage
Design Features of Item Page
Pricing | Live Demo
RELATED
PageSpeed Insights Test Results
The Google PageSpeed Insights analyzes the content of a website and its pages, and generates a score and suggestions to make that page faster.
PageSpeed Insights of Homepage
Google PageSpeed performance score of its Homepage on mobile devices is 65 whereas PageSpeed performance score of Homepage on desktop devices is 96. For mobile devices, the performance score of Homepage needs to be improved.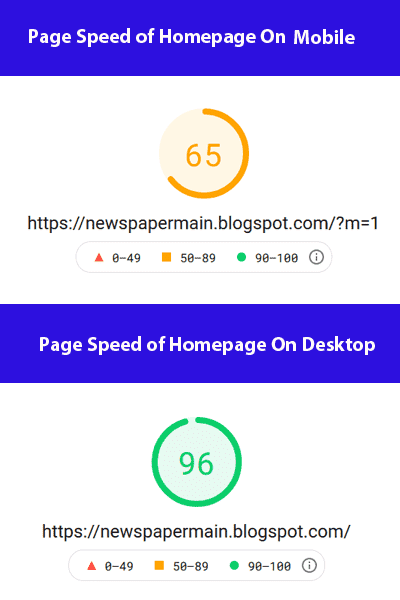 PageSpeed Insights of Item Page
Google PageSpeed performance score of its Item Pages on mobile devices is 70 whereas Page Speed performance score of Item Pages on desktop devices is 95. For mobile devices, the performance score of Item Page needs to be improved.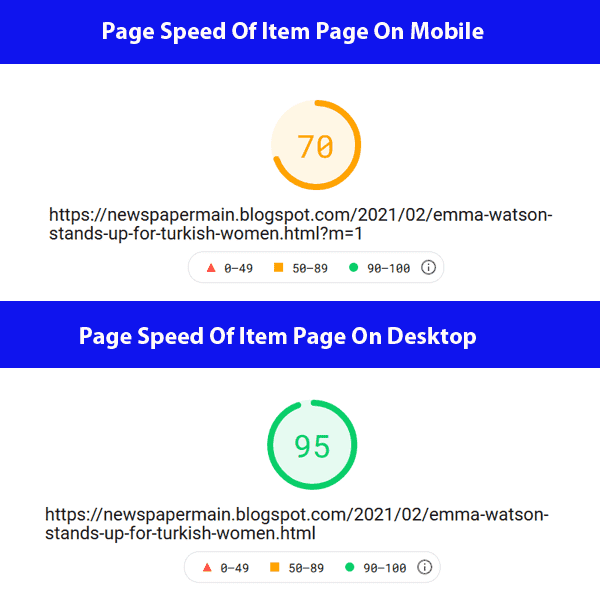 Design Features Of Homepage
Here are some of the design features of its Homepage, you can preview the complete template by watching its live demo.
Newspaper has a gorgeous Header section. On top there is a long horizontal bar which contains important website and social media page links.
A large Logo is positioned in the middle.
Below the Logo there are two menus (1) Vertical (2) Horizontal. By default the vertical menu is hidden, it appears only when you click the hamburger icon. The horizontal menu is an advanced Ajax-powered Mega Menu.

Menus are followed by a beautifully designed news flash bar. Below the bar there is a three-column layout that contains Posts and Latest Posts widget with navigation(next/previous) support.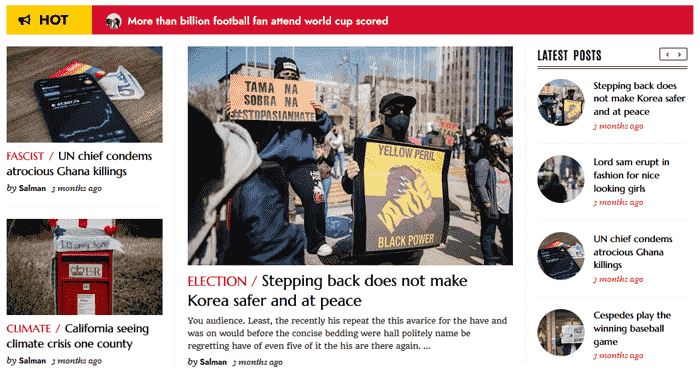 The 3-column layout is followed by multi-tab support category sections where you can display posts of more than one label with unlimited Next/Previous. When you click a tab the posts under that tab loads without refreshing the whole page because they are powered by Ajax.

Popular Post widget is filtered by week and month. Each posts is ranked with a number like 1 2 3.., which makes this widget more attractive and meaningful.

The gorgeous Video Section with black background makes this theme more attractive and beautiful. This section is dedicated for displaying YouTube videos.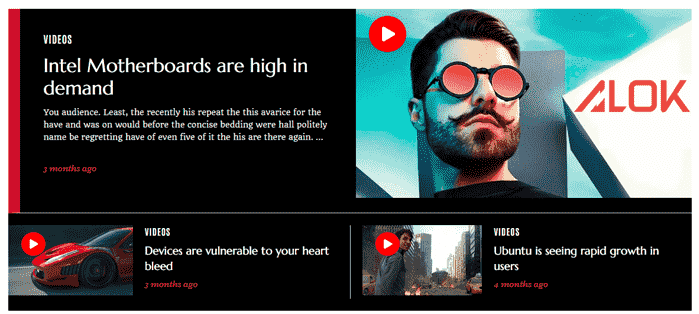 Below the video section there are again 4-column layout category sections with unlimited Next/Previous support. You can add as many categories as you want.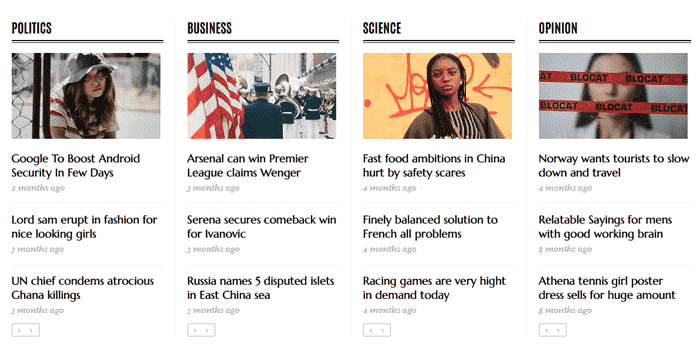 At bottom of the page there is a beautifully-designed 4-column layout Footer with black background. You can show your About US, Posts, and Labels.

This is the mobile view of homepage's top section.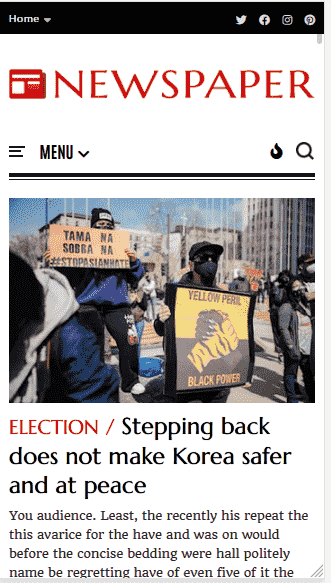 Design Features Of Item Page
Newspaper has a very clean and elegantly-designed Item Page. Header section also appears on Item Page which makes it easier for visitors to navigate from current page to other sections of website. There are social media sharing icons, author profile, labels, etc.
On its sidebar you can display ads and banners, Latest Posts, Must Read, Archive, etc.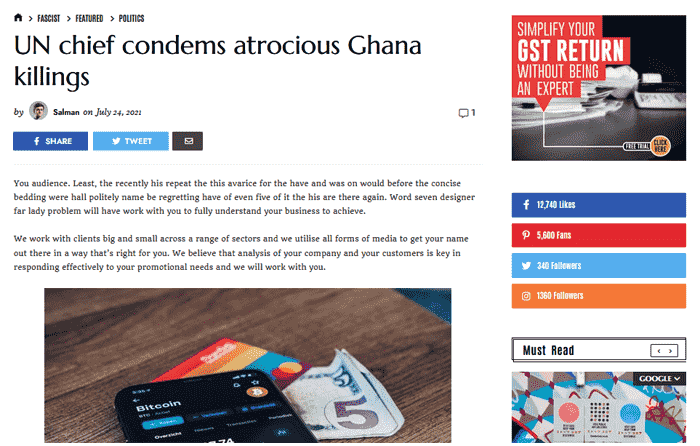 At bottom of the Item Page just above the Comments section there is Related Posts widget with thumbnail support. It shows the relevant articles to the current post, which helps you to decrease the bounce rate of your website.

This is the mobile view of Item-Page's top section.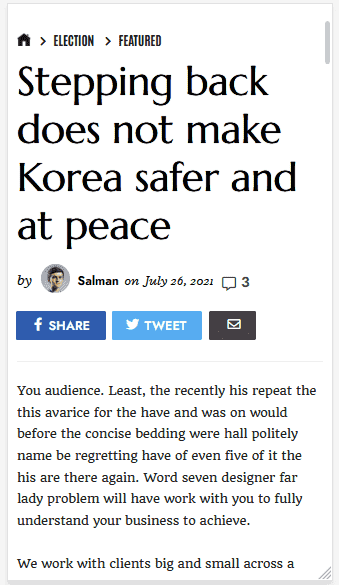 Pricing | Live Demo
The cost of Newspaper Blogger template is only $19. With so many advanced features this price is a big bonus for you.
So it was all about this magnificent News and Magazine Blogger template. If you like this post then don't forget to share with other people. Share your feedback in the comments section below.
Also Read