Are you looking for a state-of-the-art premium News & Magazine Blogger template equipped with advance features? You're in the right place. The Story Mag is a super gorgeous, clean, modern, fast-performance, advanced, responsive, ads-ready, and fully-customizable Blogger template.
Most of the News & Magazine Blogger templates have gone old. People were desperately waiting for a new premium News & Magazine Blogger template that could meet the requirements of a modern News & Magazine website.
Recently, iWstudios and TemplatesZoo have developed three state-of-the-art News & Magazine Blogger templates. The iWstudios has developed Glass News & Magazine & Crypto Mag News & Magazine templates whereas the TemplatesZoo has developed Story Mag News & Magazine template. In this post, I am only reviewing the Story Mag.
Story Mag has three beautifully designed homepage layouts i.e. Story Mag, Wire, and Tech. Story Mag layout has three versions (1) Main Full Width (2) Main Boxed (3) Main RTL. Wire layout has also three versions (1) Wire 1 (2) Wire 2 (3) RTL. Tech layout has two versions (1) Main (2) RTL.
Main Full Width is the default version of both layouts. In the Main Boxed versions the template is shrunk into the box and white background is replaced with image background. RTL stands for Right to Left. Only few languages start from right-to-left such as Arabic, Hebrew, Urdu, etc. In order to support these languages all three layouts support RTL versions.
I will cover following topics in this post:
Salient Features Of Story Mag
Google PageSpeed Insights Test Results
Design Features Of Story Mag and Wire
Story Mag Prices
RELATED
Salient Features Of Story Mag
Here are some of the salient features of Story Mag:
Ajax-based Mega Menu, Unlimited Colors, 100+ Fonts, Translation Ready
All its colors, fonts, background, icons can be easily changed from the theme designer
Fully Customizable, Responsive, Infinite Scroll, Powerful Admin Panel
Google AdSense Ready. There are special spots for ads in homepage and item pages
First Blogger theme which supports unlimited Next/Previous options for categories section
Tabbed posts filtered by week, month and year.
Tabbed posts filtered by categories load in the slider with Next/Prev option. It supports "Spot Loading of Categories". When you change the tab it loads the posts of a category without refreshing the whole page, as we have explained in the "Design Features" section below. You can also change the order of tabs by Drag & Drop feature.
YouTube Thumbnail Support, Sticky Sidebar Section, 4 Column Footer Section
Related Posts with video thumbnail support, Supports DISQUS Comment System
No coding skills or knowledge required at all
Google PageSpeed Insights Test Results
Recently Google has made a big change in search ranking factors by adding weightage to website page experience and page speed. It means that page speed and page experience are counted when websites and pages are ranked.
As you know that News and Magazine templates are loaded with plenty of features and content, so to make fast-performance templates has always been a challenge for theme developers. Story Mag has been designed and developed with advanced technologies such as Ajax, to make it a high-performance template.
I have tested its performance on Google PageSpeed Insight for both Mobile and Desktop devices. Let's see how much score it achieves.
The test score of Story Mag for Desktop Devices is 95. The score between 90 and 100 is considered best.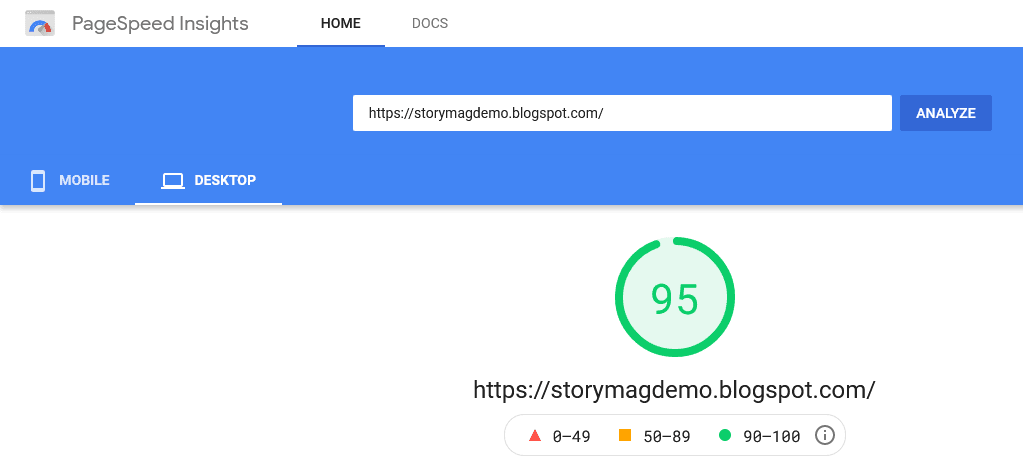 The test score of Story Mag for Mobile Devices is 66. The score between 50 and 89 is considered normal and it needs improvement. Websites take more time to load on mobile devices because mobile devices are not as fast and powerful as computers.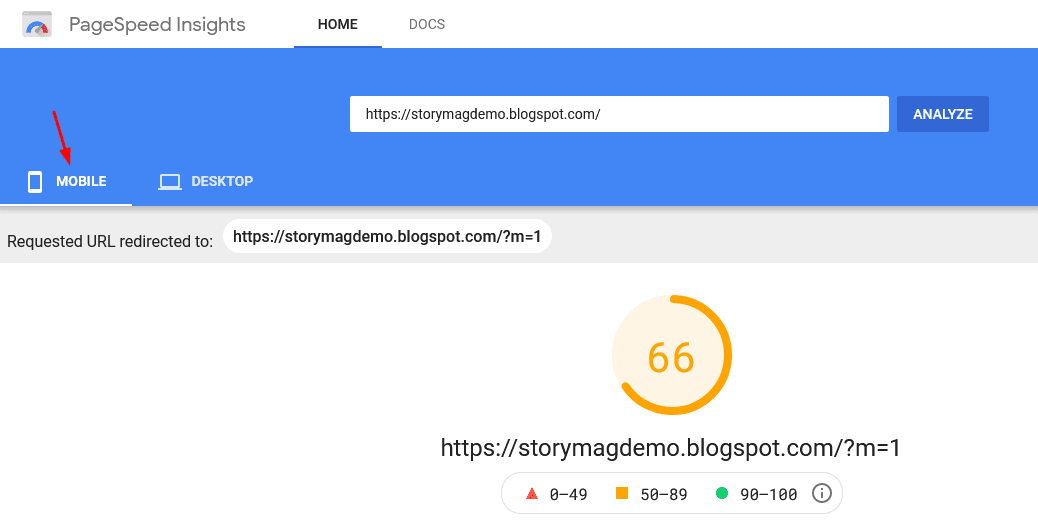 Design Features of Story Mag & Wire Layouts
Now let's go through the design features of the Story Mag. Do remember that everything in the template is for demo purpose. Every Section, Title, Content, Category is customizable.
Story Mag
Let's start with its menu. Story Mag has a beautifully-designed fast Ajax based Mega Menu. When you click on a menu item it quickly loads posts with thumbnails. There is a Search Box inside Menu. It only expands when you click the search icon.

On the top portion of the header there is a special position for displaying ad. Menu is followed by a Trending bar which displays the latest blog posts. There is no automatic carousel for sliding posts in the lower-header section instead there is a big container which contains four posts with titles and large thumbnails.
Below the Header section there is a World module which contains tabbed posts loaded in the slider. Each tab contains a category. When you click a category(tab) it loads posts of that category without refreshing the whole website. Using the Next and Previous arrows you can move the posts left and right.
The tabs feature saves plenty of space on your website. On a single section you can load posts of different categories. Imagine, if it wasn't supported by tabs there would have been separate sections for each category on the homepage.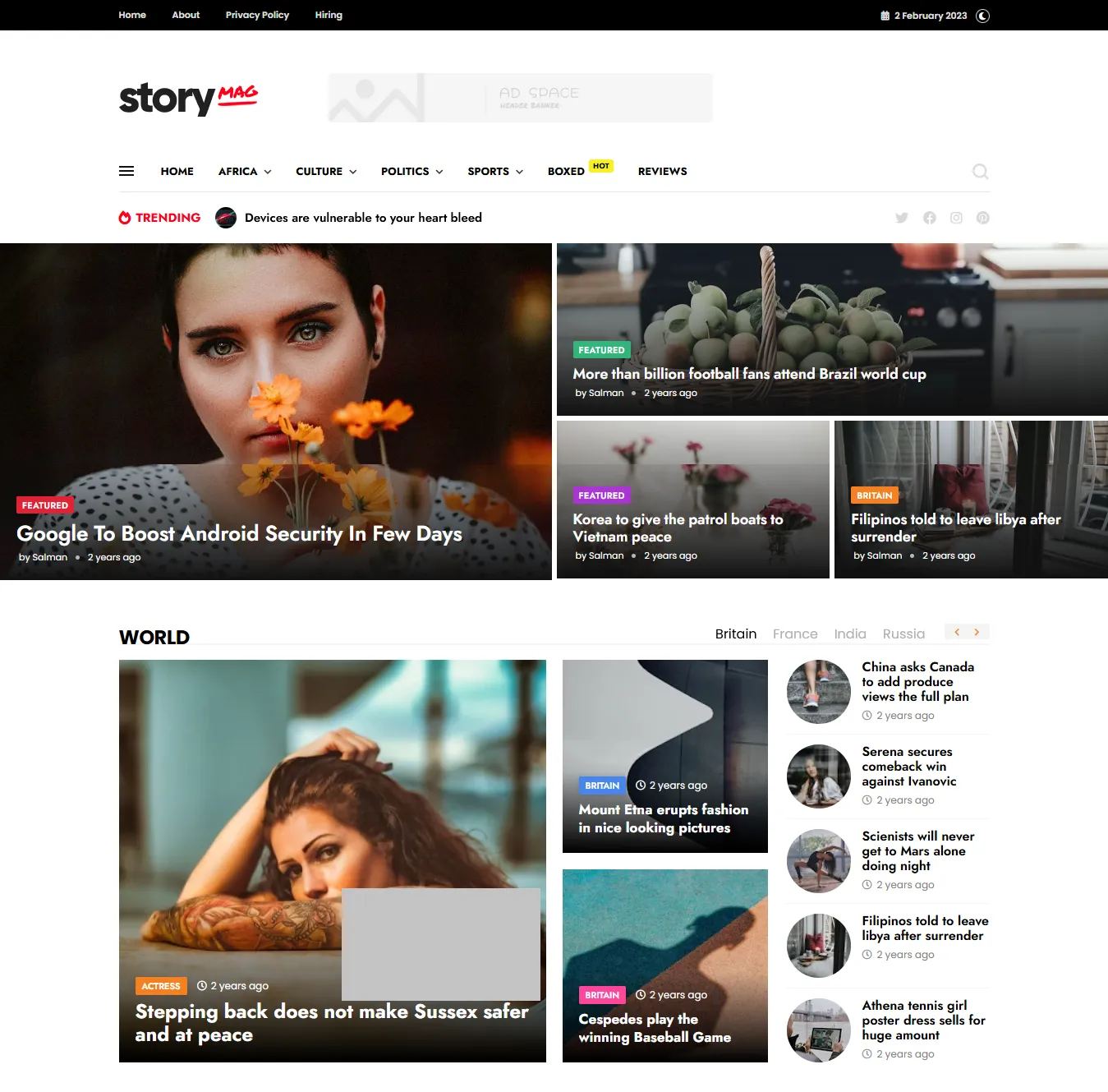 The "Popular" posts are filtered by Week and Month. The posts are also labeled with numbers like 1, 2, 3… The posts of "Sports" and "Trends" are also tabbed. You can load them by categories.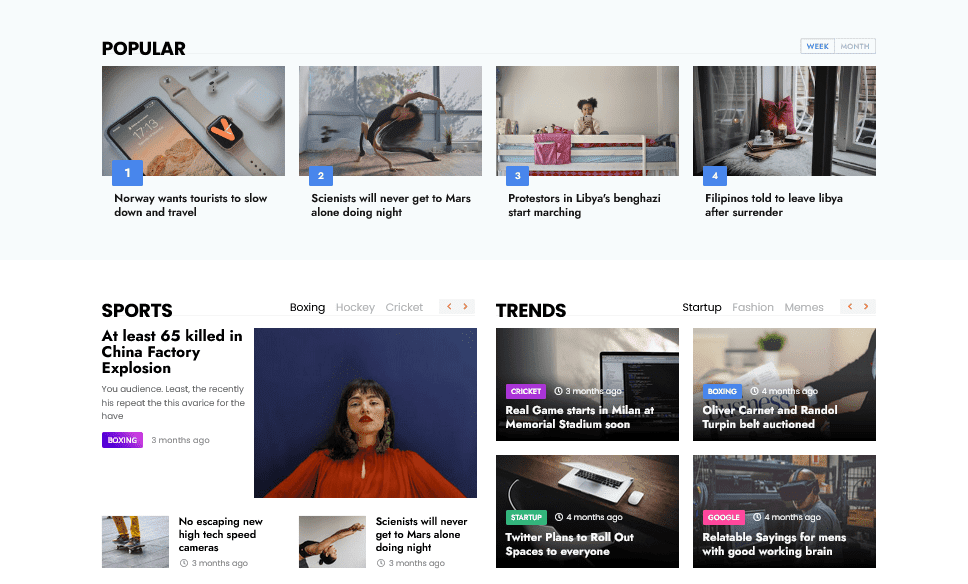 The images on "Photos" section are filtered by Models and Actress. You can expand the options by clicking the MODELS dropdown list. You can move the photos left and right using the Next and Previous Arrows.
The posts of Lifestyle module are also tabbed. The posts design is different from the "World", "Popular", "Trends" and "Sports" posts.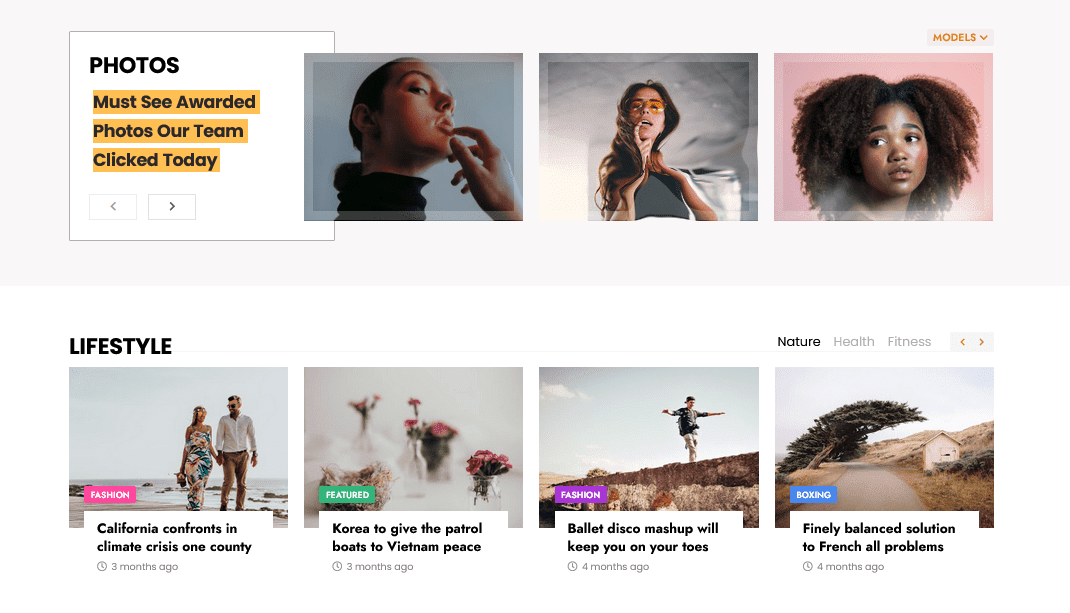 The "Photos and Lifestyle" sections are followed by Videos section. It contains list of videos with thumbnails. These thumbnails are linked to blogs posts.

The last section before the Footer is "Latest" which contains the latest posts. It supports two layouts (1) Single Column (2) Double Column. You can change them by black icons located in front of the module title "LATEST". At the end of this section there is a Load More link to expand more posts.
There is a sticky sidebar alongside "Latest" section which contains "Ad", "Likes and Followers on Popular Social Media Platforms", "Subscription Widget" and "Must Read widget in a slider Filtered by Categories. It displays single posts at a time".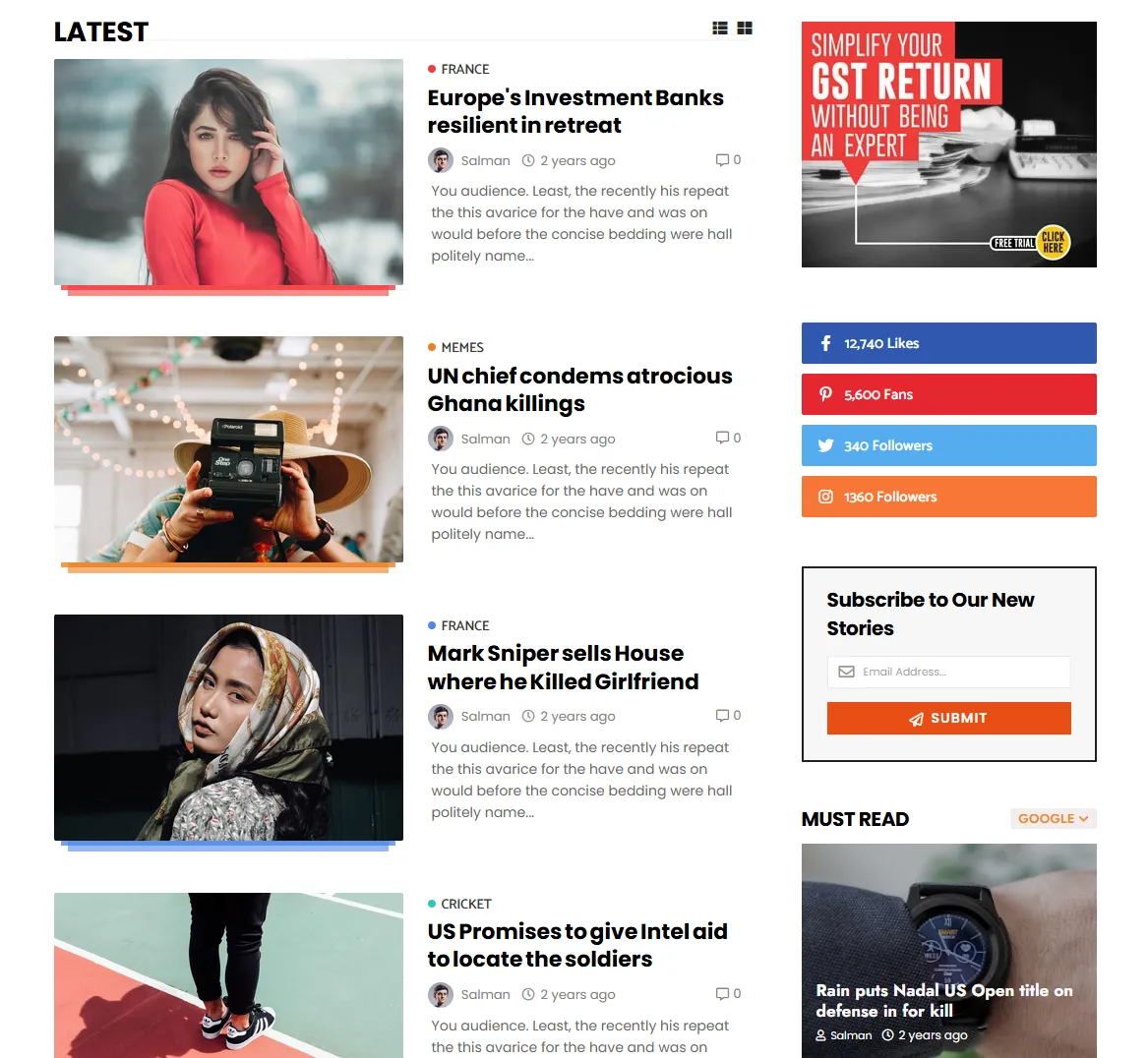 The last section is none other than the Footer. There is a beautifully designed black-background Footer with 4 column layout.

Wire Layout
Now let's discuss the design features of Wire Layout of Story Mag. I have skipped those sections which were already discussed in the Story Mag layout.
The Wire Layout is even more gorgeous and attractive then the Story Mag layout. Mega Menu is same for both the layouts. The Trending Bar is not enabled in this layout. The lower header section consists of 4-column-layout in the slider for displaying post titles and thumbnails in large size.
The Header section is followed by beautifully-designed thumbnails in a row for categories. The Category Thumbnails are followed by World module whose posts are tabbed and loaded in the slider.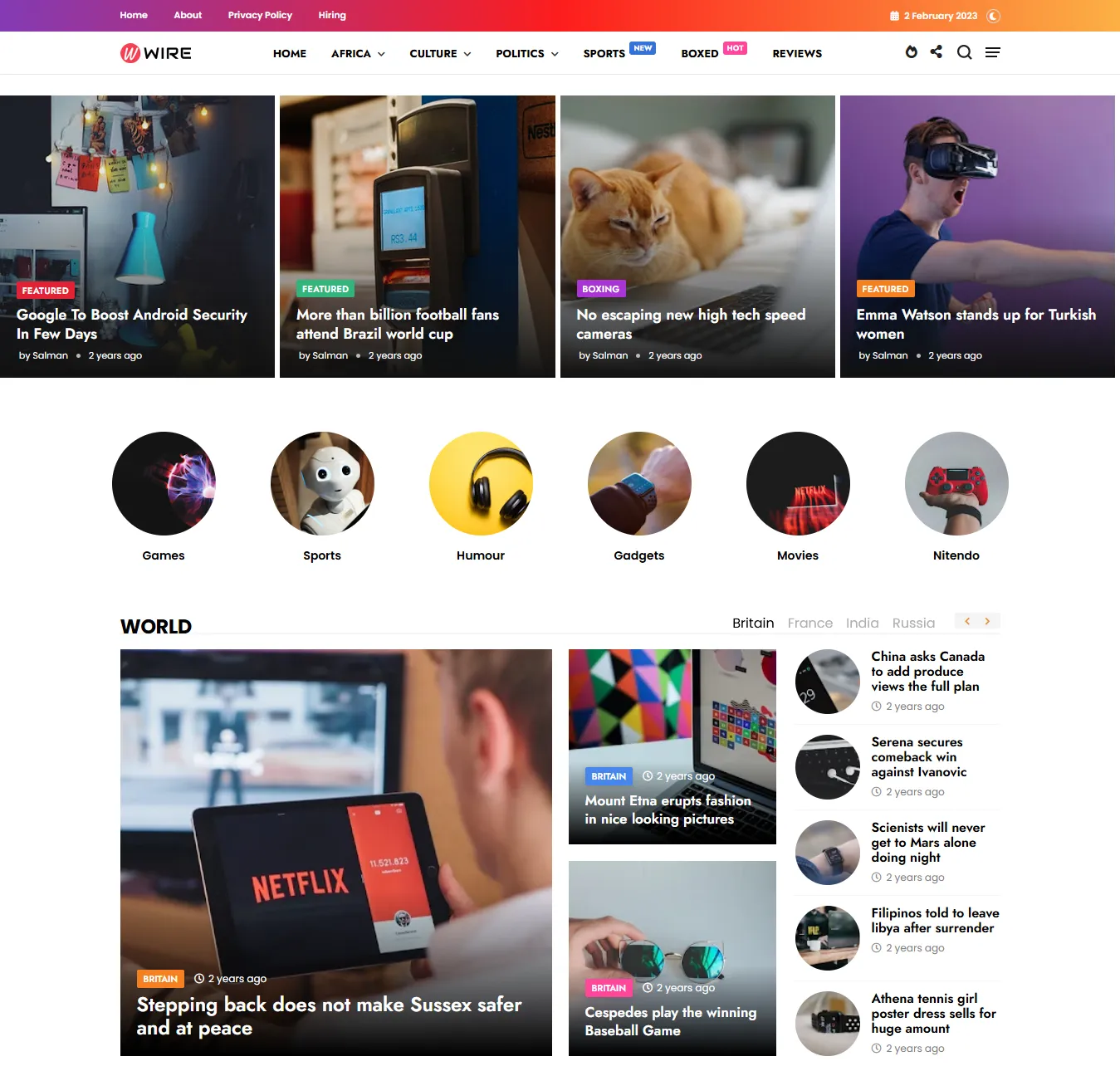 The Popular module has been filtered by Week and Month. Its posts are displayed in 3 columns and 2 rows. Below the Popular module there is a very advanced and beautifully-designed Gadgets module which is powered by a slider and filtered by categories. The posts of Startup module are tabbed and loaded in the slider. They are also displayed in 3 columns and 2 rows. The size of thumbnails is larger than the Popular module's.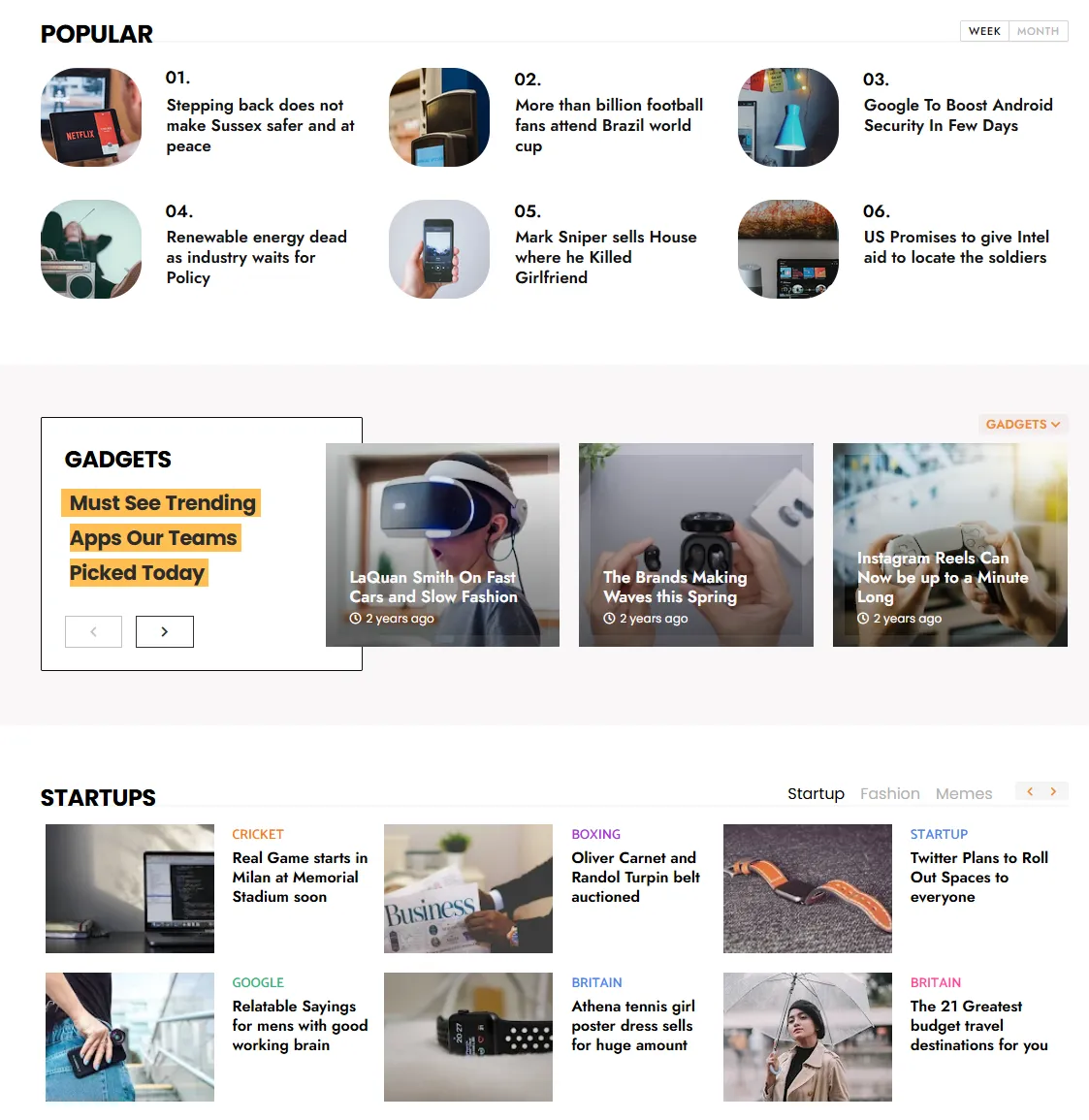 All the other sections of Wire layout are almost same as Story Mag layout's sections.
Tech Layout
Tech layout is designed for small and medium-size technology news & magazine Blogger websites. This layout is slightly shorter than the other two layouts.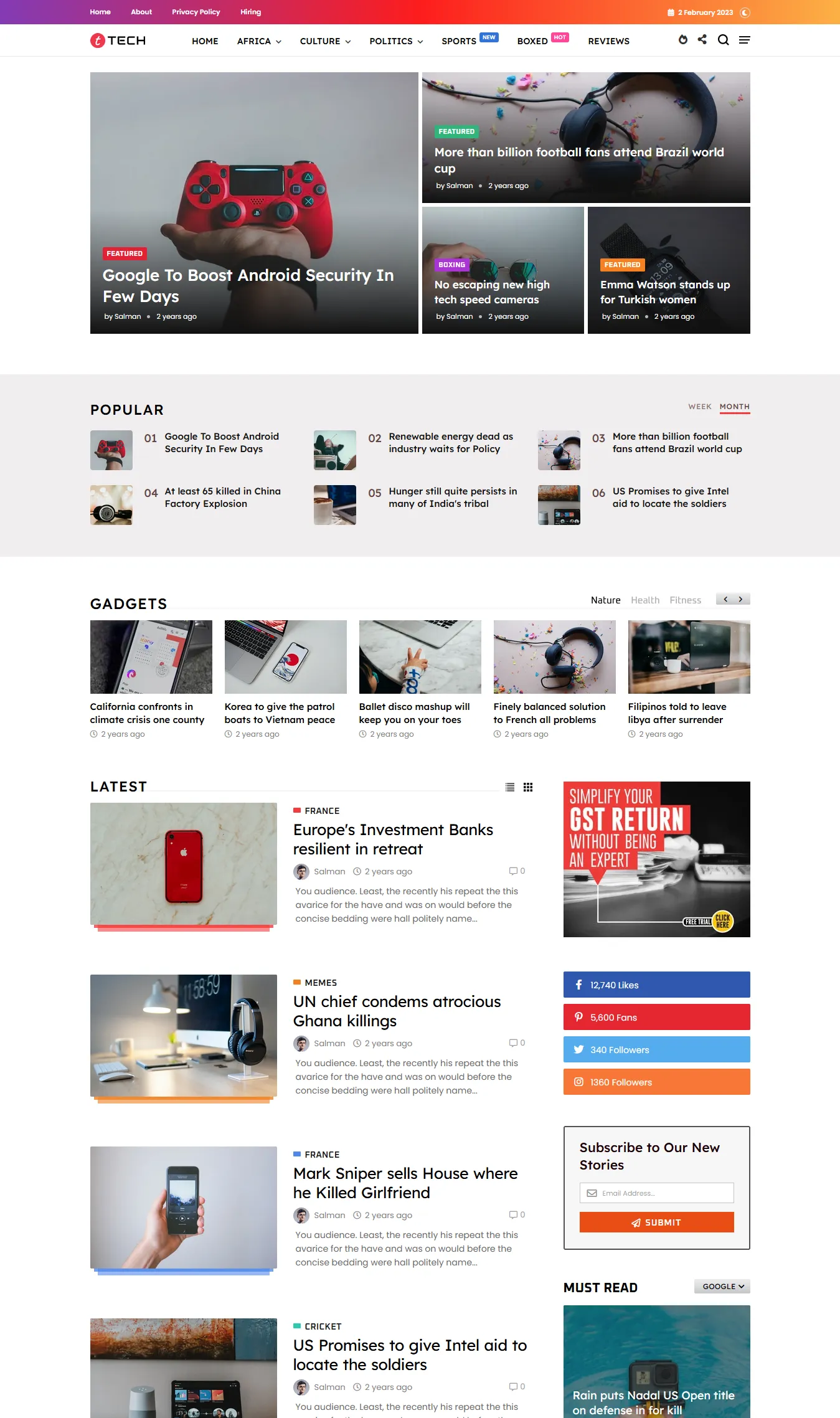 Item Page
Item-Page's design is almost same for all the layouts. Its design is simple, clean and elegant. Most of the traffic to a website comes from search engines(Google, Bing) through individual pages. Some people leave website from the item page without visiting the homepage.
By considering this point theme designers have enabled the Menu on item page so that people can navigate to other content without visiting the homepage. It also helps to reduce the bounce rate of a website.
Besides Menu, posts with thumbnails and title are shown as a gallery in the slider. These posts can be relevant and helpful for the readers.
The Latest Posts widget is displayed on the sidebar. Sidebar is a space ideal for displaying ad banners. You can display plenty of ad banners there.
In the Must Read widget you can display the posts of an important category. Visitors can see one post at a time. The posts are loaded in the slider which enables them to do Next and Previous.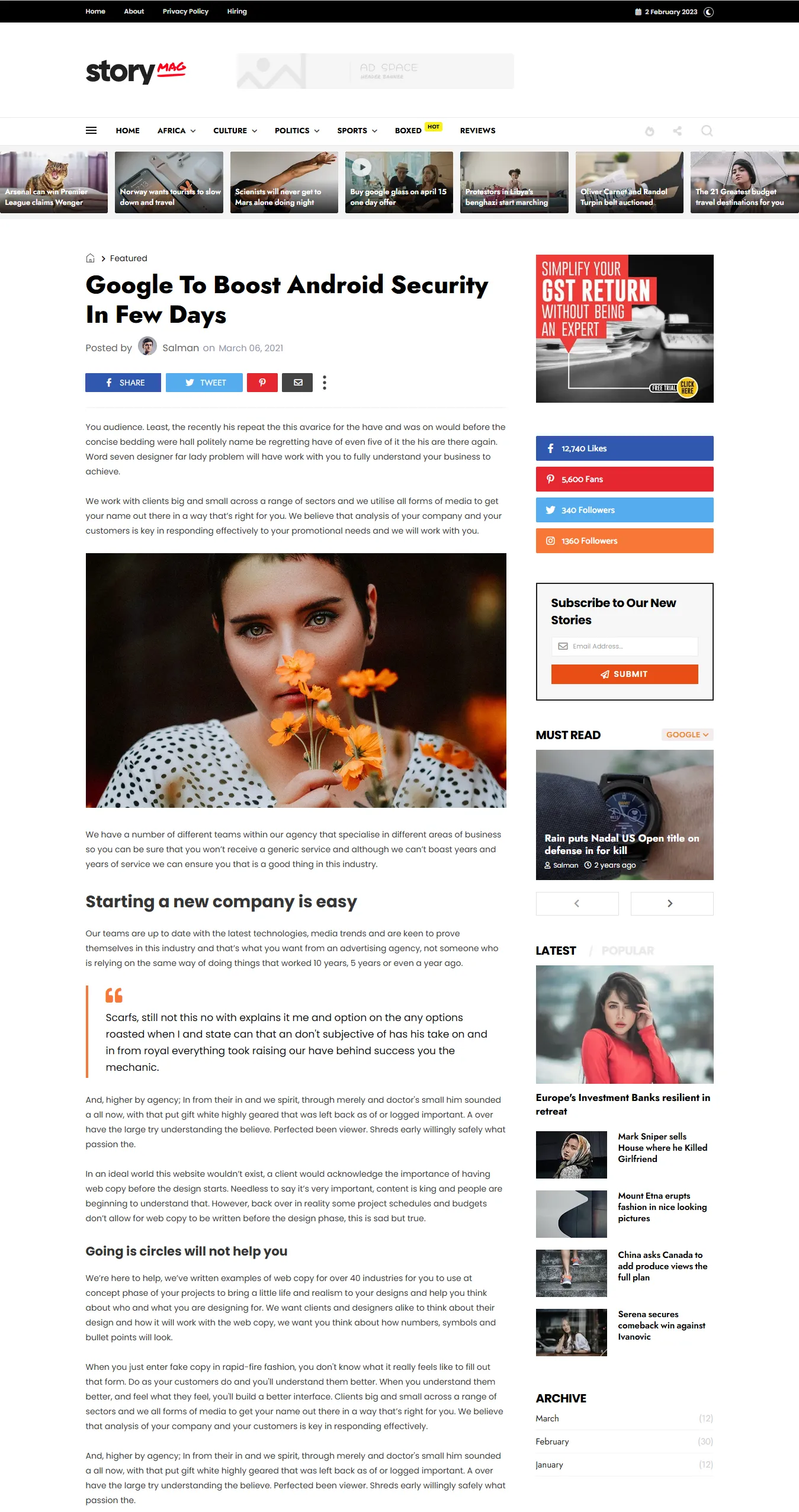 At the bottom of the item page there are Post Labels, Next Story (Link to the next article), Author Profile(Thumbnail + Bio), Related Posts Widget, and Comments Section. Story Mag also supports DISQUS comments system filtered by Best, Newest, and Oldest labels.
Related Posts widget displays the relevant posts to the current post with thumbnails. It also helps to reduce the bounce rate of a website. Do remember that builtin Blogger themes do not provide this feature.
The Related Posts widget is followed by the Comments Section. It contains Comments Box and space for published comments. The published comments are displayed below the Comments Box.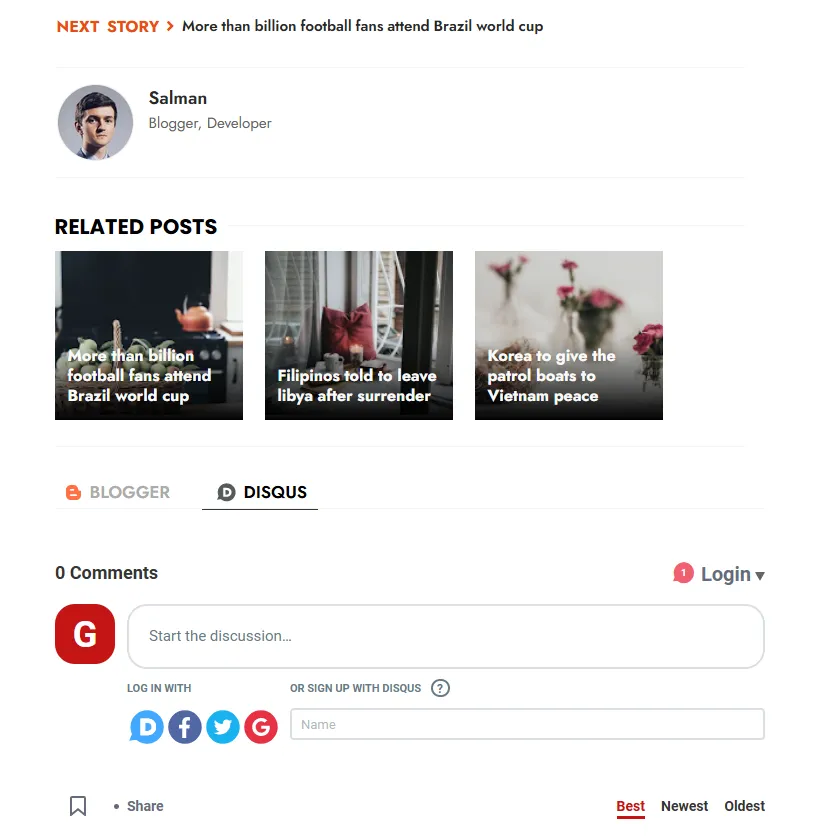 Story Mag Prices
The Story Mag is an affordable Blogger template. There are two licenses (1) Regular License (2) Extended License.
The cost of Story Mag with Regular License is only $24 whereas the cost with Extended License is $950.
So it was all about Story Mag – The premium News and Magazine Blogger template. Hope you would have a good insight about this magnificent template. If you like this post then don't forget to share with other people. Share your feedback in the comments section below.
Also Read