(Last Updated On: June 15, 2022)
Payoneer is a financial services company that provides online money transfer, digital payment services and provides customers with working capital. It is the best alternate to PayPal. People from all over the world can receive payments via Payoneer.
Payoneer also has the affiliate program from which you can earn lot of money online. You can earn high commissions and grow your business by promoting Payoneer's secure, fast and low cost solution to your contacts, freelancers, visitors and customers all over the world.
You can share your unique referral link through Blog Posts/Articles, Banners, Emails, Landing Pages, Facebook-Posts, YouTube, Pinterest, Twitter, etc. You'll get paid for every new customer that signs up for Payoneer through your link.
In this post we will cover following topics:
How Payoneer Affiliate Program Works
How To Get Your Payoneer Referral Link
Stats & Earnings
How Payoneer Affiliate Program Works
Share your Payoneer referral link to people. If someone clicks your link he will be redirected to the Payoneer Sign Up page.
If he signs up and later receives $1000 in payments to his Payoneer account, you have successfully generated a referral. Both you and your friend will receive your rewards within three months. Friend here means the person who will create Payoneer account from your referral link.
For example you create a Payoneer account from our referral link. When your balance will reach $1000, we both (We and You) will get $25 each.
If you haven't created a Payoneer account, create an account from our referral link to get $25. Here is our $25 referral link. Same way share your referral link with other people. 

When you will click our referral link you will be redirected to this sign up page below. You can see on the button, "Sign Up & Earn $25*" it means that you have come from a referral link to this page. Click the button & create a Payoneer account.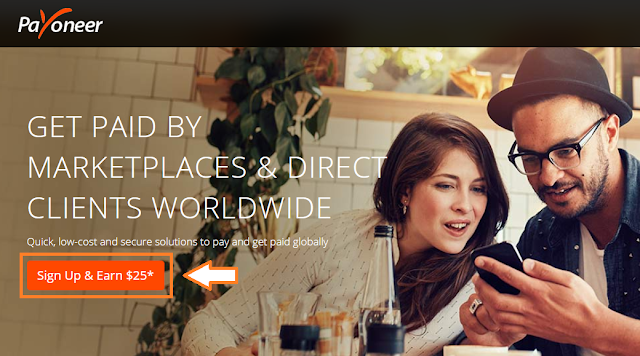 How To Get Your Payoneer Referral Link

Sign-in to your Payoneer account.
Click Activity.
Click Refer a Friend.

Copy your referral link and share with people through blog posts, YouTube, email or social media.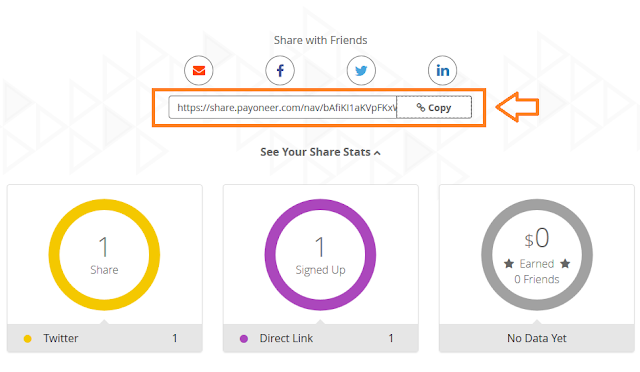 Stats & Earnings
You can check your stats and earnings from the same location from where you copy your referral link i.e Activity => Refer a Friend.
Here you can see that 67 people signed-up via referral link. Only one of them has made a referral, means received $1000 in his Payoneer account. If each one of 67 people receive $1000 the total commission will be $1675(67 X 25).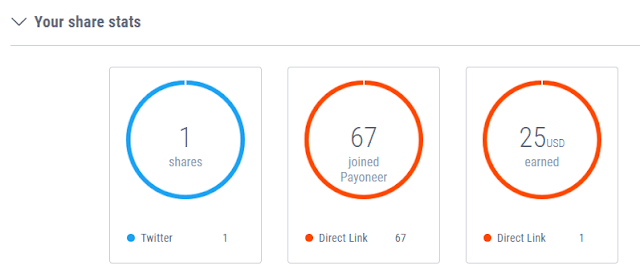 On the homepage Payoneer lists your commission as reward just to differentiate it from rest of the transactions.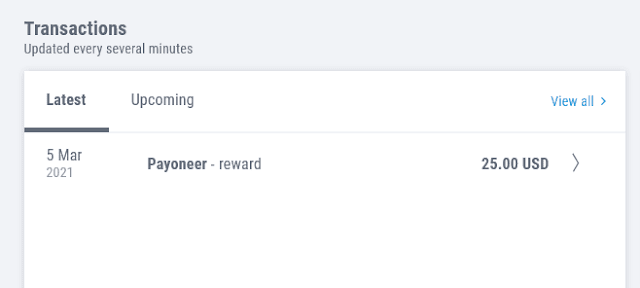 This is what Payoneer's Refer a Friend affiliate program is all about, hope you will earn lot of money from it. If you like this post then don't forget to share with other people. Share your feedback in the comments section below.