(Last Updated On: January 29, 2022)
Are you looking for a lucrative transcription affiliate program that pays a high commission? You're in the right place. TranscribeAnywhere offers very high quality, affordable transcription education and training. It offers online courses in General Transcription and Legal Transcription.
How many transcription companies that promote their transcription services by affiliate programs and particularly legal transcription? Answer is very few. TranscribeAnywhere has a very decent free-to-join affiliate program from which you can earn 20% commission per sale of a transcription course. In order to receive payments you must have a PayPal account.
The General Transcription course cost is $597,  means you can earn $119.4 for a single sale. Legal Transcription course cost is $697,  means you can earn $139.4 for a single sale. There is a discount package as well like both Legal and General Transcription courses together cost $1097, means you can earn $219.4 for a single sale.
Regarding the legitimacy question of TranscribeAnywhere affiliate program, firstly it is powered by Kajabi which is a well known marketing campaign platform and secondly TranscribeAnywhere is a 100% legitimate company. Hundreds of thousands of students and transcribers have been enrolled and got certified from TranscribeAnywhere.
How It Works
It has a very simple process.
Create your account on TranscribeAnywhere and share your affiliate links. It is free.
Visitor click your affiliate link.
The visitor's IP is logged and cookie is placed in his browser for tracking purposes.
The visitor visits TranscribeAnywhere and decides to enroll in one of the courses.
If the visitor registers and purchases a course, you will get a 20% commission.
Cookies and IPs are stored for 30 days.
How To Sign Up For TranscribeAnywhere Affiliate Program

Enter your Name.
Enter your Email ID.
Create a Password.
Enter the PayPal Email ID. It is that Email ID from which you are Signed In On your PayPal. If you don't have a PayPal account, create a new one. It's free.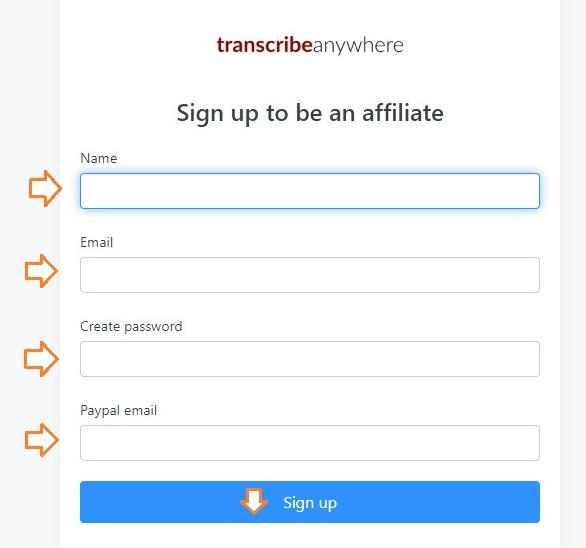 TranscribeAnywhere's affiliate program is powered by Kajabi. It is an all-in-one online business platform that makes it easy for launching marketing campaigns etc.
On your TranscribeAnywhere's Dashboard you can keep track of clicks, form submissions, conversions, conversion rates and all the affiliate links of transcription courses.
You can Edit your settings from Settings menu.
Get the promotion banners from the Affiliate Area page(bottom) and links from your Share Links section on your Dashboard.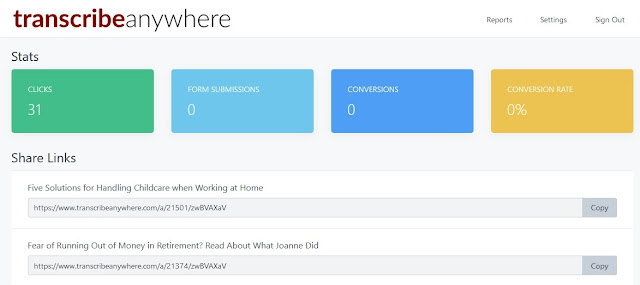 To know more about TranscribeAnywhere's courses details, read our post:
If you like this post then don't forget to share with other people. Share your feedback in the comments section below.