Are you looking for legal forms & contracts affiliate program that pays high commissions? You are in the right place. LawDepot affiliate program is one of the best legal forms, contracts, and documents affiliate programs that offers 30% commission per sale to its affiliates.
LawDepot was founded in 2001. It is the leading publisher of do-it-yourself legal documents, forms, and contracts. It has over 10 million users and created more than 10 million legal documents.
Following topics will be covered in this post:
How LawDepot Affiliate Program Works
What are the service areas of LawDepot
Do you need a website?
How much you can earn?
How to signup for LawDepot affiliate program
01. How LawDepot Affiliate Program Works
By joining the LawDepot affiliate program you can earn 30% commission on hundreds of legal documents, forms, or contracts. LawDepot basically offers service to create legal documents online like affidavits, lone agreements, mortgage agreement, catering contract, complaint letter, etc. You can share your affiliate links and banners with people. If someone clicks your link, creates a document and makes payment, you will earn commission for that.
You can receive your payments via PayPal or By Mail(Check). Payments are calculated on 1st of every month. Your minimum earnings must be $50 before it is sent to you.
Tracking cookies last for 365 days, like someone clicks your affiliate link, signs up, creates a document and does not pay and leaves website, if he later decides to make payment by visiting the website within 365 days, you will earn commission because your affiliate link will be stored for 365 days.
02. Serviceable Regions
LawDepot offers its services in 6 regions means people from these 6 regions can create documents or contracts from LawDepot services, but you don't need to worry! people from any part of the world can join this Affiliate Program.
Following are the 6 serviceable regions.
United States
Australia
Canada
United Kingdom
Ireland
India
03. Do You Need a Website?
Not necessarily. If you have a website/blog it is better, but if you don't have a website you can use social media platforms like Facebook, Twitter, Pinterest, YouTube, etc, to share your links.
The benefit of having a website is that you can create posts and use banners to promote your content. You can bring organic traffic from Google and other search engines.
04. How Much You Can Earn From LawDepot Affiliate Program?
LawDepot offers three licensing options for people when they create legal documents, forms, or contracts online:
One Year Pro: This license is billed annually at a rate of $95.88 (which breaks down to $7.99 per month). People can create and print as many documents as they need for a full year. Their subscription renews automatically every year until canceled.
Free Trial: The trial gives them free access to all documents for one week. This license renews at $33 per month after the trial ends. There are no obligations; they can cancel online at any time.
If they are not interested in a subscription, they can purchase access to a single document for a flat rate between $7.50 – $68. Prices and access times vary per document.
Whatever licensing option one chooses, you will earn 30% commission from that. Now your earnings totally depends on you like how much purchases people make via your affiliate links.
05. How To Sign Up For LawDepot Affiliate Program
Follow the steps to signup for LawDepot affiliate program.
Go to LawDepot Affiliate Sign Up page.
Enter your Email ID.
Create a Password.
Click on the CREATE MY FREE ACCOUNT button.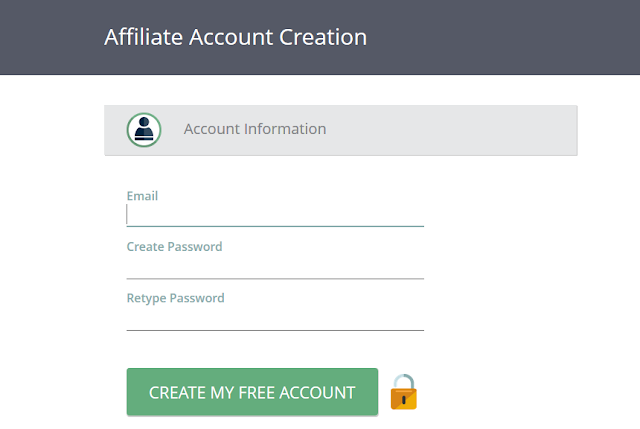 Enter your First Name and Last Name.
Choose your Payment Option. There are two options PayPal and Cheque. If you choose PayPal then enter your PayPal Email Id. If you choose Cheque it will ask you, "Pay to the order of". It means to whom the Cheque will be sent. Enter your Name.
Enter your Address. Make sure to enter your correct and complete address.
Enter your City name. Choose your Country. If your country is not listed choose Other and enter the name of your country in Specify.
Enter the Region of your city. It is mostly the province. Enter the Zip Code of your city. Enter your Phone Number.
Click on the Continue button.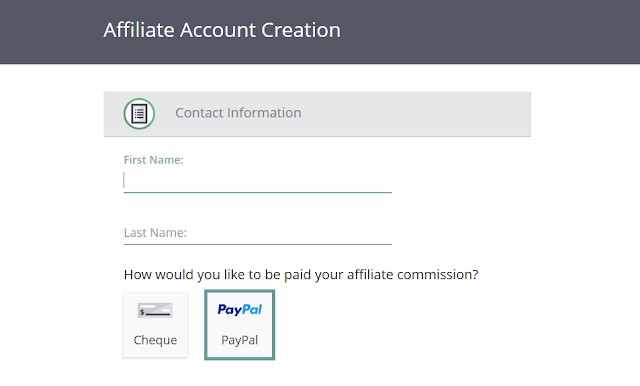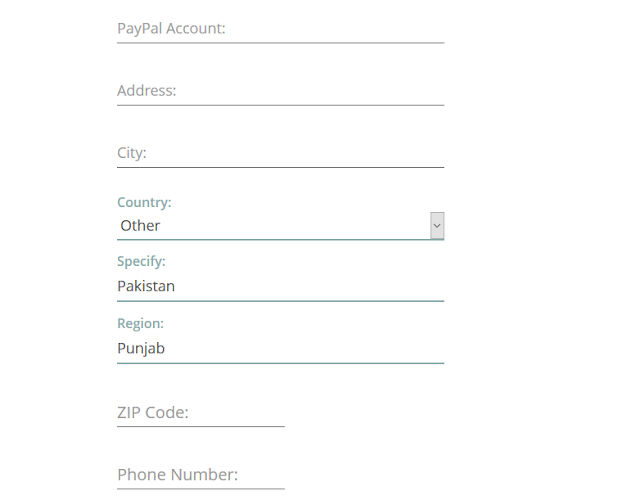 Enter your Additional Information.
Total commission is 30%. Now you have a option here. You can reduce your commission by adding some part of your commission to Discount. For instance if you set Discount 10%, you will earn 20% commission. Visitors who will purchase a contract or a document via your affiliate link they will get 10% discount. In other words you can entice visitors by offering a Discount from your commission. Discount will increase the probability of sale.
Tick the options of Where will you be using your affiliate links?
If you have a website enter the URL.
Choose an option for "Where did you hear about this affiliate program?".
Click on the Submit button.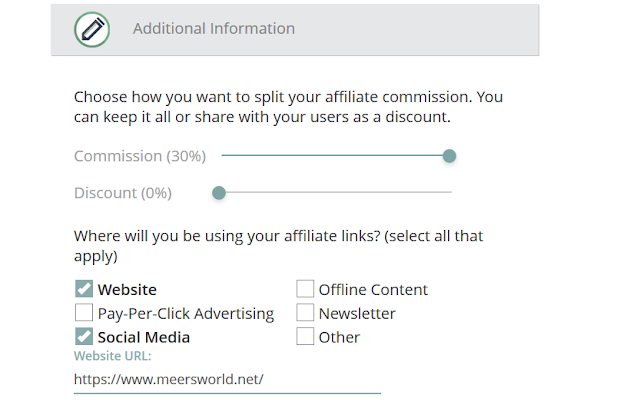 You have successfully signed up for LawDepot affiliate program and created an account. You can access your LawDepot affiliate account using this URL: https://www.lawdepot.com/affiliate/account.aspx.
You can update your information on ACCOUNT tab.
You can get marketing material like affiliate links and banners on LINKS & BANNERS tab.
In order to get text links choose the Category & Contract. Category means region, and Contract means the type of document.
Click on the VIEW LINKS button.
Whenever you change Category or Contract from the dropdown menu, again click on the VIEW LINKS button.
Click on the GET URL to get  your affiliate link for a form or contract.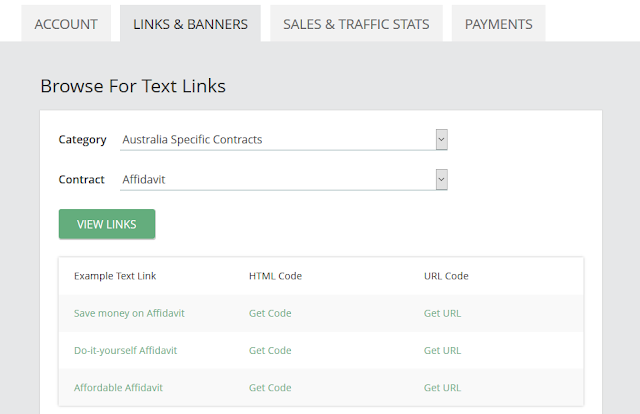 To get banners scroll down to Browse For Banners section.
Choose Theme & Size of banners.
Click on the VIEW BANNERS button.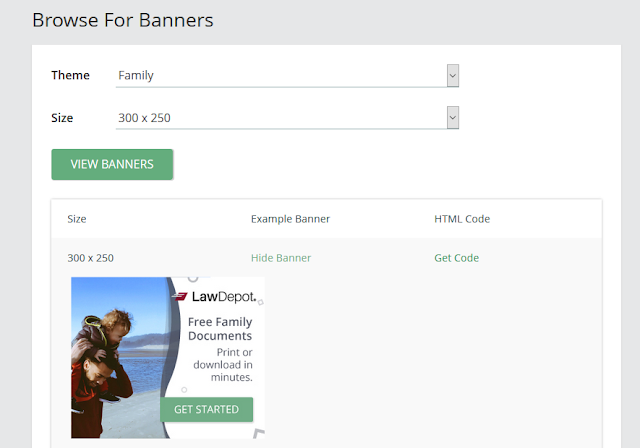 To know about sales and traffic statistics click on the SALES & TRAFFIC STATS tab.
To know about your earnings and payment details click on the PAYMENTS tab.
If this post helps you, don't forget to share this post with others. Share your feedback in the comments section below.
Also Read