(Last Updated On: June 8, 2022)
Are you looking for the best web hosting affiliate program, you are in the right place. We have picked HostGator affiliate program that pays one of the best commissions in the market. You can earn healthy commissions by selling hosting plans from any PART OF THE WORLD.
Today hundred of thousands of affiliates are earning money from this affiliate program and it is absolutely free to join. It is different from other web hosting affiliate programs in a sense that its commission rates vary from sales to sales.
If you make more sales your commission rate will also be increased. For example normal commission rate for making 1 to 5 sales per month is $65. If you make 11 to 20 sales per month your commission rate will be $100. We have explained the commission structure below.
HostGator affiliate program is powered by Impact Radius. Impact Radius is one of the top ranked and trusted platforms for affiliate programs, so you don't need to worry about whether HostGator affiliate program is legitimate or not.
In this post we will cover following topics:
How HostGator Affiliate Program Works
HostGator Commission Rates
HostGator Commission Payout Terms
How To Sign-Up For HostGator Affiliate Program
HostGator Payment Methods
Configure HostGator Payment Methods
How To Use Marketing Material(Banners, Coupons, Links )
How To Create Custom Link
How It Works
There are 3 steps:
1. Sign-up
The first step is to sign-up for Hostgator affiliate program. It is free to join.
2. Share Your Affiliate Links
Once you signup and your application is approved it is time to share different web hosting plans like Shared web hosting, WordPress hosting, Reseller hosting, VPS Hosting & Dedicated hosting via your Affiliate Links to people. You can use your custom coupon code and dozens of banners to refer your clients.
3. Earn Commission
Once a visitor uses your affiliate link or coupon code to make a valid purchase, you'll earn a commission.
Commission Rates
Using HostGator tracking links and coupon codes if you acquire new signups for HostGator services, you can receive commissions up to $125.  Here is the commission structure:
For 1 to 5 sales per month you commission rate will be $65. Let's say you make 4 sales in a month, your commission will be $64 X 4 =  $260.
For 6 to 10 sales per month your commission rate will be $75. Let's say you make 10 sales in a month, your commission will be $75 X 10 = $750.
For 11 to 20 sales per month your commission rate will be $100. Let's say you make 16 sales in a month, your commission will be $100 X 16 = $1600.
For more than 21 sales per month your commission rate will be $125. Let's say you make 34 sales in a month, your commission will be $125 X 34 = $4250.
Commission Payout Terms
The payout turnaround for qualified sales is 2 months + 10 days after the month the sale occurred in. It is actually the cookie time. It means a visitor clicks your link, visits HostGator website, but does not buy and leaves website. So now, if he later visits the HostGator website again within 2 months period and buys hosting you will get your commission.
How To Sign Up For HostGator Affiliate Program?
It is pretty simple and straight forward to sign up for HostGator affiliate program.
Go to official site of HostGator.
At bottom of the page click Become An Affiliate.
Click Sign Up Free! button.
Choose Language.
Enter Account Display Name.
Enter your website URL.
Choose your country.
Choose you Bank Location Country.
Choose Currency.
Choose your Timezone.
Enter your Address.
Enter you City name.
Enter your city's Zip or Postal Code. If you don't know postal code, search on Google.
Choose your country and enter your phone number.
Click Continue.
Enter Media Partner Information.
Enter the Description about your blog or website.
Choose your Primary Promotional Method. It means how you promote the products on your blog.
If you use any other promotional method select that as well.
Enter and choose Media Properties.
Choose Property Type
Enter Property Name
Enter the URL of your blog or website.
Enter the Description about your blog or website.
Enter your personal information.
Select New User.
Enter you First Name, Last Name, Email Address and Password.
Click Continue.
Step 4: Tax will be automatically skipped if  the Tax is not applicable on your country.
Read and accept the commercial Terms of this program.
Scroll down to the bottom of commercial terms.
Enter the captcha.
Click, "I read and agree to terms and submit application" button.
It will send you a verification email.
Open your mail and check whether verification email is received or not.
If Email is not received, click Resend validation Email otherwise close this page.
In your mail, open the verification email and click Validate Email Address button.
You will be redirected to Congratulations page.
Click the link, "Click here to login to your HostGator.com Account."
Enter your Username and Password.
Click SIGN IN button.
As you will be signed in, you will be presented with HostGator contract.
Scroll down to the bottom and click, "I approve the contract and want to continue" button.
You will be redirected to the Thank you page.
They will take 2 to 3 days for review your application.
Whether it is accepted or rejected you will receive an email.
You cannot apply again to HostGator affiliate program with the same blog or website once it is rejected.
Payment Methods
HostGator pays affiliate commissions via wire transfer, check or PayPal. It means that you can join this affiliate program from any part of the world.
Configure Your Payment Method
Once your application for affiliation with HostGator is accepted, you can configure your payment details.
Click Complete Withdrawal Settings at top section.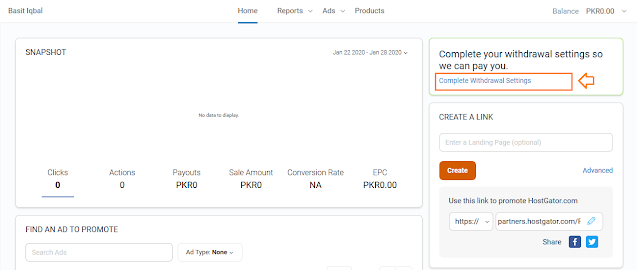 Configure Withdrawal Settings. It will suggest you payment method available in your country.
Electronic Funds Transfer means money will be sent to your bank account directly.
Enter your Account name in Beneficiary Account Name. It is written in uppercase letters.
Enter your IBAN. IBAN is your account number. IBAN is used for global transactions. Some letters and digits are added to your normal bank account. If you don't know your IBAN contact your bank or visit their website to generate IBAN for your account number.
Enter Swift Code of your bank. It's used to identify banks and financial institutions globally.
Edit Payment Settings
You can edit your withdraw settings and other settings as well.
Click three-vertical circles at left side under the cloud icon.
Click Settings.
 Scroll down and click Withdrawal Settings under FINANCE to Edit.
Click Save once you make changes.
How To Use Marketing Material
Impact Radius Dashboard is pretty simple to use. When you will login you will get most of the things in your homepage.
There are 2 places from where you can get the HTML code for banners. One from your Home page just below the graph. Click "Get code" to get the HTML code of the banner. Your affiliate link will already be present in the HTML code. Paste the code in your blog widgets.
The second way is: Click "Ads", Click "Ads & Links". All the banners will be listed there.
You can get your default HostGator affiliate link from your right, just below the "Create" button under the line that says "Use this link to promote HostGator.com". Click that link to copy.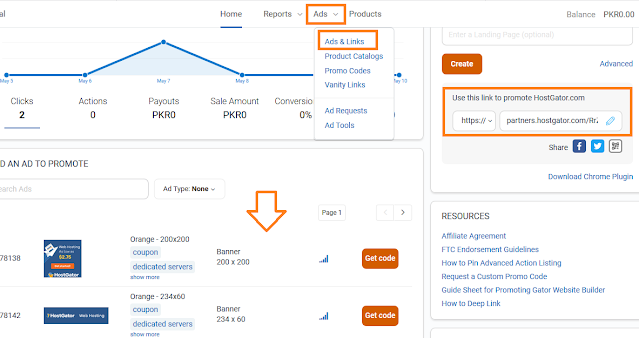 To request a Discount Coupon click Ads.
Click Promo Codes.

Click "Request Promo Code".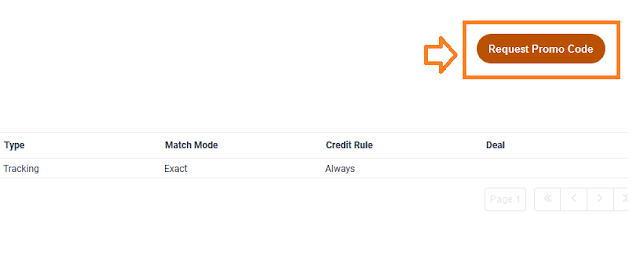 Choose Campaign.
Choose Deal.
Enter a Coupon.
Choose date.
Click "Submit" at bottom. Once your Coupon is approved it will be list in Promo Codes.
This coupon will be automatically merged with your affiliate links and discounts will be added, but you can mention separately to your visitors to enter the coupon to get discount.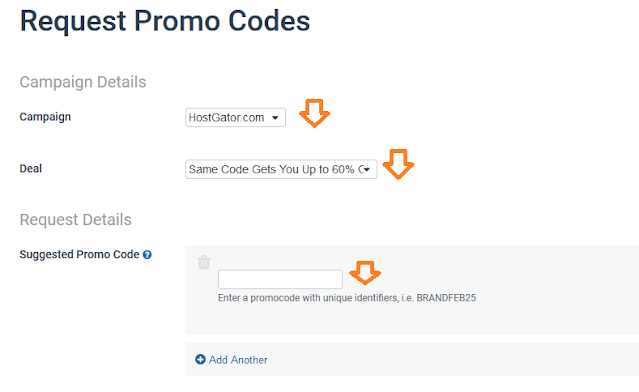 How To Create Custom Link
With you default HostGator affiliate link your visitors will be redirected to HostGator homepage. If you want to redirect your visitors to a specific landing page then you need to create a Custom link for you.
Lets say you want to create a custom link for HostGator WordPress-hosting landing page, this is how you can do:
Open HostGator website and Copy the link of your landing page, here we are copying WordPress hosting page.
We opened the WordPress hosting page and Copied the URL.
Go back to your HostGator affiliate dashboard.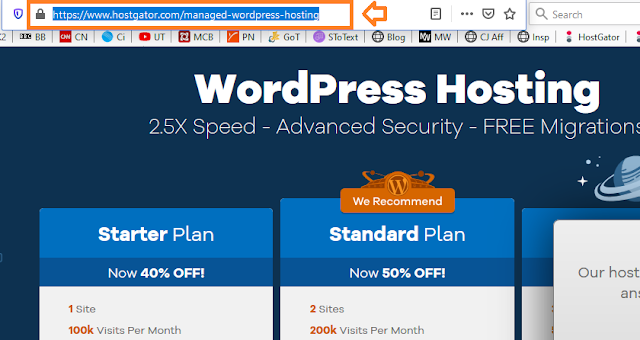 Now at your right under "CREATE A LINK" section click "Advanced".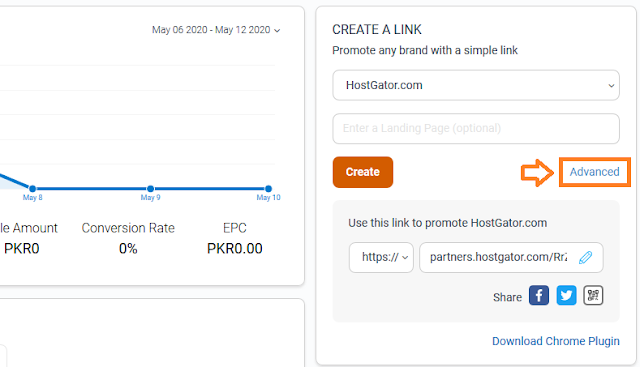 Now Paste your landing page link in the textbox where it is written "Enter a Landing Page (optional)".
Now you have Sub ID options, Here we have entered only one Sub ID. You can name anything to Sub ID.
Now click "Create".
Your Custom link will be generated below under the line that says "Use this link to promote HostGator.com".
Copy the link and Paste where you want to share. Similarly you can create custom links for all the pages.
The benefit of redirecting your visitors to landing page is that it increases the conversion rate. Landing pages are specially made to convince the visitors to buy products.
Remember that the custom link will disappear from this place when you refresh or Sign-in again, but it is stored somewhere else. You can create a custom link for same page again.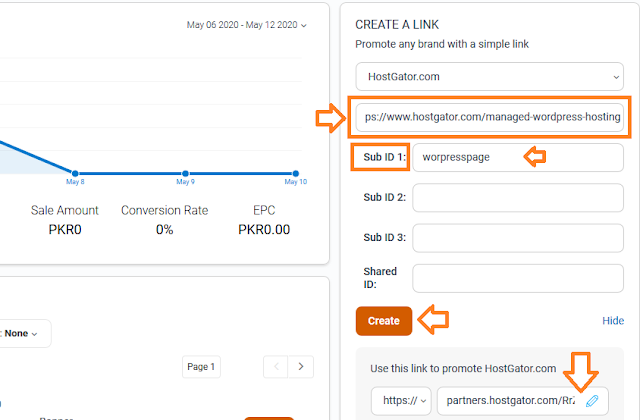 If you like this post then don't forget to share with the other people. Share your feedback in the comments section below. If you want to earn-online read our step-by-step tutorials on
Earn-Online.