Do you want to know how to sign up for SiteGround hosting affiliate program and make money? You're in the right place.
In this tutorial, I will guide you step-by-step on how to sign up for SiteGround hosting affiliate program, how it works, and how much it pays (commission rates).
SiteGround is one of the leading web hosting providers in the world particularly ideal for hosting WordPress sites. The quality of service has always been the recognition of SiteGround. More than 60,000 affiliates are partnered with the SiteGround affiliate program worldwide and making money from it.
The best part of this affiliate program is that once you signup you get a free complementary hosting for 1-month, so you can try the SiteGround services and write genuine reviews about it because genuine reviews produce the best results.
Following topics will be covered in this post:
SiteGround Affiliate Program Payment methods
How SiteGround Affiliate Program Works
Commission Rates
Tools for Affiliate Success
How to Signup for SiteGround Affiliate Program
01. SiteGround Affiliate Program Payment Methods
SiteGround offers PayPal as the primary payment method.
Can You Still Join SiteGround Affiliate Program If You Don't Have A Verified PayPal Account?
Yes, you can still join SiteGround affiliate program even you don't have a verified PayPal account. You can request the SiteGround Affiliate Support to pay you via some other payment method like Wire Transfer. But remember one thing, You Need a PayPal Email ID during SiteGround Affiliate Program sign up. If you don't provide the PayPal email You Won't Be Able to Submit the application.
The solution is to create a PayPal account and enter the PayPal Email ID during the Signup. Even if PayPal is not available in your country you can still create a PayPal account, but it won't be verified. For example, PayPal is not available in Pakistan, but you can create a PayPal account from Pakistan.
Create a PayPal account just for the sake of Signup process and later request the SiteGround Affiliate Support to pay you via some other payment method because PayPal is not supported in your country.
RELATED
02. How SiteGround Affiliate Program Works
Like any other affiliate program the SiteGround affiliate program also works in three steps:
Step 1: Sign Up
First step is to sign up for SiteGround affiliate program. Fill the sign up form and submit it to SiteGround.
Step 2: Promote
Promote SiteGround hosting plans via your blog posts, banners, social media, etc, to produce sales. If someone clicks your affiliate link and buys a web-hosting plan or domain you will get commission for it.
Step 3: Get Paid
Get your earnings or commissions weekly, even if you only made one sale. You can also choose to place a threshold on the payments and get your commissions paid out in bulk.
SiteGround has a short withhold period of 30 days after the sale is made. The withhold period is the length of its money-back period. Once it verifies that the sale is valid, you will get your commission.
Payments are sent via PayPal & Wire. In order to receive payments via Wire method your balance must be at least $5,000.
03. SiteGround Affiliate Program Commissions Rates
Below are the commission rates of SiteGround affiliate program.
For producing 1 to 5 sales per month you will earn $50 per sale.
For Producing 6 to 10 sales per month you will earn $75 per sale.
For Producing 11 to 20 sales per month you will earn $100 per sale.
For producing more than 21 sales per month you will earn custom commissions.
04. Tools For Affiliate Success
SiteGround provides various tools to help affiliates to produce more sales because the success of affiliates is ultimately the success of SiteGround.
Attractive Visuals
SiteGround provides you with very appealing promotional banners with popular sizes that could easily fit to various positions in your website. You can also request banners of custom size that are not available in the SiteGround's banners list.
60-Days Cookie Duration
SiteGround has a very reliable in-house tracking system that stores a cookie for the visitor for as long as 60 days. If a sale is produced within 60 days you will earn your commission.
Complementary Hosting
Once you signup for SiteGround affiliate program you can activate 1-month free GoGeek hosting plan. The GoGeek package has the full range of services that SiteGround offers. You can try yourself SiteGround and share your feedback with the visitors.
Campaign Tools
SiteGround provides you with tools that allow you to create separate campaigns for the different marketing initiatives that you start. For example, you can track the performance of two different promotional pages on your site and see which one converts better.
Custom Landing Pages
A custom page is a webpage specifically made for advertising and marketing campaign. Affiliates who are actively referring can have a custom landing page created by SiteGround designers to help them convert their traffic even better. The more clients you refer, the more important your conversion rates become. A custom landing page with content specific to your referrals may help boost your conversions.
05. How To Signup For SiteGround Affiliate Program
In this section, I will guide you on how to sign up for Site Ground affiliate program.
Go to SiteGround Affiliate Page.
Click on the JOIN NOW button. It will redirect you to sign up form.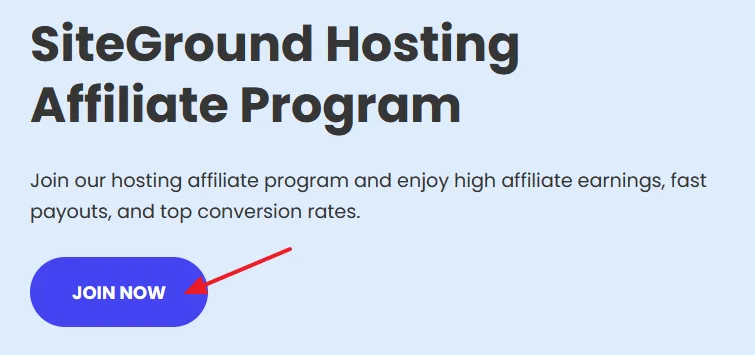 Fill the Contact Information
Enter your First Name, Last Name, and Address.
Choose your Country, State/Province. If you are outside USA or Canada choose "Outside USA and Canada".
Enter your City, Zip Code of your City, and Phone Number.
Enter your Email Address and a secure Password for it.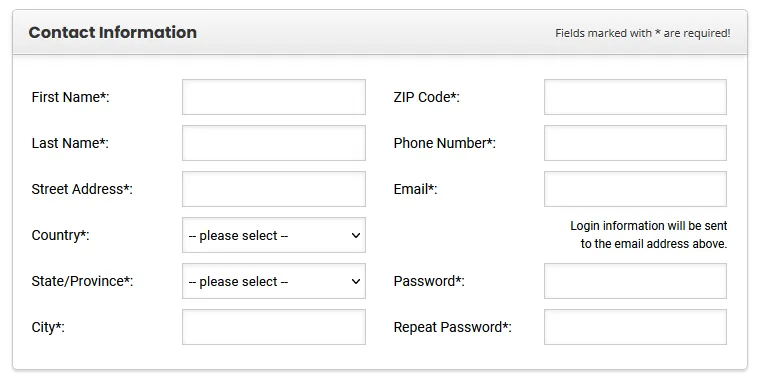 Fill The Payout Information
Choose Entity Type. Entity Type may differ from country to country like if you choose USA above you will see lot of options, but when you choose some other country you will see two or three options. Choose whether you are a company, individual, professional, freelancer, etc.
Enter your Tax ID. If you don't have a Tax ID, enter your Date of Birth in this format: MM-DD-YYYY.
Enter your PayPal Email.

Affiliate Profile Information
Enter your Website URL.
Choose Affiliate Profile. It means What You Do, like "I run a podcast", "I run a blog", etc. If your relevant profile is not listed choose the "Other" option from the list and enter your affiliate profile.
Choose your Promo Methods. Choose all options that you use to promote products or services like "Write content", "Email marketing", "Social media", etc.
Check, "I agree to the Affiliate Program Terms of Service and the Privacy Policy".
Click on the Submit button.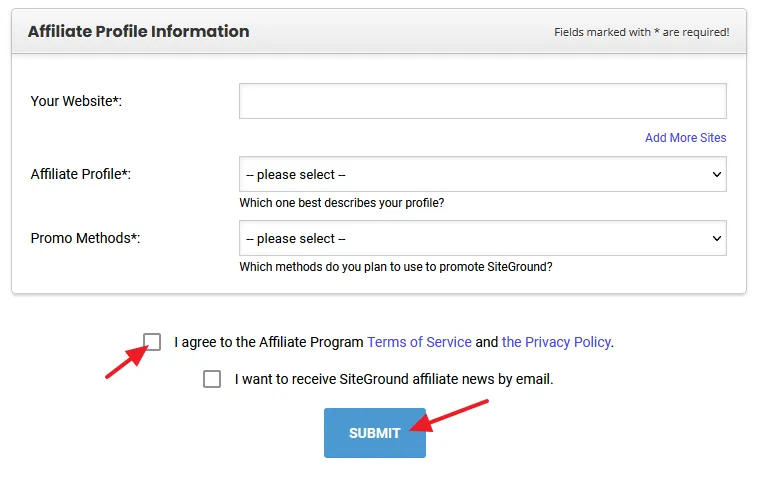 You have successfully signed up for SiteGround affiliate program. You will get a message that your application will be reviewed and they will get back to you within a week. So do check your email from time to time. You can login here: SiteGround affiliate account, once your application is approved.

If you like this post then don't forget to share with other people. Share your feedback in the comments section below.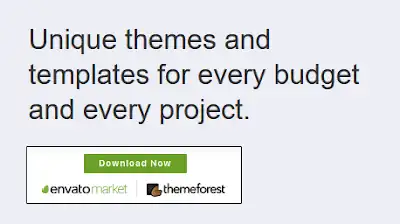 Also Read