Are you a content creator, consultant, or an educator from IT world, and looking for the best RMM (Remote Monitoring & Management) affiliate program to make money online? You're in the right place.
The Atera affiliate program is one of the best and highest paying RMM affiliate programs in the B2B industry that pays $45 USD to $1300 USD per paid subscription. It supports following promo methods: Loyalty/Rewards, Network, Social Influencer, Articles, Reviews, Cross Audience Monetization.
What is RMM Software? RMM software allows IT professionals to remotely manage clients devices, like desktop, servers, mobiles, and other hardware.
Atera is one of the leading all-in-one RMM and PSA (Professional Services Automation) platform that offers RMM Software, Remote Access, IT Automation, Patch Management, Scripting, Ticketing, and Reporting. Its offices are located in the Israel (Tel Aviv), North America (New York), and Europe (Netherlands). You can find more about products, features and pricing on Atera Website.
Serviceable Areas
You can join Atera affiliate program from any part of the world. Its serviceable areas are limited to Canada, France, Australia, United Kingdom, Germany, and United States. It means that your target audience/users for promoting Atera should reside in these countries.
How to Join Atera Affiliate Program
Like many other top affiliate programs, Atera affiliate program is also powered by Impact Radius, one of the leading free-to-join advertising networks. All your commissions, payments, conversions, affiliate links, coupons, promotional materials, are managed by Impact Radius.
If you have an Impact Radius account, just sign-In and apply to Atera affiliate program. Otherwise do a campaign promo sign-up to create Impact Radius account and apply to Atera affiliate program.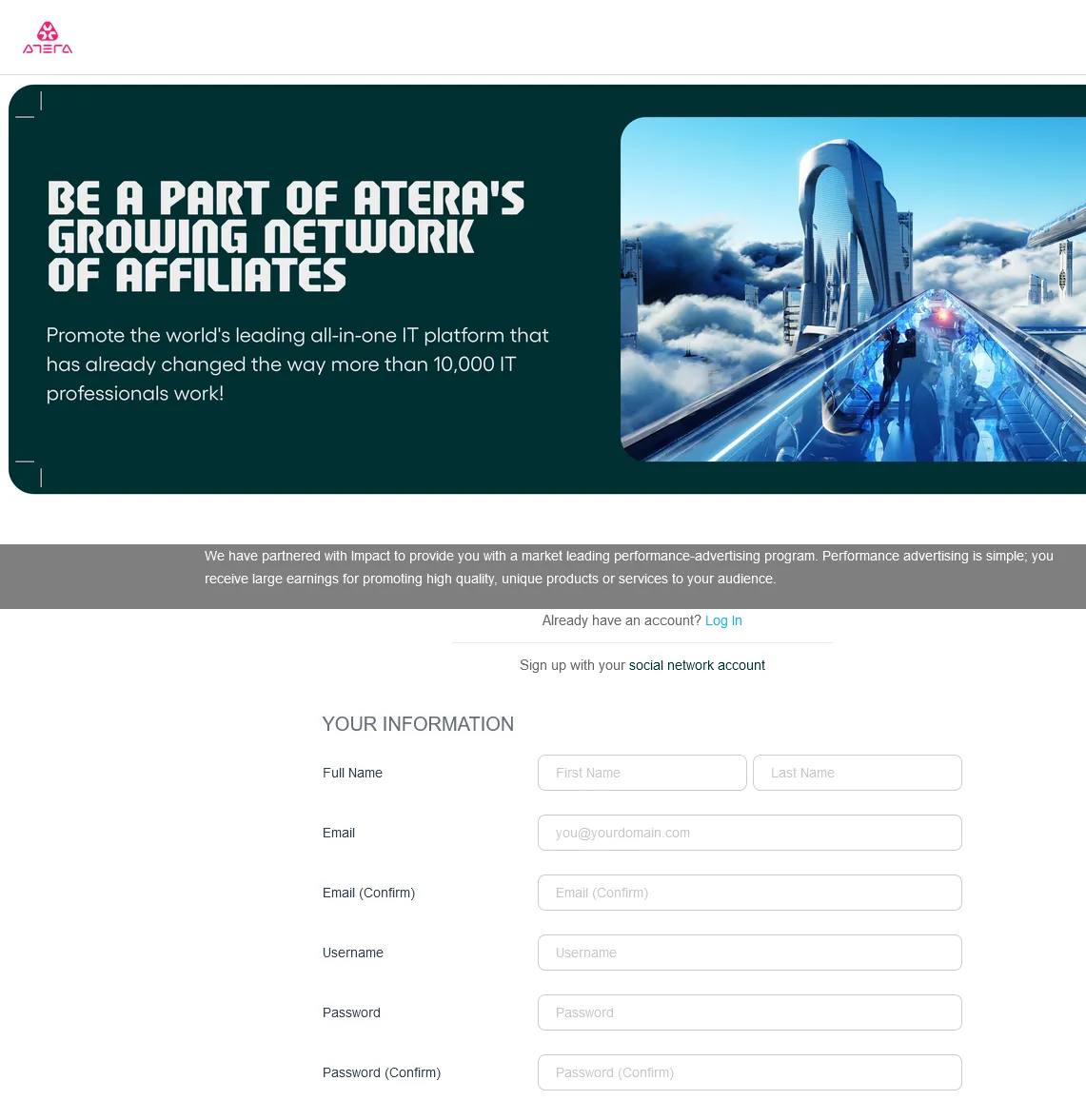 Commission Structure
Below is the commission structure for Atera affiliate program:
Free Trial: $0.00 USD – Cookie Period: 90 day(s)
Paid Subscription Monthly: $45 USD to $1,300 USD – Cookie Period: 30 day(s)
Paid Subscription Annually: $750 to $1,300 – Cookie Period: 30 day(s)
Upgrade: $400 USD to $700 USD – Cookie Period: 30 day(s)
Payment Methods
Impact Radius offers following payment methods:
Direct/Wire Transfer (Local Bank Account), BACS, and PayPal.
Minimum Payment Threshold is $10 USD.
Find more affiliate programs on Meer's World. If you like this post then don't forget to share with other people. Share your feedback in the comments section below.
Also Read