Do you want to know What is Routing Number in Payoneer, and How to find it? You're in the right place.
In this tutorial, I will guide you step-by-step on How to find Routing (ABA) Number in Payoneer account and What is its purpose.
Routing Number also known as ABA (American Bank Association) Number is a nine-digit code that is used to uniquely identify United States financial institutions (banks) in order to facilitate financial transactions.
One of the ways to get paid via Payoneer is through Receiving Accounts that are made for different currencies. In order to receive your payments/money in US dollars there is USA Receiving Account on which Payoneer creates a virtual bank account for you in the First Century Bank. The Routing (ABA) uniquely identifies the First Century Bank.
If you haven't already created a Payoneer account go through this tutorial:
How to Find Routing Number in Payoneer
Follow the steps to learn how to find the Routing Number in Payoneer for your USA Receiving Account:
Login to your Payoneer account.
Click the Get paid tab from the Sidebar.
Under the Receiving accounts section go to USA Receiving Account.
Click the View details link.
The details of your USA Receiving Account will be opened on a pop-up window.
Click the Copy icon located under the Routing (ABA) in order to copy the routing number of the First Century Bank.
You can also get other information related to your receiving account like Bank Name, Bank Address, Account Number, Account Type, and Beneficiary Name.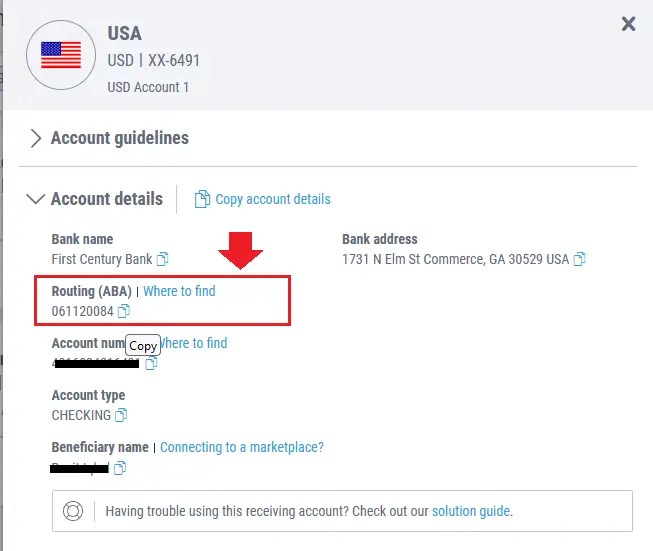 So it was all about finding a Routing (ABA) Number in Payoneer for your USA Receiving Account. If you like this post then don't forget to share with other people. Share your feedback in the comments section.
Don't Miss!
The world's largest selection of courses. Explore your interests and discover new possibilities. Starting as low as $12.99. Find Here.
Also Read