Do you want to build Bitcoin, & Ethereum crypto wallets with exchange on your website without coding skills? You're in the right place. The "Multi Currency Wallet" WordPress plugin allows you to build secure Bitcoin & Ethereum non-custodial wallets with exchange on your website.
WordPress is the most popular content management system, a robust free-tool to create and manage websites and blogs. According to an estimate 38% to 45% websites on the internet are powered by WordPress.
WordPress Plugins are programs made up of one or multiple functions that are installed in your WordPress website to enhance it with new features. The "Multi Currency Wallet" is one such example.
If you already have a WordPress website skip the Third Topic, and jump to the Last one.
In this article we will cover following topics:
Non-Custodial Wallets Vs Custodial Wallets
Features Of "Multi Currency Wallet" | Live Demo
How To Launch Your WordPress Website
How To Install & Configure "Multi Currency Wallet" In WordPress
Also Read:
Non-Custodial Wallets Vs Custodial Wallets
Since the "Multi Currency Wallet" supports a non-custodial wallet, so it is important to understand the basic difference between custodial and non-custodial wallets.
The non-custodial wallets give you a full control over your private keys and because of that you have a full control of your funds. There is no third-party(custodian) involved in controlling your private keys and securing your funds. You're responsible for not losing you private keys and you will have your precautions to protect your funds.
With custodial wallets a third-party controls your private keys. In other words you trust a third-party(custodian) to secure your funds. Mostly a custodian or third-party is a crypto exchange.
Features Of Multi Currency Wallet
Let's have a look on some of the important features of Multi Currency Wallet. Live Demo link is provided at the bottom of this section.
Multi Currency Wallet supports Bitcoin, and Ethereum(ERC20, BEP20) cryptocurrencies.
To protect the funds and transactions the Wallet is powered by 2fa authorization security levels such as SMS, Google Authentication and Multisig. Multisig(Multi-Signature) is a digital signature scheme for wallets that requires multiple signatures to execute a transaction.
Users have the option to choose their wallet's security level.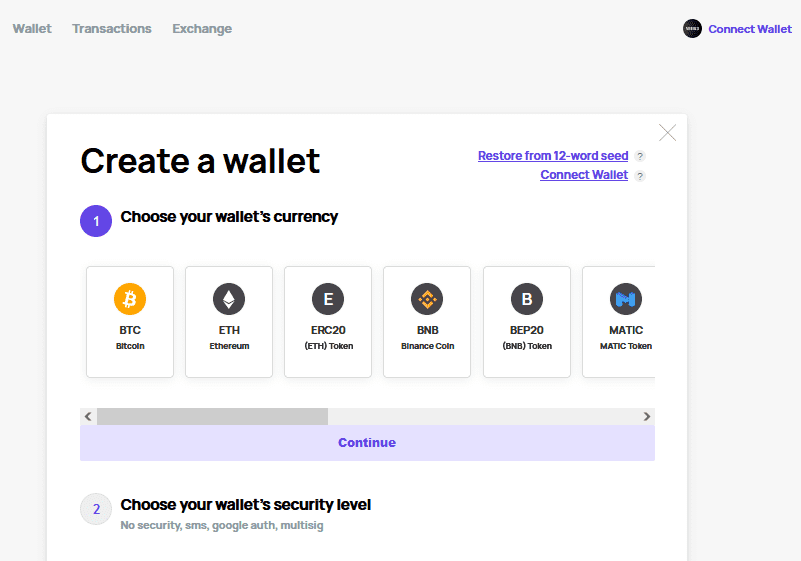 The plugin supports non-custodial wallets, which are considered more secure as compare to custodial wallets. Users can trade(store, send, receive cryptocurrencies) on the decentralized P2P exchange using atomic swap technology, without any registration or installation.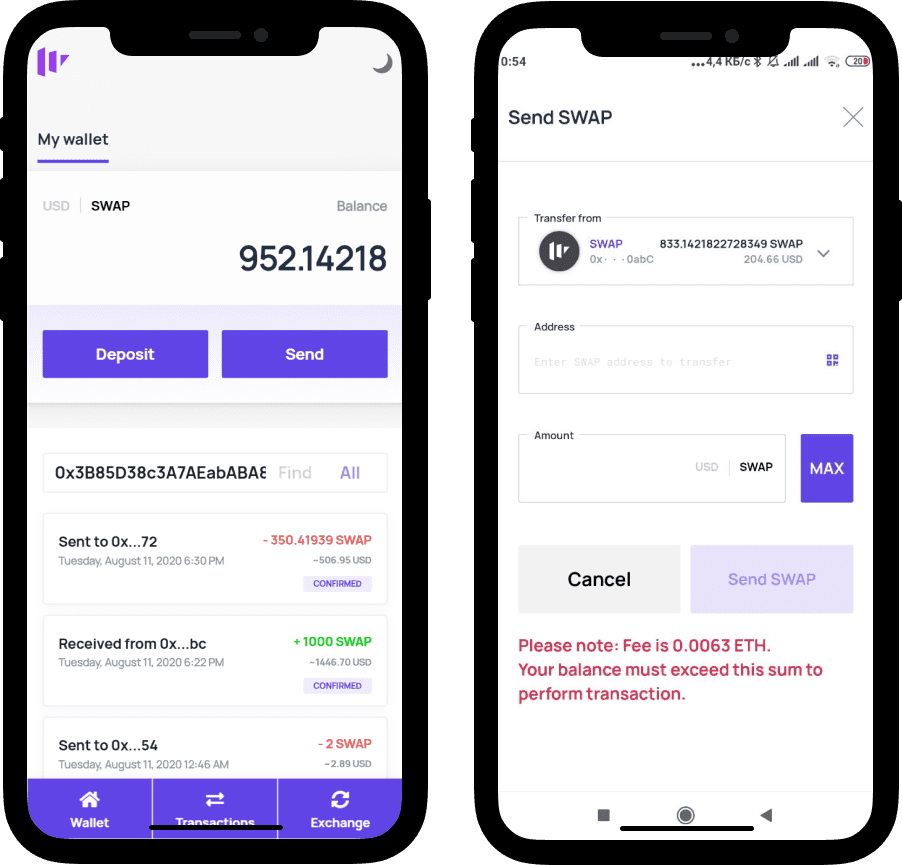 Atomic swaps facilitate a peer-to-peer (P2P) exchange of two cryptocurrencies on different blockchains by eliminating the role of centralized third-party entities or custodians. P2P(Peer-to-Peer) is the core of blockchains. It is a decentralized platform whereby two users/peers interact directly with each other, without a third party intermediary.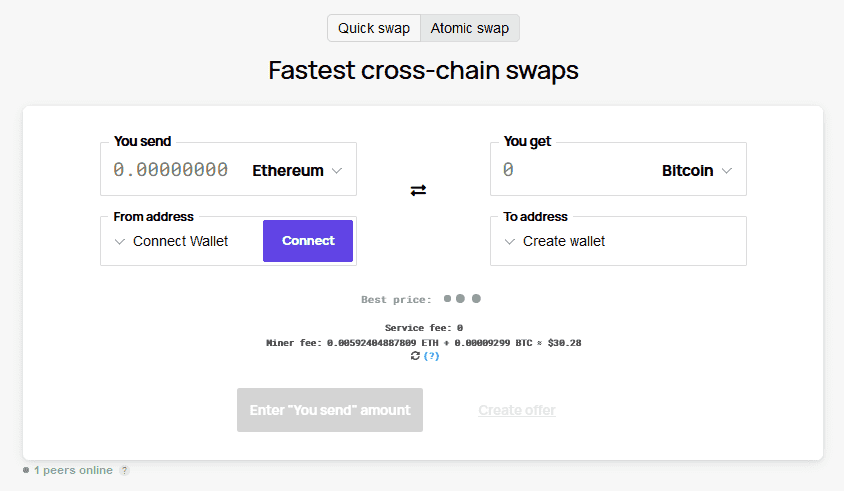 On cryptocurrency wallet users can deposit cryptocurrency and tokens. They can generate address, deposit, and send crypto using the interface on your website.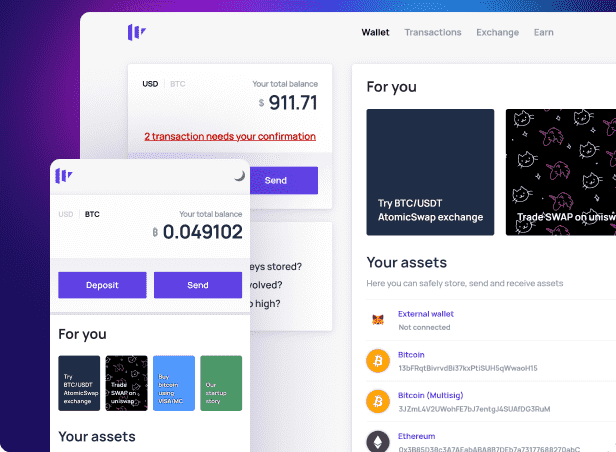 Visa/Master Card integration allows users to buy Bitcoin, Ethereum and USDT(Tether) using a credit card without sending any document. There is a 5% processing fee.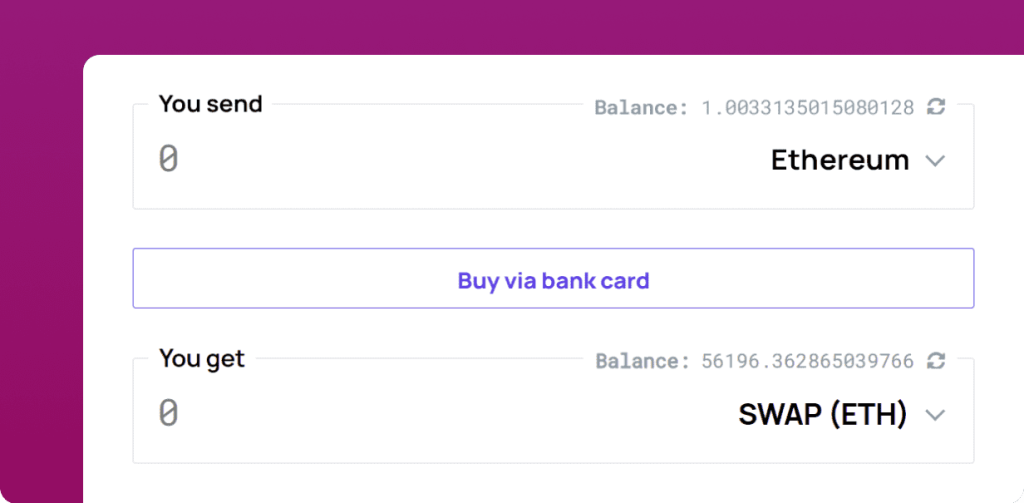 If you are an ERC20 owner you can create ERC20 wallet on your website and customize the list of available tokens in the list. ERC stands for Ethereum Request for Comment.
It also supports BEP-20, an extension of Ethereum's ERC-20. The BEP-20 is the token standard for the BSC(Binance Smart Chain).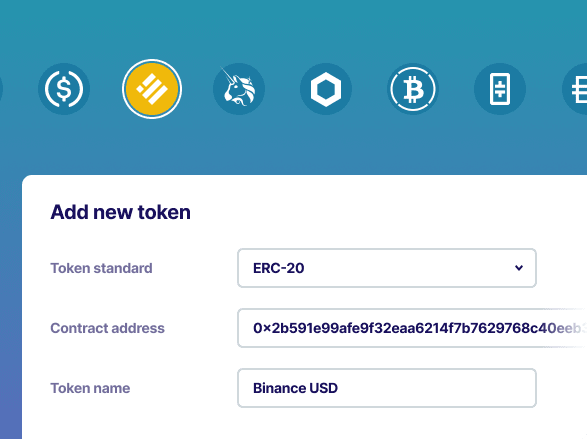 You can set and collect your commission by adding the Transaction Fees and Address. Transaction Fees is the percentage that you add for Bitcoin and Ethereum, and Address is your Bitcoin and Ethereum address where you will collect the transaction-fees/commission.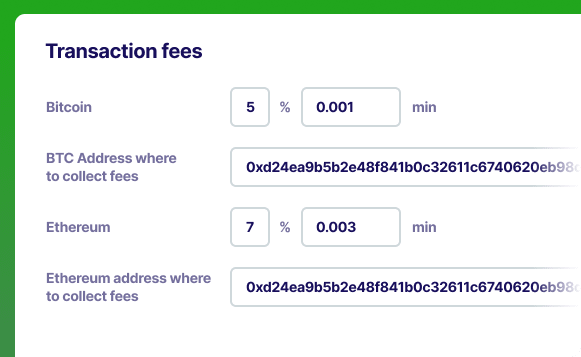 You can also customize the design of "Multi Currency Wallet" like changing logo, colors, banners, etc.
Explore More Features | Watch Live Demo
Launch Your WordPress Website
To install a WordPress plugin you must have WordPress installed in your web hosting. We have created a separate tutorial that covers each and everything about launching a new WordPress website from scratch, like:
What Is Domain & Web Hosting
How To Buy Domain & Web Hosting
How To Install WordPress
How To Install WordPress Theme
Important & Helpful Tutorials
Read This: How To Launch Your Own Professional Website Without Anyone's Help | WordPress
Install & Configure "Multi Currency Wallet" Plugin
Login to your WordPress admin.
Go to Plugins from your sidebar and click "Add New".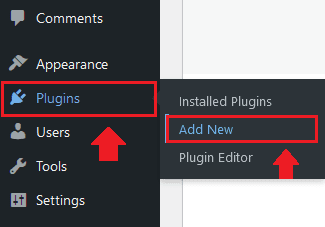 Click "Upload Plugin" button.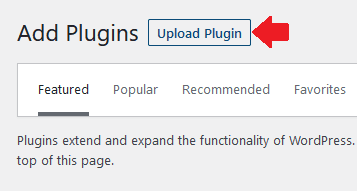 Click "Browse" to upload the zip file of "Multi Currency Wallet" plugin from your computer.

The "File Upload" window will popup. Select the Zip file from your computer and click "Open" button. The name of your zip will be something like "multi-currency wallet.zip" or "multi-currency wallet pro.zip". The name could be different as well.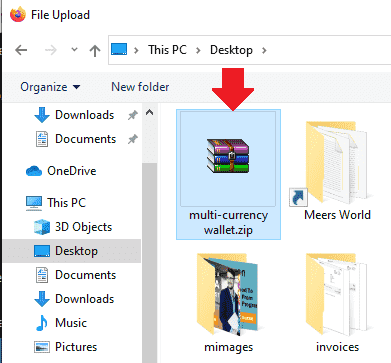 Click the "Install Now" button to begin the installation process.

Once the plugin is installed successfully, it will appear on your sidebar.
Click "MCWallet" to open the "Multi Currency Wallet" dashboard.
On "Token list" tab you can View and Add new tokens. A new token appears on the Token list.
You can watch the complete demo of admin panel here: Dashboard ‹ Multi Currency Wallet — WordPress. The downloaded package of "Multi Currency Wallet" contains the complete documentation about it. In addition you also get 6-month support from plugin developers. If you find any problem you can contact them.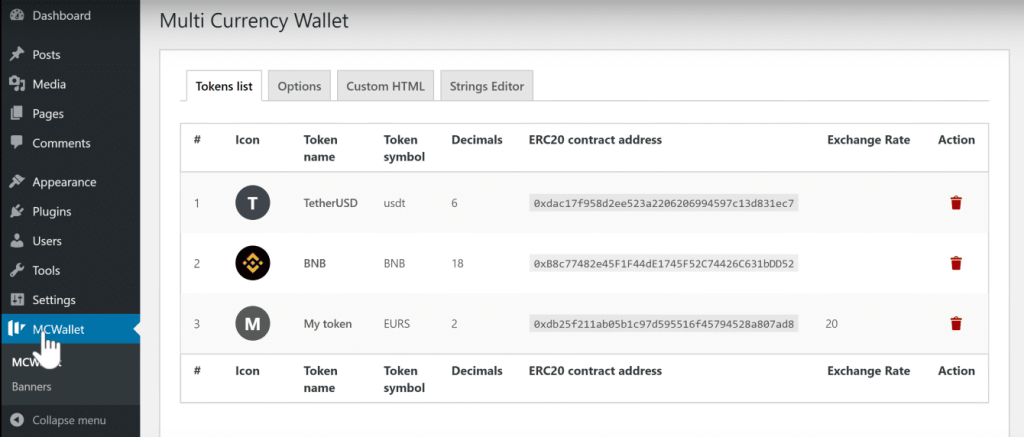 On the "Options" tab you can configure the settings of "Multi Currency Wallet".
To set the "Multi Currency Wallet" template as your homepage tick the "Use as home page".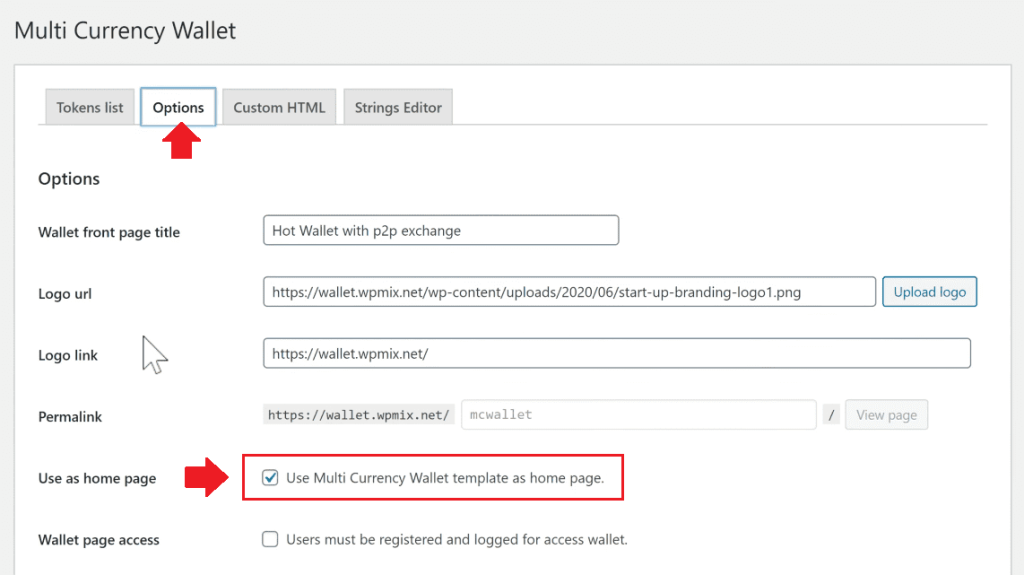 As you scroll down the Options page you will see the Transaction fees section. You can configure your fees/commission for Bitcoin and Ethereum.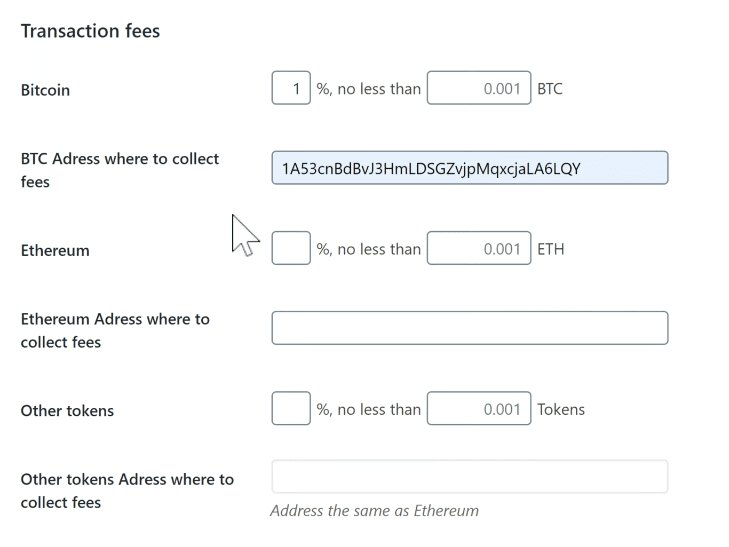 So it was all about building Bitcoin & Ethereum wallets with exchange on a website. If you like this post then don't forget to share with other people. Share your feedback in the comments section below.
Also Read: