Are you looking for the premium cryptocurrency WordPress plugins? You're in the right place. We have handpicked one of the best and most feature-rich cryptocurrency plugins for your WordPress website. Each plugin contains beautifully-designed advanced cryptocurrency widgets.
Crypto is kind of a business where you have to remain up-to-date with its trends, and that's why people look for real-time cryptocurrency price change, comparison charts, currency exchange rates, market cap, lists, price cards, advanced tables, comparisons etc, on websites and mobile apps.
By considering people's deep interest and demand for cryptocurrency these WordPress plugins have been developed and designed in a way that they can literally show everything about the top cryptocurrencies such as Bitcoin, Ripple, Ethereum, Litecoin, Doge, Monero, Cardano, Polkadot, Stellar, Binance Coin, etc.
Here is the list of our handpicked premium cryptocurrency WordPress plugins with brief reviews and live demo links.
01. Cryptocurrency Widgets Pro
Cryptocurrency Widget Pro is one of the leading cryptocurrency plugins in the market, uses third-party crypto APIs to show the latest prices, by importing the data from top crypto exchanges. It supports 4000+ crypto coins and 20+ widgets. Using the shortcodes you can display the widgets anywhere in your website.
Crypto Price Ticker widget displays live price changes and 7D small charts in different ticker styles. You can add the ticker on your header and footer sections. You can adjust colors, style, position, ticker speed and manually select coins to display.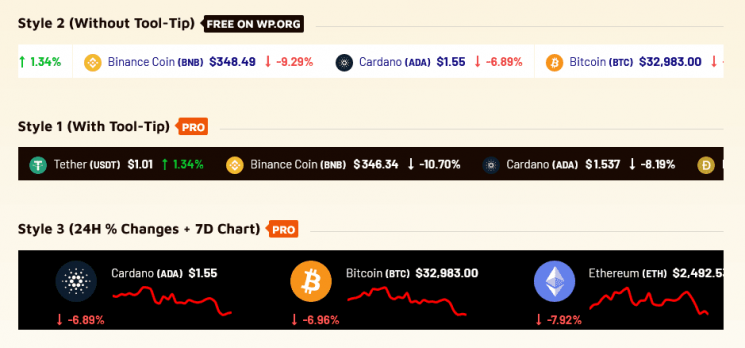 Crypto Multi-Currency Tab widget allows you to display fiat currencies in different tabs. You can display prices in 20+ fiat currencies  CAD, CZK, DKK, EUR, USD, AUD, BRL, etc.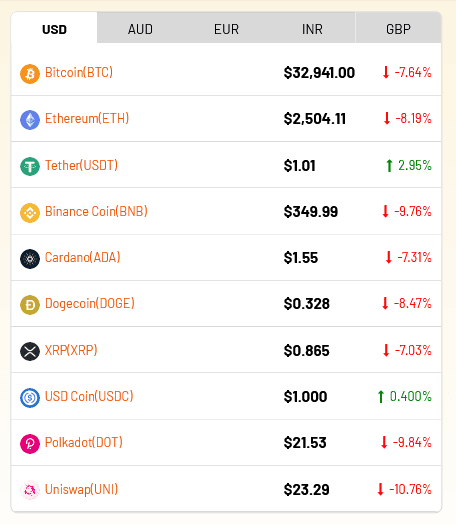 The Coins Price Lists Widgets allows you to display simple price list of different crypto coins in 5 different styles. It shows Name, Price, Supply, 24H %, Volume and Market Cap.

The Advanced Coin Table allows you to sort crypto coins via price or percentage change.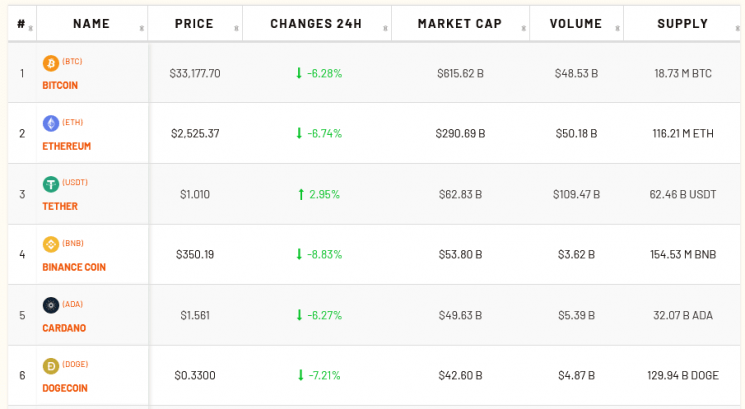 The Price Cards Widgets allow you to display live prices and changes in 6 different styles.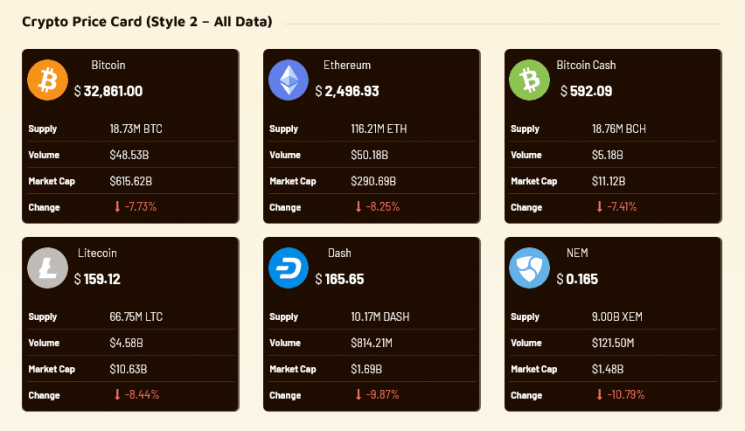 The Coins Historical Price Charts allow you to display the historical price chart of 1 year for any crypto coin on your website.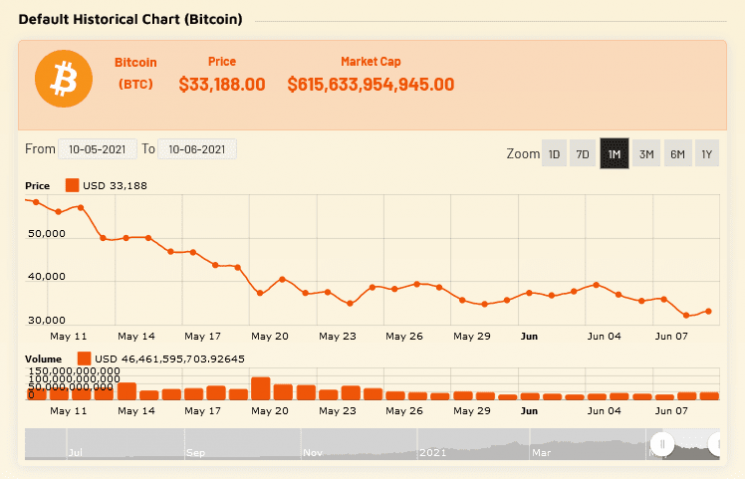 Apart from these widgets there are plenty of other widgets such as Price Labels, Slider, Price Blocks, Crypto Calculator, Accordion, Binance, News Feed, etc. You can find them on live demo page.
02. Massive Cryptocurrency Widgets
The Massive Cryptocurrency Widgets is also an advanced and popular WordPress plugin for crypto related websites, supports 12 widgets such as Tickers, Tables, Charts, Lists, Cards, Labels, Box, Text, Converter, News, Multi-Currency and Changelly.
This is the Crypto Widget Settings in the Admin Section. You can add widget by choosing the Type, Coin and Chart Type.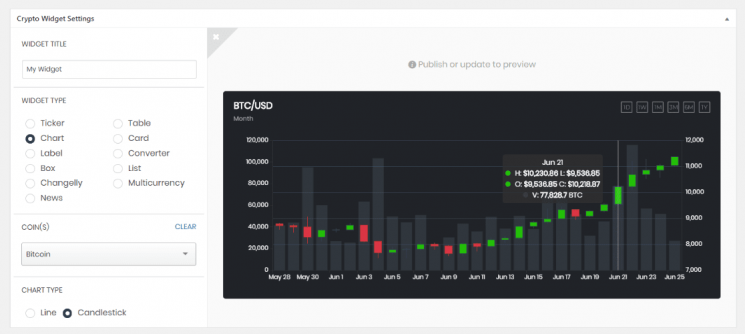 The Changelly widgets allow you to add payment widget for visitors/customers to purchase directly from your website. You can also earn through affiliate program.

These are the beautifully-designed different ticker styles that you can display on your website.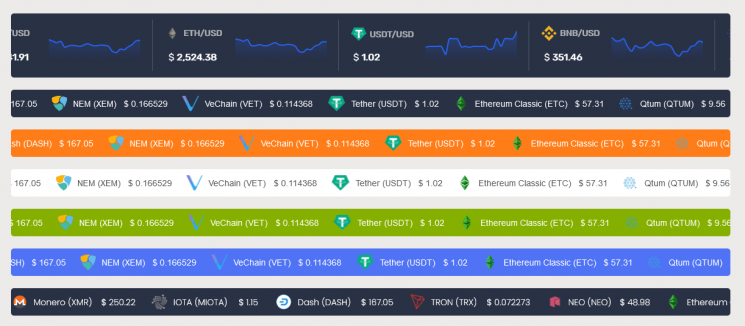 This is one of the modern looking Table with inline charts. It displays list of coins with prices, market cap, volume, supply, change and last 24 hrs. The coin detail pages can also be linked to this table easily.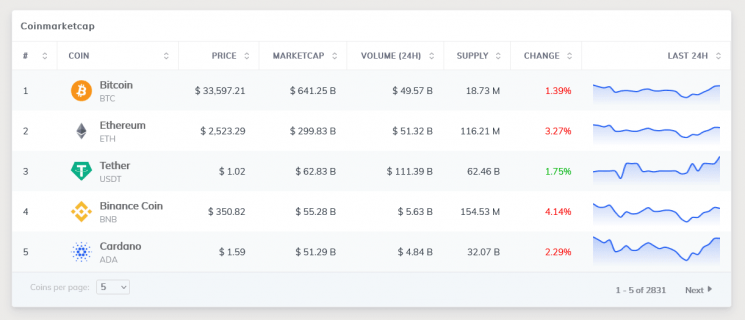 You can find the features and demos of other widgets on live demo page.
03. Premium Cryptocurrency Widgets
Premium Cryptocurrency Widgets is a feature-rich and most powerful WordPress plugin, supports 5000+ currencies and tokens. It gets real-time price updates from 90+ cryptocurrency exchanges by making direct connection to API Servers.
It contains 25+ stylishly-designed cryptocurrency widgets such as Info, Button, Label, Card, Table, Table Trades, Table Wallets, Rankings, Portfolio, Accordion, Doughnut, Comparison, Leaderboard, Ticker, Odometer, Treemap and many more..
The Button Crypto widget allows you to create call-to-action links with embedded crypto codes and custom text. Here you can see some button styles.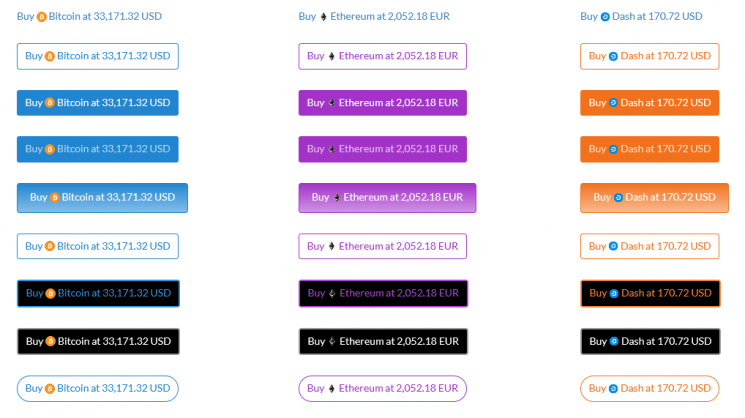 The Card Crypto widgets allow you to display live data of individual cryptocurrencies in different styles. Some Card styles display chart as well. There are total 18 Card styles.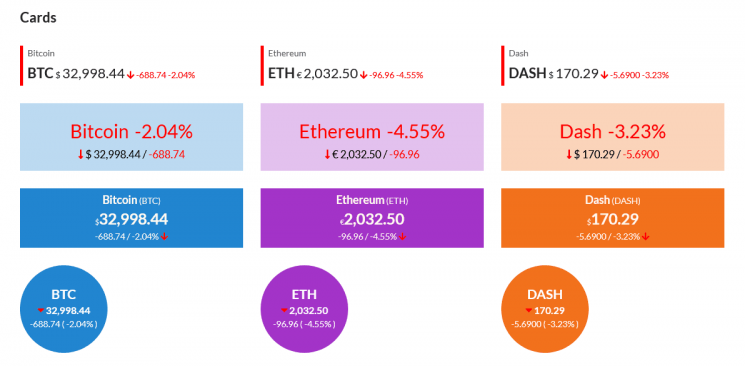 The Table Wallets Crypto widget allows you to show the list of existing cryptocurrency wallets. It displays Name, Security, Anonymity, Validation Type, Platforms and Supported Coins.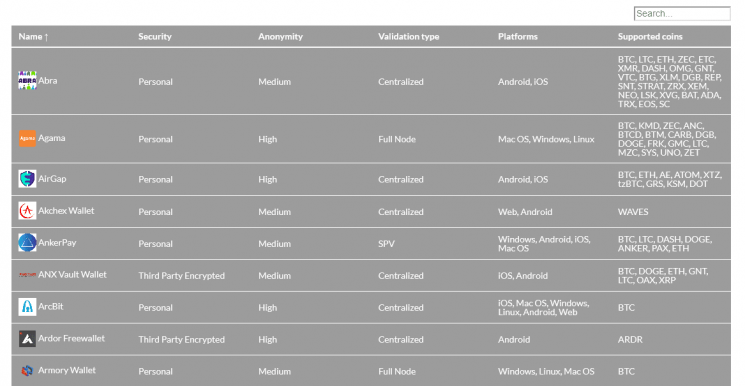 The Table Mining Pools Crypto widgets allow you to display list of existing cryptocurrency mining pools. It shows Name of the Pool, Server Locations, Average Fee and Supported Coins.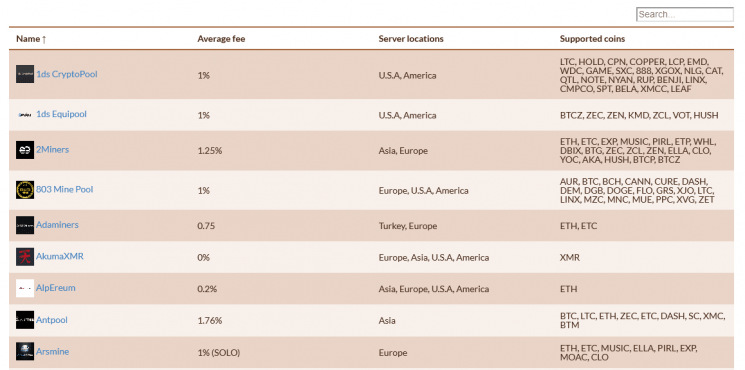 The Portfolio Crypto Widget allows customers to better understand the current value of cryptocurrencies. While setting up the widget you can mention how many crypto coins you purchased and at what price, the plugin will automatically calculates values, historical data and price change for you.
If you enable customization option customers can modify values such as quantities, purchase price, etc, and create their own unique portfolio. This widget has 4 different styles.

The Accordion Crypto Widget allows you to show list of currencies. When customers expand dropdown list of the cryptocurrency it shows more info.
This widget also saves space on your website.Here you can see that we have expanded the Bitcoin dropdown list of the middle widget, it shows a very useful information. This widget has 5 different styles.

You can find the demos and features of other widgets on live demo page.
Conclusion
So these were some of the most advanced and premium WordPress plugins for cryptocurrency related projects. These widgets can provide amazing user-experience to website visitors without effecting the performance of your website.
If you like this post then don't forget to share with other people. Share your feedback in the comments section below.