How To
How To Install Windows 10 From USB Flash Drive For Beginners – Step By Step
(Last Updated On: March 24, 2023)
Are looking for the step-by-step installation of Windows 10 from your flash/USB drive on both old or new computer? You are in the right place. We will guide you step-by-step to How to do clean installation of Windows 10 from bootable USB flash drive and then How to activate Windows 10 without license key.
It does not matter whether you are an IT professional or beginner, this tutorial is made for everyone. We have thoroughly covered each and every step of Windows 10 installation for you.
There are two reasons why we use flash drive to install Windows 10. One, if you don't have an optical drive or your optical drive is not working and Second, installing Windows 10 from flash drive is fast and your computer/laptop remains cool during the installation.
There is another question regarding Windows 10 installation like Can you still install Windows 10 if you don't have the license key? The answer is, yes you can install Windows 10 without the license key. During the Windows 10 activation step simply click the link "I don't have a product key".
If you have already created a bootable USB drive for Windows 10 then jump to the Step 2.
We will cover following topics step-by-step:
Prepare USB Flash Drive For Installation
Change The Boot Order In BIOS
Clean Installation Of Windows 10
Note: If you have an old computer make sure to remember the size of the partition where you want to Install Windows. In practice we install Windows on C:/ partition. So make sure that you remember the size of your C:/ partition, because Windows installation does not show the partition name, it only shows the size. If you don't remember the size of your C:/ partition you can mistakenly format the other partition, where you could have data and a format will erase that data permanently.
Step 1: Prepare USB Flash Drive For Installation
Before you install Windows from USB drive it is important to make it bootable. Often people recommend third-party tools to make a bootable USB drive for Windows 10, but honestly, you don't need any third-party tool to make a USB drive bootable. It can be done without any third-party tool.
We have created a separate tutorial for preparing a USB drive for Windows 10 installation:
Step 2: Change The Boot Order In BIOS
BIOS is an acronym for Basic Input/Output System and also known as the System BIOS, ROM BIOS or PC BIOS) is firmware used to perform hardware initialization during the booting process (power-on startup), and to provide runtime services for operating systems and programs. There are various menus in BIOS, you can change the boot order in BIOS from Boot menu.
Follow These Steps:
Insert the Bootable USB flash drive into your computer.
Restart the computer and press one of these keys, ESC, F1, F2, F8, F10, F11 or F12 several times during the initial startup screen to enter into BIOS.
Note: Every manufacturer may have different key to enter into BIOS, for instance in Dell computers we press F2 repeatedly after a restart to enter into BIOS, so if you don't know how to access your computer BIOS, search on Google like, How to Access BIOS on "Your Computer's brand" like HP, DELL, Lenovo etc.
Once you enter into BIOS, use the arrow keys to go to Boot menu.
Use the arrow keys to select an option.
Read the instructions very carefully to change the boot priority order.
Move the USB drive to top, so when next time computer will start, it will boot from USB drive.
Here I have used '+' and '-' button to move the options up and down.
You can see that USB drive is at top.
Press F10 key to Save & Exit.
Press Enter on Yes.
Step 3: Install Windows 10
After step 2, when computer will be restart, you will see Windows Setup.
Choose your desired language, Time and currency format & Keyboard.
The standard is US for all of the three.
Click Next.
Click Install now button.
If you have a Windows activation key, enter here. If you don't have a Windows activation key click, "I don't have a product key.".
In the Step 4 you will learn how to activate Windows 10 free without any license key.
Choose the version of Windows 10. Most common version is Windows 10 Pro.
Click Next.
Tick, "I accept the license term".
Click Next.
Click, "Custom: Install Windows only (advanced).
For New Laptop/Computer/Hard Disk
If you see a single drive like, "Drive 0 Unallocated Space" it means it is new hard disk or it has no partitions.
Simply select the drive and click Next.
If you have a partitioned Hard disk, skip this step. Scroll down to below step.
If your Hard disk is not partitioned or New, read this tutorial after the installation of Windows 10.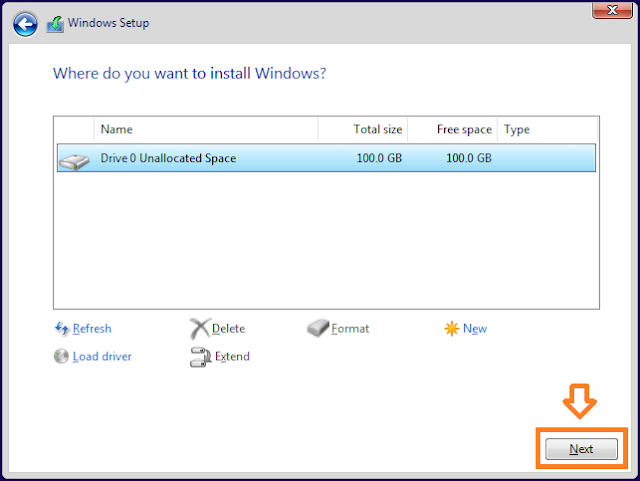 For Old Laptop/Computer/Hard Disk
Now here you can see there are two Primary partitions, where you can install Windows 10.
Make sure to select a partition where previously Windows was installed, because Format will erase the partition data.
Select the partition and click Format.
Now the partition is ready for installation.
Select the Formatted partition if it is not selected and click Next.
For better performance it is recommended that size of C:/ drive should be at least 100 GB. It is best if its size is 150 GB.
Now Windows will be installing on your computer.
This step will take some time, so be patient.
After the installation Windows will restart.
Now you don't need USB drive.
Quickly Remove Your USB Drive before it restarts. If you don't remove your USB drive it will again go to step 1 of installation.
In case if  you forget to remove the USB drive when computer restarts and you go to first step of installation, press the power button to turn off the computer and remove the USB drive. Turn On the computer again, it will continue to finish the installation.
After the Restart, you will see this screen.
If you get  this screen, click "Use Express Settings.".
Click Not now. Don't install Cortana.
We have skipped some steps like Date & Time configuration and Account Password setup. These are simple to do you can do it.
If you like this post then don't forget to share with people.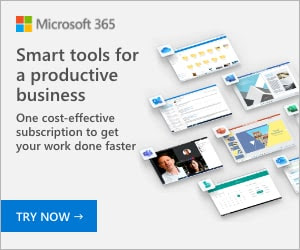 Some Useful Tutorials
Here  are some useful tutorials that will help you after performing a new installation.