Blogger
How To Add An Author On Blogger | Blogger Permissions For Authors
Initially most of the people start blogging as an individual, but later when it grows they hire different authors to earn more money or to contribute to their blog content. Though Blogger is a free blogging platform, but it gives you the privilege to add authors to your blog. On Blogger you can add more than 50 authors.
One may think before adding an author on Blogger like what permissions would have been given to an author by default or by adding an author to your blog you might be compromising with the security of your blog or when you remove an author, will his posts remain with your blog or not, etc.
So in this post we will cover following topics:
How to add an author on your Blogger blog(Legacy Blogger & New Blogger).
What permissions Blogger gives to an author.
How an author can remove himself from someones blog on Blogger.
Follow this process. It will help you to understand easily. Legacy Blogger means old Blogger. Since Blogger has been updated to New Blogger, so we have shown how to invite an author in New Blogger as well.
Blog Owner/Administrator(Legacy Blogger)

Click Settings.
Click Basic.
In a Permissions section, click Add authors.
On the textbox enter the email of a person(author) that you want to add.
Click Invite authors.

Blog Owner/Administrator(New Blogger)
Click Settings.
Scroll down to "Permissions" section.
Click "Invite more authors".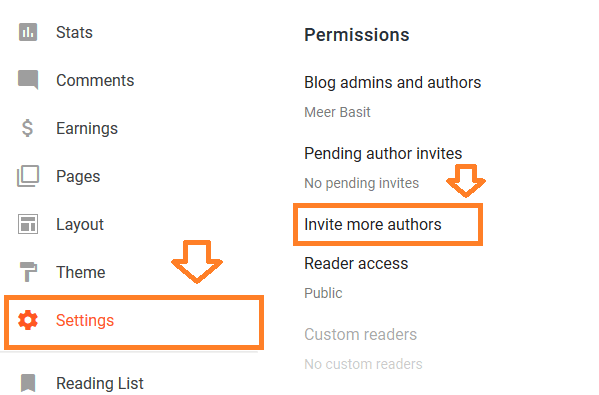 Enter the email of a person that you want to invite. You can invite more than one author at a time.
Click SEND.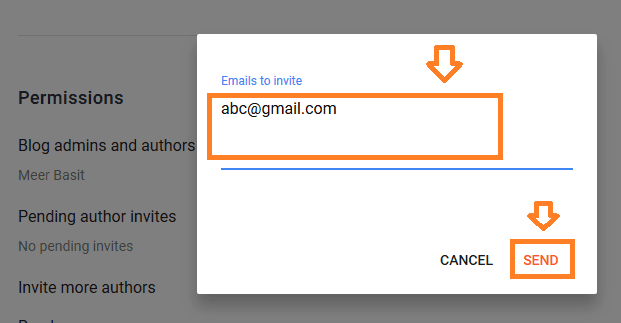 Author
Author will receive an email to accept the invitation.
Open the email & click Accept Invitation
Click Accept Invitation.
Now author is part of your blog.
You can see that all the posts have been listed, but the Author has no access to any of the post. He will have the access to those posts, which have been posted by him.
He has no access to the other Dashboard menu items like Stats, Comments, Earnings, Pages, Layout, Theme, Settings. So you don't need to worry about the security of your blog.
If the author has more than one blog, before he posts new article, he must select the blog for which he wants to write an article.
Now, the author has written a post. You can see that he can Edit or Delete only his posts. He can't do anything to your blog posts or other settings.
Blog Owner/Administrator
Blog owner or admin can Edit or Delete any post of the author.
To change the status of an author or Delete an author, click Settings.
Click Basic.
On the permissions section, click the button located in front of the author & choose Admin.
If the author's status is changed to Admin, he will have the same privileges as the owner/admin of blog will have. To delete the author click "cross" icon.
In NEW Blogger, go to settings, scroll down to "Permissions" section, click "Blog admins and authors". You can change the status or delete an author.
Author
If you want to leave a blog, click Settings.
Click Basic.
On "Permissions" section, click Remove yourself from this blog.
Note: If you don't delete your posts before you remove yourself from the blog, your posts will still be available for that blog.
That's it. If you like this post then don't forget to share with other people.
Get access to all the Blogger Tutorials.
Recommended Posts