Blogger
How To Show Posts Of Particular Label In Blogger | Widget
Do you want to display posts of specific label on your Blogger blog? You're in the right place we will guide you step-by-step to how to show posts of specific label by adding a widget.
Though Blogger is a great platform for blogging, but there are some widgets that are missing, which people often search. Blogger provides the widget of most Popular Posts, but it doesn't provide other widgets like Recent Posts Widget, Specific Label Post Widget, Related Post Widget, etc.
If you want better multi-functional widget read this post:
Step 1:
Go to Layout.
Click Add a Gadget.
Add HTML/Javascript.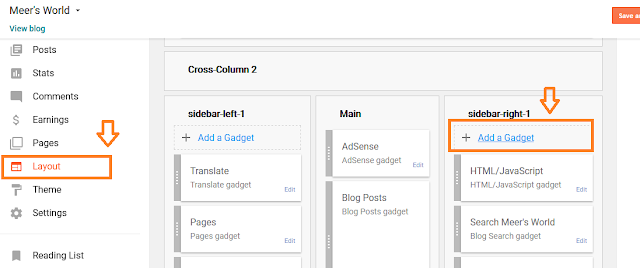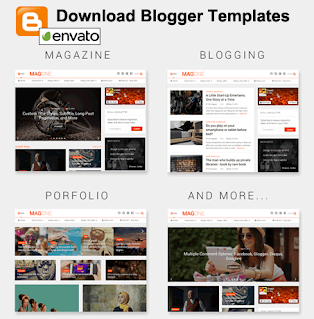 Step 2:
Paste the Code like this.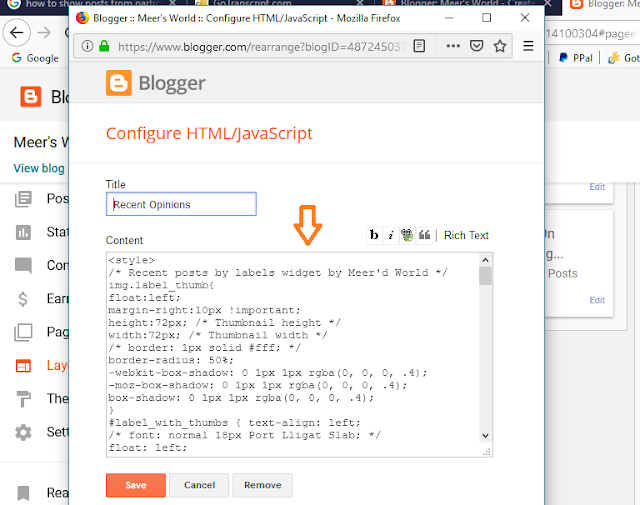 Configuration Variables
Scroll Down to the the last part of code, you will find all these variables.
var numposts = 6;   //Number of Posts
var showpostsummary = true; // Write false if you want only Title.
var numchars = 70   // Number of characters for Post Summary below the Title of Post.
<script type="text/javascript" src="/feeds/posts/default/-/LabelName?published&alt=json-in-script&callback=labelthumbs"></script> // Replace LabelName with the label to whose Posts you want to display. For Example, you want Posts of Label Sports. This is how you can do:
<script type="text/javascript" src="/feeds/posts/default/-/Opinion?published&alt=json-in-script&callback=labelthumbs"></script>
In order to make your widget beautiful and professional you can customize the CSS.
Here is the code. Copy & Paste into your widget
———————————————————————
<style>
/* Recent posts by labels widget by Meer's World */
img.label_thumb{
float:left;
margin-right:10px !important;
height:72px; /* Thumbnail height */
width:72px; /* Thumbnail width */
/* border: 1px solid #fff; */
border-radius: 50%;
-webkit-box-shadow: 0 1px 1px rgba(0, 0, 0, .4);
-moz-box-shadow: 0 1px 1px rgba(0, 0, 0, .4);
box-shadow: 0 1px 1px rgba(0, 0, 0, .4);
}
#label_with_thumbs { text-align: left;
/* font: normal 18px Port Lligat Slab; */
float: left;
width: 93%;
min-height: 70px;
margin: 0px 10px 2px 0px;
/* padding: 0; */
}
ul#label_with_thumbs li {
padding:8px 0;
min-height:75px;
margin-bottom:0px;
border-bottom: 1px dotted #999999;
}
#label_with_thumbs li{
list-style: none ;
padding-left:0px !important;
}
#label_with_thumbs a:visited {
text-decoration: none;
color: black;}
#label_with_thumbs a:link {
text-decoration: none;
color: black;}
#label_with_thumbs a { text-transform: none;}
#label_with_thumbs a:hover { text-decoration: underline;}
#label_with_thumbs strong {padding-left:0px; }</style>
<script type='text/javascript'>
//<![CDATA[
function labelthumbs(json){document.write('<ul id="label_with_thumbs">');for(var i=0;i<numposts;i++){var entry=json.feed.entry[i];var posttitle=entry.title.$t;var posturl;if(i==json.feed.entry.length)break;for(var k=0;k<entry.link.length;k++){if(entry.link[k].rel=='replies'&&entry.link[k].type=='text/html'){var commenttext=entry.link[k].title;var commenturl=entry.link[k].href;}
if(entry.link[k].rel=='alternate'){posturl=entry.link[k].href;break;}}var thumburl;try{thumburl=entry.media$thumbnail.url;}catch(error)
{s=entry.content.$t;a=s.indexOf("<img");b=s.indexOf("src="",a);c=s.indexOf(""",b+5);d=s.substr(b+5,c-b-5);if((a!=-1)&&(b!=-1)&&(c!=-1)&&(d!="")){thumburl=d;}else thumburl='http://3.bp.blogspot.com/-zP87C2q9yog/UVopoHY30SI/AAAAAAAAE5k/AIyPvrpGLn8/s1600/picture_not_available.png';}
var postdate=entry.published.$t;var cdyear=postdate.substring(0,4);var cdmonth=postdate.substring(5,7);var cdday=postdate.substring(8,10);var monthnames=new Array();monthnames[1]="Jan";monthnames[2]="Feb";monthnames[3]="Mar";monthnames[4]="Apr";monthnames[5]="May";monthnames[6]="June";monthnames[7]="July";monthnames[8]="Aug";monthnames[9]="Sept";monthnames[10]="Oct";monthnames[11]="Nov";monthnames[12]="Dec";document.write('<li class="clearfix">');if(showpostthumbnails==true)
document.write('<a href="'+posturl+'" target ="_top"><img class="label_thumb" src="'+thumburl+'"/></a>');document.write('<strong><a href="'+posturl+'" target ="_top">'+posttitle+'</a></strong><br>');if("content"in entry){var postcontent=entry.content.$t;}
else
if("summary"in entry){var postcontent=entry.summary.$t;}
else var postcontent="";var re=/<S[^>]*>/g;postcontent=postcontent.replace(re,"");if(showpostsummary==true){if(postcontent.length<numchars){document.write(");document.write(postcontent); document.write(");}
else{document.write(");postcontent=postcontent.substring(0,numchars);var quoteEnd=postcontent.lastIndexOf(" ");postcontent=postcontent.substring(0,quoteEnd);document.write(postcontent+'…');document.write(");}}
var towrite=";var flag=0;document.write('<br>');if(showpostdate==true){towrite=towrite+monthnames[parseInt(cdmonth,10)]+'-'+cdday+' – '+cdyear;flag=1;}
if(showcommentnum==true)
{if(flag==1){towrite=towrite+' | ';}
if(commenttext=='1 Comments')commenttext='1 Comment';if(commenttext=='0 Comments')commenttext='No Comments';commenttext='<a href="'+commenturl+'" target ="_top">'+commenttext+'</a>';towrite=towrite+commenttext;flag=1;;}
if(displaymore==true)
{if(flag==1)towrite=towrite+' | ';towrite=towrite+'<a href="'+posturl+'" class="url" target ="_top">More »</a>';flag=1;;}
document.write(towrite);document.write('</li>');if(displayseparator==true)
if(i!=(numposts-1))
document.write(");}document.write('</ul>');}
//]]>
</script>
<script type='text/javascript'>var numposts = 6;var showpostthumbnails = true;var displaymore = false;var displayseparator = true;var showcommentnum = false;var showpostdate = false;var showpostsummary = true;var numchars = 70;</script>
<script type="text/javascript" src="/feeds/posts/default/-/LABELNAME?published&alt=json-in-script&callback=labelthumbs"></script>

—————————————————————————
If you like this post then don't forget to share with other people. Share your feedback in the comments section below.
Recommended Posts