Do you want to erase your iOS files and data on iPhone/iPad/iPod permanently so that it won't be recovered again? Don't panic, iMyFone's Umate Pro iPhone Data Eraser is there to assist you. You can selectively erase your iPhone data, deleted data and third-party apps data permanently with 0% recovery. No tool or secret agency can recover the data erased by Umate Pro, not even by FBI.
Some of the common data types that are erasable by Umate Pro:
Messages, Contacts, Photos, Videos
WhatsApp Data, Kik Data, WeChat Data, Viber Data, Line data, etc
Notes, Call History, Voice Memos, Calendar, Reminders
Safari History, Apps, System Settings and many more…
In general people want to erase the data of their phone permanently when they plan to sell their phone or give it to someone else because if you delete or erase your data normally(Factory Reset or Delete) it can be easily recovered by recovery tools.
This is one reason people remain skeptical whether they should sell their phone or not, because nobody want their personal data to be recovered or misused by someone else.
How Umate Pro Erases Data Permanently?
Firstly Umate Pro removes the original and deleted files in your device. Once the removing process completes Umate Pro stores random data in your storage device to overwrite the removed data. Then again it removes that random stored data and store some other random data to overwrite previously removed data. This process continues until recovery becomes impossible.
In this post we will cover following topics:
How It Works
Features Of Umate Pro
Plans & Pricing | Free Download
How It Works
The data erasing process is done in three simple steps:
Step1:
Choose an erasing mode.
There are 5 data erasing modes i.e (1) 1-Click Free Up Space (2) Erase All Data (3) Erase Deleted Files (4) Erase Private Data (5) Erase Private Fragments.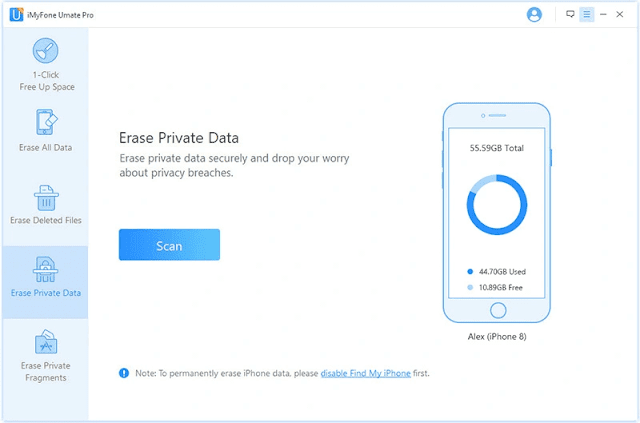 Step 2:
Scan and Preview the data. You can selectively erase data.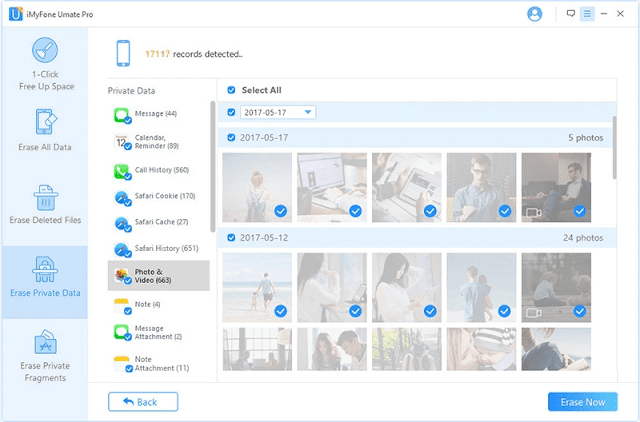 Step 3:
Select and erase your iOS data permanently.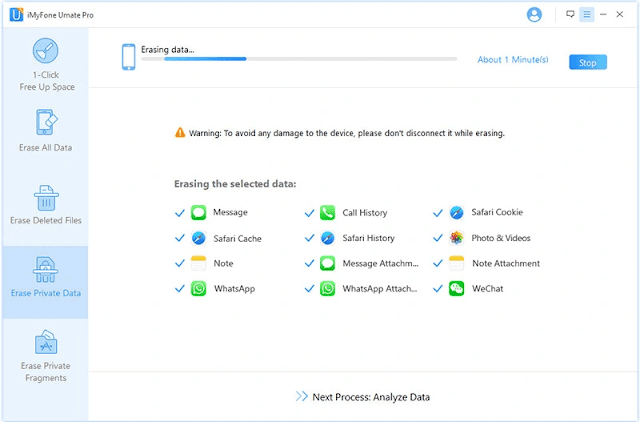 Umate Pro Features
Following are the salient features of world's best iPhone data eraser tool:
You can preview and selectively erase your private and deleted data with 0% recovery.
It also erases those incomplete fragments which are stored by third-party apps. These fragments are considered as big risk to your privacy.
It optimizes the performance of your iOS device by instantly erasing all your hidden junk files, temp files, caches, losslessly compress photos, etc. It also frees up space as well.
The data erased using the Factory Reset can be recovered, but the data erased with Umate Pro has no possibility to recover, leaves no trace of deleted files.
It also offers a free trial version so that you can try before purchase. In addition, it also offers 30-day money back guarantee, lifetime support and free updates as well.
Plans & Pricing
The Umate Pro offers two amazing Plans i.e one subscription-based plan and one one-time purchase plan. The one-time purchase plan which is also called Lifetime Plan is the most popular one. Umate Pro also offers a Business plan which is for all those who want to purchase Umate Pro for more than 5 devices.
1-Year Plan
In the 1-Year plan license will be automatically renewed in a year. You can cancel it at any time. It sends you the notification email before the renewal date. It costs only $29.95. The Plan is for only 1 iOS device.
Lifetime Plan
Lifetime plan is one-time purchase plan. This plan is for 2 to 5 iOS devices. It costs only $49.95.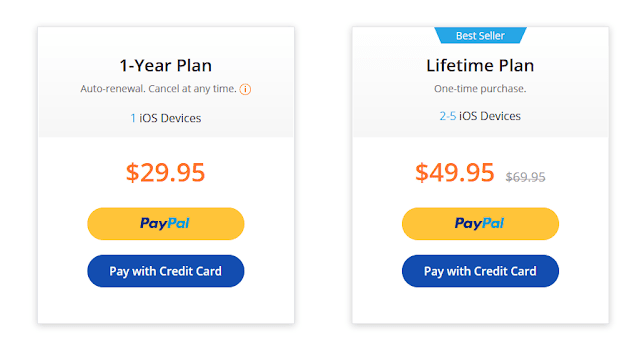 Free Download: For Windows | For Mac
Buy: For Windows | For Mac
Conclusion
The Umate Pro iPhone Data Eraser is a super amazing tool for erasing your iPhone data permanently. If you are really concerned about your deleted data and don't want to leave any trace then Umate Pro is the best choice.
If you like this post then don't forget to share with other people. Share your feedback in the comment section below.
Also Read