Are you looking for a tool that transfers data from phone to phone? Do you want to transfer different types of data from phone to phone in a one go? Is your phone to phone data transfer is restricted by low speeds? Are you worried about data safety and connection issues while transferring data from phone to phone?
Don't worry! iMyFone's iTransor Pro is there to assist you.
iTransor Pro is the leading phone to phone data transfer tool. You can transfer data from iPhone to Samsung and Samsung/Huawei to iPhone without any data type limitations and restrictions. It transfers data in just three simple steps: 1) Connect your device 2) Select the data you need to transfer 3) You're done with your data transfer.
Often people install separate tools/apps to transfer different types of data from phone-to-phone and get frustrated, but with iTransor Pro you can selectively transfer or migrate up to 18 types of data in just one go, such as:
WhatsApp, Contacts, Text Messages
Wifi, Alarm, Photos, Voice Memo
Documents, App, Videos
Music, Ringtone, Call History
Reminders, Notes, Calendar
Ebook, Bookmarks, Mail Accounts
In this post following topics will be covered:
iTransor Pro Features
Plans & Pricing / Free Download / Buy
iTransor Pro Features
Below are some of the top features of the best phone to phone data transfer tool:
You can selectively migrate multiple types of data at one go from one phone to other without any limitations.
You can transfer WhatsApp data between Android and iPhone.
You can take backup of WhatsApp from Android or iPhone to your computer. Backup can also be exported as HTML, CSV and XLS files.
You can restore backup from computer to iPhone or Android.
The iTransor Pro efficiently transfers data without any data loss. It will never overwrite or change your original data. Normally the data transfer takes few minutes, but in some cases it takes up to an hour. The data transfer rate depends on the amount of data that your transfer.
Data safety is one of those issues that makes people worried when they transfer data from phone to phone. In order to maintain data safety and privacy iTransor Pro complies with GDPR and other data processing regulations. Your data will be processed only on your computer during the transfer.
The iTransor Pro doesn't require you to connect to WiFi or cellular internet, you only need two data transfer cables and a computer with iTransor Pro. It means that your data transfer will not be interrupted by connection or network issue.
You can stop the data transfer process at any point and restart it later. It will continue to transfer data where it was stopped.
It offers a free trial version so that you can try before purchase. In addition, it also offers 30-day money back guarantee, lifetime support and free updates as well.
Plans & Pricing
The iTransor Pro offers incredible Lifetime Plan. If you want license for more than 5 users than go for the Business plan.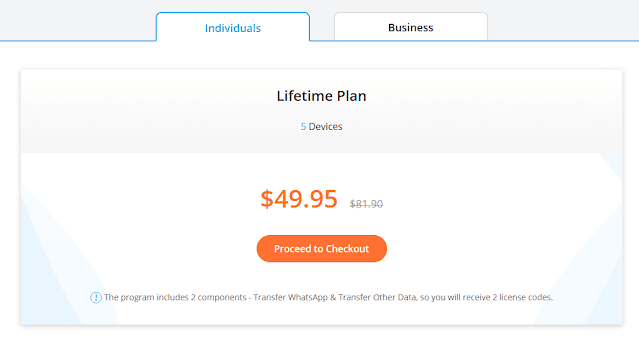 This program includes 2 components i.e. Transfer WhatsApp & Transfer Other Data. You will receive two license codes, one for each.
The "Transfer WhatsApp" is for all those who want to transfer WhatsApp.
The "Transfer Other Data" is for all those who want to transfer other 17 types of data except WhatsApp.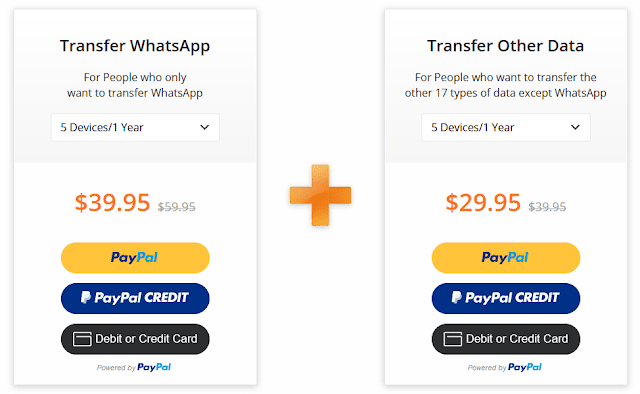 Conclusion
The iTransor Pro is a super amazing easy-to-use professional iPhone to Android and Android to iPhone data transfer tool, trusted by more than 10 million people all over the world.
If you like this post then don't forget to share with other people. Share your feedback in the comments section below.
Also Read