Are you a programmer, developer, designer, freelancer, trainer, musician, writer, lawyer, Amazon FBA expert, system engineer, content creator, business consultant, marketing manager, copywriter, blockchain or cryptocurrency consultant, or from any other profession, looking for the best resume/portfolio theme? You're in the right place.
The RyanCV Resume theme is a beautifully designed, fast-performance, SEO-Optimized, fully-customizable, unique, and one the most advanced responsive WordPress themes for launching an online resume/portfolio website.
It offers 8+ homepage layouts with demos. The theme is built with Elementor(Advance tool for building WordPress website), which is a very user-friendly and easy-to-use tool. You don't need any coding experience or web development skills to use or launch this theme.
The RyanCV theme also offers an optional feature i.e. WooCommerce Shop. If you have got products relevant to your content/services and want to sale on your website you can use this feature.
Why you need a portfolio website?
Now a days, as the competition is getting higher on freelancing platforms such as Fiverr, Upwork, etc, launching your own portfolio website is inevitable for two reasons (1) Having a professional portfolio website gives a very good impression to clients, increases the chances of your hiring (2) The other benefit for having a portfolio website is that clients/people can directly approach you from your website via your contact page, you don't need any third-party or freelance platform. You can directly make clients from your website.
RELATED
Following topics will be covered in this post:
Desktop View, iPad View & Mobile View
Salient Features Of RyanCV Theme
Introduction To Different Sections Of Theme
How To Install RyanCV Theme
How To Use Admin Panel Of Theme

*
Desktop, iPad & Mobile View
The Desktop view of RyanCV is more like an open book. Its design is unique from all those typical long-single-page Resume/Portfolio themes. When you click a menu item its relevant content expands towards the right side.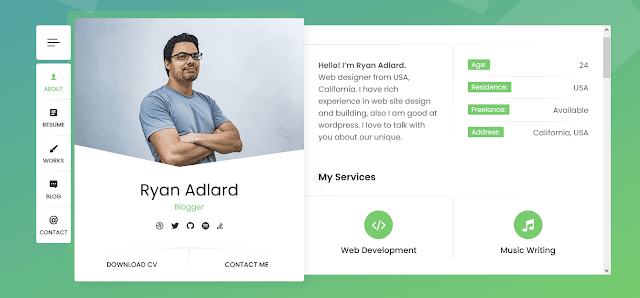 In the iPad View the theme slightly shrinks. When you click on the menu items the content moves vertically instead of expanding towards right.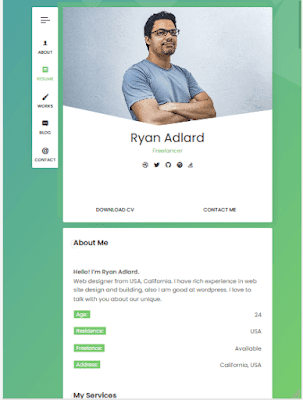 Now it comes the most important view, the Mobile View. It is very important to have a mobile-friendly view of your website because with the massive popularity of smartphones most of the people visit websites from their smartphones and that's why Google gives high preference to those websites which have mobile-friendly layout.
You must have seen mobile view of many themes, but RyanCV's mobile view is unmatched. In mobile-view of most of the themes menu disappears and only visible when you click the hamburger icon, but this theme's mobile view doesn't hide menu, the menu position changes from left side to top. When you click menu items the content moves vertically instead of expanding towards right.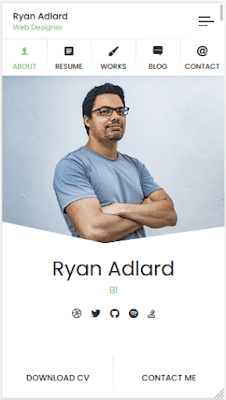 Salient Features Of RyanCV
Following are some of the top features of RyanCV:
Visual Drag & Drop Elementor Page Builder, 8+ Homepage Layouts
Multi and One Page, Dark & Light Mode
Stylish vCard where you can also add video in background
RTL Support, 3+ Background Variants (Image, Gradient, Color)
6+ Page Transitions Effects, ACF Pro Plugin
One Click Demo Import Plugin, Resume On Timeline
Skills with Percent, Dotted Bar & Circles
Calendar with Events, Quote Block, Testimonials Carousel
Unlimited Colors, Contact Form 7 Plugin
Social Media Profile Links and Sharing Buttons
Google Fonts, Google Maps, Pricing Tables and many more…
Different Sections Of Theme
There are 5 sections of RyanCV theme.
ABOUT
RESUME
WORKS
BLOG
CONTACT
ABOUT
In the "About" section you can briefly introduce yourself, your services, your pricing plans, your achievements/fun facts, & a quote.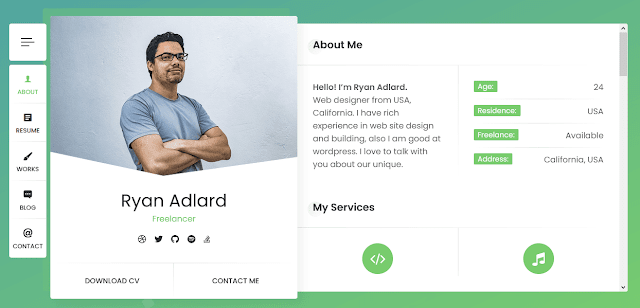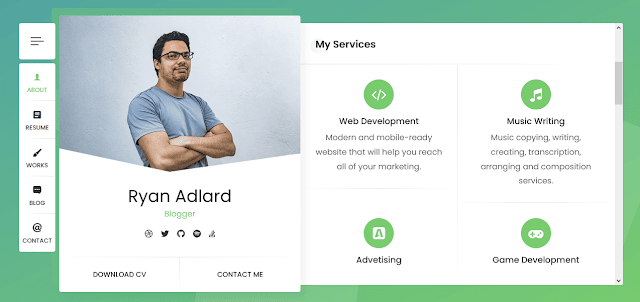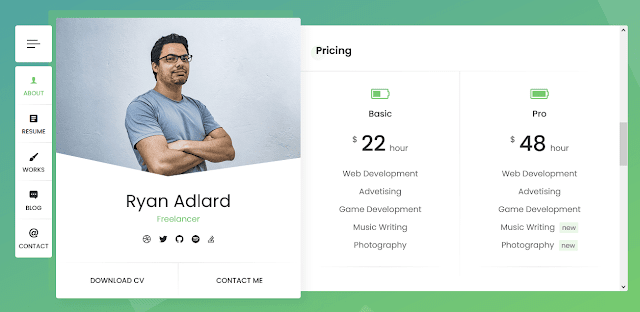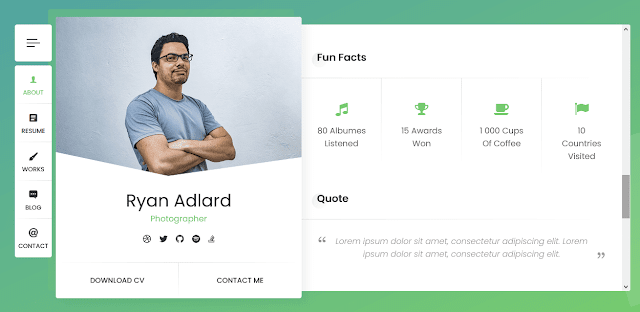 RESUME
In the "Resume" section you can add your experience, education, courses, skills and testimonials. Your skills are displayed with percent, dotted bar & circles which tells your clients how much command you have over a skill or how good you are at a skill.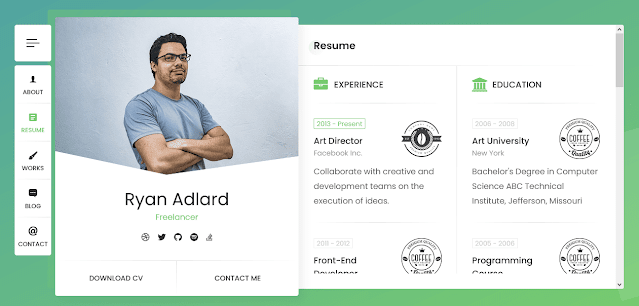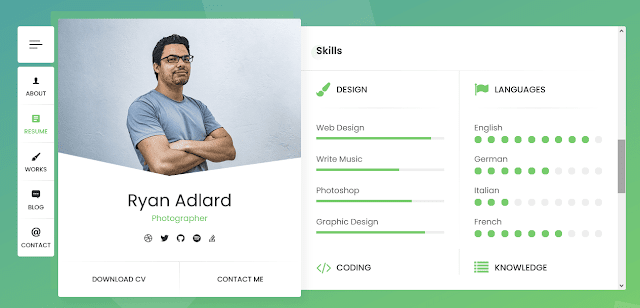 WORKS
In the "Work" section you can add your portfolio, the work that you have done with your clients. You can explain your projects thoroughly and also add screenshots as an evidence.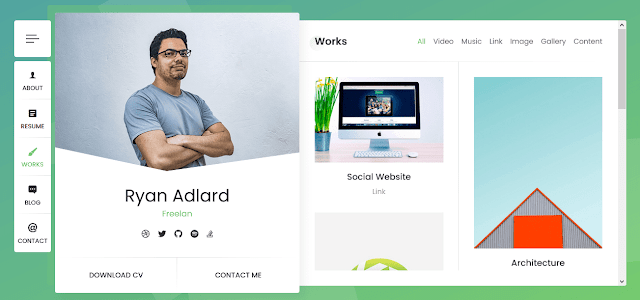 BLOG
The "Blog" section displays the latest articles that you will write. There are two main benefits for writing blog posts relevant to your skills, services or experience (1) They give a good impression to visitors particularly someone who is interested to hire you because you can write articles only when you have knowledge about that topic (2) Once your blog posts are ranked in Google they can bring good amount of organic traffic to your website.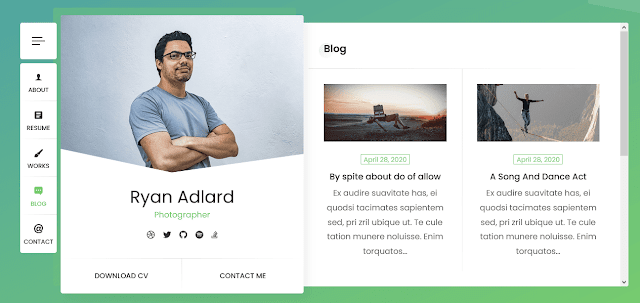 CONTACT
In the "Contact" section you can display your location on Google Map, your address, your email, your phone number, your availability status and contact form.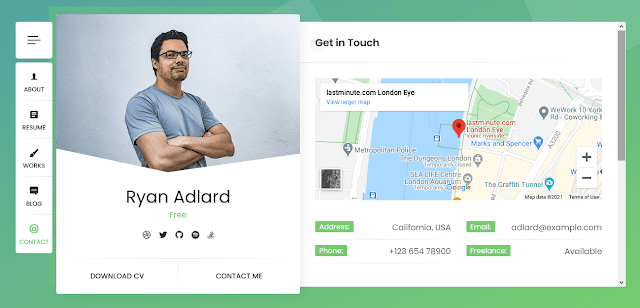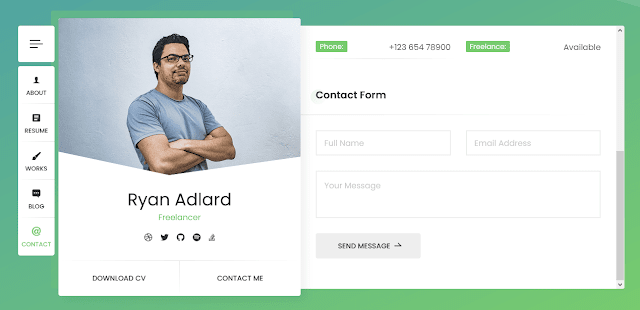 How To Install RyanCV Theme
It is pretty simple and straightforward job to install RyanCV theme on your WordPress site. Here is the link to Buy & Download RyanCV theme from Themeforest, the largest marketplace for themes and plugins.
I have already created a separate tutorial to install RyanCV theme on WordPress, please go through this tutorial:
How To Use Admin Panel Of RyanCV
As I told you earlier that the RyanCV theme has been designed using Elementor. The Elementor allows WordPress users to create and edit websites using the drag and drop technique. Here I will briefly guide you on how you can edit, create, add, delete content and pages.
vCard
First of all I will guide you to edit your vCard. The highlighted area with orange border is your vCard.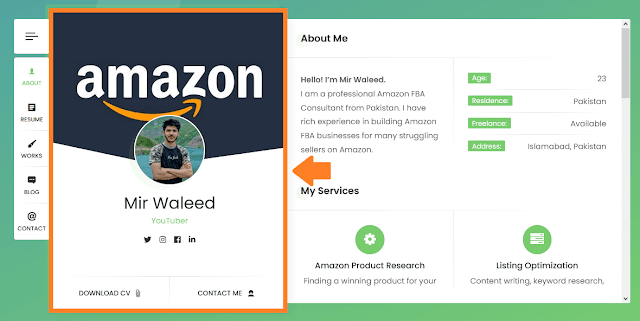 In your WordPress Admin Section click on the "Theme Options".
Click on the "vCard" tab.
In "Background Type" you can choose between Image & Video.
If you don't add your photo only the background image will be shown on vCard.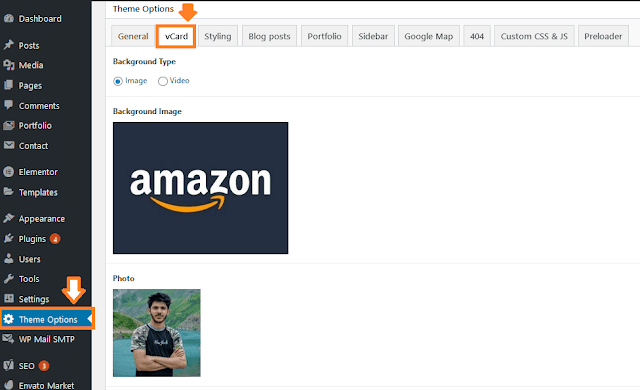 The "Title" appears below your picture.
In the "Subtitle type" enter your professions. They repeatedly appear below your name one by one.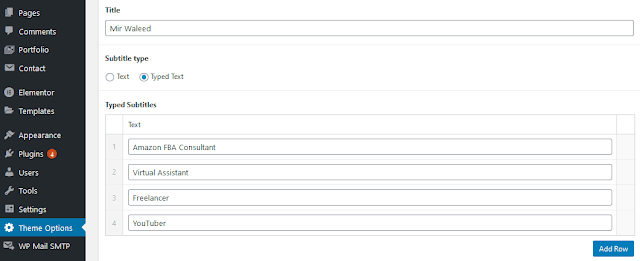 In the "Social Links" section choose the social media platforms and enter the URLs of respective profiles.
In the "Buttons" section you can provide the download link of your Resume/CV. The Contact Me button is the link to your Contact section.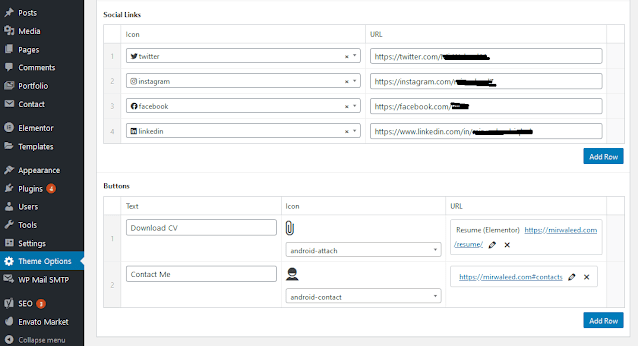 Portfolio
Remember that "Works" section's content is added/deleted/modified from "Portfolio" while other sections are added/deleted/modified from "Pages", as we will show after this.
Click on the "Portfolio" from your sidebar.
If you want to add a new portfolio click on the "Add Portfolio" button at top.
To create a new category click on the "Portfolio categories" located below the submenu item "Add Portfolio" .
If you want to edit an existing portfolio then hover over the title and click "Edit with Elementor".
Always remember that whether you create a new portfolio/page or edit a portfolio/page always create and edit with Elementor.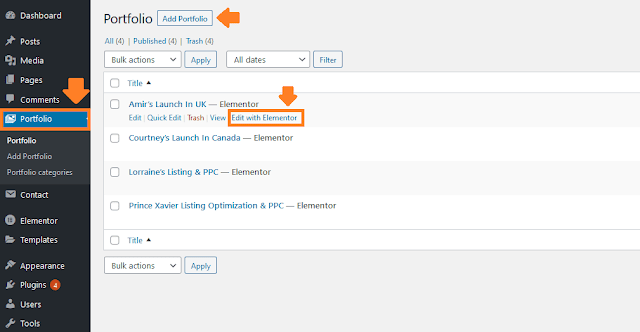 Click on the section that you want to edit.
Once you click, the editor will appear in the left side containing the content of that section.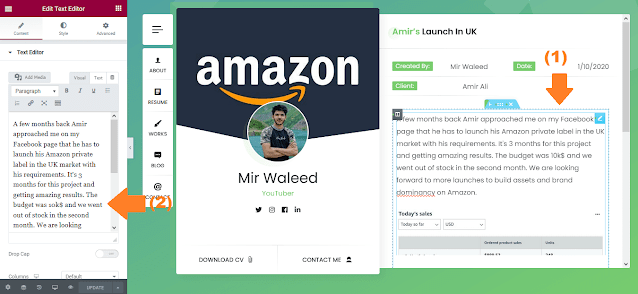 Pages
Click on the "Pages" from sidebar. It will list all your existing pages.
If you want to add a new page click on the "Add New" button at top.
The "About", "Resume", "Works", "Blog" and "Contact" are the main pages of this theme.
To edit an existing page hover over its title and click on the "Edit with Elementor".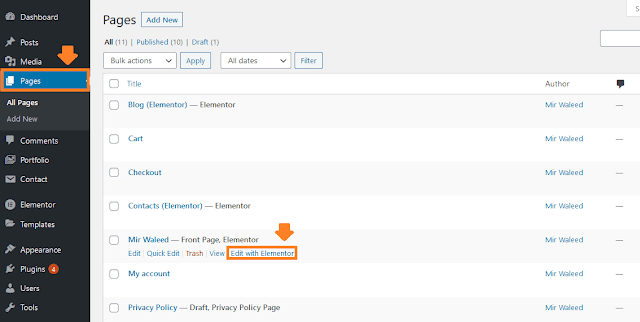 Click on the section that you want to edit in the right side. The content will be loaded in the editor to your right side.
Here you can see only the Title of the page at your left side. To expand the content of the page click on the Content.
Once you are done, click on the Update button.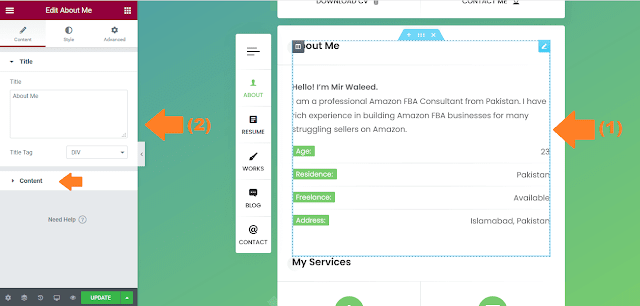 Conclusion
The RyanCV is a super amazing responsive Resume/Portfolio WordPress theme for showcasing your work, services, skills and experience to the world. If you like this post then don't forget to share with other people. Share your feedback in the comments section below.
Also Read: