Are you filling the Form W-8BEN, but confused about What to to write in the Foreign Taxpayer Identification Number (TIN)? Don't panic! You're in the right place.
Most of the top affiliate programs are offered by those advertisers or platforms which are located in the United States like Amazon, Impact Radius, Google AdSense, LinkShare, CJ Affiliate, Upwork, Fiverr, Bluehost, etc. It is mandatory for everyone (U.S citizen or Foreigner) to submit the tax document involving in any business, investment or receiving payments from United States.
Though there are different type of tax documents, but in context of online earnings or freelancing there are two main tax documents which are widely used. First is "Form W-9" which is applicable only for the U.S citizens and the second is "Form W-8BEN" which is applicable for foreigners means non-US citizens like Pakistanis, Indians, Bangladeshis, etc.
These tax documents are used to certify and verify your US tax withholding status. The IRS(Internal Revenue Service) is the revenue service of the United States federal government responsible for the collection of taxes. You can download any type of form from IRS website.
Now come to the real issue. Often non-U.S bloggers, freelancers, & affiliate marketers while filling the Form W-8BEN get stuck and confused like, What to write in the Foreign Taxpayer Identification Number (TIN)?
The answer is simple, you have to enter your "National Identity Card Number" issued by government, which makes you the citizen of your country. Your National Identity Card is the alternate for TIN or SSN on the Form W-8BEN.
For your information, TIN is simply the SSN(Social Security Number or EIN (Employer Identification Number). A Social Security number (SSN) is a 9-digit number assigned to U.S. citizens (both permanent & temporary residents) to track individuals. In fact it has become National Identification Number for taxation and other purposes.
For Pakistanis TIN is the CNIC (Computerized National Identity Card) number. For Indians TIN is the Aadhaar (Identity Card). For Bangladeshis TIN is the National Identity Card (NID-Card).
In this post we will cover following topics:
What Is Form W-9
What Is Form W-8BEN
How To Fill Form W-8BEN
01. What Is Form W-9?
Form W-9 is used to get taxpayer identification number (TIN). It is a unique number through which IRS identifies you in the records. TIN is typically your SSN(Social Security Number) or EIN(Employer Identification Number). Remember that Form W-9 is only for people in the United States.
If you do not provide your TIN number to your customer when requested, the customer will not be able to specifically report your income on Form 1099. It is always in the benefit for U.S citizens when they provide Form W-9 and complete other forms, otherwise customer will likely be required to withhold 24% from all their payments made to them.
02. What Is Form W-8BEN?
Form W-8BEN ("Certificate of Foreign Status of Beneficial Owner for United States Tax Withholding and Reporting") is required to submit by foreign persons i.e. investors, freelancers, affiliate marketers, etc, who receive certain types of income/payments from United States.
The Form W-8BEN sometimes referred to as a "certificate of foreign status," establishes that the individual is both a foreign person and the beneficial owner of the business in question. If you don't fill Form W-8BEN you have to pay 30% tax from all your payments.
The benefit of submitting Form W-8BEN is that your tax percentage is reduced to half. For instance if there is 30% tax you might have to pay only 15% or less. The Form W-8BEN helps you claim a reduction or an exemption from the U.S. tax withholding if you reside in a country with which the United States has an income tax treaty and the income you received is subject to that treaty.
In some cases like if you are a freelancer or affiliate marketer your customer does not withhold any tax from your earnings once you submit the Form W-8BEN, means you have to pay 0% tax.
Some platforms like Impact Radius does not pay you unless until you don't submit Form W-8BEN. For example, Envato-Market's affiliate program is one of the top affiliate programs running on Impact Radius. If you don't submit Form W-8BEN Impact Radius will not release your payments.
03. How To Fill Form W-8BEN
It is very easy to fill the Form W-8BEN. For most people the only confusing thing is Foreign Tax Payer Identification Number which I have explained above what to write there.
Below is the Form W-8BEN on Impact Radius. You have to fill only the fields highlighted with red borders.
1. In "Name of individual who is the beneficial owner" enter your Full Name.
2. In "Country of citizenship" enter your Country Name.
3. In "Permanent residence address" enter your complete Permanent Address. In "City or town, state or province" enter your City or Town name, Province or State name and Postal Code of your City.
4. In "Country" enter the name of your Country.
6. In "Foreign tax payer identification number" enter your National Identity Card Number in the same format as written in your card. For example, CNIC format is "71593-45345234-4".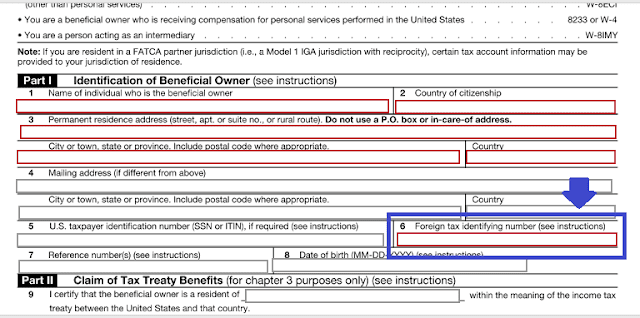 Once you fill above fields scroll down to Part III Certification section and enter your full name under the "Signature of beneficial owner".
Once you enter the name click on the Sign box(↓).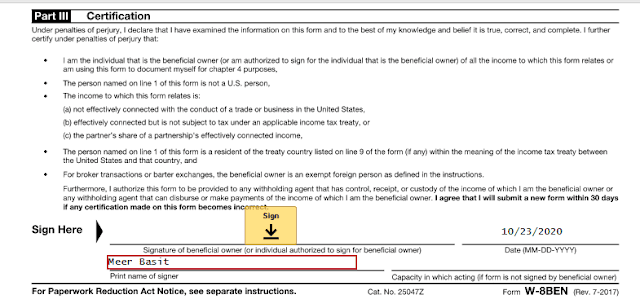 It will generate digital signature from your name. You have the option to either choose auto-generated signature or DRAW your own signature there.
Once done with signature click on the ADOPT AND SIGN.
Your Form W-8BEN will be submitted successfully.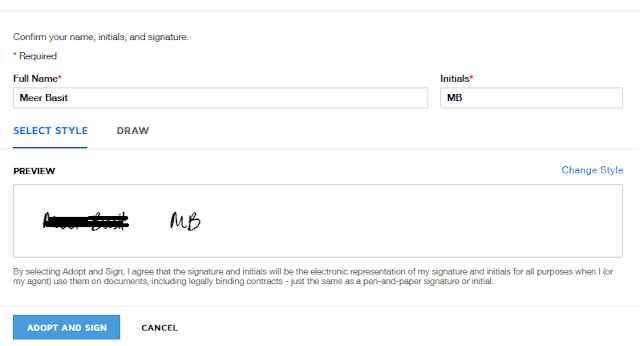 If you like this post then don't forget to share with other people. Share your feedback in the comments section below.
Have a look on these Affiliate Programs.
Also Read