Are you looking for launching an eCommerce website on Blogger, you are in the right place. In this post, I am going to introduce you with the best responsive eCommerce Blogger templates.
These responsive, SEO optimized, and mobile-friendly Blogger templates fulfill most of the requirements of a simple online-shopping website. Indeed, a great blessing for those who want to launch an ecommerce website on a free platform.
I will cover all the main features of following eCommerce Blogger templates:
R-Shop – eCommerce Responsive Blogger Template
SpotCommerce: Blogger Shopping Template
VOCO: Product Showcasing Theme For Merchant
Collective: Theme To Create Affiliate-Based Site
Demi: Grid-Based Blog Template
Fashionable – A Blogger Template Blog & Simple Shop Theme
RELATED
01. R-Shop | eCommerce Blogger Template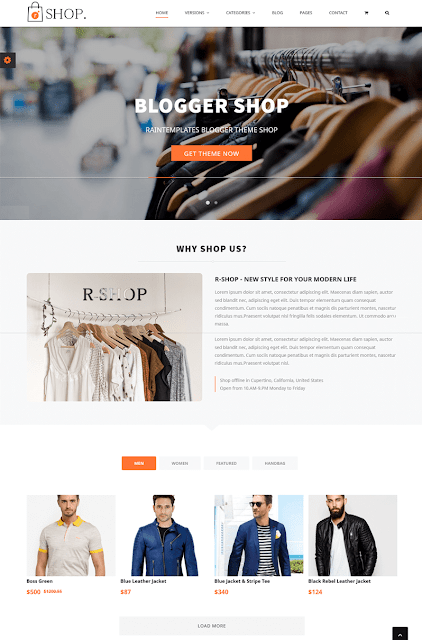 R-Shop is the biggest, clean, elegant and fast-performance responsive eCommerce Blogger template, mostly recommended as the best & complete eCommerce Blogger template. One of the best features of R-Shop is that, before the Checkout no one can change the price by modifying the HTML. It uses the best techniques to check whether the price is changed or not before the order is mailed to you.
This template uses Short Codes to build website layout. You can control all the components of your website using short codes like Slider, Product Category, Tab. You can add as many Category and Product Tabs as you can, there is no limit.
R-Shop supports 3 Payment Methods i.e. Paypal, Cash on Delivery & Direct Bank Transfer. You get an email about the order when the customer Checkouts. With PayPal checkout, after customer sends you a checkout message in your email, Paypal will continue to send you a Payment from your customer.
For Direct Bank Transfer, you can add your bank information for your customer. By sending payment, they will send you an order ID to help you confirm with Order ID you received in your inbox.
It is pretty simple to publish your product, you don't need any codes or programming. You just have to add a caption of product image at a price. It supports your sale price but still keep your old price. You can also show "Out Of Stock" by just adding a label "Out of Stock Product". Once you do that the "Add to Cart" button will be disappeared.
Some other features include:
Mega Menu
Fast Building Slider With Shortcode
Unlimited Adding Categories
Easy To Setup Currency & Shipping Cost, Supports 22 Currencies
Filter Searching By Sorting Price & Category
Ajax Loading
Mobile UI/UX Friendly and many more…
Explore More & Buy | Watch Live Demo
02. SpotCommerce | Blogger Shopping Template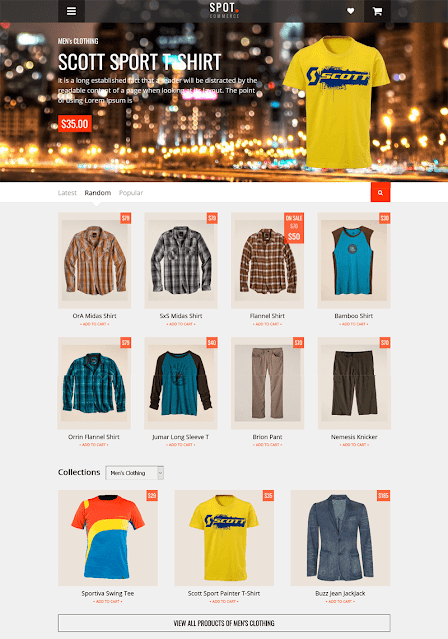 SpotCommerce is an advanced, feature-rich, responsive, user-friendly and easily customizable top-rated eCommerce Blogger template. It is made particularly for a small businesses like showroom, shopping site or a portfolio. This template has two additional features "Coupon" & "Wishlist" which has added more value to this eCommerce template.
Like R-shop its Cart & Wishlist have been built with Ajax that helps to load things very fast. It has 3 product states: Normal, On Sale and Out Of Stock.
SpotCommerce supports four payment methods i.e PayPal, Direct Bank Transfer/Wire Transfer, Cash On Delivery & Check. When customer checkouts an order you will get an email about that order like Product Name, Quantity, Shipping Address etc. It supports 32 currencies, but you can add more into it.
This template is fully optimized for search engines. It has been integrated with Blogger Advance Editor means you can change font and colors in just one click the way you change on Blogger's builtin themes. It has unlimited Colors, Background & Fonts.
Some other features include:
Fully Responsive & Retina Ready
Unique Carousel & Unlimited Drop-down Menu
Unlimited Colors, Background & Fonts
Touch Control Included For Mobile Devices
Retina Ready
Image List In Product Detail Page and many more..
Explore More & Buy | Watch Live Demo
03. Voco | Product Showcasing Theme For Merchant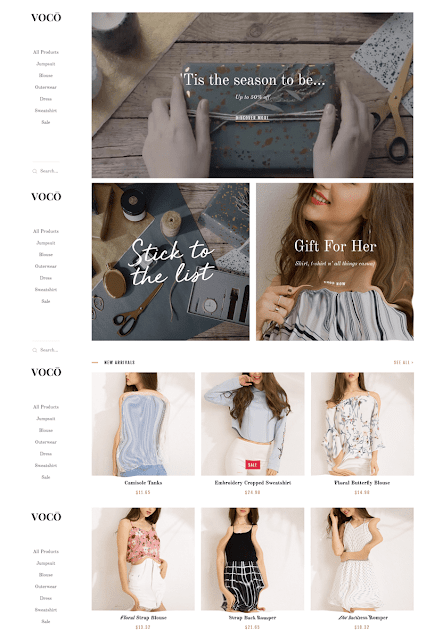 VOCO is a clean, simple, modern and fast-performance responsive Blogger template for showcasing products sold in various marketplaces like Amazon, Etsy, Ebay, Alibaba, AliExpress, Walmart, Daraz etc. You can create separate product pages for each product where you provide price, description and images.
It doesn't provide the complete features of an eCommerce template like Add To Cart, Payments Methods, Wishlist etc instead it redirects to the product pages of other websites like Amazon, Etsy etc, when someone clicks the "Buy Button". People who are sellers & dropshippers on these marketplaces or who have joined affiliate programs use this template.
Some of its features include:
Built-in Buy Button
Pricing Enabled
Retina Ready
Clean & Well Organized Layout
Show/Hide Widget Capability
Fixed To Scroll Sidebar
Popular Post Enabled (Optional)
Built-in Custom Share Button
Custom Widgets: Instagram, Flickr & Social media
Explore More & Buy | Watch Live Demo
04. Collective | Theme To Create Affiliate-Based Site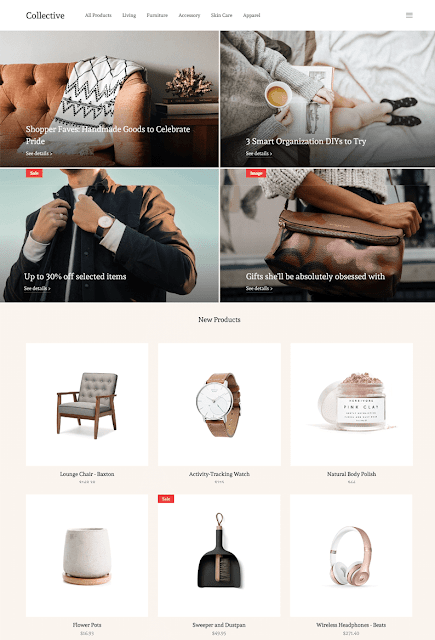 Collective is a simple, elegant and fast-performance responsive Blogger template ideal for affiliate-based site or showcase site having similar features like Voco Blogger template. It features an eCommerce-like grid-based layout on its clean, minimal and timeless design.
Some of its features include:
Right Sidebar, Appears When Hamburger Icon Is Clicked
Responsive Design
Built-in Buy Button.
Retina Ready
Optional 4 Columns Footer
Easy To Use & Customize
Built-in Custom Share Button
Explore More & Buy | Watch Live Demo
05. Demi | Grid-Based Blog Template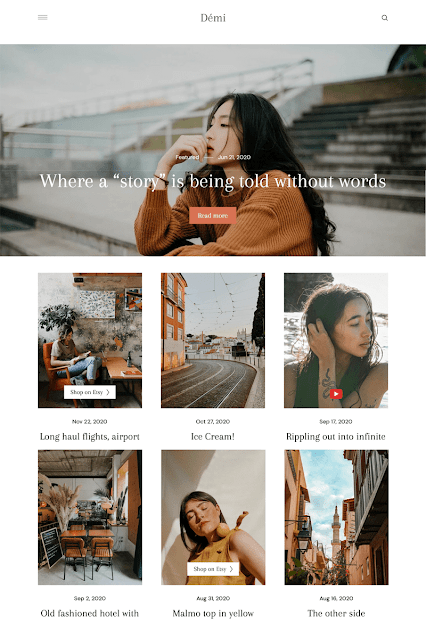 Demi is an elegant, modern, beautiful and fast-performance responsive Blogger template for affiliate based sites and showcase sites having similar features like Collective Template & Voco Template. This template is ideal for photographers, bloggers, artists, fashion bloggers, etc, for promoting products.
Some of its features include:
Responsive Layout
Retina Ready
Wide Image Mode
Featured Post & Popular Post Gadgets
Show/Hide Gadget Option
Interactive User Interface
Custom Share Button
Built-In Tweet-This-Quote Button
Etsy Buy Button Support
Post Metadata Support
Complete Authorship Meta Data
Built-In Social Media Icons
Autogenerate Video Thumbnail In Hi-Resolution
Explore More & Buy | Watch Live Demo
06. Fashionable | Simple Shop Theme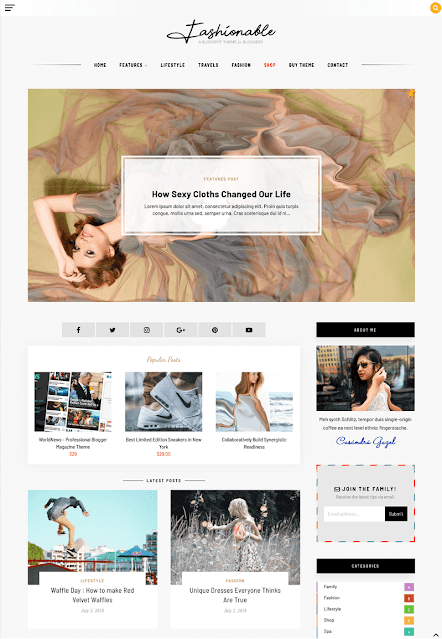 Fashionable is a beautifully designed, fast-performance, & multipurpose responsive eCommerce Blogger template that provides the features for both general blog and online store, means you can post articles as well as sell or showcase products. This templates is suitable for any type of blog like fashion, food, lifestyle, travel etc.
The Fashionable template offers one unique feature that other templates don't like customers can Order on WhatsApp. The "Order on WhatsApp" button can be replaced with "Buy On Amazon" button, "Buy on Etsy" button etc.
Some of its features include:
Mobile Friendly Design
Sticky Navigation & Sidebar
Beautiful Large Featured
Recent Posts Widget
Trending Numbered Widget
Theme Color Status Bar For Mobile
Auto Resize Thumbnail Image
Threaded Comment With Show/Hide Button
Related Posts Widget
Social Media Icons
Auto Author
Unique Error 404 Page
Explore More & Buy | Watch Live Demo
Conclusion
So these were some of the best responsive Blogger templates for your eCommerce website, it is up to you now that which template you choose depending on your requirements.
If you compare these templates, the top two templates R-Commerce & SpotCommerce are pure eCommerce templates whereas other four templates do not provide the full features for an eCommerce website, but very useful for promoting or showcasing products.
If you like this post then don't forget to share with other people. Share your feedback in the comments section below.
Also Read