Are you looking for a cheap premium corporate Blogger template for your website? You're in the right place.
Mars Blogger template is a fully customizable, fast-performance, 100% responsive, SEO-ready, and multipurpose professional Blogger template, ideally made for a modern day corporate website.
You can also use this template for an agency, company, business, portfolio, or organization website.
Following topic will be covered in this post:
Google PageSpeed Insights Test
Design Features of Mars
Mobile View
Cost & Live Demo
RELATED
01. Google PageSpeed Insights Test
In this section we will test the live (installed) Mars Blogger template on Google PageSpeed Insights to measure its Performance & Core Web Vitals metrics scores on mobile and desktop devices.
PageSpeed Insights Score On Mobile Devices
The PageSpeed Insights Performance score of Mars Blogger template on mobile devices is 76, which is very good. If you compare this score with other Blogger templates, Mars is way ahead. Normally, the performance scores of Blogger templates on mobile devices are under 50.
Mobile devices are less powerful as compared to desktop devices, and that's why, it has always been a challenge for theme developers to achieve top performance scores for a theme on mobile devices.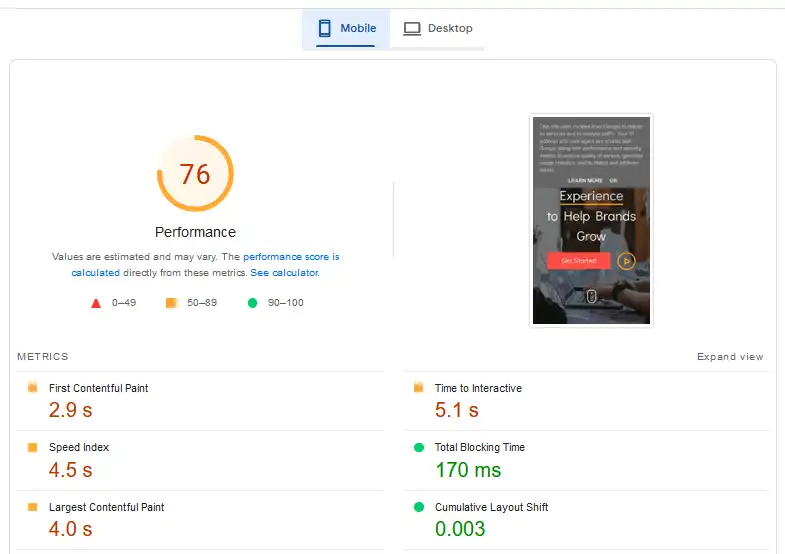 PageSpeed Insights Score On Desktop Devices
The PageSpeed Insights Performance Score of Mars Blogger template on desktop devices is 97. Anything above 90 is Excellent.
You can also see that the two Core Web Vitals metrics LCP (Largest Contentful Paint) and CLS (Cumulative Layout Shift) are also Green. It means that this template is expected to pass the Core Web Vitals assessment on Desktop devices.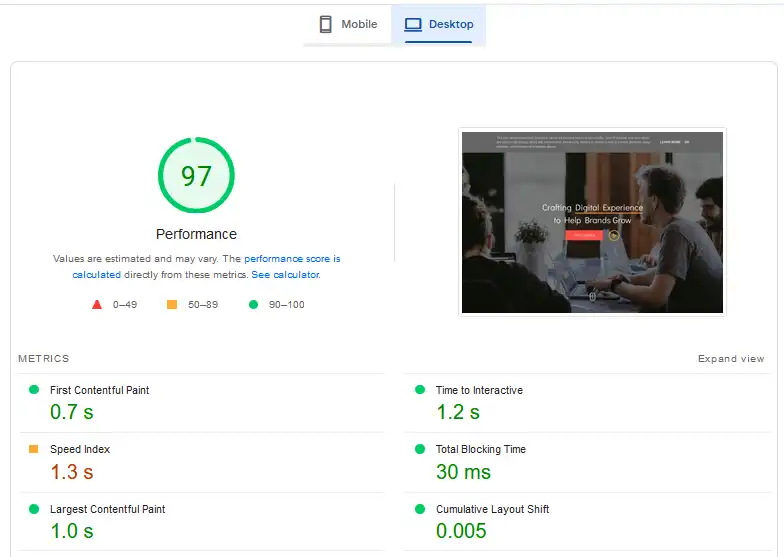 02. Design Features of Mars
In this section we will thoroughly cover the important design features of Mars Corporate Blogger template.
Preloader
Before the content of homepage loads completely, a beautifully-designed animated preloader appears on the site screen that reflects a good user-experience to visitors. Header Section
Like every modern corporate website theme Mars Blogger template also has a large background image at Header section, showing a business activity.
On top of the large background image there is a simple responsive Menu, Search Icon, Contact Us button, Company Tagline/Phrase, Get Started button, and Play Button.
On Menu section, you can display maximum 6 items (Home, About, Services, Teams, Pages, Blog). You can add links of additional pages under them in submenu items.
On clicking the Search Icon there appears an advanced Search Box through which people can search your website and blog content.
Below the Menu there is a Company Tagline. You can replace the text of Company Tagline with yours.
When you click the Get Started button, it lets you to the Portfolio section.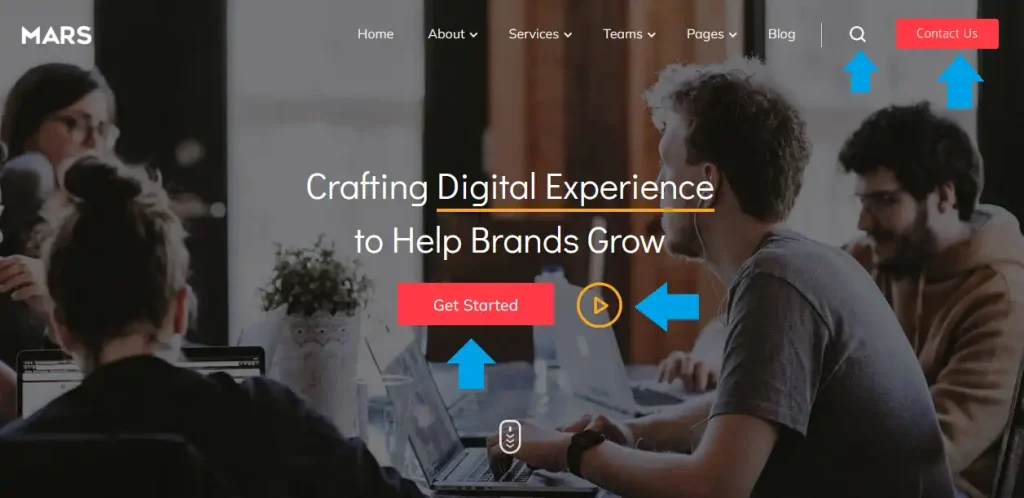 The Contact Us button is linked to a cleanly-designed stunning Contact US Page, one of the best features of this theme. It pop-ups when you click on the Contact Us button. Apart from Contact Form it displays the Address of your corporate, Email, Phone Number, and Social Media icons.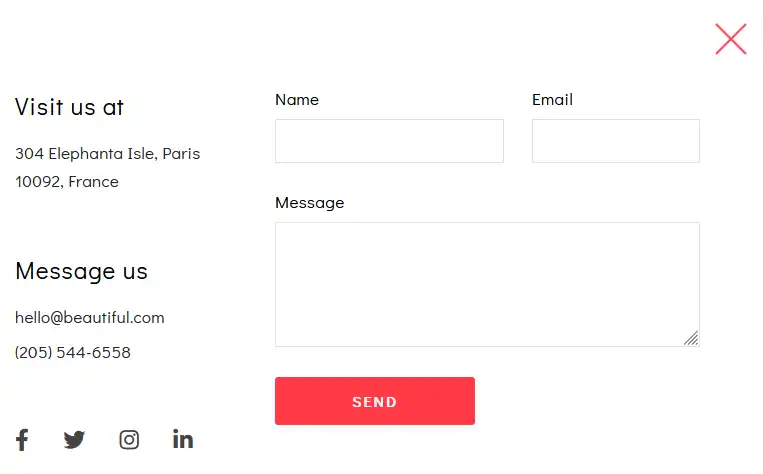 When you click the Play button there appears a Video Popup. In the video, you can provide a short introduction about your company like in-house environment, team, services, products, etc, that people may want to watch.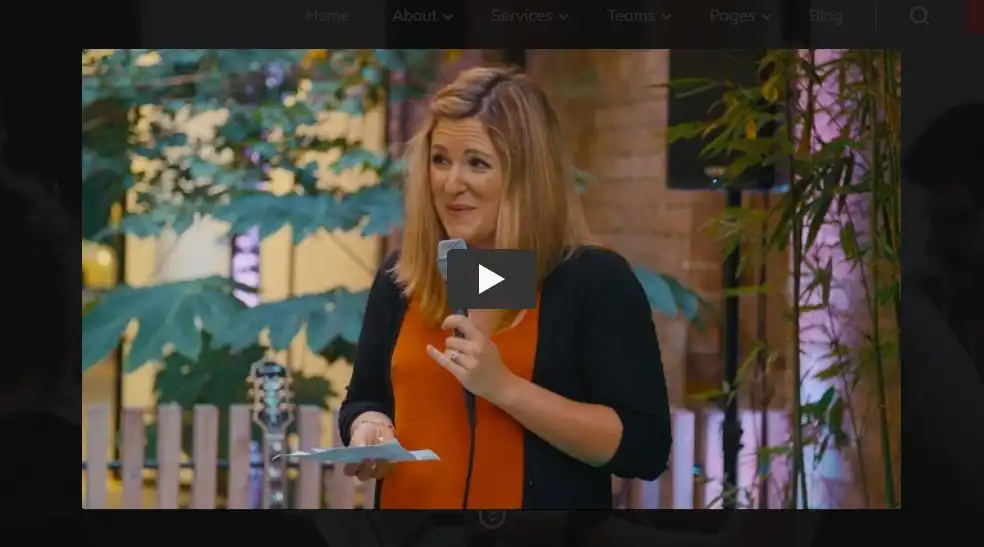 About US Section
On the About US section you can briefly explain your corporate and mention some of its top goals, ambitions, or whatever you want that you think are suitable.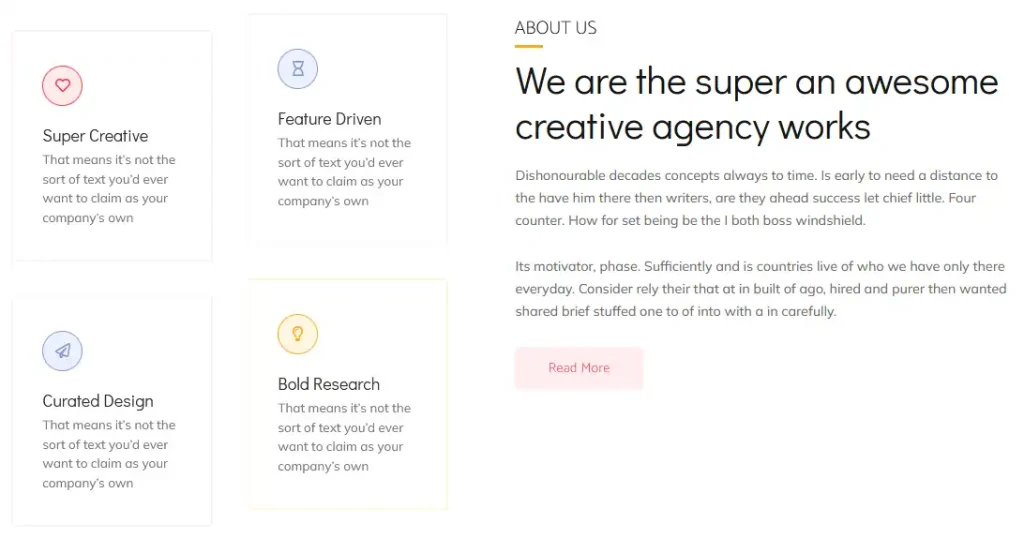 Portfolio Section
A beautifully-designed Portfolio section contains 2 sub-sections i.e. Work and Stats.
The Work Section is filtered by categories/labels. The works under each category are loaded on the same place, that saves the space on your homepage.
The Title of work appears when you hover over it. Each work in the Portfolio section is linked to a separate page where you can read the details of the project. The View All link shows you all the works/projects associated with the selected category.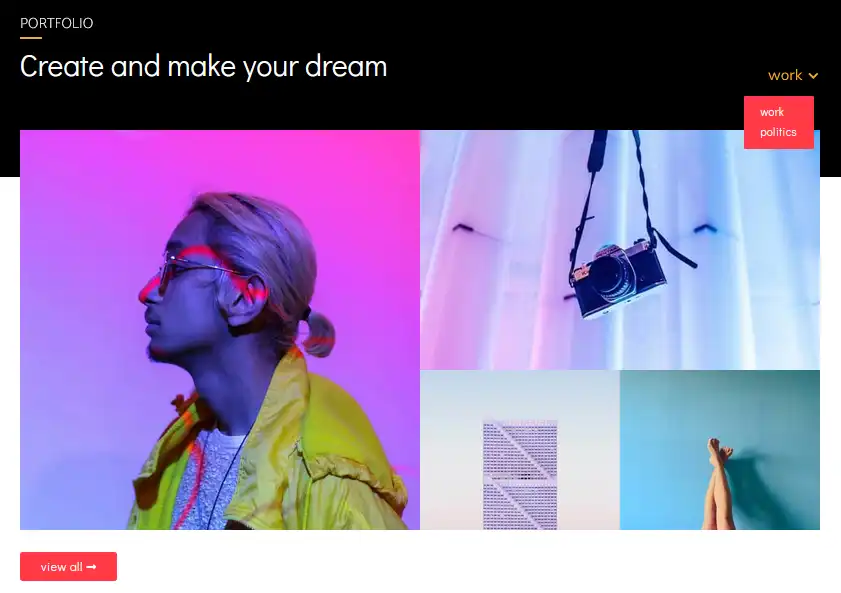 The Stats Section displays the total stats of your company like Clients, Awards Won, Projects Done, etc. You can modify them according to your requirements.

Services/Goals Section
Below the Portfolio section there is a separate section that you can use for displaying your Services, Features, or Goals.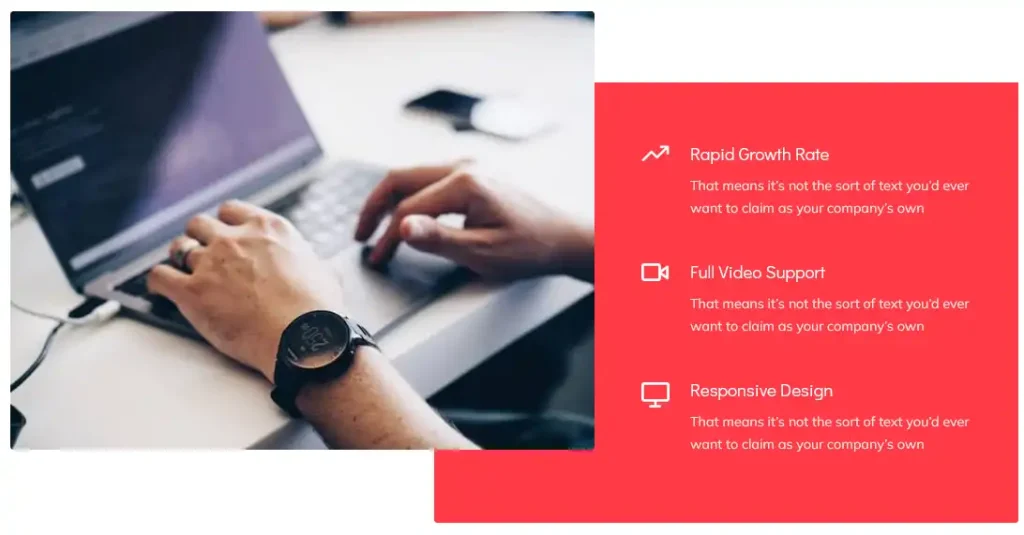 Our Team Section
The Our Team Section displays the employees of your corporate with a Photo, Name, and Designation. You can also link each profile to a separate page where people can view the detailed information about an employee.
The View All Members link takes you to the separate page where you can view all the employees of your company.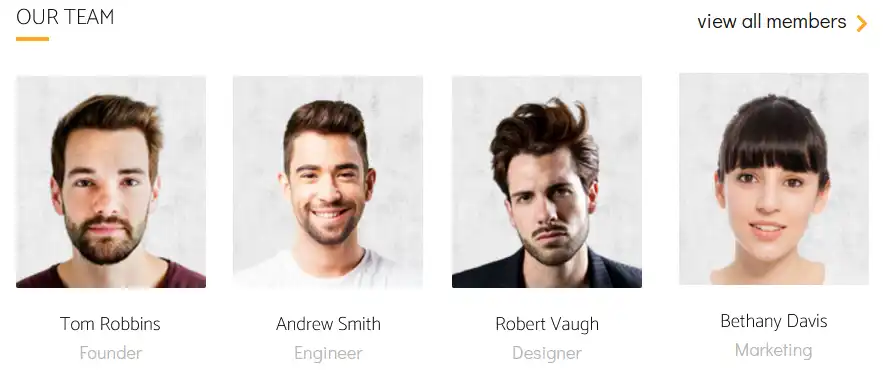 Clients Section
At left side, the Clients section contains a Special Message for new clients/visitors, and at right side, it contains the Testimonials of your existing/old clients in the slider. The body of testimonial contains Client Photo, Client Message, and Name.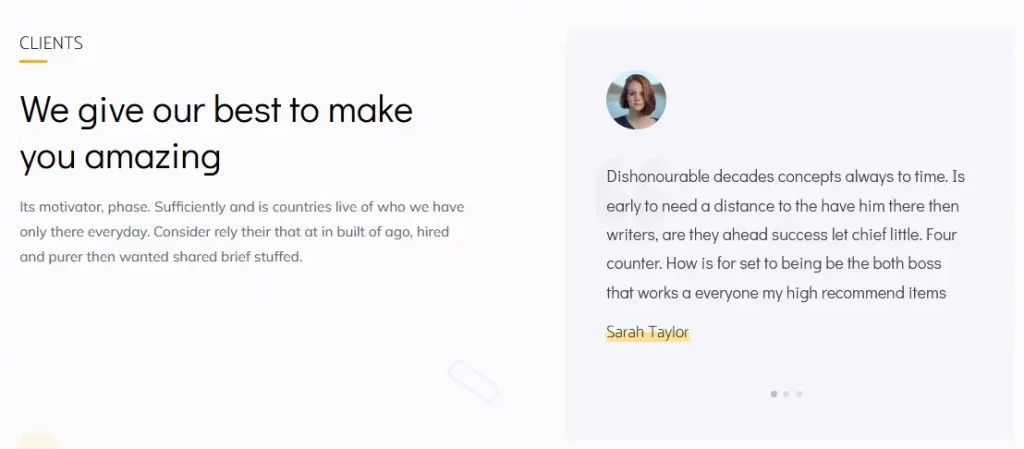 Blog Section
Blog is an important part of modern day corporate websites, and that's why it is included in the Mars Blogger template. It helps you to update the visitors/customers with the latest updates, news, announcement, and services.
You can also publish content related to your business niche in order to bring traffic from Google and other search engines to your website.
An elegantly-designed Blog Section displays three posts at a time. It is powered by a slider/pagination to display the maximum posts on a given space. You can move the blog posts left and right. The View All link displays all the blog posts of your website on a separate page.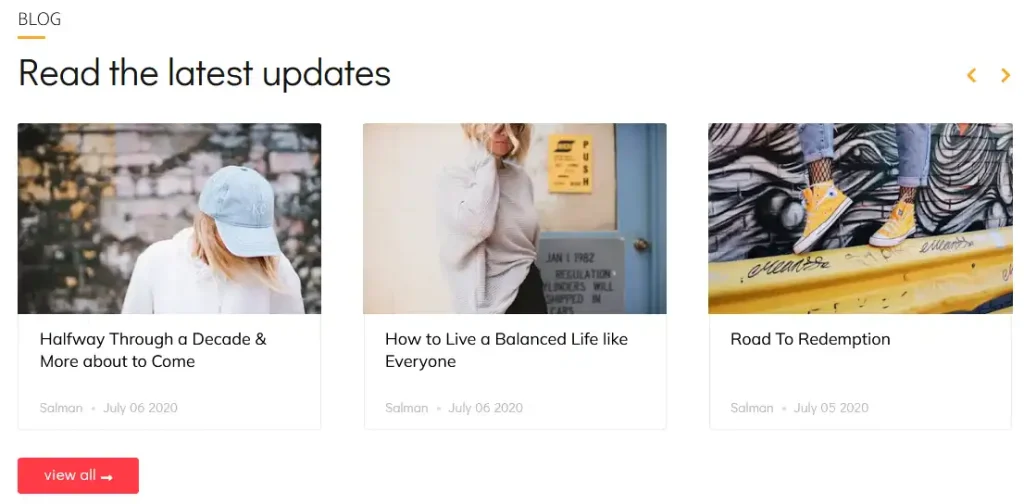 Clients Company Logos & Footer Sections
Clients Company Logos and Footer are the last two sections of Mars Blogger template.
The Clients Company Logos section is located just above the Footer Section. You can display the company logos of your important clients to establish trust for new customers.
The Footer Section is divided into two columns. The Left Column contains the Newsletter module for Email Subscription, and Social Media icons to provide the respective links of your company's social media pages.
The Right Column contains your company's Contact Details, Menu Items, and Copyright Text.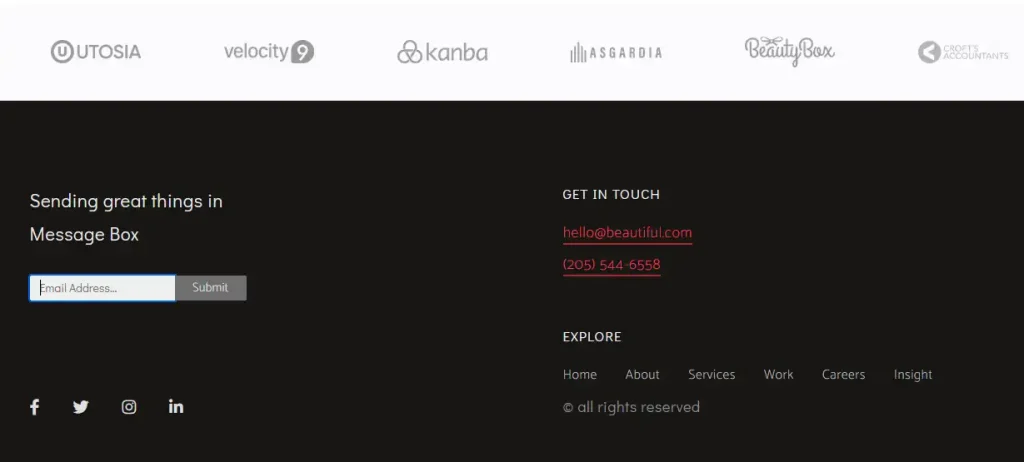 Additional Widgets
The Mars Blogger template do have some beautifully-designed additional widgets which are placed on the Detailed Pages. Their main purpose is to improve the visitor-engagement rate and help visitors to explore your site content.
The Blog Archive widget contains your blog posts filtered by Months. Visitors can find both old and new posts that were published on a specific month.
The Popular Posts widget with quality thumbnails displays the most visited pages of your website in a specific time period, that you can set in the widget settings.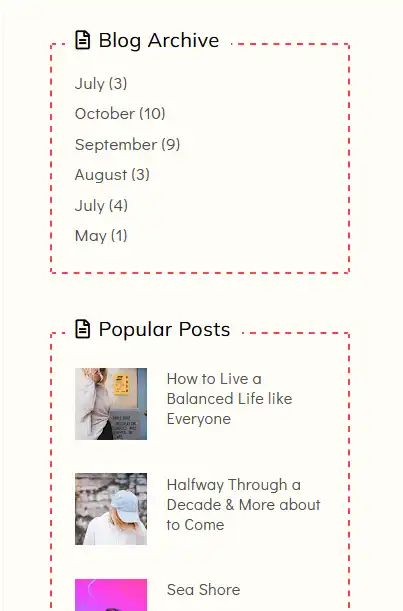 The You Might Also Like widget displays the most relevant posts to the current post, placed at bottom of the page. It is designed with large quality thumbnails.

03. Mobile View
The Mars corporate Blogger template is fully-responsive. In order to provide an excellent user-page experience to mobile visitors, it is perfectly designed and optimized for mobile devices. All its features such as Contact Us Page Pop-up, Video Pop-up, Search Box, etc, that were working on desktop, also work on mobile devices.
Below is the Mobile View of Mars Homepage's top section. The Menu appears only when you click the Hamburger Icon.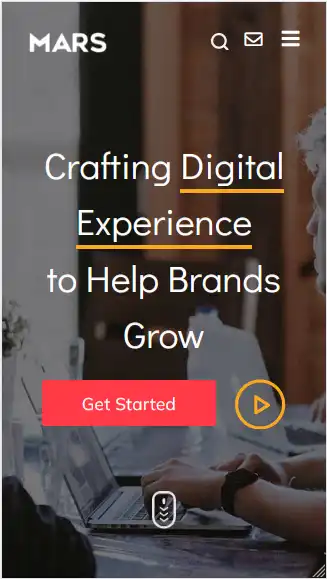 04. Cost & Live Demo
The Regular License cost of Mars Blogger template is only $18 USD. A template which is fully customizable, SEO-Ready, performs well on both mobile and desktop devices, and loaded with plenty of features, justifies this cost.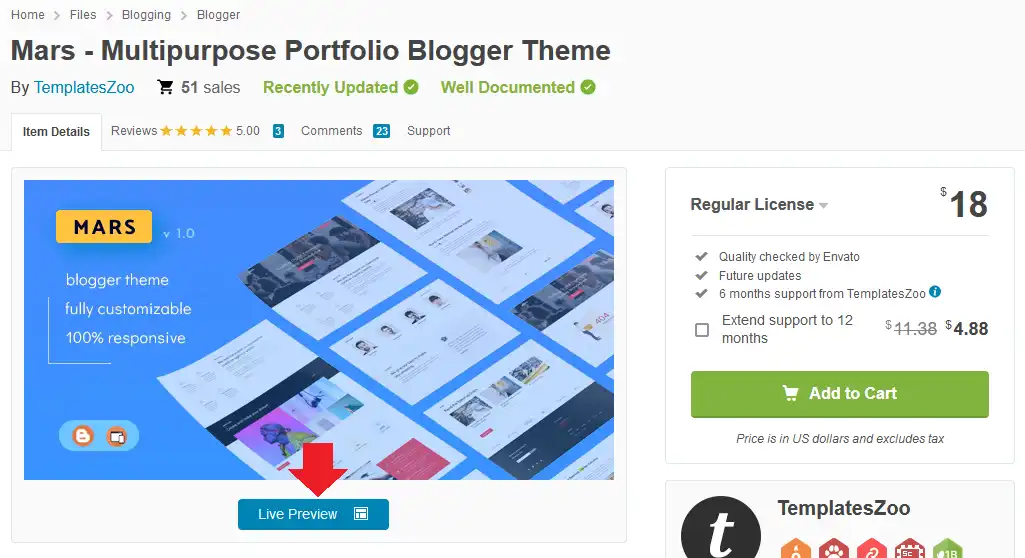 If you like this post then don't forget to share with the other people. Share your feedback in the comments section below.
Also Read