A Landing page is a destination webpage that is particularly designed to convert your website visitors into customers or leads. It is different from the other webpages in a way that it allows you to capture visitor information in exchange of an offer.
Let's explain landing page with an example. VPNCity provides various VPN services and one of its service is to unblock Netflix US. It has created a separate landing page to explain all its features, rates, how to use the VPN to unblock Netflix US, etc.
When visitors will visit this landing page, the specially designed page will motivate them to buy the product. A good landing pages increases the conversion rate and ultimately improves your sales.
A well-designed landing page can greatly increase leads and traffic of your website. Leadpages is more than a landing page builder. You can easily build code-free websites, high-converting landing pages, pop-ups, alert bars, and beyond.
Confidently grow your business by turning clicks into customers with high-converting landing pages and lead generation campaigns. Leadpages helps small businesses connect with an audience, collect leads, and close sales. You can build incredible quality landing pages in a matter of minutes at very affordable rates.
Full access to Leadpages for 14 days.
Publish unlimited landing pages.
Drive traffic and capture limitless leads.
Connect your tools.
Easily experiment & optimize.
Get up to 5X more qualified leads with Facebook ads and optimized landing pages.
Publish in minutes with 150+ free page template.
Confidently optimize every aspect of your marketing campaigns with the help of our human-friendly analytics.
Integrate with your favorite marketing apps.
RELATED
Complete Lead Generation Toolkit
Leadpages provide a complete lead generation toolkit which includes:
Pop-ups for Lead Generation
Checkout Pages
Easy A/B Testing
Unlimited Publishing
High-Converting Landing Page Designs
Flexible Integrations
Mobile Responsive Landing Page Templates
Built-in Lead Magnet Delivery
Code-Free drag & drop builder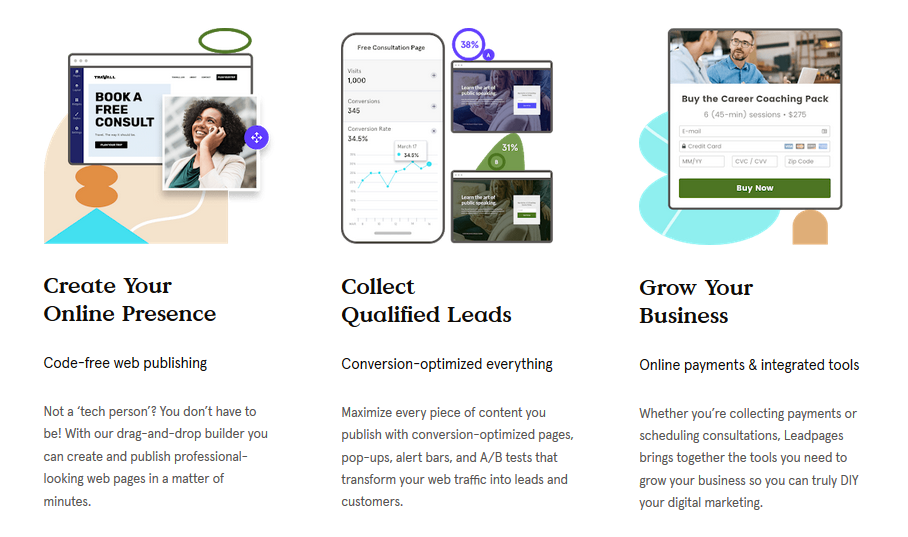 Save Time By Connecting The Data Dots
Integrate your favorite online marketing apps to automatically add leads to email lists and trigger follow-up workflows.

Turn More Clicks Into Customers
Get online, connect with your crowd/audience and convert your traffic.

Success. Straight Up
Leadpages provides free training and coaching. There is a dedicated experienced tech support team for customer support. It also guarantees up-time for your pages because the Leadpages software is run on the Google Cloud Platform.

Plans & Pricing
For Plans, Pricing and Discounts, go to Leadpages Pricing Plans. In order to start for free click on the Start for Free button.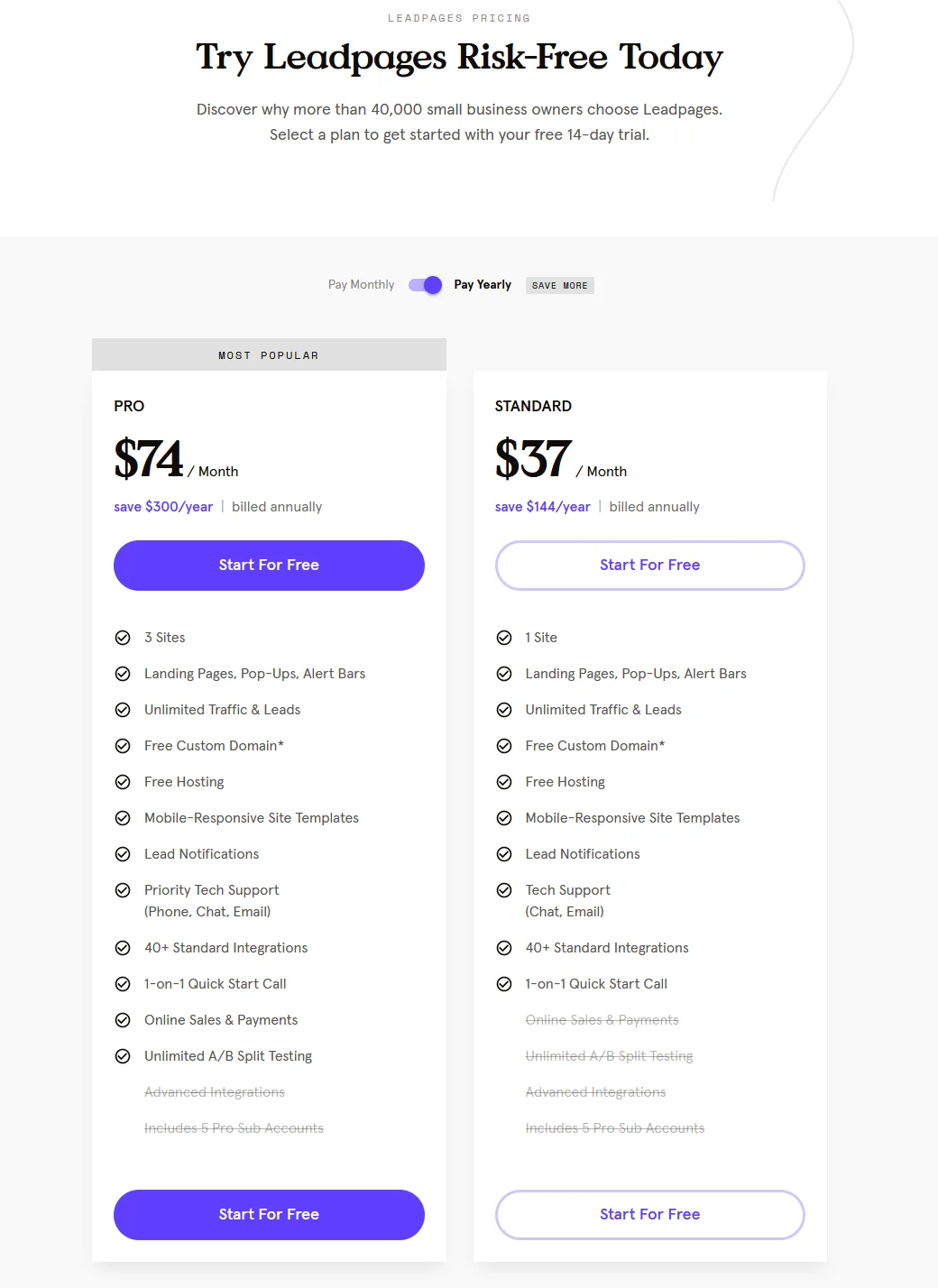 Leadpages is the only online website builder that lets you easily create a high-converting website with code-free customization. Increase your conversions and improve visitor experience with industry-leading page load speeds.
If you like this post then don't forget to share with people. Share your feedback in the comments section below.
Also Read