(Last Updated On: June 23, 2022)
Do you want to know how Fiverr can help to scale up your eCommerce business? You're in the right place.
An eCommerce business involves lot of things which are important for its success, scalability and sustainability like:
Website design, website optimization, website customization, website ranking
Reliable website hosting, advertisement budget, payment configurations
Dropshipping, eCommerce marketing, analytics, product competition
Product demand, product search volume, sales trends, PPC campaigns
Manual campaigns, SEO, product optimization and many more..
Majority of eCommerce business owners have vague knowledge about above mentioned things or even if they have they can't do or manage by themselves, so the most feasible option for them is to hire affordable professional freelancers on Fiverr who have already assisted thousands of eCommerce businesses and made their struggling stories to success stories.
The more help you have the more you are able to scale up your eCommerce business. A dedicated professional freelancer who will be spending few hours per day on your eCommerce business would have potential to bring a massive growth and revenue to your eCommerce business.
If you are confused and not sure what improvements your eCommerce business needs, what type of team players you need, what type of skills are required, you can simply create Fiverr Business account and let Fiverr finds the best team of freelancers for your project. As we will discuss later how Fiverr Business works and helps customers to grow their business.
Fiverr is the world's largest marketplace for freelancing services. It connects customers with freelancers worldwide, provides the opportunity to scale up your eCommerce business.
You can hire a freelancer(seller) depending on your budget, required skills, delivery time, freelancer's langauge, freelancer's location & freelancer's skill levels. Each service that a freelancer offers or sell on Fiverr is called Gig.
Here are some of the popular eCommerce-business related services that one can find on Fiverr:
Development, Design, Customization & Bug Fixing of WordPress eCommerce store, Shopify store, WooCommerce store, Prestashop store, Magento store, Opencart store, Bigcommerce store etc.
Theme/Plugin installation
Consultation
Performance & Security
Backup, Cloning & Migration
eCommerce Website Optimization
Search Engine Optimization – SEO
Dead Listing Optimization
Setup Payment Gateways
Amazon Product Listing & Optimization
Product Upload Experts In WooCommerce Shopify Store
FBA Virtual Assistants
FBA Product Research For Private Label
Shopify Winning Products For Dropshipping With Video Ads
Shopify Dropshipping Product Research
Uploading Amazon Listing To Your Seller Account
eBay Feedback, Restriction and Selling Limit Issues
Walmart To Amazon Dropshipping
AliExpress To eBay Dropshipping and many more…
In order to get quick results and exact match Fiverr provides you with the useful filters like Service Options, Seller(Freelancer) Details, Budget, Delivery Time & Pro Services.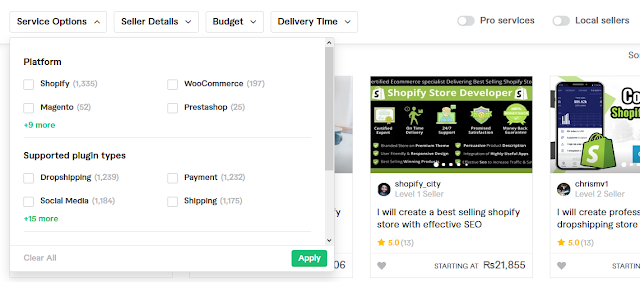 How To Hire?
It is pretty simple and straight forward task to hire a freelancer on Fiverr. Majority of freelancers on Fiverr offer three packages i.e Basic, Standard & Premium. Each package is comprised of different features, services, delivery time and budget. Once you choose a package click Continue and follow the next steps.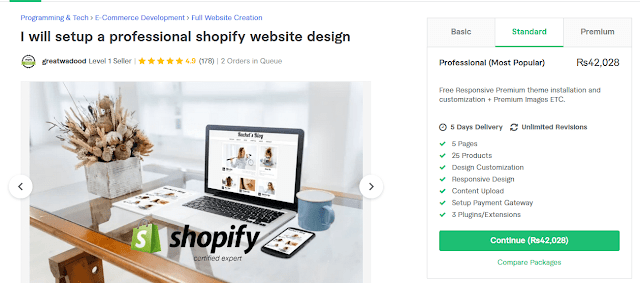 Fiverr Business
Fiverr Business offers you the real opportunity where you can actually scale up your eCommerce Business. By creating a Fiverr Business account you can efficiently manage all your business activities like budgeting, communication, deliveries in one workplace.
It offers dedicated Personal Business Success Manager, Group Of Top Freelancers, Tools To Make Collaborations Easy etc. Fiverr Business offers a year for free.
The Personal Business Success Manager helps you to bring the ideal freelancers for your project, you don't need to go through the hectic process of guessing and interviewing freelancers. You can add up to 50 freelancers in your team.
Once you find the right freelancers it becomes much easier for you to allocate tasks, which helps you to control and manage all your business activities and budgets.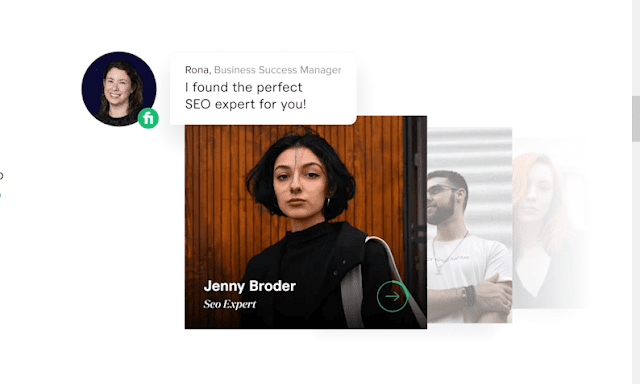 Conclusion
As the world is moving forward more and more people are investing on eCommerce business, so to remain in the competition and earning high revenues an eCommerce business needs expansion, new ideas & optimization. Fiverr is a great platform for availing eCommerce business services at affordable rates.
If you like this post then don't forget to share with other people. Share your feedback in the comments section below.
Also Read