Are you a German Shepherd owner and don't know exactly what type of German Shepherd do you have? Don't worry, you're in the right place. In this post, I will guide you on how you can identify the type of German Shepherd and its purity using DOG DNA Test Kits.
German Shepherd is arguably the most demanding and attractive dog breed that people look for, but there has always been a debate on its purity, whether it is original or not. To end this confusion some of the dog experts and scientists came up with the Dog DNA tests.
The DNA Test results tells you each and everything about your dog like its type, ancestry, relatives, traits, personality characteristics, health issues, etc, help you to better understand your dog and provide the best possible care and training that it deserves.
In general there are 5 ways to identify the purity of the German Shepherd i.e. By Color, By Back, By Tail, By Ears & By White Spots, but there are different opinions on these checks, particularly on white spots and ears. So that's why dog experts recommend DNA Test for your GSD by visiting a veterinary or using a reliable DNA Test Kit.
Though there are many Dog DNA Test Kits available in the market, but I have chosen the two best Dog DNA Test Kits i.e. Embark & Wisdom Panel. On Chewy, around 90% to 92% people who have used these Dog DNA Test Kits found the results accurate and very helpful.
Remember that the German Shepherd is a large dog breed and its purity standards are very high. An ordinary DOG DNA Test Kit might not give you the accurate results that Embark & Wisdom Panel can.
RELATED
Following topics will be covered in this post:
5 Reasons For Carrying A Quality Dog DNA Test

*

How Dog DNA Test Kits Work
Features Of Embark & Wisdom Panel
Embark Vs Wisdom Panel – Test Results
Disclosure: This post contains affiliate links and we will be compensated if you make a purchase after clicking on our links. It doesn't add any additional cost to you.
5 Reasons For Carrying A Dog DNA Test
Here are 5 important reasons why you should carry a quality Dog DNA Test of your GSD:
You should have a pedigree of your GSD particularly if you are someone who has kids and wants to allow GSD inside home. There have been rare cases where mixed GSD breeds have behaved differently to kids.
From Dog DNA Test results you will know about the pedigree/ancestry/family tree, the potential personality characteristics and health conditions. The Dog DNA tests confirm the authenticity of pedigrees and genetically-confirmed proof of parentage.
GSDs with pedigree are sold at best prices whereas GSDs without pedigree are sold at very low prices. For instance a GSD with pedigree is sold at $3000(USD), if similar type of GSD is sold without pedigree, will hardly cost $300(USD) to $400(USD).
Is your GSD sheltered, rescued or adopted? If yes, you must carry a Dog DNA test to get reliable information because it is very important to know about its behavioral characteristics, ancestry, and health condition. You can't blindly trust on an unknown animal, who is going to stay at your home with your family.
To end the curiosity of your relatives, friends and passersby. Whenever someone finds a German Shepherd the first question that he would ask is, "Is this Pure breed?", "Has he got the right angulated back?", "Oh look, it has a white spot there! Is it pure?" etc. If you have a pedigree or ancestry record you can confidently say, "Of course it is pure breed. If you don't believe I have a record".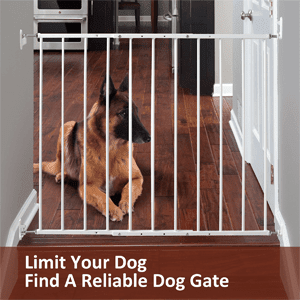 How DNA Test Kits Works
The Dog DNA Test Kit involves only 3 steps:
Activating the Dog DNA Test Kit.
Collecting of your dog's DNA with quick swab of cheek.
Mailing the sample back to their lab(Company). Normally it takes 10 days to 3 weeks for your sample to reach the lab. Once it reaches the lab you get customized & comprehensive online report.
The Test Kit includes Activation code, Swab & Envelope.
Here Embark DNA Test Kit is unboxed, you can get an idea how the whole process works. Wisdom Panel Test Kit is also similar to this and works in the same manner.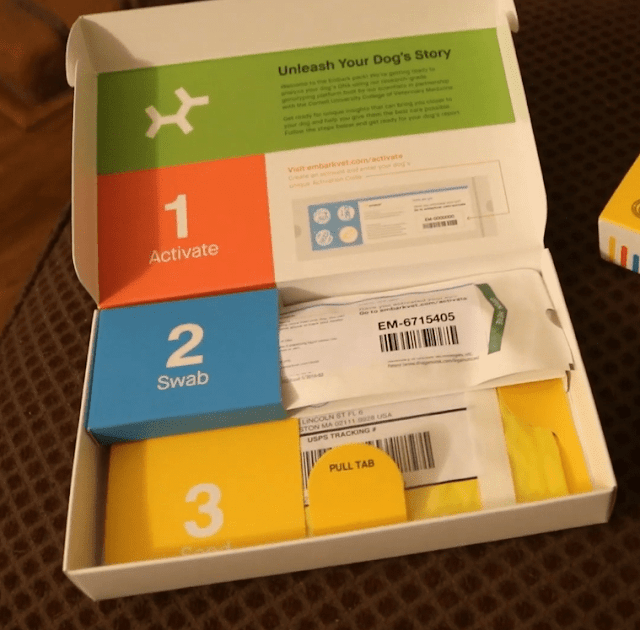 In the Activate step visit the website via given link and enter the unique activation code provided in the kit. On Embark you can activate your kit at: www.embarkvet.com/activate, and on Wisdom Panel you can activate your kit at: www.wisdompanel.com/app/activate.

In the Swab step take out the swab from the covering.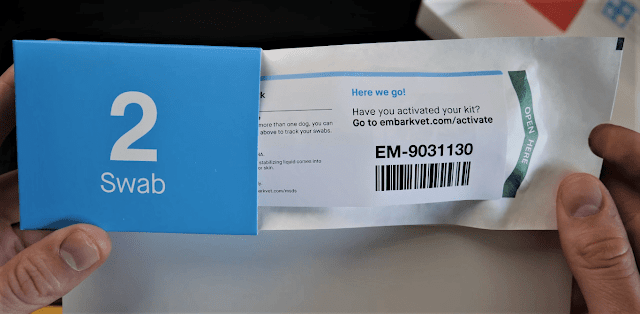 Swab the lower cheek pouches for 30 to 60 seconds to fully soak the sponge. Make sure it's been 30 minutes or an hour since your GSD last drank, ate, or licked another dog.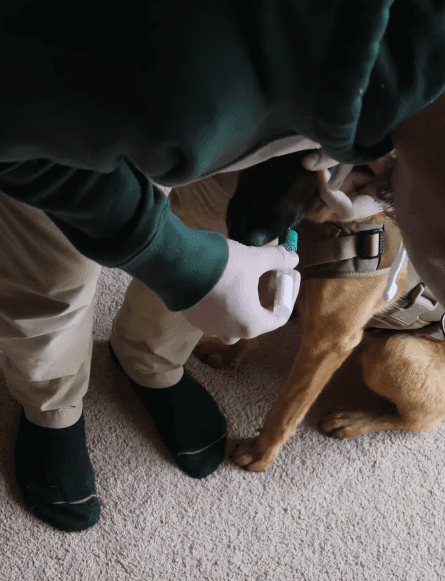 Insert swab into tube with tip facing down. Close the cap and shake 10 times. Appreciate your dog by shaking his head.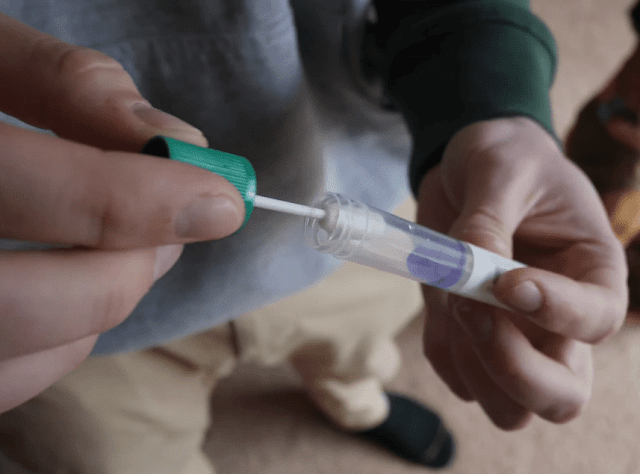 In the Send step open the envelope and take out the clear bag.
Drop you sample into clear bag. Pull the removable white strip and seal the clear bag.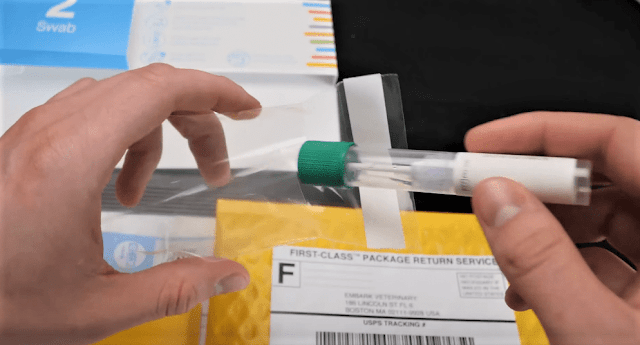 Insert the clear bag into envelope and mail to the given address. It takes 10 days to 3 weeks for your sample to reach the lab. Once it is processed you will get a comprehensive online report.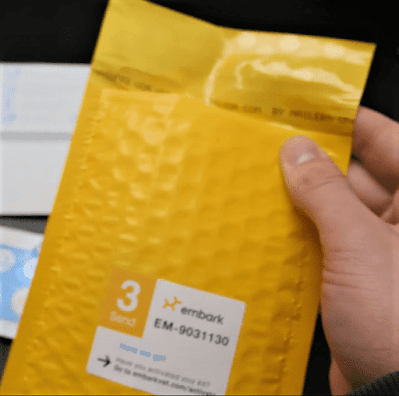 Features Of Embark & Wisdom Panel
Both Embark & Wisdom Panel are amazing Dog DNA Test Kits, let's have a look on some of their salient features.
01. Embark
Embark is considered as the most accurate Dog DNA Test by majority of dog experts around the world.
It is the research partner of Cornell University College of Veterinary Medicine & Spencer Wells. Cornell University is the leading veterinary school in the United States and Spencer Wells is a pioneer in consumer genetics. Embark has also been endorsed by Westminster Kennel Club Dog Show.
The canine geneticists from Embark have developed a custom extension of the Illumina Canine HD genotyping array capturing over 200,000 genetic markers, provides comprehensive information about breed type and family trees up to great grandparents.
It screens for 350+ dog breeds, 200 health conditions & 20+ traits.
Its genetic age algorithm provides you the genetic age of your dog, so that you will provide the right age-appropriate food, care & training to your dog.
Embark is the only company that actually stocks the DNA of European Wolf dogs and it is the world's first canine relative finder.
02. Wisdom Panel
Wisdom Panel is one of the leading and largest Dog DNA Test companies in the world, doing research on Dog DNA for more than 20 years.
It is partnered with the Washington State University, Morris Animal Foundation, IPFD(International Partnership For Dogs), Waltham, OFA(The Canine Health Information Center), University of Helsinki & ISAG.
Its DNA database is built from the samples of 1.7 million other dogs which helps you to identify ancestry up to grandparents.
Wisdom Panel DNA Test supports 350 dog breeds & screens for 200 genetic health conditions & 35+ traits.
Wisdom Panel DNA Test discovers the ideal weight of your dog based on his DNA, so that you can provide right food, care and training.
Embark Vs Wisdom Panel – Test Results
This is the bi-color German Shepherd whose DNA Test samples were taken using Embark & Wisdom Panel swabs.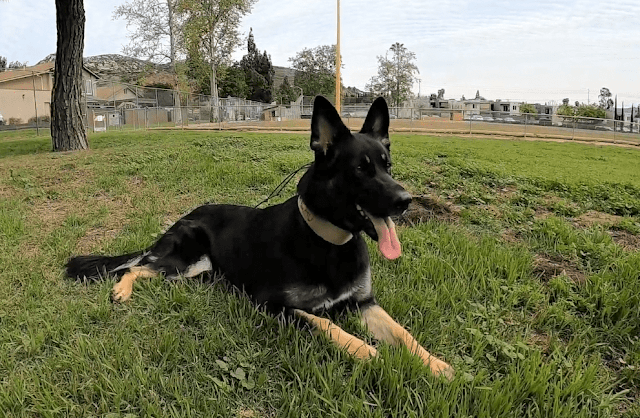 DNA Test samples were carefully taken by swabbing lower cheek pouches.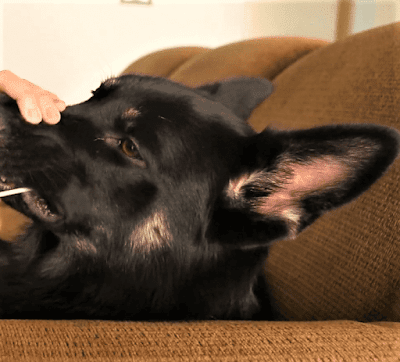 Though the online test results are quite comprehensive and detailed, but here I am sharing few snapshots of Embark's & Wisdom-Panel's test results. Let's see what they suggest about the GSD.
Embark Test Results
This is the online test result sent by Embark. It identifies the dog as "100% German Shepherd Dog".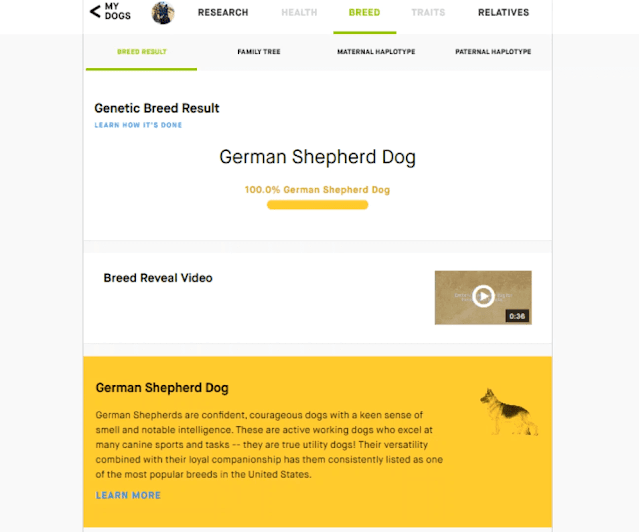 Here you can see the hierarchy. Its Parents, Grandparents & Great Grandparents all are German Shepherds.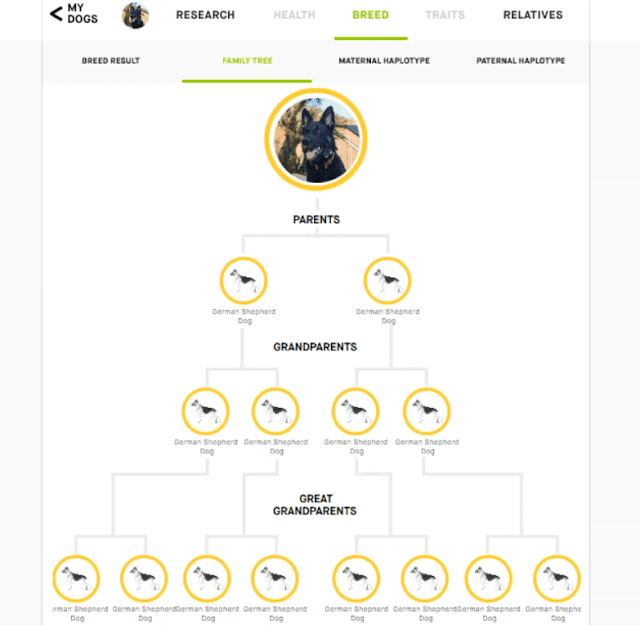 Here it is suggesting the close relatives of the dog using Doggy DNA Relative Finder based on the percentage of DNA they share. The closest relatives are VOLGA & MEGYN.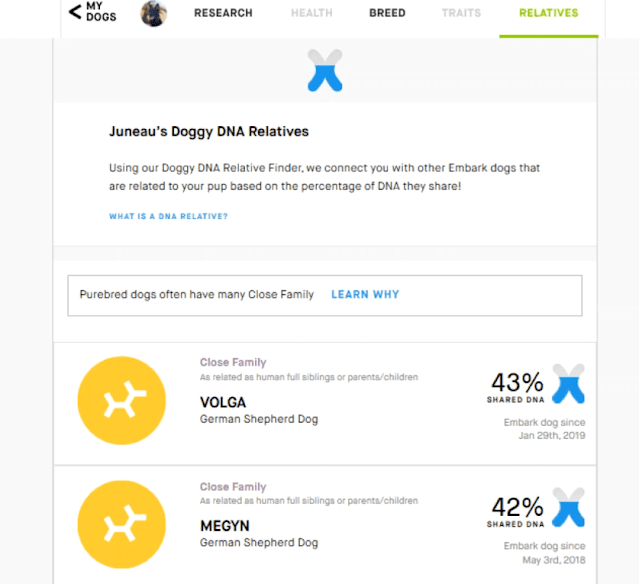 Wisdom Panel Test Results
Now let's see what Wisdom-Panel's DNA test results tells about the dog. It identifies that the dog is 75% German Shepherd and 25% is other breeds, sharing genetic similarities.
According to some dog experts no purebred dog will have 100% of its breed, genetics work like this. So one can also conclude from the Wisdom-Panel's test result that this dog is technically pure German Shepherd.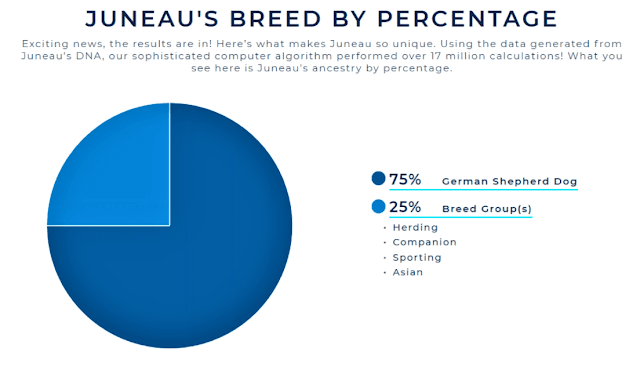 Here it is showing the family tree of the dog from Parents to Great Grandparents. The blue dog icons tell you that they are not German Shepherds or there is no genetic information about those parents in their database.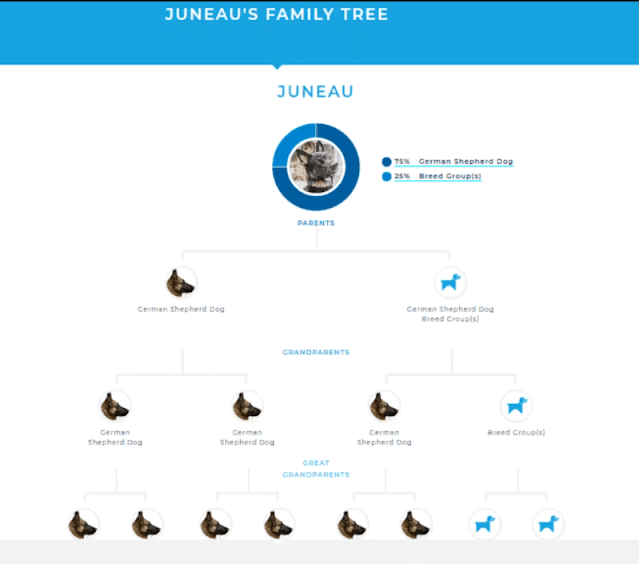 Here it is suggesting the possible dog breeds from 25% Breed Group.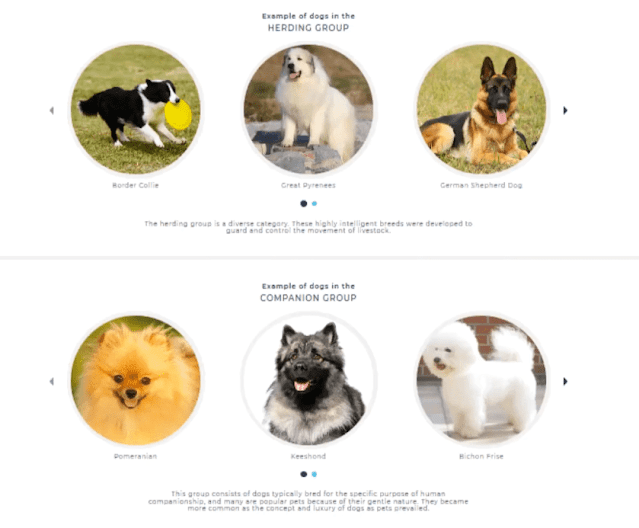 Conclusion
You must have analyzed the features and test results of Embark and Wisdom Panel. The test results of both the DNA testing kits were amazing. If they don't deliver 100% accurate results it does not mean that they are inaccurate. It is about reading the breeding markers, there is possibility that genetic information of particular dog breeds is missed in their Dog DNA database.
If you like this post then don't forget to share with other people. Share your feedback in the comments section below.
Also Read