WebHosting
Best & Cheapest Windows Reseller Hosting In India & Worldwide With Free SSL
(Last Updated On: October 18, 2021)
Are you looking for the best and cheap Windows reseller hosting in India, UK, US, Pakistan or worldwide with free Plesk Panel & free WHMCS? You are in the right place. ResellerClub India is providing one of the best and cheapest Windows reseller hosting all over the world with unlimited Plesk accounts, free WHMCS and free SSL certificate.
With ResellerClub Windows Reseller Hosting you can offer customized Windows Hosting plans or develop websites on ASP/.NET for your customers. You can manage your hosting business with ResellerClub's fully brandable & easy-to-use Plesk & WHMCS setup.
ResellerClub Windows Reseller Hosting provides amazing management, security, and performance features like free Plesk Panel, free reseller account, infrastructure, CloudFlare Security, Parallel Panels, ASP.NET, Intel Dual Core Processors for fast performance, Upgrade on demand, free WHMCS, free SSL Certificate, Unlimited websites, Unlimited Email & also 30-Day money back guarantee.
With ResellerClub Windows Reseller Hosting you can control the overall resource allocation to best fit your clients needs.
It offers 4 Hosting Plans R1, R2, R3 and R4. You can explore cost and other features below:
R1: Disk Space: 10GB, Data Transfer: 200 GB, Unlimited Email, Unlimited cPanel Accounts.
R2: Disk Space: 25GB, Data Transfer: 500 GB, Free WHMCS, Unlimited Email, Unlimited cPanel Accounts.
R3: Disk Space: 50GB, Data Transfer: 1000 GB, Free WHMCS, Unlimited Email, Unlimited cPanel Accounts.
R3: Disk Space: 100GB, Data Transfer: 2000 GB, Free WHMCS, Unlimited Email, Unlimited cPanel Accounts.
Difference B/W Windows Reseller Hosting & Linux Reseller Hosting
Before we let you to the ResellerClub Windows Reseller Hosting features and Plans, you must understand the key differences between Windows Reseller Hosting and
Linux Reseller Hosting
.
Cost: Windows Reseller Hosting is more expensive as compare to Linux Reseller Hosting because there is an additional cost of features and Windows operating system.
Ease Of Use: Every Linux distribution has a different interface and it is bit difficult to use whereas Windows has a familiar interface that is much easier to use and navigate around.
Security: Though both the platforms are secure, but Linux has a more configurable security like new security features can be configured quickly because Linux is open-source and developer friendly. Windows Reseller Hosting comes with its own security suite and it takes more time to implement support for new features because Windows is a proprietary software. Proprietary software means closed-source software or non-free computer software.
Performance: Linux is more developer-friendly because it is open source and can be configured to deliver more performance with given specifications as compare to Windows.
Compatibility: Linux is open source so it is compatible with lot of open-source applications which might not run on Windows whereas Windows is compatible mostly with proprietary software or applications.
Main Features
ResellerClub Windows Reseller Hosting's free Plesk Panel simplifies your web hosting business by helping you to create, edit and provision custom hosting plans to meet your client needs. Plesk Panel allows a server administrator to set up new reseller accounts, websites, e-mail accounts and DNS entries through a web-based interface.
Parallels Panels with Plesk allows you to install over 300 applications, scripts and CMSs such as WordPress, Drupal, Magento, Joomla etc. with just a single click.
ResellerClub Windows Reseller hosting supports the latest stable versions of ASP.NET Framework with MSSQL as well as MySQL database options, which give you incredible flexibility to build your websites. You can upgrade on demand.
Currently the Windows Reseller Hosting runs the Windows 2012 SP1 OS with Plesk Panel for management with ASP.NET support for up to version 4.7. You can see detail technical specification below.
ResellerClub Windows Reseller Hosting infrastructure is backed by Dell Rack Servers with Dual Quad Core Xeon processors to deliver terrific stability, scale and redundancy for your Windows Reseller Hosting.
CloudFlare provides CDN, DDoS mitigation, premium internet security services and distributed domain name server services. CloudFlare CDN will improve your website by up to 1000x and increase your website ranking on search engines. Cloudflare CDN improves page load speed, handle large traffic, block spammers, bad bots & virus attacks.
You can provide your customers with the ability to use free emails and create unlimited email accounts. The only limitation will be on total space used by emails across all your Plesk accounts.
Windows Reseller Hosting Plans
ResellerClub Windows Reseller Hosting offers 4 hosting plans: R1, R2, R3 & R4. Every Reseller Hosting Plan comes with 6 billing cycles i.e 1 month, 3 months, 6 months, 1 year, 2 years & 3 years.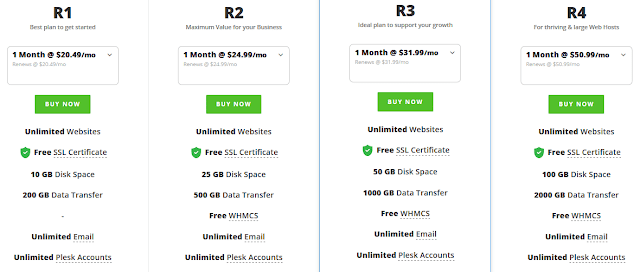 Technical Specifications
1. Software
Windows: 2012 SP1 (Standard) 64 bit OS
Plesk: Onyx (17.5)
Microsoft-IIS: 8.5
BIND DNS Server: Supported
PHP: 5.5 (Plesk 11.5), 7.5 (Plesk Onyx), PHP (5.2.17, 5.3.28, 5.4.45, 5.5.36, 5.6.22)
MSSQL: Microsoft SQL Server 2008 R2 and 2012 R2
myLittleAdmin: 3.8
MySQL: 5.1.68
phpMyAdmin: 4.6.6
MSAccess: Supported
ASP: Supported
ASP.NET or .NET Framework: "4.0 / 4.5 / 4.6 / 4.7"
ASP.NET MVC: MVC 5 Supported, Supported
Perl: 5.10.1
Python: 2.6.5.12
PDO_MySQL: Supported
URL Rewrite: Supported
ASP Upload: Supported
ASP Jpeg: Supported
Json: Supported
2. Additional Software
Crystal Report: Supported
Crystal Decisions: Supported
Zend Engine: Supported
Zend Optimizer: Supported
Zend Guard Loader: Supported
ionCube Loader: Supported
CDO: Supported
CDOSYS: Supported
ASP mail scripts: Supported
ASP.NET mail scripts: Supported
PHP mail scripts: Supported
Javascripts (only if embedded in HTML): Supported
jQuery: Supported
Ajax: Supported
Ajax Toolkit: Supported
SSI 7.5: Supported
WCF Service: Supported
Windows Presentation Foundation or WPF: Supported
Language Integrated Query or LinQ: Supported
SVC: Supported
SilverLight: Supported
3. Security
Password Protected folders: Supported
Hotlink Protection: Supported
4. Database
MSSQL: Microsoft SQL Server 2008 R2 and 2012 R2
myLittleAdmin: 3.8
MS Server Management Studio: Supported
Toad for MySQL: Supported
SQL Query Analyzer: Supported
MySQL: 5.1.68
phpMyAdmin: 4.6.6
MSSQL Stored Procedures: Supported
MySQL Stored Procedures: Supported
MySQL Views: Supported
.MDF database: Supported
FTP: Supported
MySQL Admin Tools: Supported
Conclusion
These were the main features, hosting plans, technical specifications of ResellerClub's Windows  Reseller Hosting. You must have acknowledged its incredible features and cheap rates. Now which Windows Reseller hosting plan you choose, completely depends on your requirements and budget.
If you like this post then don't forget to share with other people. Share your feedback in the comments section below.