(Last Updated On: October 18, 2021)
Are you looking for the best and cheapest managed server hosting with full root access and free cPanel? You are in the right place. ResellerClub Managed Server Hosting is one of the most secure, powerful and scalable managed server hosting in India, Pakistan, UK, US & worldwide.
Its world-renowned Blade Micro servers powered by Intel Xeon Processors, RAID 1 Disks and CentOS deliver unmatched performance.
Why you need managed server hosting for your website and not shared hosting? Managed Server is a physical server where all the resources of one machine or server are allocated/dedicated to a single user or website whereas shared server is a physical server where all the resources, space are shared among hundreds of websites.
There are many disadvantages of shared hosting like some shared hostings face security issues like if any of the website on the shared hosting is hacked, your website will also be compromised as well. If the IP address of shared server is blacklisted your email will also be blacklisted.
Shared servers can easily be overloaded because they host hundreds of websites. This decreases you website speed and compels visitors to leave your website, which ultimately results in decreasing your sales and earnings.
Shared hosting also has the scalability problem. There is always a limit of storage and bandwidth in shared hosting. If some other website brings huge amount of traffic your website might have to compromised as well because you are sharing space with it.
The advantage of shared hosting is that it is very cheap and affordable for new comers. If you have a simple website shared hosting is very feasible.
Managed hosting is recommended for websites like e-commerce websites, high-traffic websites, corporates websites, online applications websites, gaming websites etc. Managed hosting ultimately results in increase in sale and performance of website because it improves security, user experience and website ranking on Google.
In this post we will cover following topics:
Main Features Of ResellerClub Managed Server Hosting
Hosting Plans Of ResellerClub Managed Server Hosting
Main Features
ResellerClub Managed Server Hosting optimizes all your managed hosting for you. It configures your hosting for maximize scalability and usability which includes cPanel installation, management and support. It take cares of all your security by configuring your firewall and regular antivirus and malware scans. If any software needs to be repaired or updated it does for you.
It safeguards your managed server by configuring the operating system and by enhancing the security of server to protect your OS from current and future threats. It also offers unlimited cPanel migration with every managed hosting package.
ResllerClub Managed Server Hosting is supported by state-of-the-art robust infrastructure. The Managed Server hosting is powered by Blade Micro Server with Intel Xeon processors, RAID 1 Disks, CentOS, HVAC(Heating, Ventilation, and Air Conditioning ) architecture, DDoS Protection and latest hardware, together contribute to 99.9% uptime guarantee.
This latest technology in server infrastructure helps ResellerClub to optimize the power consumption and cooling requirements of its managed servers, which results in better performance with higher efficiency.
RAID(Redundant Array of Independent Disks) is a data storage virtualization technology which writes the same data on two drives called "mirroring". If one drive fails the second drive is used. It ensures that your managed server never fails. Hard drives are 7200 RPM SATA drives.
ResellerClub Managed Server Hosting provides you full root access means you can customize your managed server hosting completely for delivering best performance. You can fully manage and control your server and install/uninstall any third-party software.
You can enhance your managed server hosting by using amazing add-ons and tools like cPanel and WHMCS(Web Host Manager Complete Solution). WHMCS is a comprehensive client management and billing software. You can upgrade you server with additional IP addresses and SAN storage. SAN stands for Storage Area Network.
A SAN is an independent, dedicated, high-speed network that interconnects and delivers shared pools of storage devices to multiple servers. Each server can access shared storage as if it were a drive directly attached to the server. SAN advantages include: Elimination of bandwidth bottlenecks, faster backups, rapid data migration, greater fault tolerance and many more.
In case if you are not satisfied with ResellerClub Managed Sever hosting it offers you 30-day money back guarantee as well.
Primary Storage: HDD
Network Speed: 1 Gbps
Network Solution: Juniper Networks
Operating Systems: CentOS, Ubuntu
Web Server: Apache, Nginx
Dedicated IP addresses: 3 IPs Free
Bandwidth: 1 Gbps
Managed Server Hosting Plans
ResllerClub Managed Server hosting offers 4 hosting plans:
MS1 Plan: Dual Core, 4 GB RAM, 1000 GB HDD RAID 1, 5 TB Bandwidth.
MS2 Plan: Quad Core, 4 GB RAM, 1000 GB HDD RAID 1, 5 TB Bandwidth.
MS3 Plan: Quad Core, 8 GB RAM, 1000 GB HDD RAID 1, 10 TB Bandwidth.
MS4 Plan: Quad Core, 16 GB RAM, 1000 GB HDD RAID 1, 15 TB Bandwidth.
ResellerClub Managed Server hosting offers 4 billing cycles i.e 1 month, 3 months, 6 months & 1 year. You can calculate yearly cost of a plan by multiplying the monthly cost by 12. For example the monthly rate of MS1 Plan is $170. Its yearly cost will be $170 X 12 = $2040.
Here are 4 plans with features and rates: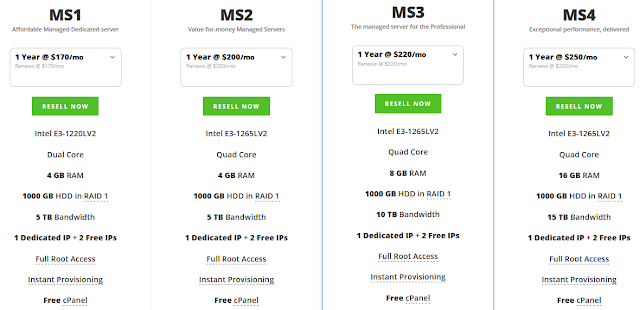 Conclusion
These were the main features & hosting plans of ResellerClub's Managed Server Hosting. You must have acknowledged its amazing features and cheap rates. Now which Managed Server hosting plan you choose, completely depends on your requirements and budget. In case if you are not satisfied with the services & performance there is a 30-Day money back guarantee as well.
If you like this post then don't forget to share with other people. Share your feedback in the comments section below.