(Last Updated On: October 18, 2021)
Are you looking for affordable & cheap Linux reseller hosting in India, UK, US, Pakistan or worldwide? You are in the right place. ResllerClub India is providing one of the best and cheapest Linux reseller hosting all over the world.
Create your own branded hosting service, your own pricing structure by purchasing the ResellerClub's Linux Reseller Hosting and start earning money.
ResellerClub Linux Reseller Hosting provides amazing security, management and performance features like free WHMCS, free SSL Certificate, CloudFlare CDN, Free hosting migration, Unlimited cPanel accounts, Unlimited websites, Unlimited Email & also 30-Day money back guarantee. WHMCS is a comprehensive client management and billing software.
With ResellerClub Linux hosting you can control the overall resource allocation to best fit your clients needs.
ResellerClub's flexible Linux Reseller Hosting plans allow you to create customized hosting plans with unlimited disk space and ample bandwidth. It is ideal for web development agencies, web designers, digital marketing agencies etc.
It offers 4
Hosting Plans
R1, R2, R3 and R4. You can explore cost and other features below.
R1: Disk Space: 40GB, Data Transfer: 800 GB, Unlimited Email, Unlimited cPanel Accounts.
R2: Disk Space: 50GB, Data Transfer: 1000 GB, Free WHMCS, Unlimited Email, Unlimited cPanel Accounts.
R3: Disk Space: 100GB, Data Transfer: 2000 GB, Free WHMCS, Unlimited Email, Unlimited cPanel Accounts.
R3: Disk Space: 200GB, Data Transfer: 4000 GB, Free WHMCS, Unlimited Email, Unlimited cPanel Accounts.
Difference B/W Linux Reseller Hosting & Windows Reseller Hosting
Before we let you to the Reseller Hosting features and Plans, you must understand the key differences between Linux Reseller Hosting and
Windows Reseller Hosting
.
Cost: Windows Reseller Hosting is more expensive as compare to Linux Reseller Hosting because there is an additional cost of features and Windows operating system.
Security: Though both the platforms are secure, but Linux has a more configurable security like new security features can be configured quickly because Linux is open-source and developer friendly. Windows Reseller Hosting comes with its own security suite and it takes more time to implement support for new features because Windows is a proprietary software. Proprietary software means closed-source software or non-free computer software.
Ease Of Use: Every Linux distribution has a different interface and it is bit difficult to use whereas Windows has a familiar interface that is much easier to use and navigate around.
Compatibility: Linux is open source so it is compatible with lot of open-source applications which might not run on Windows whereas Windows is compatible mostly with proprietary software or applications.
Performance: Linux is more developer-friendly because it is open source and can be configured to deliver more performance with given specifications as compare to Windows.
Main Features
ResellerClub Linux Hosting Plans offer free SSL Certificate. You can install SSL Certificate on your domain in just few easy steps. SSL certificate enable websites to move from HTTP to HTTPS, which is more secure.
CloudFlare provides CDN, DDoS mitigation, Internet security services and distributed domain name server services. Varnish Caching and CloudFlare CDN will improve your website by up to 1000x and increase your website ranking on search engines. Cloudflare CDN improves page load speed, handle large traffic, block spammers, bad bots & virus attacks.
Varnish caching reduces the load on servers and improves the speed and performance of your website. Varnish is an HTTP accelerator designed for content-heavy dynamic web sites as well as APIs. It speeds up delivery with a factor of 300 – 1000x.
WHMCS & cPanel simplify your hosting business. You can create & modify unlimited custom hosting accounts with easy management of clients. You can manage upgrade or downgrade customer accounts seamlessly. The OrderBox panel is power packed with features, summarized views of customers, orders and pre-integrated payment gateways. It also offers you modules for easy integration with WHMCS for free.
You can install popular applications like WordPress, Drupal, Magento, Joomla, Prestashop and 400+ applications with Softaculous 1-click-installer for free. The Softaculous is a commercial script library which automates the installation of open source & commercial web applications to a website.
Its scripts are executed from the administration area of a website control panel mostly using an interface tool such as cPanel etc.
Linux Reseller Hosting Plans offer your customers to create unlimited Email accounts for their domain. Your customers can access email from every device as it uses IMAP secure email. You can upgrade your plan to other plan in minutes if your hosting requirements are increased. ResellerClub's migration team also help you for free of cost cPanel to cPanel migration.
Linux Reseller Hosting Plans
ResellerClub Linux Reseller Hosting offers 4 hosting plans. Remember that higher the billing cycle you choose more money can you save. Let's say if you choose monthly billing cycle, you can save only 20%. If you choose 1 years, 2 years or 3 years billing cycle, you can save from 35% to 45%.
For Example:
R1 cost of 1 month billing cycle is $17.59/month. The yearly cost will be $17.5 X 12 = $211.08.
R1 cost of 1 years billing cycle is $14.29/month. The yearly cost will be $14.29 X 12 = $171.48. You can save 35%.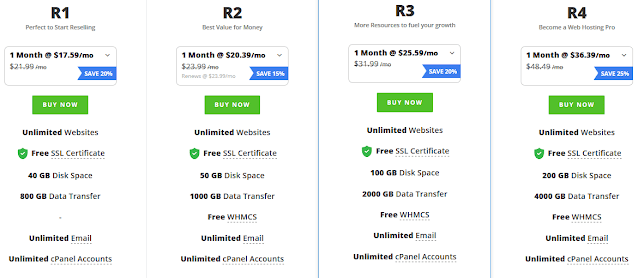 Technical Specifications
1. Core Software
CloudLinux: 6.9*
Apache: 2.2.34*
cPanel: 62
PHP: 5.2/5.3/5.4/5.5/5.6/7.0
MySQL version (server): 5.5, 5.6
MySQL client: 5.1.73
Python: 2.6.6
PEAR: Supported
phpMyAdmin: 4
CloudFlare: Supported
Softaculous: Supported
Perl: Supported
PHP Safe Mode: Supported
mcrypt: Supported
Zend Engine: Supported
eAccelerator: Supported
Ruby: Supported
zlib: Supported
cURL: Supported
cURL Library Functions: Supported
ImageMagick: Supported
ionCube Loader: Supported
PDO_MySQL: Supported
2. Database
MySQL version (server): 5.5, 5.6
MySQL client: Yes
phpMyAdmin:  4
MYSQL: MyISAM: Supported
formmail.cgi: Supported
SFTP: Supported
MySQL Admin tools: Supported
Toad for MySQL: Supported
4. Security
Password protected folders: Supported
Hotlink Protection: Supported
3. Additional Supported Software
Zend Optimizer:  Supported
Zend Guard Loader: Supported
mod_mime.c: Supported
jQuery: Supported
mod_rewrite / URL rewrite: Supported
Ruby On Rails: Supported
Javascripts (only if embedded in HTML): Supported
soap module: Supported
json: Supported
InnoDB: Supported
SSI: Supported
Conclusion
These were the main features, hosting plans, technical specifications of ResellerClub's Linux Reseller Hosting. You must have acknowledged its incredible features and cheap rates. Now which Linux Reseller hosting plan you choose, completely depends on your requirements and budget.
If you like this post then don't forget to share with other people. Share your feedback in the comments section below.