(Last Updated On: October 18, 2021)
Are you looking for the best & cheapest Linux Dedicated Server SSD hosting with complete root access and 99.9% uptime? You are in the right place. ResellerClub Linux Dedicated Server SSD hosting is the best and cheapest Dedicated Server SSD hosting in India, Pakistan, USA, UK & worldwide.
A Dedicated Server is a physical server where all the resources of one machine are allocated to a single user whereas in Shared Hosting server resources are allocated among the respective users. A Dedicated Server allows you to benefit from every resource available such as RAM, computing power, storage, etc.
Typically Dedicated Server Hosting is used to benefit high-traffic websites, corporate websites, large businesses, ecommerce websites, website and business applications, machine learning, content streaming, big data, podcasting, storage, infrastructure virtualization, game servers etc.
Dedicated Server Hosting is recommended for those who have a technical background i.e. those who are comfortable with managing and configuring servers with root access.
In this post we will cover following topics:
How SSD Is Better Than HDD?
Main Features
Dedicated Server SSD Hosting Plans
How SSD Is Better Than HDD?
A solid-state drive (SSD) is a faster, newer, lighter and more durable device that stores data on instantly-accessible memory chips. It is twice faster than HDD and uses less energy.
 HDD Storage is cheaper and offers you more storage as compare to SSD.
ResllerClub Dedicated Server SSD Hosting is powered by SuperMicro Blade servers with Intel Xeon HyperThreaded processors, RAID 1 Disks, state-of-the-art data center, HVAC(Heating, Ventilation, and Air Conditioning ) architecture, cutting edge networking switches, DDoS Protection and latest hardware, together contribute to 99.9% uptime.
RAID(Redundant Array of Independent Disks) is a SSD subsystem that increases safety by writing the same data on two drives called "mirroring". If one drive fails the second drive is used. It ensures that your dedicated server never fails.
ResellerClub Dedicated Hosting has automated its Dedicated Server provisioning using Openstack, a leading IaaS platform technology. This ensures that your Dedicated Server is ready for use as soon as you purchase it with no setup fee.
It gives you complete root access means its dedicated servers offer you full administrative control of your hosting. You can completely customize the server environment based on your requirements. You have complete control of your Dedicated Hosting Server and can install any third party software.
Add-ons like CPanel, Plesk, WHMCS helps you to manage and monitor all your websites and resources from one central location and manage multiple clients. WHMCS is a comprehensive client management and billing software. Through your dashboard you can perform server setup & configurations, operating system re-setup, server reboot and much more..
Operating Systems: CentOS 6**/CentOS 7/ Ubuntu 16.04 /Debian 8
Web Server: Apache, Nginx.
Dedicated Server SSD Hosting Plans
ResellerClub offers 3 plans for its Linux Dedicated Server SSD Hosting:
Standard Plan: 16 GB RAM, 500 GB SSD in RAID 1, 5 TB Data Transfer

Pro Plan: 28 GB RAM, 1000 GB SSD in RAID 1, 10 TB Data Transfer

Elite Plan: 60 GB RAM, 1790 GB SSD in RAID 1, 15 TB Data Transfer
You can save from 20% to 30% in each plan depending on a billing cycle that you choose. Let's say in Standard Plan if you choose 1 month billing cycle you can save 20% and if you choose 1 year billing cycle you can save 30%.
For example Standard Plan's 1 month billing cycle cost is $123.99/month. Its yearly cost will be $123.99 X 12 = $1,487.88. Standard Plan's 1 year billing cycle cost is $108.49/month. Its yearly cost will be $108.49 X 12 = $1,301.88. It means in 1 year billing cycle you can save $186.
Here are the 3 SSD hosting plans with rates: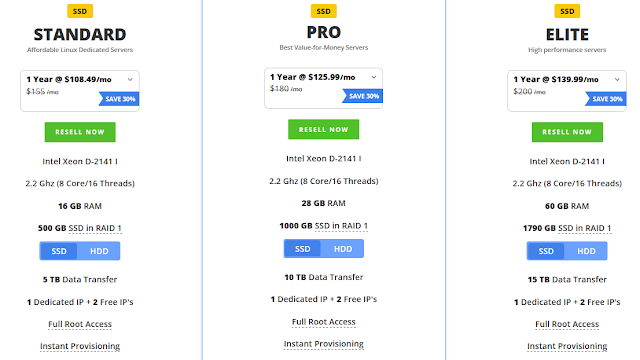 Conclusion
These were the main features & hosting plans of ResellerClub's Linux Dedicated Server SSD Hosting. You must have acknowledged its incredible features and cheap rates. Now which Dedicated Server hosting plan you choose, completely depends on your requirements and budget. In case if you are not satisfied with performance and services there is a 30-days money back guarantee as well.
If you like this post then don't forget to share with other people. Share your feedback in the comments section below.