(Last Updated On: October 18, 2021)
Everyday WP Engine clients look for alternative WordPress hosting for migrating their high-traffic fast growing websites and higher quality expert support because most of the hosting companies like WP Engine, SiteGround, HostGator etc, are providing the traditional hosting services that are not fulfilling the requirements of fast growing WordPress sites.
So we need a premium WordPress hosting whose entire infrastructure is built on the Google Cloud Platform and provides SSD storage. Does such hosting exist? Yes, the one and only Kinsta.
Kinsta is the fastest and premium WordPress hosting you'll find on the web, purely built for performance and scalability.
Kinsta's hosting doesn't fall into any of the traditional hosting categories. Its entire infrastructure is built on the Google Cloud Platform and is very different from traditional shared, VPS, or dedicated infrastructure. Performance Testing Platforms like Blitz.io have ranked Kinsta much higher in terms of speed and responsiveness than all the other WordPress hosting platforms.
To increase the performance of WordPress Kinsta has partnered up with KeyCDN, a real-time HTTP/2 and IPv6 powered CDN. They speed up delivery of your website assets like mages, JS, CSS. With these features Kinsta also provides free bandwidth across all Kinsta hosting plans.
Kinsta offers 10 hosting plans that support 20,000 visitors per month to 30,00000 visitors per month. Kinsta hosting plans can fulfill the hosting requirement of any type of website whether it is a fast growing website or a high traffic eCommerce site.
It offers an amazing super discount of "Paid Yearly – Get 2 months free". For example, you choose $60/month hosting plan. If you pay monthly its cost will be $720( $60X12 = $720 ) and if you pay yearly its cost will be $600( $60 X 10 = $600 ).
If you talk about WordPress, it needs much faster hosting platform because WordPress is all about powerful plugins like WooCommerce, Yoast SEO etc. In order to get the maximum performance out of WordPress plugins you need a fast performance hosting.
Because of its amazing support Kinsta has been the choice of everyone like let's say, if you reach your hosting plan's visits limit, if you reach your disk space limit or if you reach your CDN limit, Kinsta will keep your site running but charge you fee later.
Kinsta offers these features in all its hosting plans, namely: SSH Access, Free Migrations, Uptime Monitoring, Reverse Proxy Support, Additional Backups + Frequency Add-on, Redis Add-on, Multilingual Dashboard that supports up to 10 languages. You won't find these features in WP Engine hosting.
Now the top companies like Tripadvisor, MariaDB, Flippa, Intuit, Ubisoft, Drift, Buffer, FreshBooks and many more have chosen Kinsta over other WordPress hostings because their business needs automatic scaling, state of the art security for customers data, unmatched performance, and super fast expert support.
In this post we will cover:
Kinsta Features
Kinsta Hosting Plans
How To Buy Hosting Plan On Kinsta
Drawbacks Of Kinsta?
1. Kinsta Features
Here are some of the features of Kinsta.
Free Unlimited Premium Migrations
You can do unlimited free migrations from these WordPress hosting platforms: SiteGround, WP Engine, Flywheel, Pantheon, Pagely, Cloudways, DreamHost, HostGator, GoDaddy, Bluehost, A2 Hosting, tsoHost, & WPX Hosting. It doesn't really matter if you have one WordPress site or 50, Kinsta's expert migration team will help you to migrate your WordPress site to Kinsta.
Kinsta's migration is much safer because Kinsta's expert migration team take care of everything for you. Moving your site to Kinsta usually won't incur any downtime and experts will help you inspect your migrated site prior to going live. Such expert support for migrating your WordPress site is not available in any other hosting platform like WP Engine.
Expert Support
Kinsta does not have general or non-technical support representatives. Kinsta's entire support team is made up of WordPress developers and Linux hosting engineers and many of whom have managed their own servers, created themes and plugins, and contributed back to core. This ensures you'll receive expert advice from someone who actively uses and develops with WordPress.
Global Presence
Kinsta is powered by the Google Cloud Platform and it offers 23 data centers around the globe, extending across five continents. These data centers are available across all Kinsta hosting plans (with no extra or hidden charges). You can also choose a different data center of each of your sites.
Kinsta Dashboard
Kinsta has developed its own Control Panel specifically for WordPress website management. It is easy to switch between multiple PHP engines (PHP 7.2, 7.3, 7.4) without having to ask support. You use search and replace tool to make bulk updates on your site like change HTTP URLs to HTTPS or update old short codes etc.
It includes detailed analytics, including CDN usage and insights, bandwidth and visitor data, cache HIT and MISS ratio, and performance analysis data. It is available in 10 languages: English, French, Portuguese, Italian, Spanish, German, Japanese, Dutch, Swedish and Danish.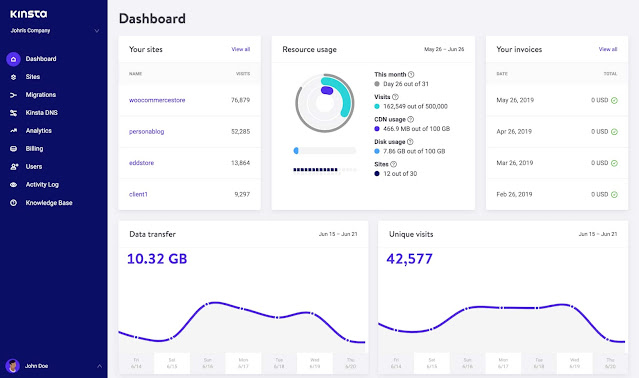 Features That Are Available In All Kinsta Hosting Plans
WordPress installs
SSD storage
Free CDN
30-day money back guarantee
Free premium migrations
Free unlimited basic migrations from other hosts
Google Cloud Platform
23 global locations
Self-healing technology
Automatic DB optimization
Automatic Daily Backups
Manual backup points
24/7 support
Hack and malware removal
Multi-user environment
Staging area
PHP 7.4 support
SSH access
White-labeled cache plugin
Let's have a look what Jake Martin from intuit.com says about Kinsta.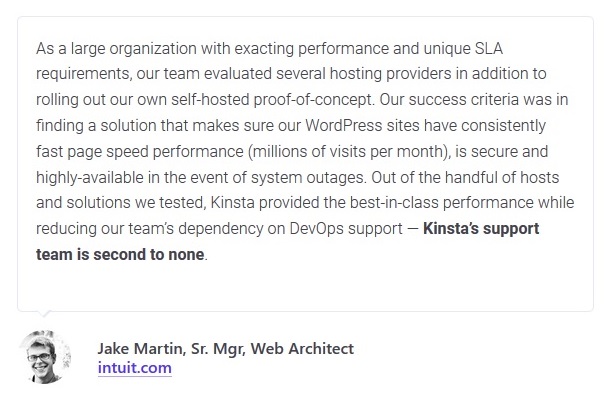 Kinsta Hosting Plans
Kinsta offers 10 hosting plans. You can choose your desired hosting plan by analyzing your website requirements like monthly visitors, Storage, Security, etc.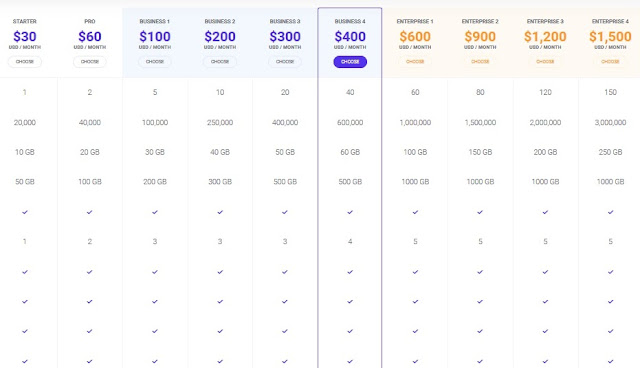 1. Started Plan – $30/month
1 WordPress installs
20,000 monthly visits
10 GB disk space
Free SSL & CDN
2. Pro Plan – $60/month
2 WordPress installs
40,000 monthly visits
20 GB disk space
Free SSL & CDN
3. Business 1 Plan – $100/month
5 WordPress installs
100,000 monthly visits
30 GB disk space
Free SSL & CDN
4. Business 2 Plan – $200/month
10 WordPress installs
250,000 monthly visits
40 GB disk space
Free SSL & CDN
5. Business 3 Plan – $300/month
20 WordPress installs
400,000 monthly visits
50 GB disk space
Free SSL & CDN
6. Business 4 Plan – $400/month
40 WordPress installs
600,000 monthly visits
60 GB disk space
Free SSL & CDN
7. Enterprise 1 Plan – $600/month
60 WordPress installs
1,000,000 monthly visits
100 GB disk space
Free SSL & CDN
8. Enterprise 2 Plan – $900/month
80 WordPress installs
15,00,000 monthly visits
150 GB disk space
Free SSL & CDN
9. Enterprise 3 Plan – $1200/month
120 WordPress installs
2,000,000 monthly visits
200 GB disk space
Free SSL & CDN
10. Enterprise 4 Plan – $1500/month
150 WordPress installs
3,000,000 monthly visits
250 GB disk space
Free SSL & CDN
If your requirements are more than these plans you can demand for more from Kinsta by contacting their sales department.
How To Buy Hosting Plan On Kinsta
It is pretty simple to buy a hosting plan on Kinsta.
Go to Kinsta Plans Page.
Choose your desired Kinsta hosting plan.
Click "CHOOSE".
If you choose your billing as "Paid Yearly" 2 months will be exempted from your billing.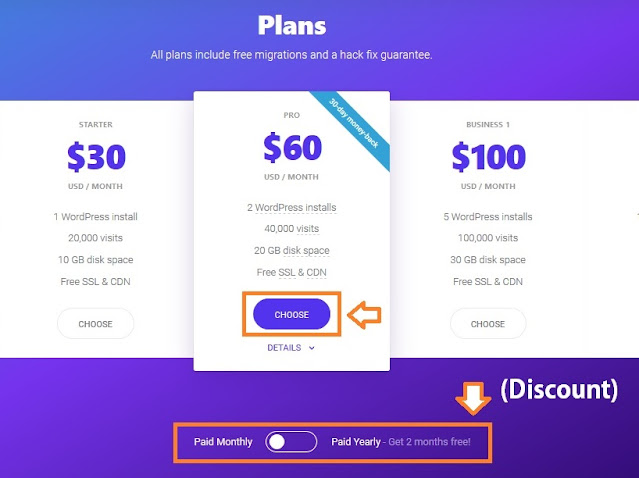 Enter your Email.
Enter your First name & Last name.
Enter your Password.
Tick "I agree to the Terms and Conditions and Privacy Policy."
Click Continue.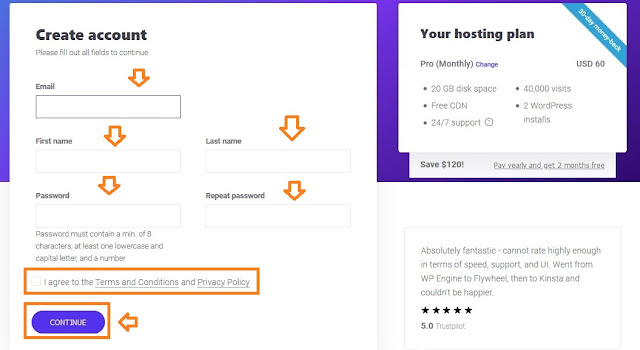 Drawbacks Of Kinsta
One must be wondered after going through all the amazing features of Kinsta that literally can there be any drawbacks? Possibly there could be one drawback that its most basic hosting plan starts from $30/month. It could be slightly expensive for someone who wants to migrate his WordPress site to a better hosting at very low rate.
If you like this post then don't forget to share with other people. Share your feedback in the comments section below.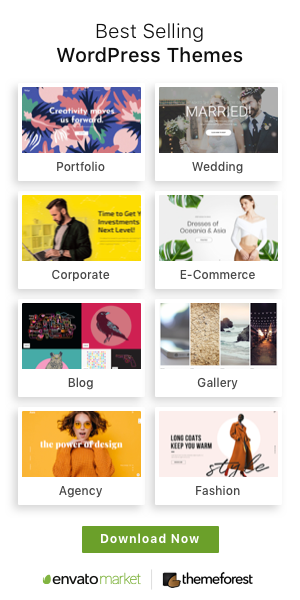 RECOMMENDED POSTS