How To
How To Buy A Domain & Hosting In 2022 – For Beginners
(Last Updated On: January 1, 2022)
Are you looking for building a website? Don't get late, register your domain today because someone else could buy your domain and you might have to change your website name. Once you buy your domain no one else can claim that domain. You can buy web hosting later because web hosting is associated with a domain.
Whether you are looking for registering a domain or buying a web hosting from United States, UK, France, China, Germany, Africa, India, Australia or any part of the world, our guide will help you to do within few minutes.
We will cover following topics in this tutorial:
Difference Between Domain and Web Hosting
How To Buy Domain Alone
How To Buy Domain & Web Hosting Together
Before you buy domain or web hosting, first understand the difference between domain and web hosting.
01. Difference Between Domain & Web Hosting
Domain name is simply the address of your website that you type in URL bar to access your website. It locates your website on internet like https://www.meersworld.net/. Web hosting is a space or location where you upload the content of your website. Once you upload your website on web hosting it becomes live and people can access your website via the domain of  your website.
02. How To Buy Domain Alone
If you have a plan to buy only the domain not web hosting we will guide you how to buy a domain from HostGator, one of the world's top 10 web hosting service provider with over 8 million hosted domains. In case you are not satisfied with its services, it offers 45-day money-back guarantee.
It is very important to choose a good web hosting company because how good maybe your website if your web hosting is unreliable or below standards it will not achieve the desired results and will always rank poor in search results.

Enter your domain name with extension(.com, .net, .org, .com.uk etc) like myfirstdomainhost.com. Make sure that your domain should be relevant to your website name or with your business.
Once you type domain click Search.

If your domain is available it will show you congratulations message with its price. It will also suggest you more domains relevant to your domain name, you can choose out of them as well.
If your domain name is unavailable you can try the same domain name with different extension. For instance if myfirstdomainhost is not available with .com extension we can try it with .net, .org or other available extensions.
Click Continue To Checkout.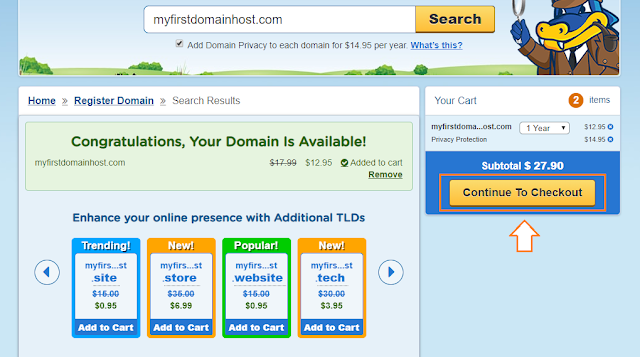 Enter your information like email address, password and pin code.
Click Continue.
Configure your payment options.
Use our coupon code BRANDAPR23 if it gives you the option of Enter a Coupon Code to get discount.
Once you will pay you will get confirmation emails and your domain will be activated.
Using your email id and password you can access to dashboard of your HostGator account.
You can later buy web hosting plan as well.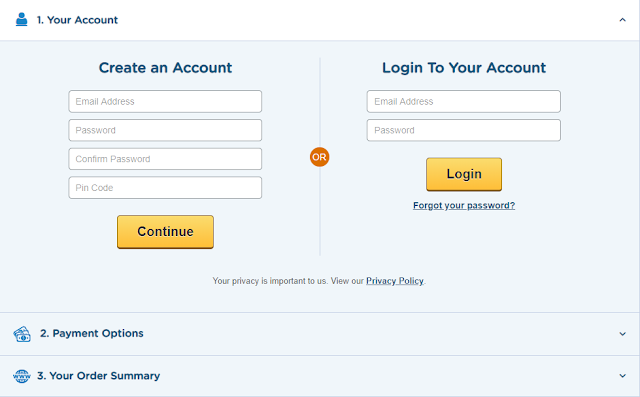 03. How To Buy Domain & Hosting Together
Follow the steps to buy web hosting and domain together. The first step in buying a web hosting is to register a domain first. Don't forget to avail the Discount Coupon.
Go to Official Site of HostGator.
Choose your hosting plan which ever suits you to your website requirements. There are four options Web hosting, WordPress Hosting, VPS Hosting and Dedicated Web Hosting.
Once you open a hosting plan, it will show you 4 offers with their features.
Choose your plan by clicking Buy Now! button.
Enter your domain name.
Click Search. If it is unavailable it will show you the message, "Sorry the domain is not available".
If it is available it will be automatically ticked.
Scroll down to Choosing a Hosting Plan section.
Here you can edit your Hosting package as well.
Choose your Billing cycle. Choose 12 months or more, so that you don't have to pay every month. With some annual packages you get free domain.
Enter your username.
Enter Security PIN. Please Save this information somewhere in case you forget later.
Scroll down to Enter Your Billing Info section.
Enter your billing information and choose payment method.
Once you fill this information scroll down to bottom to validate our Discount Coupon.
Enter our coupon BRANDAPR23 and click validate.
Tick the Terms of Service and Cancellation Policy.
Click Checkout Now! to complete the order.
Once you pay you will get confirmation emails. They will send you the complete credentials of your web hosting, so that you will upload your website.
If you like this post then don't forget to share with people. Share your feedback in the comments section below.
Recommended Posts