Earn Online
Best Freelance Website For Beginners & Professionals | Earn Online
(Last Updated On: October 18, 2021)
Fiverr is an online platform for freelance services. It allows freelancers to offer their services for customers. It is ranked as one of the most popular online earning platform for beginners and professionals.
More than 25 million projects have been completed on Fiverr. As a freelancer you can offer any service you wish as long as it's legal and complies with Fiverr terms. There are over 200 categories you can browse to get ideas.
If you want to work as a freelancer means you want to offer your skills or services to customers then you need to create a Fiverr seller account.
In this post we will guide you how Fiverr works, how to sign-up for Fiverr seller account, how freelancers/sellers are paid on Fiverr and how to configure Payoneer on Fiverr seller account.
How It Works?
Step 1:
Create a seller account on Fiverr. It's free to join.
Complete your profile.
Create your gig.
Each service you will offer on Fiverr is called gig. By creating gig you actually offer your work to customers/buyers like "I will fix you WordPress problems for $5."
Offer your work to people.
Step 2:
Complete your work. The work that you will get from customers/buyers.
Step 3:
Get paid on time. You earn 80% of your work. 20% share of your earnings goes to Fiverr.
How To Sign Up For Fiverr Seller Account
Go to Seller Account Page on Fiverr.
Click on Become A Seller.
Enter your Email. You can Sign up with Facebook as well.
Click Continue.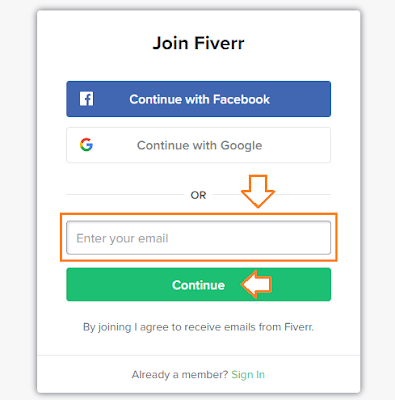 Enter a Username.
Enter a Password.
Click Join.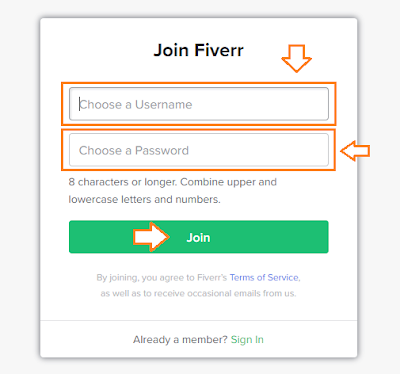 A verification email will be sent to your email address.

Open your email account and open the verification mail.
Click Activate Your Account.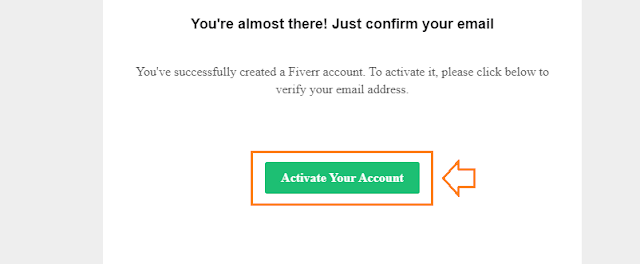 Now on your Fiverr profile again click on "Become A Seller" to complete your Profile.
There are four steps.  Fill out the required information.
In the first step add your basic info like your name, birth date etc.
In the second step add your professional info like your occupation, your skills, experience, your degree etc.
In the third step you can add your social media accounts like Twitter, Facebook etc.
In the fourth step it will ask you for phone number verification etc.
Once complete, click Finish.

Now at top-right corner beside your profile icon click Switch To Seller.
You will see your Dashboard.
Click Gigs to create a new gig.
How to configure Payments, we will guide you in the next step.

Categories
There are over more than 200 categories on Fiverr. Here are some of the main categories:
Graphics & Design
Digital Marketing
Writing & Translation
Video & Animation
Music & Audio
Programming & Tech
Business
Fun & Lifestyle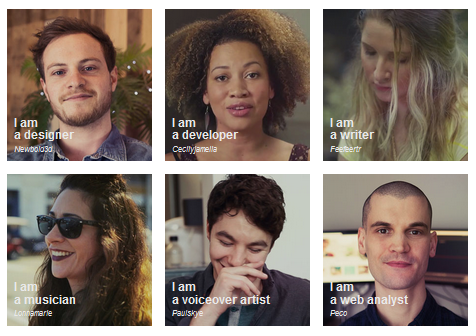 Payment Methods
Payments methods have always been the greatest worry for those places where there are no PayPal or other methods.
Fiverr pays its freelancers via PayPal & Direct Deposit(Payoneer).
Now with the introduction of Payoneer, anyone can receive money from any part of the world.
If you don't have a Payoneer, Create a Payoneer Account. It's free to join.
You can configure your Payment methods on Earnings tab.
How To Configure Payoneer On Fiverr Seller Account
We have created a separate post to configure Payoneer on Fiverr seller account. You will learn how to signup for Payoneer from Fiverr seller account and how to withdraw money from Payoneer to your local bank account.
If you like this post then don't forget to share with other people. Share your feedback in the comments section below.
Recommended Post